Last updated on April 16th, 2022
Want to make the most of the spring season? Grab this ultimate Spring Bucket List and start checking things off!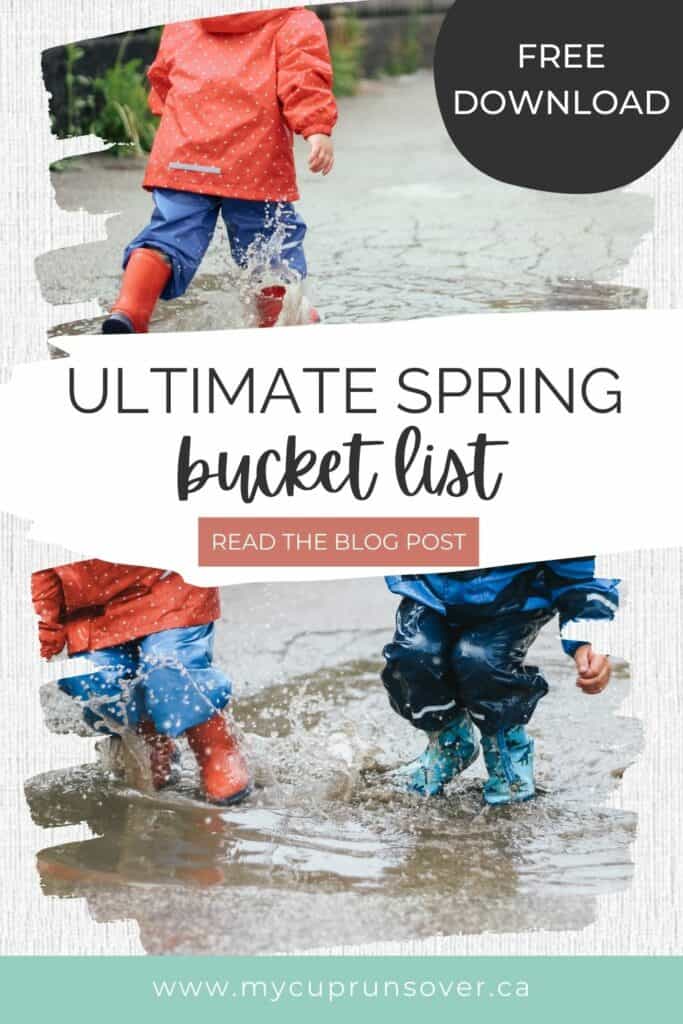 Affiliate disclosure: This post may contain affiliate links, which means we may receive a commission if you click a link and purchase something that we have recommended.  Please read our disclaimer for more details.
Why We Need Spring Bucket Lists
Spring is finally here and, like the rest of the earth, we're teeming with new life! That is, we're full of energy from being pent up indoors all winter, and we're ready to get out and do some fun activities.
As the cool weather of March slides into the warmer, wetter weather of April, we are looking for fun things to do. Now is the time to get outside and explore, see what's going on in nature, and exercise our creative–and literal–muscles.
We're also looking for ways to celebrate the special events and commemorations that take place in spring, like Earth Day, Museum Lover's Day, and World Laughter Day.
But coming up with these ideas on the spur of the moment can be hard. When everyone's feeling uninspired and would rather lie around watching movies, generating popular activity ideas is like trying to figure out what's for dinner at five o'clock.
So, with that in mind, here are 101 of our favorite fun spring bucket list ideas. With about 90 days in spring, that's more than enough ideas to try one new activity every day.
For a fun printable version of the list, scroll down to the bottom.
101 Spring Bucket List Ideas
Nature Appreciation
Jump in puddles
Go for a nature walk
Cloud watch
Roll down grassy hills on a sunny day (unless you're allergic to grass!)
Walk along a beach
Visit an arboretum
Get up early and watch the sunrise
Play in a sandbox or in the dirt
Climb a tree
Sit and watch birds at a park 
Exercise
Go for a bike ride
Toss a frisbee
Play catch
Play mini golf
Have a neighborhood scavenger hunt
Make a sidewalk chalk obstacle course
Play badminton or tennis
Play Nature Statue freeze dance: play some favorite music and dance around. When the music stops, everyone has to take a nature pose, then guess what each other's poses are.
Shoot hoops
Set up a Slip and Slide or a splash pad
Inside the house
Update your spring home decor
Do some spring cleaning
Sort out and store artwork from the school year
Play an April Fool's joke
Learn a new skill
Make homemade playdough or spring-themed slime
Put on a spring playlist and have a dance party
Watch a nature documentary, such as African Cats, Born to be Wild, or Arctic Tale
Play a nature-themed game such as Wingspan, Photosynthesis, or Arboretum
Give an old piece of furniture a new look
Arts and crafts
Make a bird feeder
Look for cherry blossoms and do a related art project
Do an Easter craft
Make a spring wreath
Do origami
Paint rocks
Set up an art table in your yard and do some coloring sheets
Gather nature objects on a hike and make an art project with them
Make bark and leaf rubbings
Weave with long grass
Animals
Go to a pond and look for ducklings and goslings
Visit a bird sanctuary
Visit a petting zoo
Hang a hummingbird feeder in your yard or on your balcony
Visit a honeybee center
Learn how to identify a few bird calls
Go horseback (or ponyback) riding
Go to a farm where you can meet baby animals
Play outside with a dog
Plants
Prepare your garden for planting
Sow some seeds
Update your gardening tools
Pick or buy a bouquet of flowers for your table
Learn about composting 
Identify plants in your yard or neighborhood
Make a fairy garden
Make an eggshell garden
Plant a bean teepee
Try an hydroponics activity
Food and drink
Host a garden tea party: bake cookies, brew some tea, set out a blanket and bring out all your favorite stuffed animals for a yummy "high tea"
Go out for ice cream
Go for a picnic in your backyard or at a park
Have your first outdoor dinner of the year
Make an Easter brunch
Eat fresh, local strawberries
Shop at a Farmer's Market
Make strawberry shortcake
Make popsicles
Drink iced tea
Special events
Celebrate Library Week (April 4-10) with a trip to the library
Celebrate National Siblings Day (April 10)
Celebrate Earth Day (April 22)
Tell your best jokes on World Laughter Day (1st Sunday in May)
Go to the Museum on Museum Lover's Day (May 5)
Celebrate Children's Book Week (May 3-9) by reading some favorite picture books
Have a Screen Free Day or Week (May 3-9)
Clean up a beach on World Ocean Day (June 8)
Make a family tree on National Family History Day (June 15)
Make sushi for International Sushi Day (June 18)
Creative Projects
Read and write poems about spring
Start a gratitude journal
Create your own alphabet book featuring things you find outside
Observe and draw in nature
Make a map of your neighborhood
Write a song about your favorite animals
Make a photo journal of your spring adventures
Create a newspaper sharing all the exciting news about spring
Make a time lapse video representing a change that happens in spring
Make a spring scrapbook
Family fun
Do a funny family photo shoot
Have a Yes Day (watch the movie first for a good laugh and some inspiration)
Blow bubbles
Make paper airplanes and see whose flies the farthest
Lie in a hammock with a good book
Visit someone you haven't seen in a long time
Build a fort outside
Volunteer together
Do a random act of kindness
Wash your car by hand
BONUS
#101. The fun doesn't stop here! When you've finished all the activities on your spring bucket list, it's time to make a summer bucket list!
I hope that these ideas have inspired you to make lots of fun memories this spring.
Leave a comment below and let me know which spring bucket list activities you're most excited to try and don't forget to save this post to Facebook or Pinterest so you can find it later.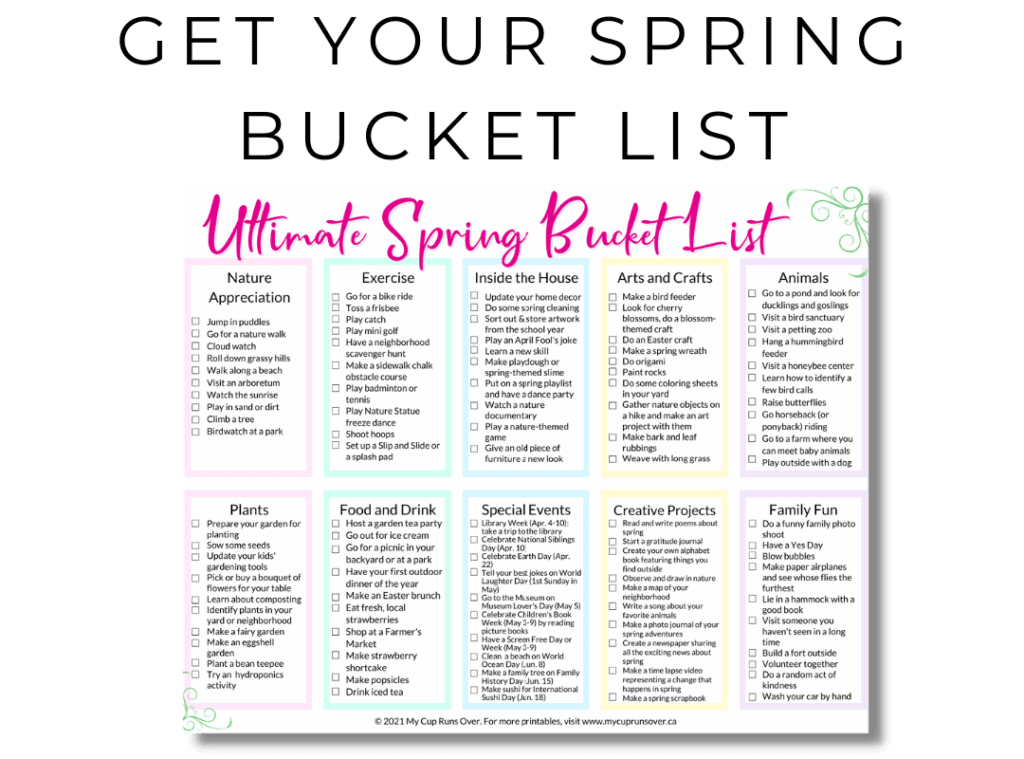 Sophie Agbonkhese is a writer, veteran homeschooling mother of four, and a recovering overachiever (who occasionally relapses). She is the founder of My Cup Runs Over, a site dedicated to helping busy women simplify and enrich their lives, homes, and homeschools. When she's not writing or debugging websites, Sophie spends her time reading with her kids, gardening, listening to audiobooks, and striving fruitlessly to have a clean house for at least five minutes. She lives in southwestern British Columbia with her husband, Ben, and their children.