Looking for some cute, simple, and fun crafts to do with your kids this spring? Check out these thirty egg, chick, and bunny-themed crafts that your kids will love.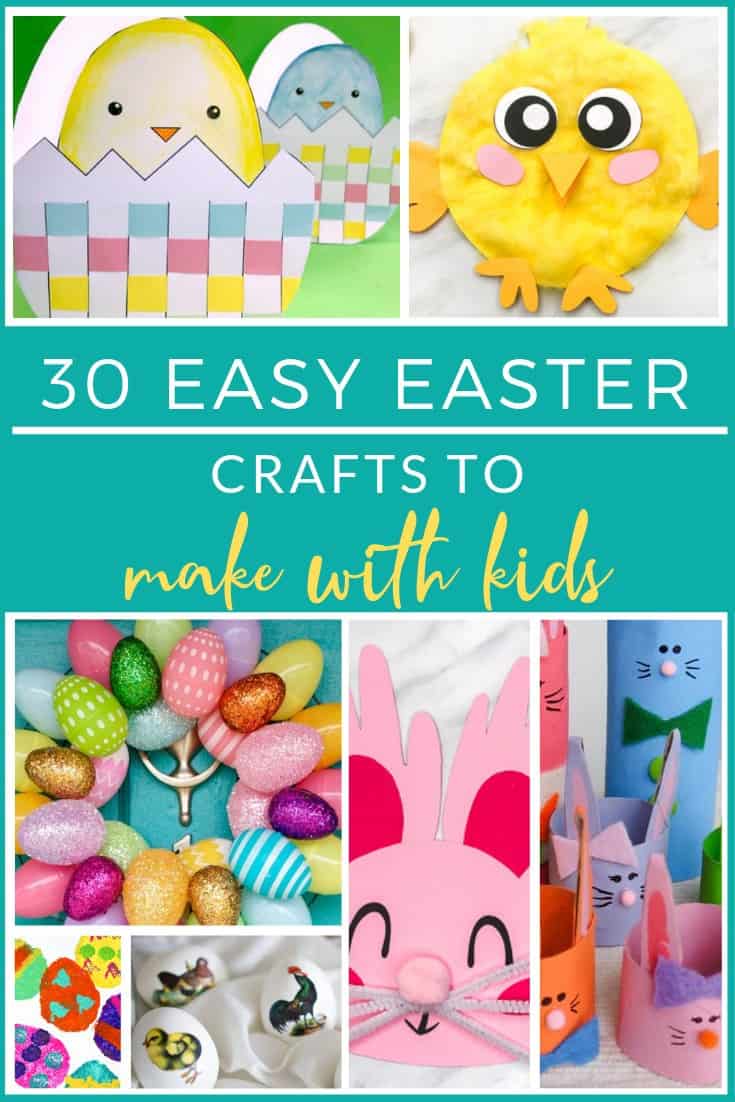 Paper Crafts
#1: DIY Paper Plate Watercolor Easter Baskets
This easy paper plate basket craft is great for little ones. The finished basket is colourful and practical.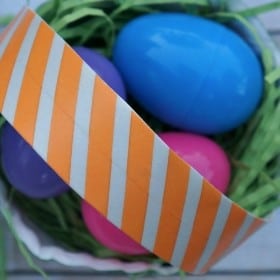 #2: Carrot Treat Cups
These paper carrot treat cups put a healthy spin on a chocolate-filled event. Bonus: they're recyclable!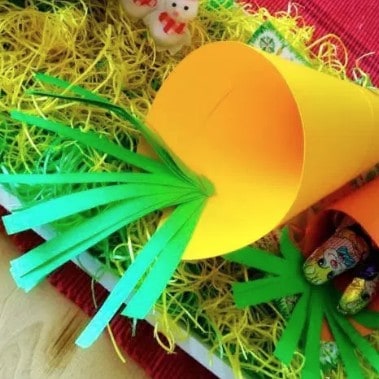 #3: Printable Easter Egg Colouring Sheets
Need a quick and mess-free Easter-inspired activity for a preschooler? Grab this free printable coloring sheet and you're good to go.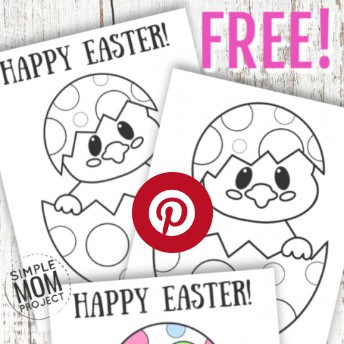 #4: Sharpie Watercolour Easter Eggs
This craft uses Sharpies, rubbing alcohol, and water to make simple watercolor paint your kids can use on any coloring sheet.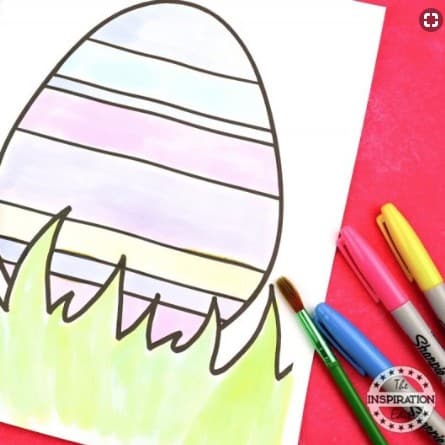 #5: Easy Bunny Craft
The only thing cuter than this bunny card craft is the video of the adorable little girl making it. I love how she does this all on her own and shakes the container so enthusiastically!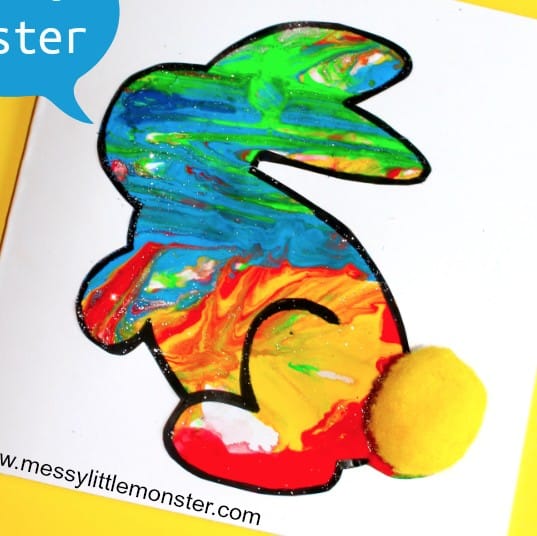 #6: Paper Plate Chick and Bunny
This craft comes with free printables to make easy, adorable chicks and bunnies with paper, paper plates, glue and markers. So simple and cute!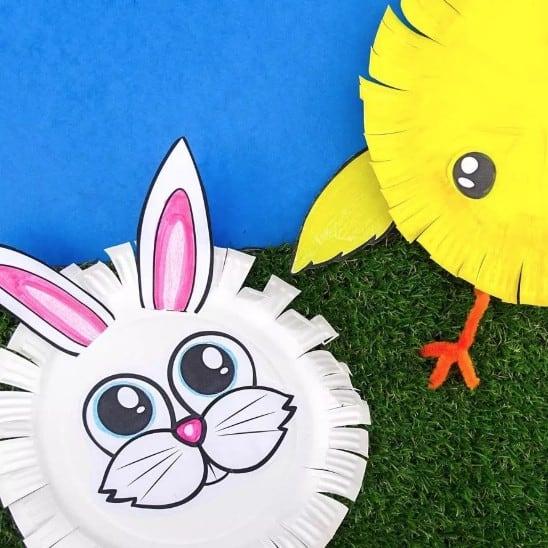 #7: Woven Egg & Chick Cards
This egg and chick card paper weaving project uses thin paper strips and a fair amount of cutting, making it ideal for 5-10 year olds. There is a link on the page for a similar craft for preschoolers.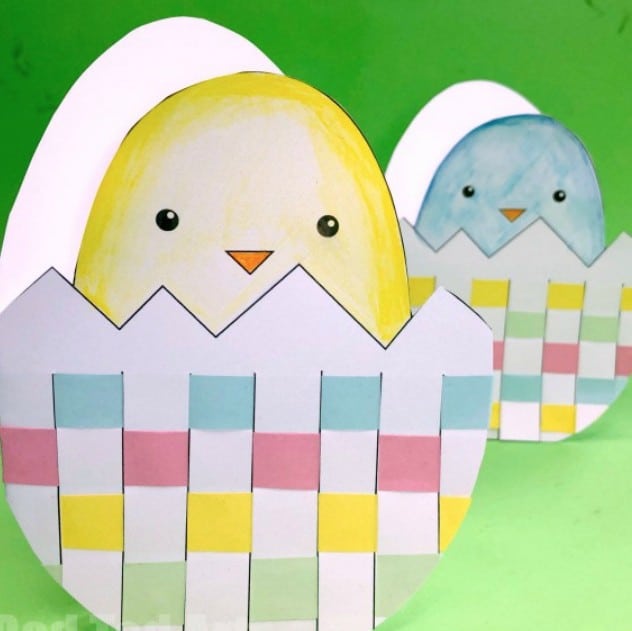 #8: Easter Egg Stamps
This project uses sponges and paint to create brightly coloured patterned Easter eggs. Perfect for little ones.
#9: Pop-Up Easter Egg Card
This colorful kid made pop-up Easter egg card has the cutest surprise inside!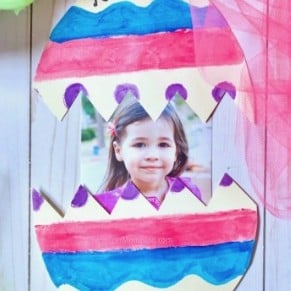 #10: Accordion Carrot garland
This accordion carrot craft is an adorable Easter craft idea for kids. Stick so many of these paper carrots on a yarn and make a beautiful Easter garland for your home or classroom!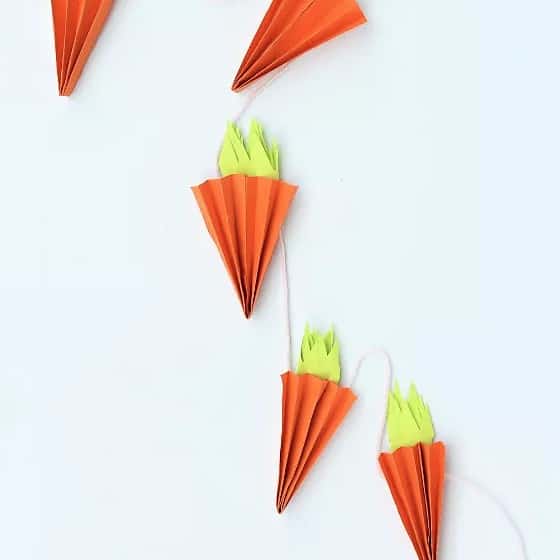 Egg and Chick Crafts
#11: Washi Tape Egg Maracas
An Easter craft and a musical instrument in one – genius! Toddlers and preschoolers will love shaking these little eggs all day.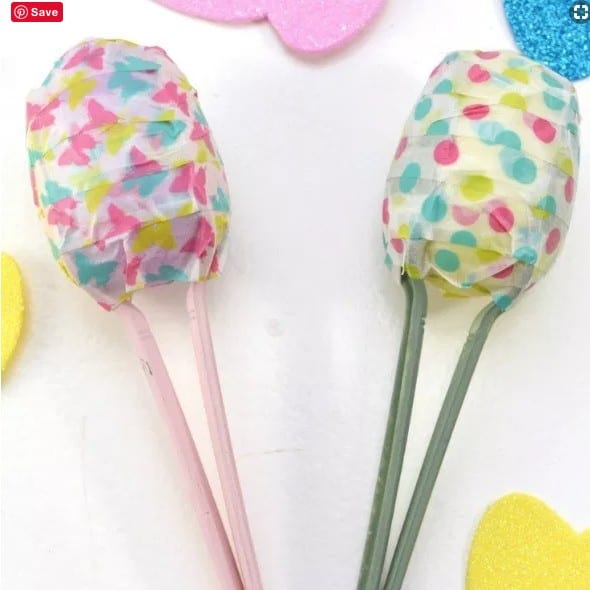 #12: All-Natural Easter Eggs
This easy all-natural egg dying tutorial brought me back to my elementary school days when we used to make Pysanka eggs each year. This is way less work!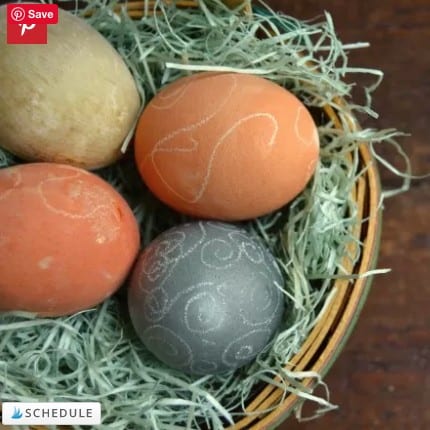 #13: Vintage Spring Animal Easter Eggs
These gorgeous Easter eggs are a good craft for older kids. Using free vintage farm animal images and printable tattoo paper, kids will transfer pictures of their choice onto hard boiled eggs. Perfect if you prefer non-messy crafts.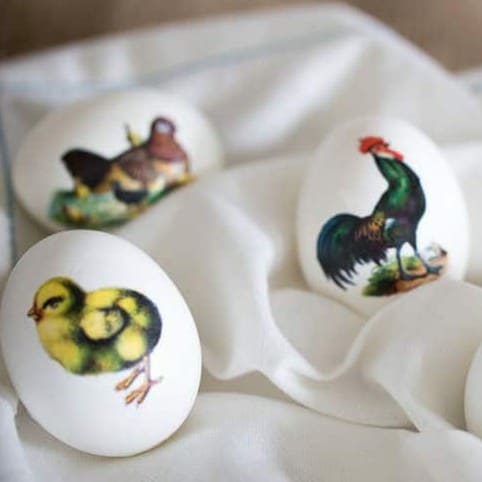 #14: Easter Egg Photo Craft
This simple recycled cardboard Easter egg craft is easy enough for the youngest of kiddos to help create and it's a cute little gift to give!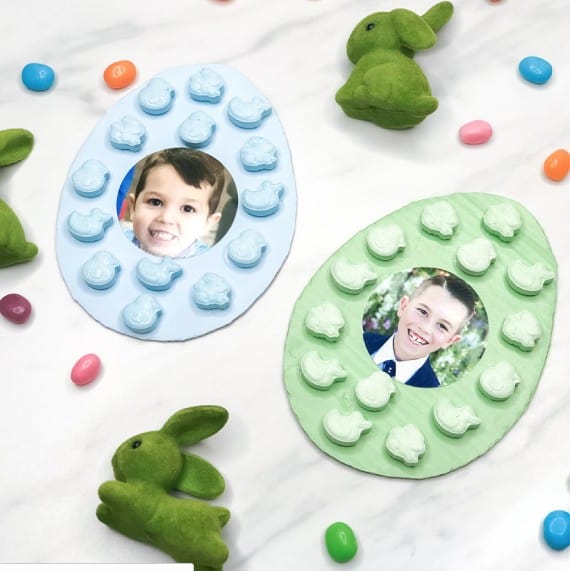 #15: Easter Egg Puffy Paint Craft
This easter egg craft uses shaving cream, glue, and food dye to make a puffy paint that toddlers and preschoolers will love running their fingers through as they decorate their eggs.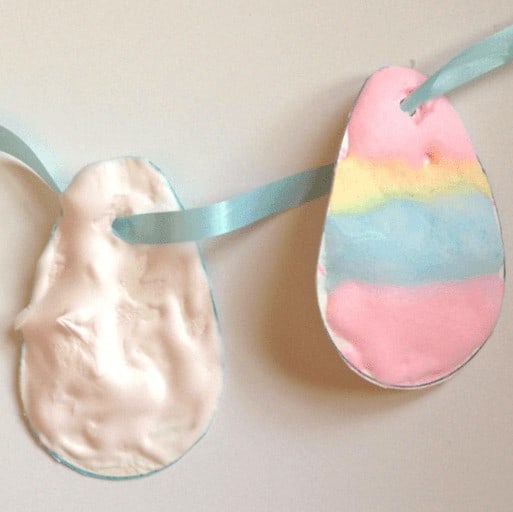 #16: Salt Dough Easter Egg Tree
Let the kids create unique salt dough Easter eggs and then hang them on a small branch for some quick DIY Easter decor.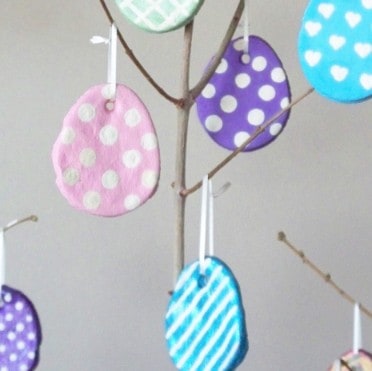 #17: Friendly Easter Egg Monsters
Got some broken egg shells on hand? Don't throw them away! Instead, let your kids make these hilarious Easter egg monsters. They'll have a blast.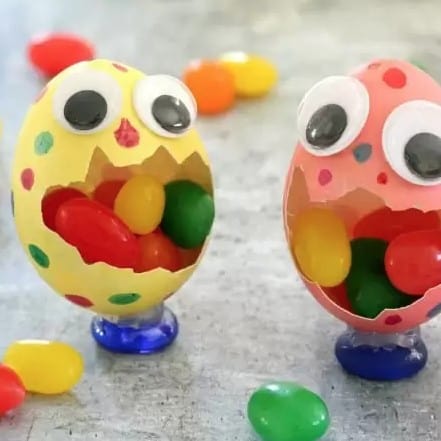 #18: 10-Minute Easter Egg Wreath
A quick & easy Easter Egg Wreath that anyone can make! Add a festive touch to your front doors in minutes with two different versions of this Easter craft.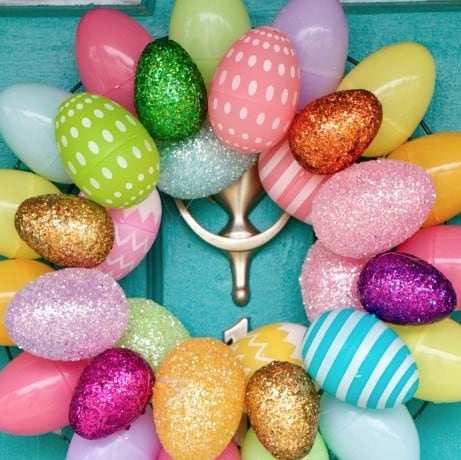 #19: Pom Pom Chicks
Yarn pom poms are easy to make and fun for both adults and kids. There are a variety of projects you can make with them such as branches in a vase, wreaths, fairies, scarves, garlands, mobiles, keychains and of course, animals such as these pom pom chicks.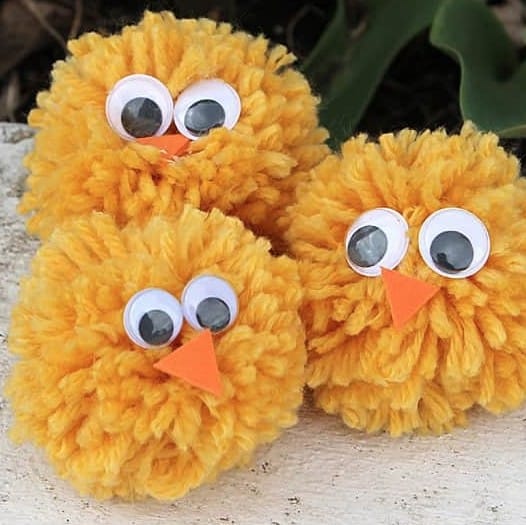 ​
#20: Fluffy Chick
Use cardstock, pom poms and a printable chick template to create this fluffy little creature that preschoolers will love.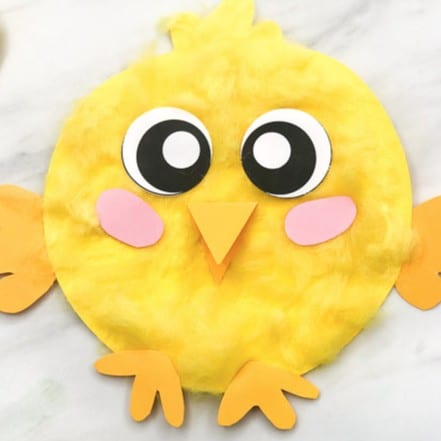 ​
Bunny Crafts
#21: Easter Bunny Cake
This adorable Easter Bunny cake will make any child smile, but probably Peter Rabbit fans especially. It is too cute to eat!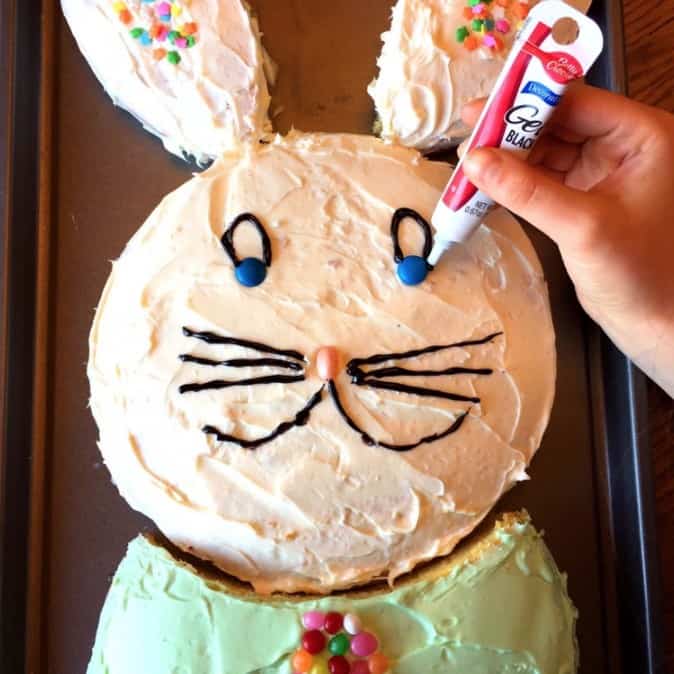 #22: Washcloth Bunnies
These super cute washcloth bunnies are used to hold Easter eggs, or perhaps just to adore?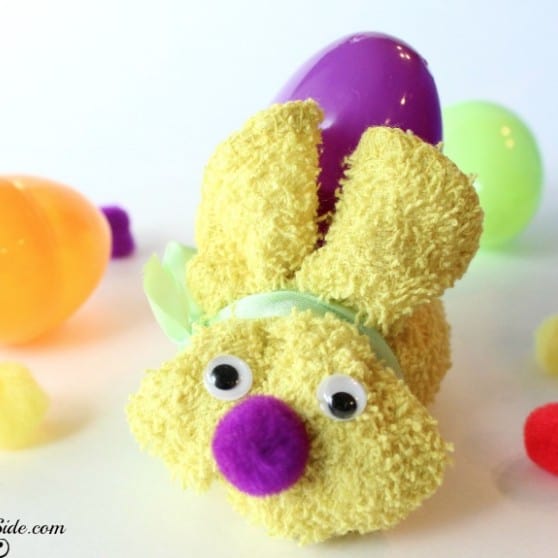 #23: Bunny Spoon Craft
Change up the ears and the nose, and you could probably make a whole barnyard full of animals using this easy peasy tutorial.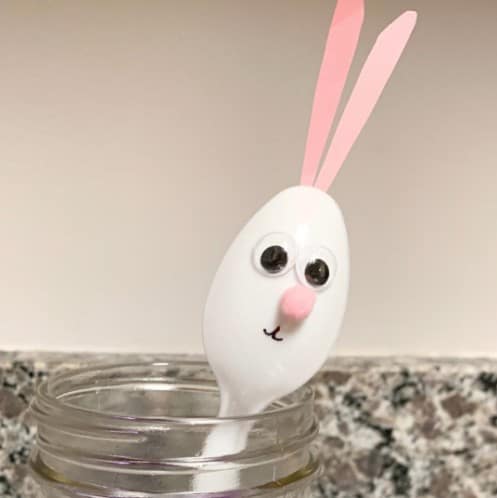 #24: Easter Bunny Thumbprint Art
This fun sensory craft uses a simple bunny shape to create a bunny silhouette with a cute fluffy tail! It's a perfect activity to include in all of the Easter fun.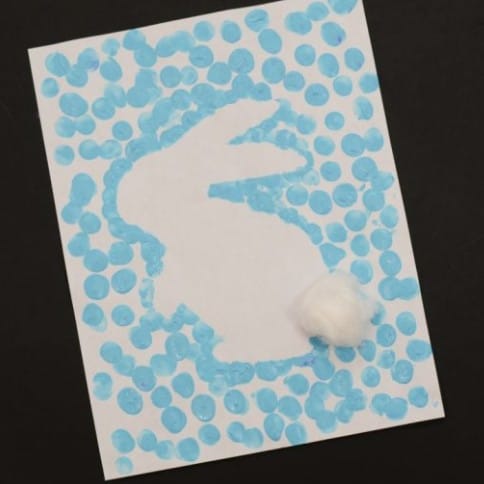 #25: Cardboard Tube Bunny Rabbits
Using cardboard tubes from paper towels or bathroom tissue, you can make this fun and bright family of bunny rabbits with your kids! A fun and easy recycled kid's craft!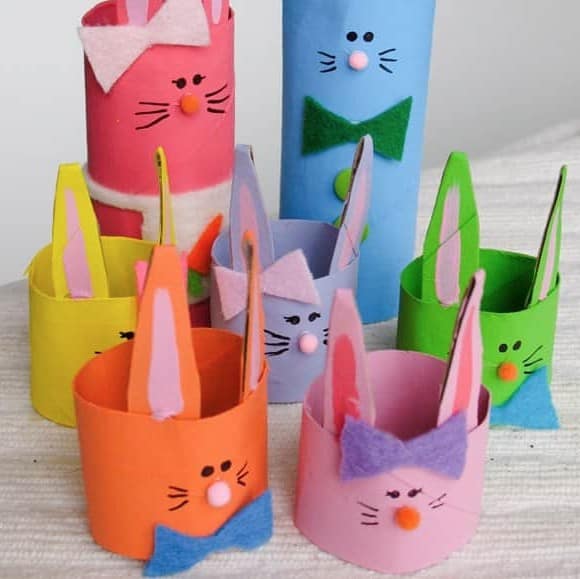 #26: Handprint Bunny
This sweet little paper craft bunny features your little one's handprints as the bunny's ears. This craft is a great for kids of all ages, from toddlers all the way up to elementary aged children.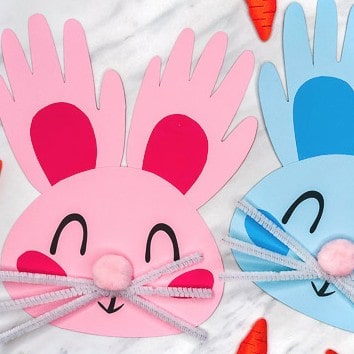 #27: Fuzzy Pipe Cleaner Bunny Pencil Toppers
Looking for a quick and fun Easter craft to do with a group of kids of various ages? This super cute pipe cleaner bunny pencil topper craft is a great choice!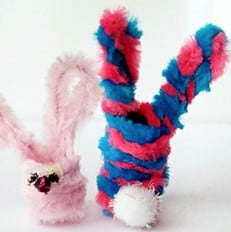 #28: Easter Bunny Box
This origami box with a bunny face at the top is a super fun to teach your kids basic origami skills, while also creating a neat gift they can give away or put treats in at Easter.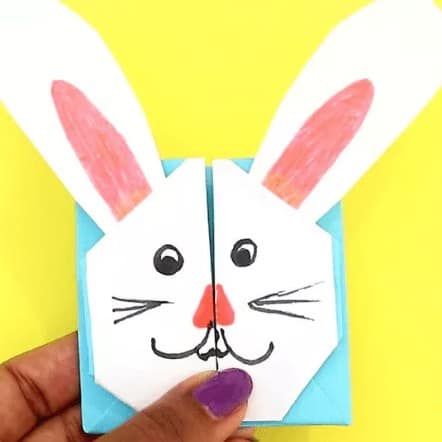 #29: Springtime Easter Bunny Garland
This springtime Easter Bunny garland is a great beginner craft to do with kids. It can be made more challenging by adding embroidery keep it simple with felt glue.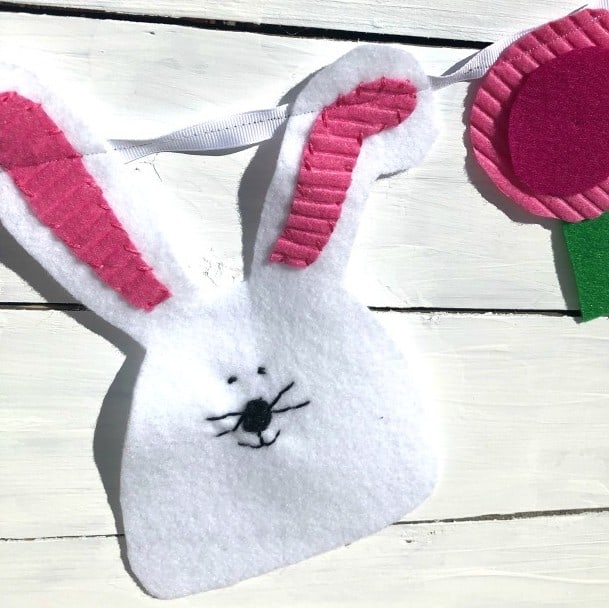 #30: Easter Bunny Robot
Looking for an alternative to the traditional cute and fluffy Easter Bunny? How about a robot bunny? Cute with a techy twist!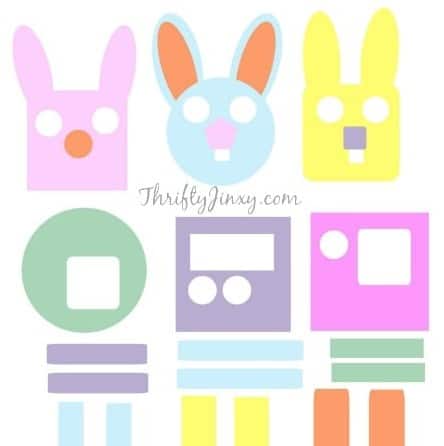 Sophie Agbonkhese is a writer, homeschooling mother of four, and a recovering overachiever (who occasionally relapses). She is the founder of My Cup Runs Over, a site dedicated to helping busy women simplify and enrich their lives. When she's not writing or debugging websites, Sophie spends her time reading, dancing, bullet journaling, reading, gardening, listening to audiobooks, and striving fruitlessly to have a clean house for at least five minutes.