Last updated on February 11th, 2022
Ready to get outside and do some spring planting? Here are some of the best gardening tools for kids to help you start the year off right and make sure everyone has a safe and enjoyable time in the garden.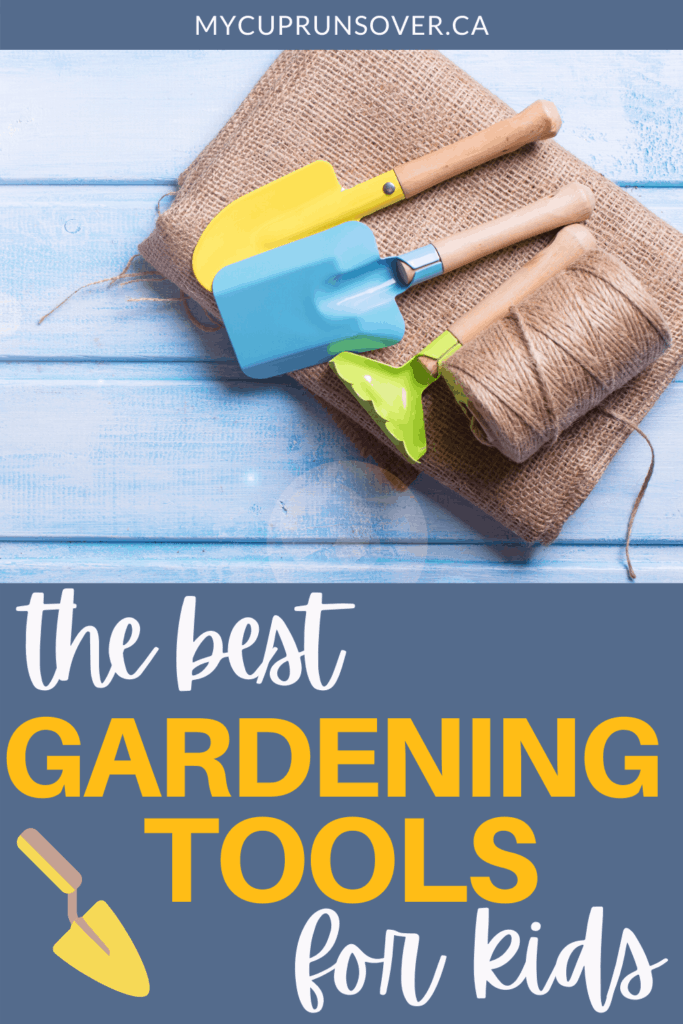 Gardening is not only a wonderful hobby that many adults and kids enjoy, it can also be a great way to spend time together in a fun learning environment. Unfortunately, most tools are made for adults and are too large and potentially unsafe for a child to use.
If you have a child who's interested in gardening, it's important to buy them the right-sized tools to use that will keep them safe as they have fun. Here are a few tips and reviews to help you find the best gardening tools for preschoolers and older kids to use so you can get outside together and make the most of the season.
Benefits of Kids Gardening Tools
It might be tempting to just let kids use adult tools or to pick up cheap child-size tools for them at the dollar store, but this can be a mistake. If you're going to be spending any significant amount of time gardening with kids, it's worth it to invest in a few quality pieces for them. Here's why:
Safety
Adult tools can be kind of dangerous with their sharp edges, long length, and heavy weight.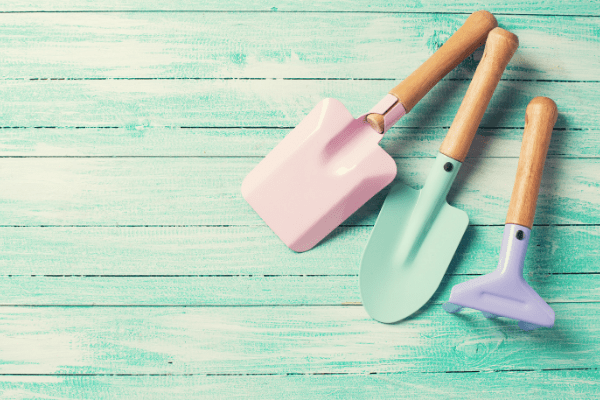 A kid's tool is made for kids, so they will have lengths and weights appropriate for smaller hands to use. The edges of metal tools will also have a rounded design that will prevent your child from getting hurt. Plus, each tool also uses non-toxic paint.
Cheaper gardening tools for kids, such as those found at discount stores, also pose a safety threat. Hard, heavy, or sharp pieces can easily detach from the rest of the tool and injure a child. Trust me–we had two brand new dollar store tools fall apart in the same day. No serious injuries occurred, but we aren't taking any more chances.
Responsibility and Routine
Responsibility and routine are other benefits that kids will learn as they grow older and have their own plants and tools that they are looking after.
They need to check their plants every day to make sure they have enough water and sunlight, which encourages a sense of responsibility for your child. Likewise, they need to learn another important gardening skill: taking care of one's tools.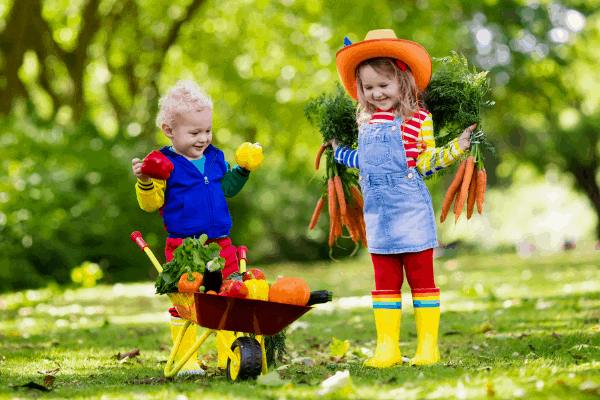 Serious gardeners take the time to properly clean and store their tools after each gardening session. This is a great time for kids to learn how to do the same. Having their own set of tools will give them an opportunity to develop a sense of responsibility and stewardship over their tools.
Motor Skill Development
Having a tool that is the right size for your child's hand and height will help her develop better gross motor skills. Using an adult-sized tool makes everything more awkward for them and will not improve their motor skill development.
A lightweight tool may also make them enjoy gardening more, as the increased weight of adult-sized tools may be too heavy for them to use for long, which will lead them to grow tired of the activity and want to stop sooner.
What Tools Does a Child Need to Start Gardening?
Primarily, most children's gardening sets include a rake, trowel, and shovel. This is enough to get started, but they may also want to branch out to additional items like gardening gloves to keep their hands clean, wheelbarrows to move rocks out of their garden, and a watering can to make sure their plants get plenty of water.
Additional items can include a gardening tote or wagon to carry and store their tools in and activity books with fun science and art activities you can do together as you garden.
Features to Look for in Kids Gardening Tools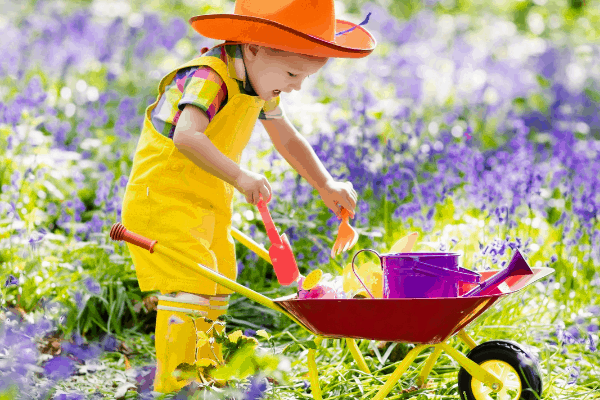 Durable
When it comes to kids' toys, durable, sturdy, and long-lasting are always features to look for. Even though you may pay a little more for a good brand name, it's worth the extra cost to not have to buy the same toy again after it breaks.
Lightweight
A kid's garden tool shouldn't be too heavy for them to hold onto. A lightweight and compact tool will fit in their hands easily, and they will be able to manipulate them better as they work.
A heavy tool can cause kids to become tired quickly and then they won't want to garden anymore. Just make sure the tool you choose matches their age, body weight, and size.
Safe
Safety should always be a top priority when it comes to kids' toys, but especially when you're talking about a tool your child will be using in the yard. Make sure the tools you choose are lightweight, use non-toxic paint, and have rounded edges that won't injure your little one.
Colorful
Kids love colors and a colorful tool will help keep them engaged in their tool. It will also help them stand out in the garden setting, so they will be easier to keep track of.
Easy Storage
If you plan to purchase several tools for your child, it can help to get a garden tote or container to store the tool in. It will also help teach your child how to stay organized and prevent the tool from getting misplaced.
Best Kids Gardening Tool Sets
Most of the kids' gardening tools we're recommending here come in all-in-one sets that make it easy to get all the tools you need in one shot. Each set contains slightly different tools, colors, and design elements.
Many sets include just a standard set of three tools and a carrying caddy, while others are more robust and may include additional items such as watering cans, aprons, gloves, garden markers, wheelbarrows, and instructional guides.
We've tried to include as much details about the differences between each set so you can find the best fit for your children. After the gardening tool sets, we've also included some standalone purchases that may also be beneficial to your kids' gardening hobby.
Melissa & Doug Giddy Buggy Tote Set ($14.99)
Featuring a colorful, patterned tote, the Melissa and Doug Gardening Set is a complete set of a kid-sized tool that includes a spray bottle, rake, and shovel. The adorable ensemble not only encourages imaginative play, it also helps children develop fine and gross motor skills and experience outdoor exploration.
The Giddy Buggy Tote is a great alternative to a plastic garden wagon since you can use it for many other purposes. The included toys were designed to inspire connection and engagement with your little one and are ideal for children ages three and above. (The plastic tools in this set would also make it one of the safer options for toddlers, as long as supervision is used).
This easy-to-clean and sturdy tool set was designed specifically for young gardeners and fits perfectly into their small hands. The Melissa and Doug Gardening Set allows your child to keep all their tool organized in the handy side pockets.
The tote is constructed with a made-to-last fabric that includes sturdy woven handles.
Pros:
Easy to clean tools
Well-made durable fabric of the tote will hold up to regular use
There are plenty of pockets on the tote to store other tools or garden treasures
Cons:
It doesn't come with garden gloves
Tools are made of plastic
Check it out now
---
Toyrifik Kids Garden Toys ($18.99)
Always considering safety first, the Toyrifik Garden Set is unlike other garden toys. This set will actually let your child do garden work instead of just pretending. These tools are very strong, durable, and long-lasting, so they won't break easily like plastic toys.
The Toyrifik Garden Set allows a child to water flowers, dig, and rake the soil. Fun to use and practical, this tool is a good choice for a child that loves to get her hands dirty.
This set includes a shovel, fork, gardening gloves, rake, and tote bag. The handles of the tool are constructed of wood, and the metal heads have a rounded edge for safe use by children.
Made in exciting, bright colors, the Toyrifik Garden Set boasts red, green, yellow, and blue hues kids will be drawn to. This super safe tool is not only fun to use, but is a great way for a child to perform real garden work.
This set is recommended for older preschoolers and early elementary students.
Pros:
Made of high-quality durable metal, these tools should last a long time
The rounded edges of the tools reduces the risk of injury
This set is full of colorful tools that kids will love to use
The wooden handles are just the right size for small children to grip
The tote bag has lots of pockets for organizing the tools and collecting treasures
The set includes a pair of gloves
Cons:
The bag has lettering that peels off easily
The gloves are not the best quality
Check it out now
---
ROCA Pink Garden Set ($27)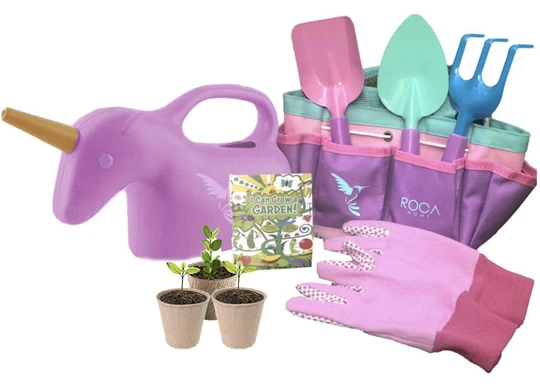 Featuring kid-safe tools and a watering can in the shape of a unicorn, the ROCA Pink Garden Tool Set allows children to experience gardening with toys that encourage a sense of whimsy.
Safe for kids three and older, this kids' toy set includes a watering can, hand rake, hand shovel, and spade. The tools fit nicely into the purple and pink gardening bag that is easy for a child to carry as they work.
Equipped with rounded edged heads, these non-sharp metal tools are strong enough that kids can use them to dig in the dirt. The kit includes a learning guide with detailed instructions and fun STEM-based lessons on animals and gardening. There's even a durable pair of gloves and three biodegradable planters.
This early introduction to gardening is a fun way for kids to learn about nature and science that combines both hands-on learning and reading.
Pros:
This kit includes a fun STEM-based activity book with fun puzzles and activities to promote critical thinking
The tool is made with kid-friendly materials that are strong enough for real use
The set is visually attractive and will appeal to a large segment of children
Cons:
The unicorn theme will not appeal to all children (you either love it or you don't!)
There is also a lovely blue set, but it's currently out of stock everywhere (as of March 2021. I'll update when it becomes available again)
Check it out now
---
HearthSong Kids Tool Set ($34.98)
The HearthSong Garden Tool Set will grow with your child as he grows. The adjustable shafts of every tool can be lengthened so the rake, shovel, and hoe handles will never be too small. Safe, comfortable, and easy for kids to use, this tool is comfortable for children because they fit in their hands well.
Made specifically for a child's hands, the HearthSong Kids Tool Set includes a sturdy tool with metal shafts and soft-grip handles. Easily adjust each tool from 33 to 39 ½ inches, this versatile toolset will be enjoyed by your child for many years. Equipped with a soil rake, shovel, hoe, and leaf rake.
Pros:
The tool comes with adjustable handles
The set is durable, comfortable, and sturdy
Kids really enjoy this set thanks to their soft grip handles
Built in hooks for easy storage
Cons:
Set does not include gloves or a watering can
Check it out now
---
Deluxe 30-piece Curious Gardener Gardening Collection ($79.99)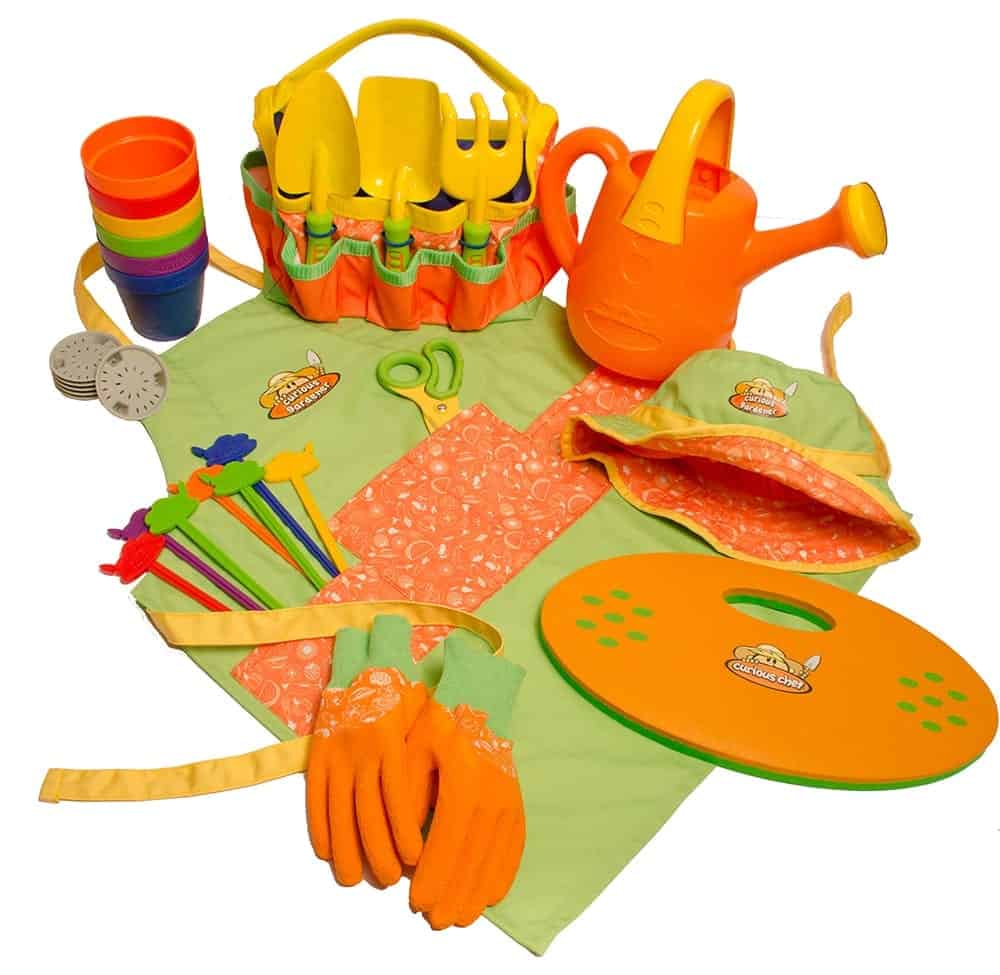 Featuring an easy to grasp tool, the Curious Gardener Gardening Collection is a thirty-piece set that includes everything your older child will need to become a master gardener.
This set is a great way to get your child interested in gardening, especially if you're a serious gardener yourself and plan to spend a lot of time in the garden together.
The set includes:
Trowel
Shovel
Hand rake
Garden shears
Watering can
Kneeling pad
6 nursery pots
6 watering drains
7 garden markers
Garden gloves
Garden hat
Garden apron
Storage tote
2 garden marker sticker sheets
Bonus sticker set
Supply list
The Gardening Collection tools feature metal heads that are tough enough to do real garden work but also small enough to be comfortable enough for a child to use easily. The soft-touch grips have an ergonomic handle and are lightweight enough to use for long periods of time.
As you both work in the garden, you can teach your child about photosynthesis and plant growth as well as how to measure and count.
This collection is perfect for kids four and up.
Pros:
A child can learn science and math when they use this set
There are lessons on photosynthesis and plant growth
The set is designed for use by little hands
Cons:
At almost $80, it's a bit of an investment, but it's sure to provide countless hours of enjoyment
Check it out now
---
Small Foot Wooden Toys Large Garden Set with Wheelbarrow ($59.99)
This set offers superb value for its price. Not only to kids get a whole suite of gardening tools, they also get a pretty sweet wheelbarrow.
Small Foot Wooden Toys strives to create environmentally sustainable products that use premium renewable wood as their primary material. This gardening set includes parts made from durable steel. This set, like all of their products, combines classic toys with modern educational expertise and contemporary design.
This set offers some of the best gardening tools for kids: gloves, hoe, rake, spade, trowel, hand rake, and a wheelbarrow. It's prefect for kids ages three and up.
Pros:
Made from durable, sustainable materials
Offers great value with five gardening tools, a wheelbarrow, and a pair of gloves for under sixty dollars
Attractive color scheme will look great in the garden
Cons:
Some users have mentioned that the packaging is poor and the assembly instructions are inadequate
Check it out now
---
Clever Kid Kids Garden Set ($28.99)
This adorable set includes a tote bag, garden gloves, and an instructional gardening book. The Clever Kid Kids Garden Set is a great value for the quality that you get. Giving you everything your child needs for hours of outdoor play fun, this is a great choice for children preschool or kindergarten age.
Including a watering can, trowel, rake, and shovel, the Clever Kid Kids Garden Set helps to promote educational STEM learning regarding eating healthy food and nature. This early learning development set helps kids learn about plants, vegetables, and fruits using a durable tool that is made from non-hazardous, durable materials.
The tool is made with no sharp metal heads and plastic handles that are perfect for small hands that are durable enough to last through a lot of physical activity.
Pros:
These garden sets are a good value for what you get
The tool is long-lasting and durable
The set helps to teach early learning STEM development
Also comes in a bright blue and yellow design
Cons:
There have been some issues with users receiving wrong items
Check it out now
---
CUTE STONE Kids Gardening Tool Set ($35.99)
Here's another gardening tool set that offers exceptional value. Not only does it include a small wheelbarrow, perfect for tiny gardeners, it also includes several gardening tools not seen in any of the other sets, such as a double hoe, cultivator, and hedge clippers.
A green apron, durable gardening gloves, and a watering can round out this popular set. At under $35, this set made for kids ages three and up, offers many opportunities for play gardening. Due to the quality of the materials, you may find they don't last as long for serious hands-on gardening.
(If the set is sold out on Amazon, you can also find it here).
Pros:
Includes a variety of advanced gardening tools not seen in other sets
The wheelbarrow makes a perfect place to store the tools when not in use
Made of high quality, durable, odor-free materials
Soft silicone handles make the tools comfortable to hold
The tools are made of plastic so they're quite safe
Cons:
Because the tools are made of plastic, they are not particularly functional for the more serious child gardeners
Check it out now
---
Little Tikes 2-in-1 Garden Cart and Wheelbarrow ($39.99)
Many of the sets we've looked at so far are best for kids ages three and up, but what if your toddler wants to get in on the action too?
They might need their own set of garden tools designed especially for them.
I love this little garden cart set from Little Tikes. Using the tiny green rolling cart with it's red-and-white-striped roof, your smaller children will have a blaset setting up their own flower stand.
The set also includes plastic tools and a real working sprinkler if the future gardeners want to get more hands on in the garden.
Pros:
Perfect gardening set for the smallest of children
Flower cart converts to a wheelbarrow
Made in USA
Kids can plant their own garden and water it themselves with the working water sprinkler
Cons:
Because it's so small, kids will outgrow it quickly
Check it out now
---
TMY John Deere Steel Wheelbarrow for Kids ($49.49)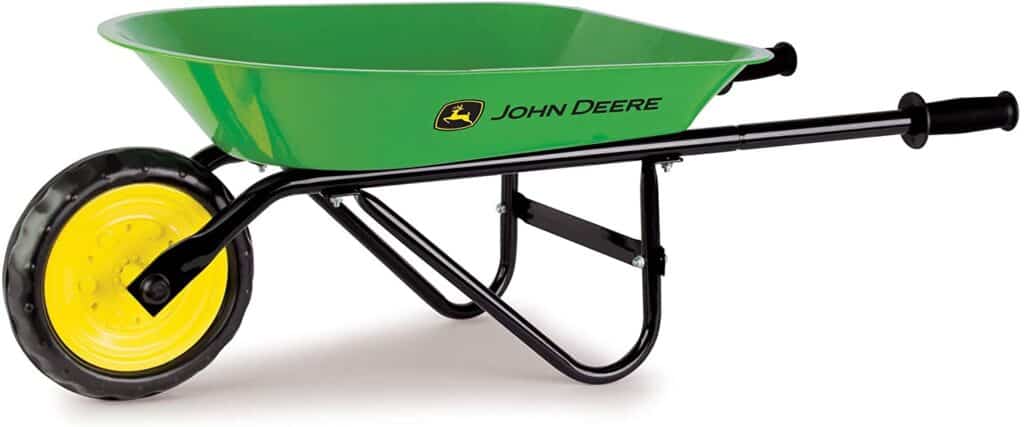 If you already have a good set of gardening tools for your kids, you may not need a whole bunch of new tools. But you might want something special to help your little gardeners up their gardening game.
In that case, a miniature John Deere wheelbarrow could be just the ticket. This durable design made from sturdy steel will last them for years as they help haul dirt, rocks, and yard waste around the garden.
The vinyl hands grips give children a secure hold and make it comfortable for them to push this for longer periods of time.
Designed for children ages two and up, the John Deere steel wheelbarrow will be a great addition to your kids' gardening tool collection.
Pros:
Durable steel design
Vinyl hand grips make for a comfortable and secure wheelbarrow pushing experience
Cons:
It's important to take note of the dimensions; this wheelbarrow (and others made for kids) is smaller than a lot of people expect it to be. It's made for children two and up, so it's quite small.
Assembly is challenging. If you can find one pre-assembled in a store, it might be worth making a trip.
Check it out now
---
TOMY John Deere Weed Trimmer Lawn and Garden Tool Set ($22.99)
We're not going to lie: We're incredibly partial to tools that actually let kids participate in the work that's needed to maintain the garden. Playing is fun on its own, of course, but if they can actually be helpful at the same, all the better.
While this weed whacker doesn't actually whack weeds–that might be a little dangerous for the intended age group–it's great preparation for the day when they can actually use a small power tool.
Designed for 2-4 year olds, this fun garden toy actually allows kids to feel like they're helping trim the weeds. With a realistic pull cord and trigger functionality, this toy weed whacker emulates the function of its adult counterpart admirably.
When the pull cord is pulled repeatedly, the spinner on the end twirls around and makes a popping sound reminiscent of a real power tool.
Pros:
Allows children to feel like they're using the same power tools as their parents
Has realistic functionality with the pull cord and the trigger
Cons:
Some parents report that the cord can be problematic and is hard for some smaller children to pull
Each pull only gives about 20 seconds of activity (if you prefer a motorized version, check out this one)
Check it out now
---
Husqvarna 589289601 Toy Lawn Mower  ($39.95)
Finally, no list of gardening tools for kids would be complete without a toy lawn mower. After all, so much of gardening is just taking care of our grassy lawns. With the Husqvarna Toy Lawn Mower, they can mow right alongside Mom or Dad and feel like they're part of the action.
Powered by three AA batteries, this realistic toy lawn mower features realistic engine sound and lights.
This sturdy plastic power is designed for 2-5 year olds.
Pros:
Sturdy and durable; designed to replicate the look and feel of a real lawn mower
Realistic sound
Handle has adjustable positions
Cons:
It moves slowly on grass compared to hard surfaces
The handle is a weak point in the design and sometimes comes out when you don't want it to. Some reviewers recommend using Gorilla Glue to secure it in place.
Check it out now
---
Encouraging lots of fun activities and wonderful memories, kids gardening toys can be a great idea for a child of any age. When you start at an early age, you can instill a love of the outdoors, food, and appreciation of where food comes from. Plus, it's a wonderful way to spend hours of quality time together.
I hope that these ideas have inspired you to grab some of the best gardening tools for kids and spend some time in the garden together this spring and summer.
Leave a comment below and let me know which gardening tools you like best for kids and don't forget to save this post to Facebook or Pinterest so you can find it later.