Christmas is a time for giving, and one of the best ways to do that is by choosing sustainable gifts. These eco-friendly presents are not only good for the environment, but they also support ethical companies and help to promote awareness about sustainability. If you're looking for some sustainable gift ideas, check out our list of 68 best gifts to give right now. From sustainably produced fashion to organic foods, we've got you covered!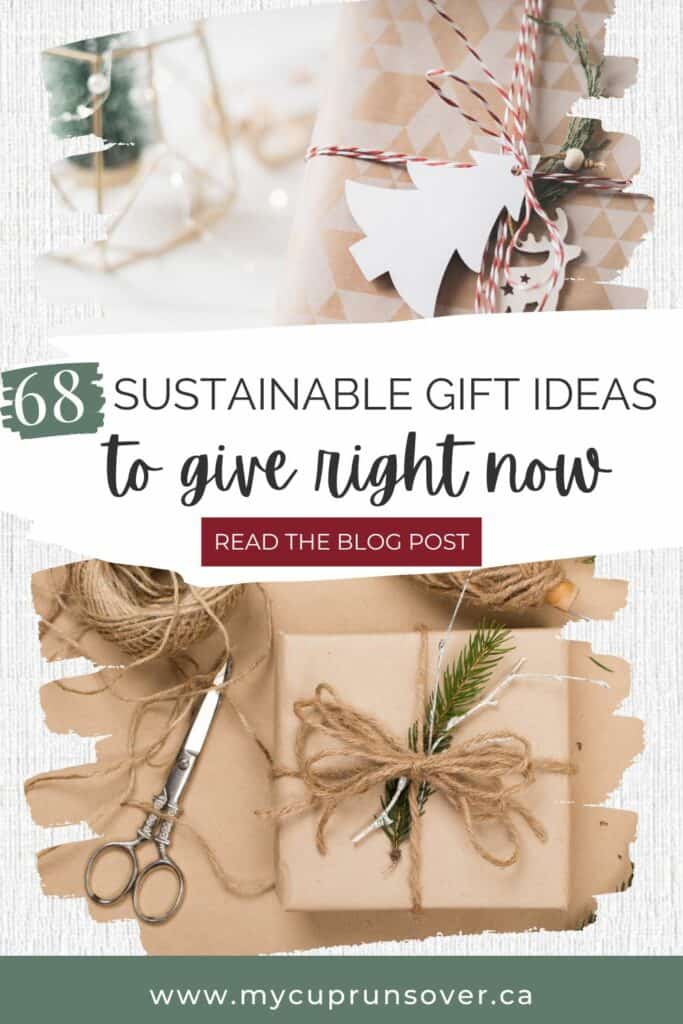 Affiliate disclosure: This post may contain affiliate links, which means we may receive a commission if you click a link and purchase something that we have recommended. Please read our disclaimer for more details.
Why Sustainable Gifts are Important
With climate change and continued drought in many parts of the world, it's more important than ever to give gifts that won't put a strain on the environment. Sustainable gifts are made from materials that have less impact on the planet, like bamboo instead of plastic or metal, or products that use less water in their production. Giving a sustainable gift is a great way to show you care about the planet and the people who live on it. And with so many amazing sustainable products available today, it's easy to find the perfect gift for everyone on your list.
While a shiny new gadget may be tempting, the truth is that sustainable gifts are the best choice for both the planet and the recipient. For example, a sustainable water bottle can help to reduce the amount of plastic waste produced each year, while also providing a convenient way for the recipient to stay hydrated on the go.
Alternatively, a potted plant makes a beautiful and long-lasting gift that doesn't require any extra packaging or shipping. And if you really want to make a difference, you can give the gift of an experience like tickets to a local art museum or a hiking trail pass.
The Benefits of Giving Sustainable Christmas Gifts
Christmas is a time for giving, but all too often our gifts end up in the trash soon after they are opened. According to the EPA, Americans generate 25% more trash during the holidays than at any other time of year, and a large portion of this waste comes from wrapping paper, boxes, and bows. In addition, many popular Christmas gifts are made from plastic, which takes centuries to decompose. As a result, giving sustainable Christmas gifts is one of the best ways to reduce your carbon footprint and help protect the planet.
Here are some of the direct benefits of giving sustainable gifts:
Support eco-friendly and ethical business. Most people set aside a budget for buying gifts during the holidays and throughout the year. Why not use that money to support businesses that are trying to make a difference? From Fair Trade organizations to those with circular production models, forward-thinking businesses can only grow if we show them our support by purchasing their products.
Generate less waste. Reducing waste generation should be at the forefront of our minds as we shop for sustainable gifts. Nobody needs more plastic junk lying around their house. many sustainable gifts—such as restaurant gift cards, experiences, and donations to charitable organizations—don't involve acquiring any material stuff at all (and thus generate little to no additional waste). If you do choose to purchase products, look for ones that are made from recycled materials or that can be fully reused, repurposed, or recycled at the end of its useful life.
Create a ripple effect in the local and global economy. Where we spend our dollars really matters. When we choose to support local businesses and farmers, we build up the communities we live in and make it possible for our neighbors to generate meaningful livelihoods. We can increase our impact even further when we choose to purchase from companies that pay attention to their whole supply chain from the farmers who grow their raw materials to the workers who assemble finished products. Each purchase we make has the opportunity to make a difference.
Reduce carbon emissions. Many manufactured goods require a lot of energy to produce, and this often comes from burning fossil fuels. This contributes to carbon emissions and climate change. But if you give a gift that is made from recycled materials, or that doesn't require any manufacturing at all, then you can help reduce carbon emissions. If your gift is made from new materials, try to buy it from a company that uses renewable energy or purchases carbon offsets.
What Makes a Sustainable Gift?
People often think sustainable gifts and products are too expensive, and they're not entirely wrong. Companies that put consideration for people and the planet at the forefront of their operations usually do have to charge more for their products.
However, the most sustainable gifts do not have to be pricey. In fact, not buying something is the most sustainable thing you can do.
I've recently been asking around to find out what people most enjoy receiving as Christmas gifts. Almost always, the thought is more important than the gift itself. Friends have told me that they'd much rather receive a heartfelt card or letter than an expensive gift. If the card comes with a gift card to get a cup of coffee at a nice cafe, that's a bonus, but even that's not always necessary.
Experience gifts and the gift of your time are other hands-down favorites. I love to invite other families over in the month of December and make them a really nice dinner as their gift. During the rest of the year, we don't always have time to spend a lengthy evening with friends—at least not as much as we'd like to. Creating the space and time to be together and connect over good food is one of the best gifts we can give.
My other favorite type of sustainable gift to give are DIY gifts. I spend much of the fall planning and making small, thoughtful presents to give my friends and loved ones. I like to recognize a large number of people in our community over the holidays, more than I would be able to buy gifts for. But by making sustainable DIY gifts, I'm able to make my giving budget go a lot further.
My go-to DIY gifts are soaps, candles, lip balms, hand salves, potted plants (taken from cuttings), and baked goods. I've developed an awesome system for planning and tracking all my DIY gifts so I can cut down on my time investment while still producing tons of awesome sustainable gifts. If you want to go all in with DIY gifts, check out my DIY Gift-Giving System.
But for some people, I know you're still going to want to give physical gifts. Whether you're trying to help them switch away from more single-use products or you want to support Fair Trade workers by spreading some chocolate love, we all have our reasons for seeking out eco-friendly gifts that we can hold and wrap.
For these, we want to make sure we're making the best choices possible. Take into consideration factors like:
Where was it made (and how? by whom?),
Under what labor standards was it produced?
How far has it traveled?
What materials went into making it? Were they virgin or post-consumer?
How long will it last?
What will they do with it when it reaches the end of its useful life?
Is there a better alternative?
Do they really need this?
These are just a few of the questions that will help you discern whether a gift is good for the planet or not.
And now, without further ado, let's look at 68 of our top picks for sustainable Christmas gift ideas.
The Ultimate Guide to Sustainable Gift Giving
All prices below are in USD unless noted otherwise.
Christmas is the time of year when we all come together to celebrate family, friends, and giving. This holiday season, why not give gifts that are sustainable? Not only are these presents good for the environment, but they also support ethical companies and promote awareness about sustainability.
There are amazing sustainable gift ideas out there for everyone on your list, from homebodies to world travelers. Let me know which sustainable gift you're most excited to give this year!
Need more gift ideas? Check out some of these other gift guides:
Sophie Agbonkhese is a writer, homeschooling mother of four, and a recovering overachiever (who occasionally relapses). She is the founder of My Cup Runs Over, a site dedicated to helping busy women simplify and enrich their lives. When she's not writing or debugging websites, Sophie spends her time reading, dancing, bullet journaling, reading, gardening, listening to audiobooks, and striving fruitlessly to have a clean house for at least five minutes.