DIY Christmas gifts seem to have a bad rap. Unless they are crafted by your five-year-old daughter, they can easily end up in the "Oh, thanks, you really shouldn't have" category. But it need not be so.
DIY gift-giving has come a long way from the days of clay ashtrays and coat hanger tie racks. Now, homemade Christmas gifts are the number one way to show people how much you love and appreciate them. (Except, perhaps, for a bottle of wine. Even then, you could step it up with a DIY wine bag—see #71).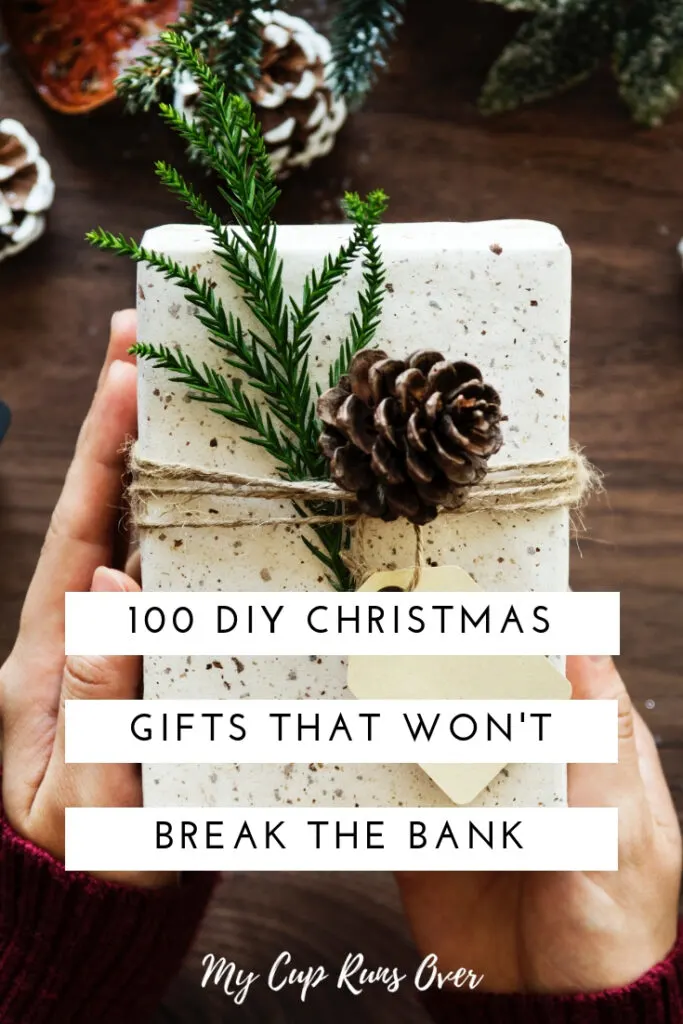 Affiliate disclosure: This post may contain affiliate links, which means we may receive a commission if you click a link and purchase something that we have recommended. Please read our disclaimer for more details.
Here's what makes DIY Christmas gifts so awesome:
No shopping. Or at least, way less shopping. I really, really dislike shopping. Malls stress me out like no other setting. I'd much rather spend a weekend crafting in my dining room than hours fighting through the hordes of people in the mall to find the "perfect gift."
DIY Christmas gifts are personalized and customized. You can adapt each recipe or tutorial to suit the people on your list, using their favourite colors, scents, styles, etc. I love gift giving so much, but only when it's done from the heart. When it feels like an obligation, it loses all meaning. Because of this, I try to stay alert when people mention things they like or need throughout the year so that I can design the perfect DIY Christmas gift for them.
Work within any budget. Some gifts can be made entirely with items you have on hand; others require more of an investment. What's great is that the perceived quality of the gift is not directly correlated to the cost. An infinity scarf made from fabric you already had on hand will be loved as much as an expensive one purchased from the store.
Ability to mass produce. Sometimes what you need is a large quantity of the same gift rather than a few highly personal gifts (think a class of preschoolers). With DIY Christmas gifts you can pick something that can be made in large batches, allowing you to make 30 inexpensive gifts in an hour and whip through your list like the productivity guru you are.
If I've got you convinced to try your own DIY Christmas gifts this year, read on! I have compiled a list of unique and creative DIY present ideas for everyone on your list.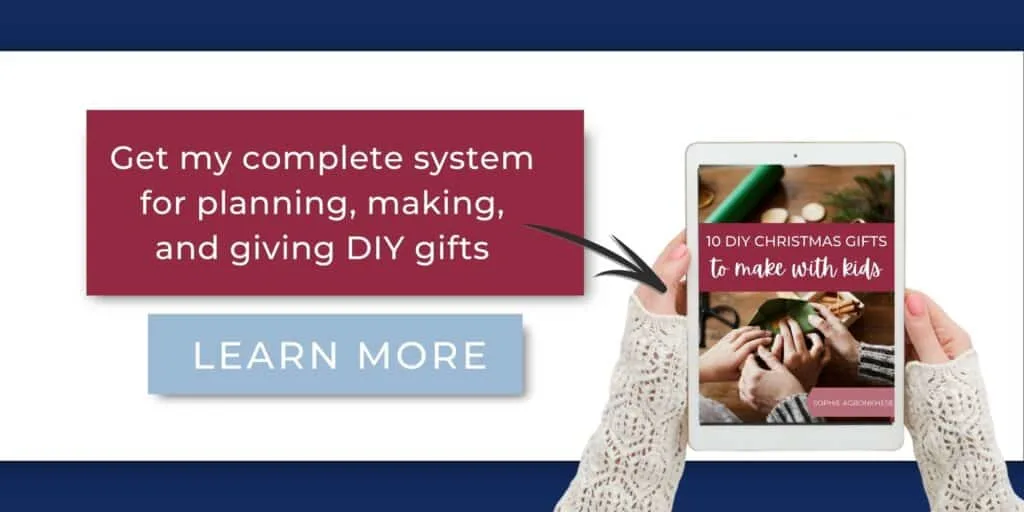 How I selected the DIY Christmas gifts on this list
I sifted through hundreds of ideas for DIY Christmas gifts in order to bring you this fantastic assortment. Here are some of the criteria I used in selecting these particular projects:
Variety
Your list is made up of a diverse group of people so your gift list shouldn't be any different. I wanted to bring you a selection of DIY Christmas gifts across a variety of categories. The projects below are grouped into the following categories:
Edible DIY Christmas gifts
Home decor DIY Christmas gifts
Self care DIY Christmas gifts
Practical DIY Christmas gifts
DIY Christmas gifts for (and by) kids
DIY Christmas gift wrapping options
Quality
Like I mentioned before, DIY Christmas gifts were not always the most desirable thing to receive, but they've come such a long way. They are now some of the most coveted gifts. Who wouldn't love a spa gift basket filled with handmade soaps, scrubs, and lotion bars?
As I sought out the best DIY gifts to bring you, I asked myself this question: would I or a family member love to receive this gift? If the answer was no, I moved on.
Simplicity
Let's face it, you really don't have much time to spare, especially at Christmas. I totally get that. Even as a homeschooling mom with a pretty flexible schedule, I often end up purchasing things I could easily have made myself for lack of time. And I've learned through the years as we participate in the craft fair that many things that sound simple and easy often end up being anything but.
I wanted to bring you DIY Christmas gifts that would be a joy to make, not a frustration. As I read through the tutorials, I asked myself, could I reasonably expect to make this in less than an hour (excluding drying/setting time)? Again, if the answer was no, I didn't include it.
A note on this: Not all of these gifts will be simple for everyone. Christmas is not the best time to try and learn a completely new skill. You're on a timeline and you have a lot to do. This isn't necessarily the time to try your hand at sewing for the first time or take up woodworking. Those are great things to try when you have a bit more time to spare for experimentation.
Because of the variety in this list, there should be a number of gifts on here that are simple for you. Stick with those ones for the best DIY gift-giving experience.
Now, without further ado, let's move on to the real reason you're here: 100 unique DIY Christmas gifts for everyone on your list.
100+ Easy Handmade Gifts Your Friends and Family Will Adore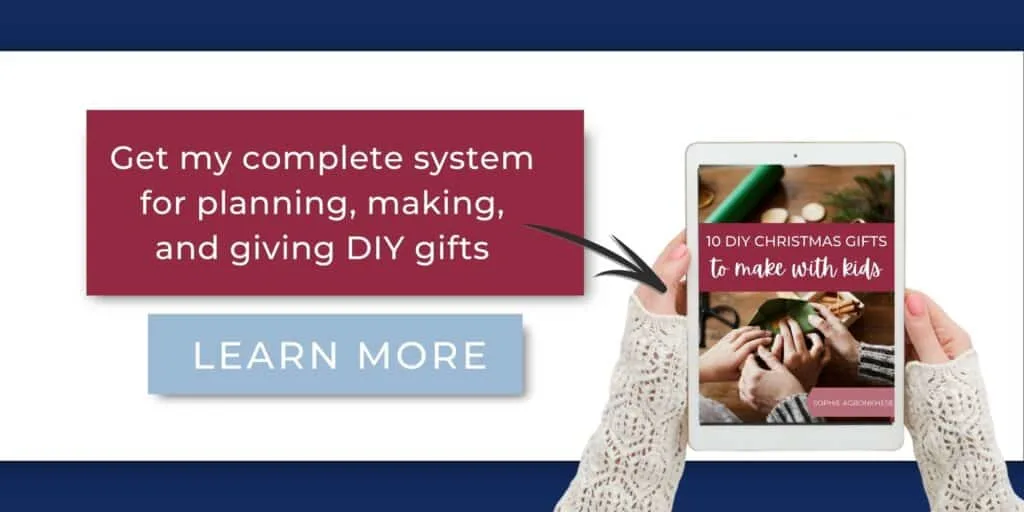 Shop Supplies
Collapsible Party Tray
---
Christmas Treat Foil Containers
---
Silicone Baking Mat
---
Pizza Cutter Wheel
Cupcake Stand
---
Christmas Treat Box Variety Pack
---
Nonstick Baking Pan
---
Silicone Pastry Brush
Belgian Chocolates
---
Christmas Gift Boxes with Bow
---
Wax Paper Sheets
---
Muslin Bags with Drawstring
DIY Candle Making Kit
---
16 oz Mason Jars
---
The Candlemaker's Companion
---
Essential Oil Set
Essential Oil Set
---
Glass Roll-On Bottles
---
White Mugs
---
Oil-Based Sharpies
Epsom Salts
---
Leather Scraps
---
Lego Silicone Mold
---
Kraft Paper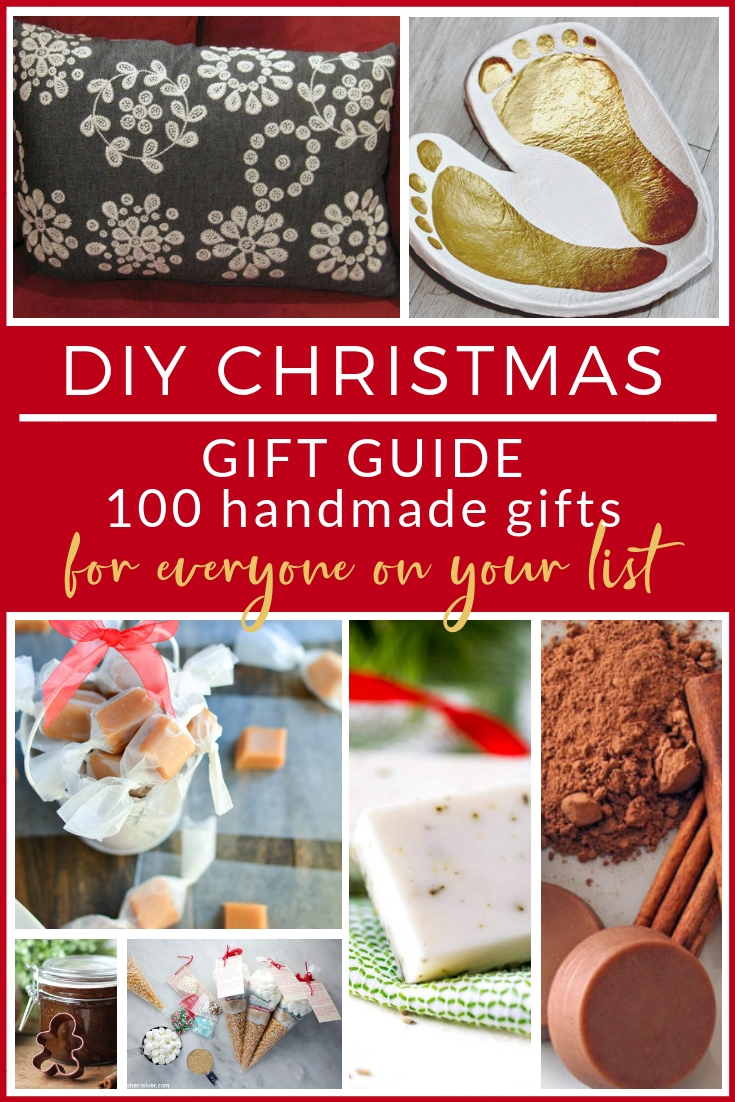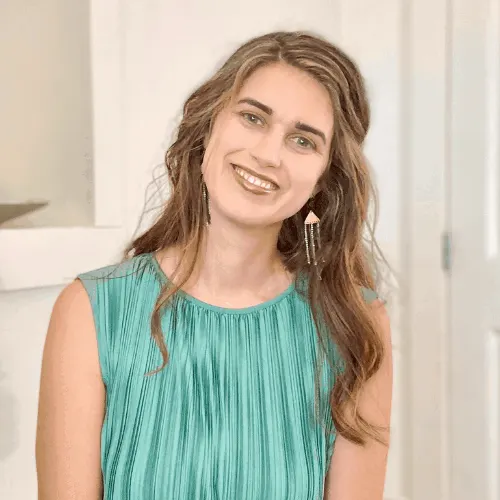 Sophie Agbonkhese is a writer, homeschooling mother of four, and a recovering overachiever (who occasionally relapses). She is the founder of My Cup Runs Over, a site dedicated to helping busy women simplify and enrich their lives. When she's not writing or debugging websites, Sophie spends her time reading, dancing, bullet journaling, reading, gardening, listening to audiobooks, and striving fruitlessly to have a clean house for at least five minutes.