If you're looking for November bullet journal ideas to keep you organized this month, you've come to the right place. In this post, I'll share a few different spreads and templates that will help you stay on top of your schedule, tasks, and goals. So whether you're a beginner or an experienced bujo-er, there's something here for everyone.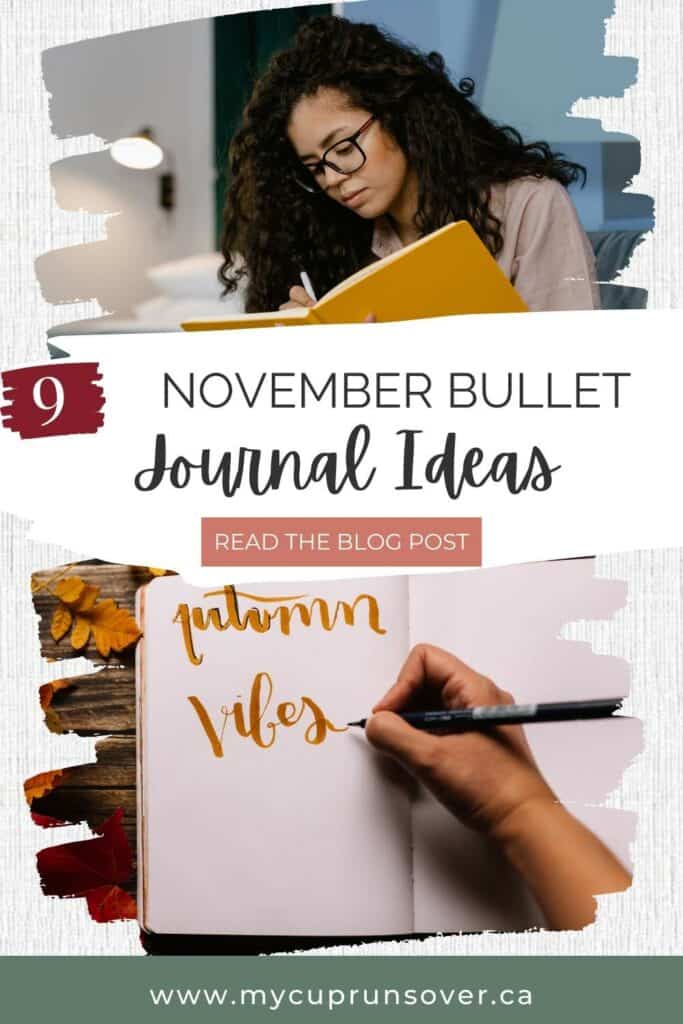 Affiliate disclosure: This post may contain affiliate links, which means we may receive a commission if you click a link and purchase something that we have recommended.  Please read our disclaimer for more details.
Why November is a Great Time for Bullet Journaling
If you're like most women, you're constantly juggling a million things at once. Keeping track of it all can be a challenge, but with a bullet journal, it's easier than ever to stay organized. Detailed, customized spreads help you keep track of all the things that matter most to you (and nothing more) so you can get everything done without feeling super stressed or overwhelmed.
Additionally, fall is a great time to reflect on the past year and set goals for the year ahead. When December hits, you'll be too busy with holiday events and preparations to get much reflection time in. If you want to hit the ground running toward your goals in the new year, November is the perfect time to kick off your reflections and planning.
When you're ready to get started, these November bullet journal themes will help you create beautiful, inspiring spreads that effectively keep you on track.
Bullet Journal Supplies
When it comes to bullet journaling supplies, you can keep it super simple or go all out. Amazing bullet journals don't require fancy materials—just a lot of love and patience. But a few basic items will go a long way toward inspiring your creativity.
Once you have your supplies ready to go, you can jump into these November bullet journal inspirations and pave a beautiful path into the new month.
This video shows how I create my monthly, weekly, and goal-setting bullet journal pages.
1. Monthly Overview Spread
A monthly layout that shows the entire month at a glance can help you keep track of appointments, deadlines, important dates, and other events. You can also use it to brainstorm ideas, make to-do lists, and track your progress on various projects. Plus, fall vibes make this the perfect time to get cozy with your journal and reflect on the past year.
There are many different ways to create a monthly overview. For the month of November, opt for a monthly spread with fall themes. This can be as simple as adding some fall leaves to the margins of your pages or creating a more elaborate design with pumpkins, scarecrows, and hay bales. Once you've decided on a layout, all you need to do is fill in the monthly calendar and start planning.
Monthly spreads are a great first step in planning out your new spreads for November.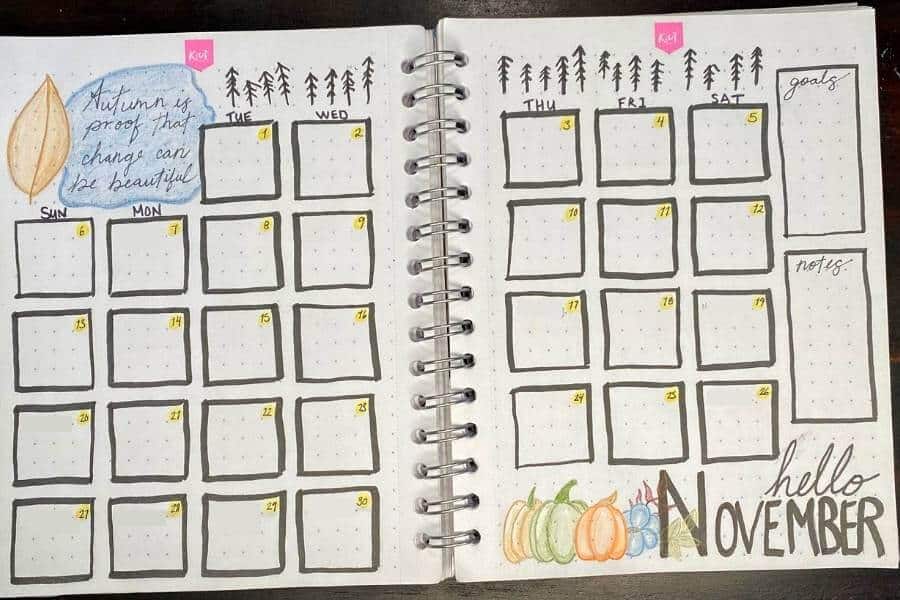 2. Weekly Spreads
As the weather begins to cool and the leaves start to change color, many people find themselves feeling more inspired and creative. One of the best ways to channel this creativity is by creating weekly spreads in your bullet journal.
To get started, choose a color palette that reflects the autumn season. Then, start brainstorming what you want to include in your weekly spread. Some popular ideas include tracking your weekly goals, meal planning, and listing things you're grateful for. I use mine to manage my appointments, daily schedule, and habits.
Once you have an idea of what you want to include, it's time to start designing your spread. Don't be afraid to get creative and experiment with different layouts and embellishments. I tend to overanalyze things and like to lay my designs out in Canva before drawing them in my bullet journal. I created a template to reuse as a background image that mirrors my own bullet journal so I can easily see how things will fit on the page. I find this saves me a lot of time, but if you're comfortable just jumping straight into your book, kudos to you!
Here are a few ideas for a monthly theme that could work well in November:
Woodland theme. Think muted neutral colors, baby animals such as squirrels, deer, bears, foxes, and raccoons, natural wood accents, and lots of green.
Fall theme. Think fall colors—either bright or muted—mirroring the seasonal landscape, acorns, owls, pumpkins, apples, sunflowers, and corn.
Cozy theme. Think stacks of books, cups of tea or pumpkin spice lattes, candles, sweaters, mitts, and cuddly cats.
Rustic theme. Think plaids and ginghams, kraft paper, hay, wheat, wagons, and chalkboard-style stickers.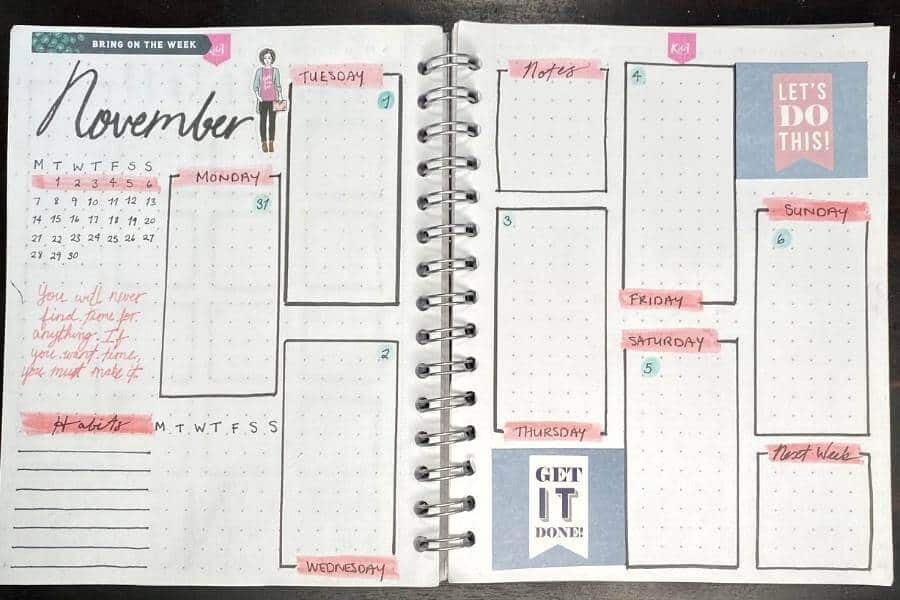 3. Monthly Goals
Bullet journaling is all about tracking your progress and setting goals. For each month, you can make a list of the goals you want to accomplish. This should cover everything you want to achieve this month and how will you go about it. I like to use the BAM Goal-Setting Framework developed by Ray Edwards. For each goal, indicate:
A baseline target. This is what you can reasonably expect to achieve based on past experience and performance.
An amazing target. This is a goal you stand a decent chance of accomplishing if you remain dedicated and focused.
A miraculous target. This is the level you don't actually expect to achieve, but just might if everything works out in your favor.
The key to making it work is to be consistent. Every day, take a few minutes to review your goals and update your journal. As you check off items on your to-do list, you'll start to feel a sense of accomplishment. And that will keep you motivated to keep going.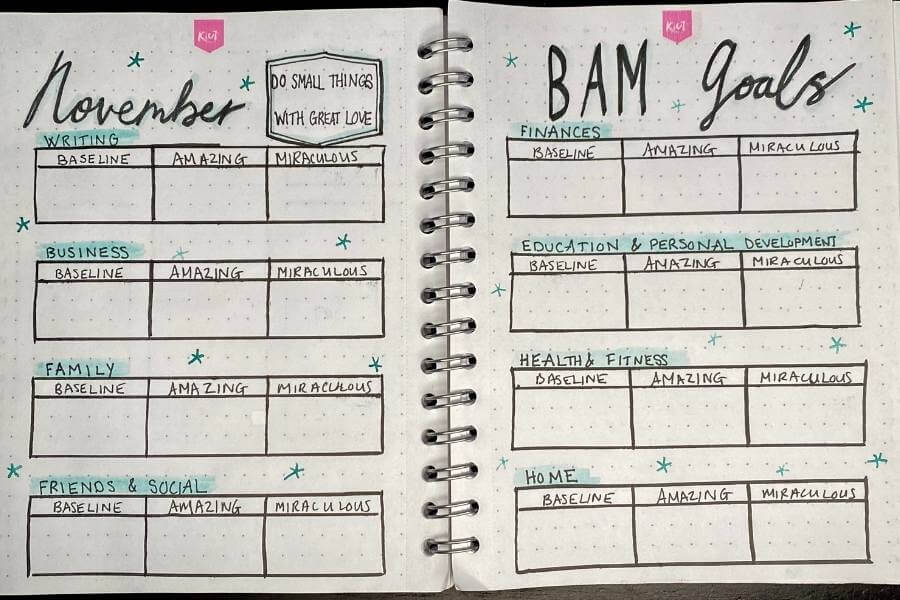 4. Habit Tracker
If you're looking for a way to keep track of your daily habits, then using habit trackers in your bullet journal is a great idea. This is an easy way to see if there are any areas you need to work on, and it can help you save a lot of time in the long run. Plus, it's just plain fun to see how well you're doing each day. So if you're thinking about starting a habit tracker, here are a few tips to get you started.
First, decide which habits you want to track. This could be anything from taking a brisk walk every day to quitting smoking. Once you have a list of habits, choose which ones you want to focus on first. You will want to start by tracking these habits in their current state for a week or two. This will give you a good baseline to work from. For example, you a pedometer, smart watch, or smart phone to track how many steps you take each day so you know what your initial goal should be.
Next, it's time to start tracking your progress toward changing your habits. There are many different ways to do this, but the easiest way is to use a simple table or chart. (If you want to get a bit fancier, check out my circle habit tracker templates). Simply record the date and mark each day that you complete the habit. At the end of the week or month, take a look at your progress and see if there are any areas where you need to improve.
Finally, don't forget to reward yourself for your successes. When you reach your goals, take some time to celebrate. This could be anything from buying yourself a small treat to taking a break from tracking for a while. However you choose to reward yourself, make sure it's something that will motivate you to keep going.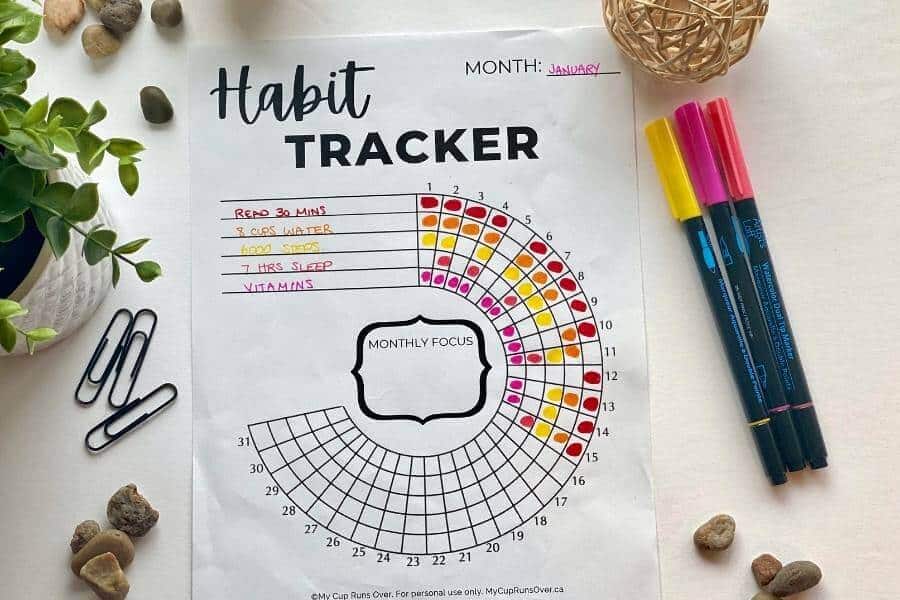 5. Mood Tracker
One of the best ways to track your mood is to document it in a mood tracker. This can be as simple as keeping a journal or diary and noting how you feel each day, or you can use a specific template or app. There are many different ways to do this, but the key is to be consistent and track your moods over time. This will help you to see patterns and trends and to identify any triggers that may cause you to feel negative emotions. For example, you may find that you tend to feel a little bit down during this time of year when the weather is colder and the days are shorter. 
There are many benefits to tracking your mood. For one, it can help you to become more aware of your own emotions and how they fluctuate over time. This can be helpful in managing stress and anxiety, as well as in identifying any early warning signs of depression.
Additionally, it can help you to see how different events or circumstances affect your mood. For example, if you tend to feel more down during the winter months, you may want to take steps to improve your seasonal affective disorder. Or, if you notice that your mood dips after eating certain foods, you may want to cut back on those foods or eliminate them from your diet altogether.
If you're not sure where to start, there are many resources available online. You can find templates, apps, and even community forums where people share their experiences with mood tracking. Here are a few to give you some inspiration:
Give it a try for a little bit and see how it goes – you may be surprised at how helpful it can be.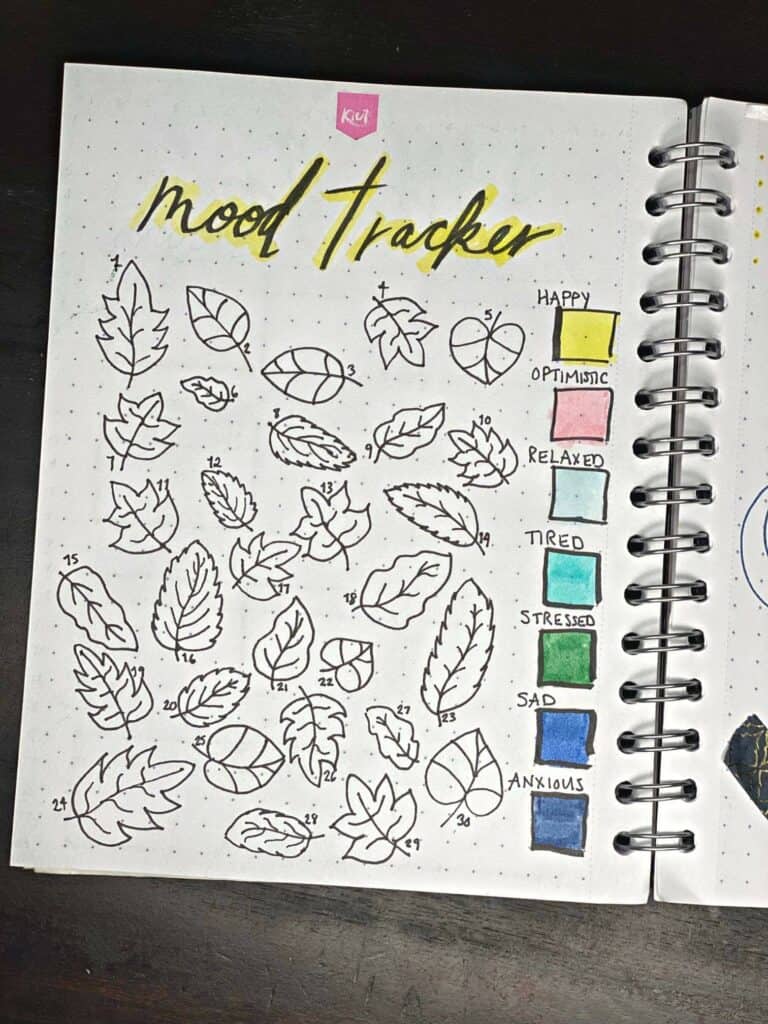 6. Spending Tracker
The holiday season is a great time to start using a spending tracker in your bullet journal. Tracking your expenses can help you get new insights into your spending habits, identify opportunities for savings, and meet your financial goals sooner.
For many of us, this is the time of year when we tend to overspend, whether it's on gifts, travel, or entertainment. If you find you're spending more on gifts than you had planned, you can adjust your monthly budget accordingly. Or, if you discover that you are eating out more often than you'd like, you can set a goal to cook at home more frequently.
By taking the time to track your spending, you can gain valuable insights that will help you make better financial decisions. With a little planning and some hard work, you can keep your holiday costs under control and stay on track with your financial goals.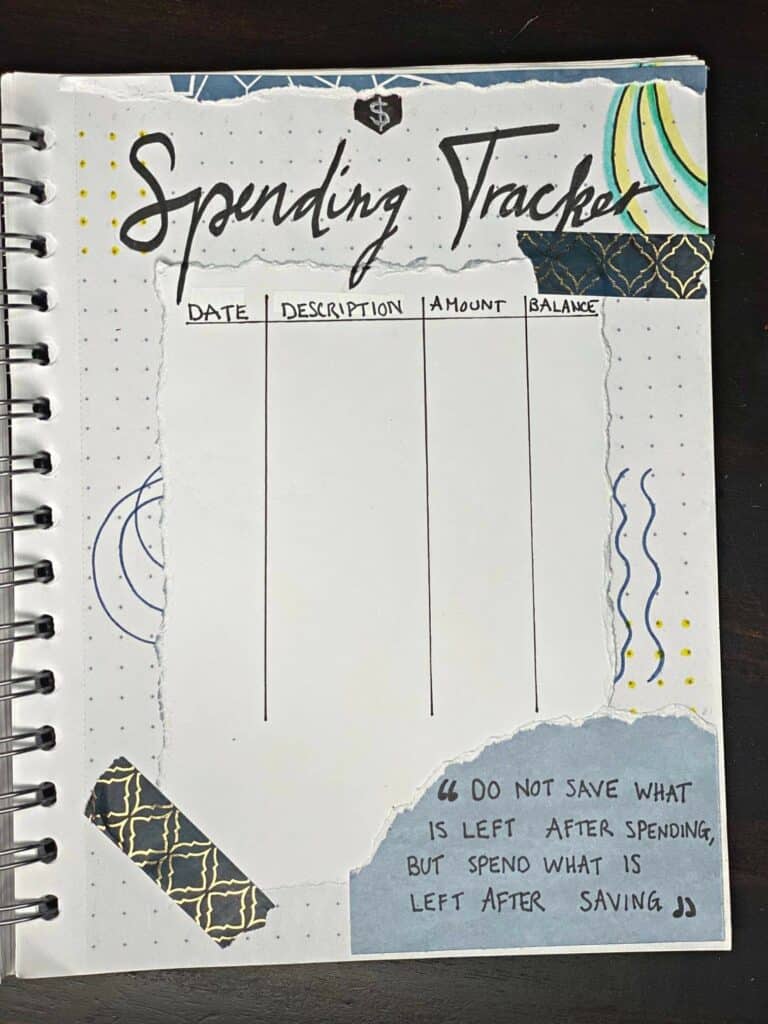 7. Books Read and Reviewed
A fun way to get more out of the books you read is to track them in your bullet journal. This will help you remember what you've read, notice patterns in your reading habits and preferences, and prepare you to discover even more amazing books.
You can use a simple table or chart to record the books you've read over the past month, along with your thoughts on them. At the end of the year, you'll have a great overview of your reading habits, and you may even be able to identify your favorite thing that you read all year.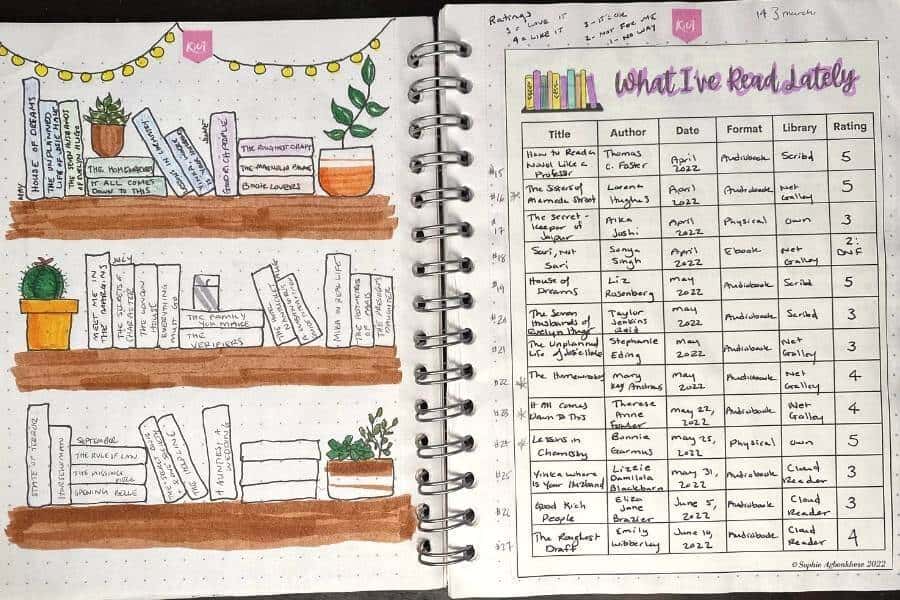 8. Gratitude Log
The act of keeping a gratitude log can help shift your perspective and increase your overall sense of joy and well-being. Regularly practicing gratitude has been conclusively linked with numerous benefits, including increased positive emotions, improved sleep quality, reduced stress and anxiety levels, and increased resilience in the face of adversity.
What's more, gratitude is contagious, so expressing thanks for the good in your life can have a ripple effect of positivity on those around you. If you're looking for a way to boost your mental health and vitality, keeping a gratitude log in your bullet journal is a great place to start. And what better time than Thanksgiving to start practicing gratitude?
This month is the perfect opportunity to reflect on all the things you're thankful for. So go ahead—give thanks and watch your happiness grow.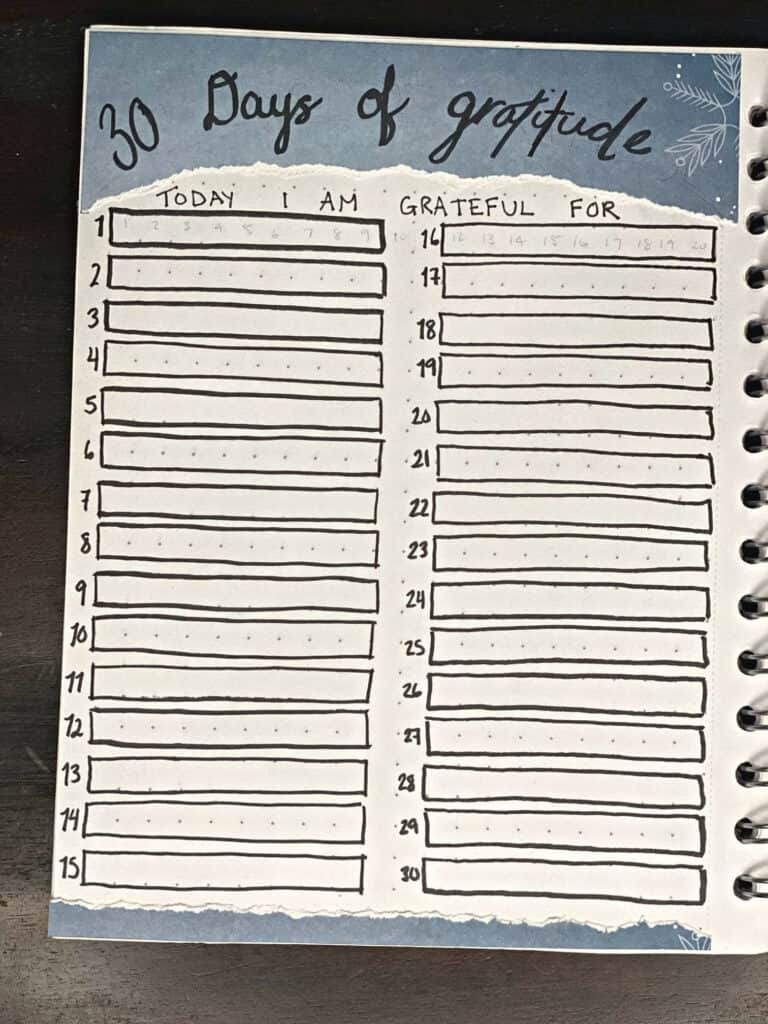 9. Meal planner
Fall is a great time to try out new recipes, but it can be overwhelming to plan an entire meal from scratch on the spur of the moment. If you're looking for some inspiration, keep a meal planner in your bullet journal.
This way, you can jot down ideas as you think of them and have a reference point when it's time to start cooking. Plus, it's always helpful to have a backup plan in case your first choice falls through. (If you're really stuck for ideas, remember that anything pumpkin spice-themed always goes over well this time of year!)
When it comes to Thanksgiving dinner, the best thing you can do is start planning early. That way, you'll have plenty of time to collect recipes and make adjustments to your menu. Don't forget to plan for enough pumpkin pie so that you can have several days' worth of leftovers after the holiday. Yum!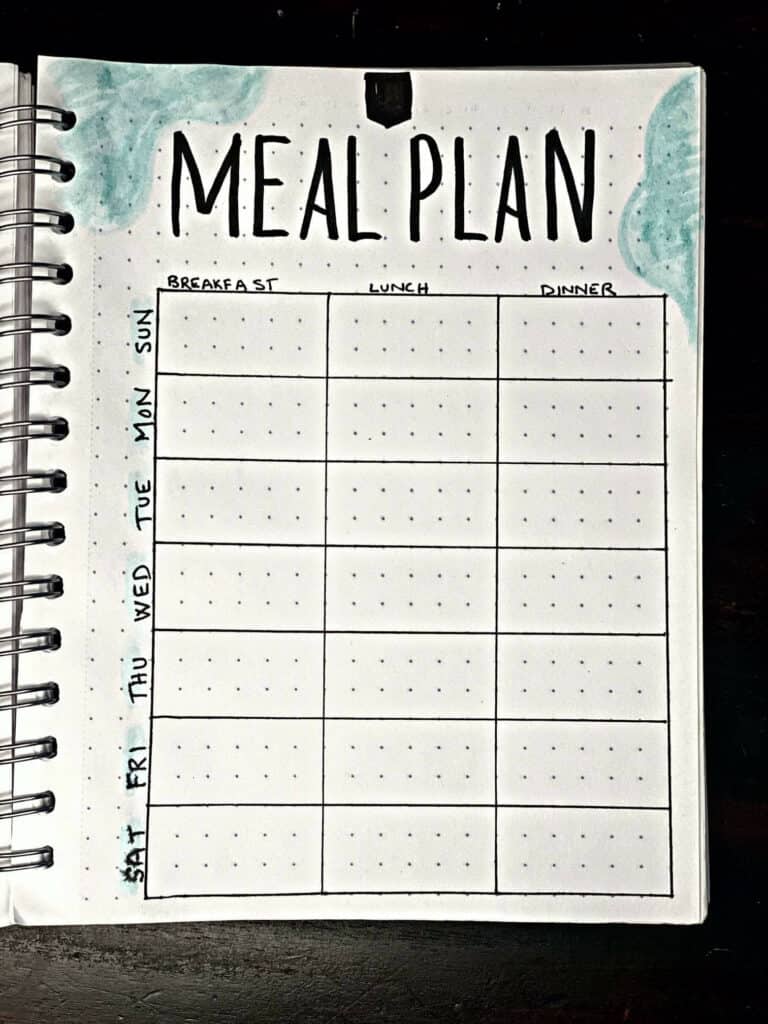 Get Going on Your November Bullet Journal Spreads Today
Bullet journaling is a great way to keep all of your important tasks and information in one place, and with so many creative options for November themes, there's no reason not to get started on your monthly planning today. What are you waiting for? Get organized and have a successful month!
What themes and pages will you include in your journal this month? Let me know in the comments below. And be sure to tag me on Instagram (@sophieelise.mycuprunsover) if you post photos of your spreads—I can't wait to see them!
Sophie Agbonkhese is a writer, veteran homeschooling mother of four, and a recovering overachiever (who occasionally relapses). She is the founder of My Cup Runs Over, a site dedicated to helping busy women simplify and enrich their lives, homes, and homeschools. When she's not writing or debugging websites, Sophie spends her time reading with her kids, gardening, listening to audiobooks, and striving fruitlessly to have a clean house for at least five minutes. She lives in southwestern British Columbia with her husband, Ben, and their children.