Are you looking for a cool gift for the science-loving teen or tween in your life? There are so many fantastic options available today from science kits to building sets to at-home chemistry labs. Here are 11 of the best science gifts for teens (and tweens).
Affiliate disclosure: This post may contain affiliate links, which means we may receive a commission if you click a link and purchase something that we have recommended. Please read our disclaimer for more details.
Shopping for gifts for teens can be hard. The latest trends and their personal tastes can change so rapidly, you run the risk of buying them something irrelevant.
But if the teens in your life have an interest in science, there is a world of possible stem gifts for teens that will spark their imaginations and fuel their love of learning.
That's why the best science kits have become a popular gift for teens.
From chemistry sets to gravity maze puzzles to an epic pen that prints their doodles in 3D, these great gift ideas are sure to please even the hard-to-please teen (or tween) in your family.
Perfect Science Gifts for Teens and Tweens
$79.99
The 3Doodler Create+ Pen takes drawing and doodling to a whole new level. Best of all? You don't need any complicated software to use it.
All you need to do is plug the pen into a wall outlet, and voila! You can draw 3D structures, design wearable items, (like a ring or a mask, for example!) build models, or explore your artistic side.
The 3Doodler Create+ Pen heats up the plastic refills, and when it comes out, it hardens almost immediately. This pen comes with 3 packs of ABS & PLA 3mm 3Doodler plastic refills in 15 colors. Watch it in action here.
This is one of the best stem toys for older kids who love to create amazing things using their imaginations.
$21.92
Is your teen curious about chemistry, science experiments, and geology? Then get them this magnificent Crystal Growing Experimental Kit. It contains everything your mad scientist will need to perform seven different experiments to grow crystals.
It even comes with a special display dome case so they can admire their creation once they are fully grown. Not only is this a great educational gift for teens, but it's a lot of fun, too.
Middle school kids will love doing this scientific experiment that results in awe-inspiring crystals.
$69.95
Do you have a kid who is obsessed with medicine? Is there an aspiring doctor in the family? Well then, the "How to Examine Patients Course & Kit" is right up their alley! This educational kit provides them an excellent introduction to medical examination principles. Their eLearning flash drive will take future doctors through different sections that contain several lessons.
The Apprentice Doctor course includes:
Introduction: sterility and asepsis, medical history
Principles of Examination: sound/hearing, light/vision, medical instruments,
patient examination
The Human Body Systems: all 11 systems including skin/covering, skeletal,
muscular, nervous, endocrine, cardiovascular, lymphatic, respiratory,
digestive, urinary and reproductive
Diseases: diagnosis of diseases, water and electrolyte balance, trauma,
specific diseases
Medical Chapters: six flash drive chapters (compatible with Windows and
Mac) and 14 online chapters on cardiology, airways, safety aspects,
neurosurgery, gastroenterology, and more
Careers in medicine and further opportunities
And if that wasn't cool enough, the kit also comes with medical tools such as a stethoscope and thermometer.
Learning about the medical field with this kit is an ideal way for high school students to explore a potential future career option.
$29.99
The ThinkFun Gravity Maze Marble Run Brain Game and STEM Toy challenges your kids to build their planning skills and spatial reasoning as they tackle 60 brain-teaser challenges that become increasingly difficult.
As the kids figure out their way through each maze, they'll be working on their logical reasoning, planning skills, and problem-solving skills, all while having lots and lots of fun! One of my favorite toys for teens.
This fun game is a great choice for kids who love jigsaw puzzles, mazes, and other logic problems.
$110.95
If your teen or tween is fascinated by science, then the Complete Introduction to Chemistry Kit is a great way to give them some serious hands-on experience. This complete chemistry kit has everything they'll need to create their very own mini-lab with beakers and flasks as well as protective safety equipment and even real chemicals.
It also comes with instructions on how to create 27 science experiments that explore physical and chemical reactions, endothermic and exothermic reactions, and electrochemistry among others. Chemistry kits are one of the best science toys for teens because there's so much you can do with them!
$39.95
The Precision Clock kit allows kids to build a fully functional mechanical pendulum clock using pieces of wood sheets, metal axles, and plastic spacers. The kit comes with a detailed manual of instructions that's pretty straightforward.
And best of all, it doesn't require any glue or batteries. Once it's complete, they'll be able to enjoy their precision clock which will function 7 hours per winding. How amazing is that?
Young engineers will have a great time building this timeless technology.
Detailed instructions organize the whole process into a beautifully straightforward DIY experience.
$79.99
This awesome kit includes everything teens need to create their own full HD stop motion animated movies using LEGO, toys, modeling clay, action figures, and more.
It contains a 1920x1080 HD camera with an easy focus ring and a flexible stand that wraps around surfaces and objects, easy-to-use animation software, and clear instructions (in both book and video format) for creating your own movies.
With the Stopmotion Animation Kit, teens will learn to create custom animation armatures, build and light their own sets, shoot and edit their scenes, and save and share their finished products.
Perfect for the budding photographer, filmmaker, or animator.
$21.99
If your kids have ever seen a Rube Goldberg Machine* and wanted to build their own, this is the perfect educational gift for them. Using LEGO bricks, plastic balls, string, paper ramps, and other components, tweens and teens will learn to design and build ten amazing chain-reaction machines.
This science kit includes an 80-page instruction booklet to walk kids through every step of the process. These machines are addictively fun to build, but they also teach kids new skills and help them understand how energy works, changing from one form to another and creating a flurry of activity.
*Click this link to visit Joseph's Machines, one of my favorite YouTube channels, in which Joseph Herscher creates some of the most amazing Rube Goldberg Machines in his New York City apartment.
$35.99
This engineering kit for teenagers teaches them about how buildings and bridges are designed to support massive weights. Kids will learn the different types of forces applied and how engineers account for their effects.
They will construct nine building projects including a house, a pyramid, and various styles of bridges. The included instruction booklet explains the scientific principles applied and encourages experimentation.
The Engino building system was developed by a former teacher and engineer to teach kids how to build technological models through play-based learning. It is an excellent tool for getting your kids interested in tech and engineering and at less than $40, it also offers great value.
$39.70
I was recently telling my (homeschooled) children about the metalworking class I took in junior high. I explained how learning to solder and wire circuit boards was actually one of the highlights of my academic life. (Unfortunately, the class only lasted two months!)
"That's the kind of thing you get to do in school?" they asked, incredulous.
Ever since we had that discussion, I've been trying to figure out how we could create our own metalworking shop at home, so I was incredibly excited to find this learn to solder kit online.
The soldering kit includes Elenco's Practical Soldering Project Kit SP-1A as well as a complete soldering station with tools. With this great science gift, teens will learn the basics of working with printed circuit boards and will develop good soldering techniques.
It includes 370 pieces and comes in an organizer box. This is a great opportunity to introduce kids to the wonderful world of electric currents.
$17.82
"From the creator of the wildly popular webcomic xkcd, hilarious and informative answers to important questions you probably never thought to ask."
Randall Munroe is the creator of xkcd.com, a webcomic where he shares stick-figure drawings to discuss a variety of topics, including science and technology. He welcomes absurd questions from readers, many of which he attempts to answer through scientific analysis (and his signature illustrations). These explanations "often predict the complete annihilation of humankind or at least a really big explosion."
What if everyone on earth aimed a laser pointer at the moon at the same time? What if you could drain all the water from the oceans? What if all the lightning in the world struck the same place?
These are the types of questions kids will learn the answers to in What If? Books are one of my favorite choices for educational gifts for teens.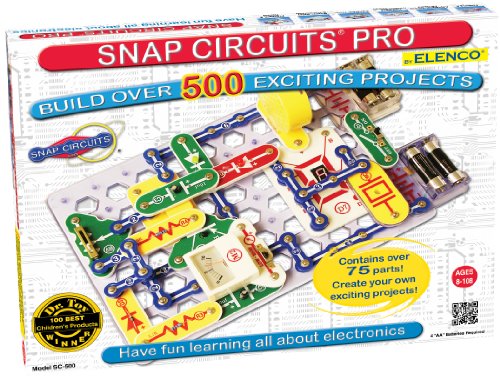 $95.99
Snap Circuits are some of the favorite educational toys for younger children and teens alike. Give kids an exciting, hands-on introduction to electronics with this innovative kit designed to promote critical thinking skills.
With over 70 color-coded, real circuit components that snap together to create working electronic circuits and devices, kids will be able to create many different projects while gaining a lifelong love of science and a deeper understanding of the basic concepts of electronics.
A perfect hands-on stem education activity, this Snap Circuits kit will teach kids to build over 500 experiments including a digital voice recorder, AM radio, digitally tuned FM radio, AC generator, screaming fan, whistle switch, and much more!
---