Making your own jewelry is a fun and creative way to grow your jewelry collection at an affordable price. Not only will your personalized jewelry be exactly to your liking, it will also be unique to you—nobody else will have exactly the same earrings or necklaces you have. If you really fall in love with making jewelry, you can even start designing some to make as gifts for friends or to sell. To get you started, here are some of the best jewelry-making kits for adults available today.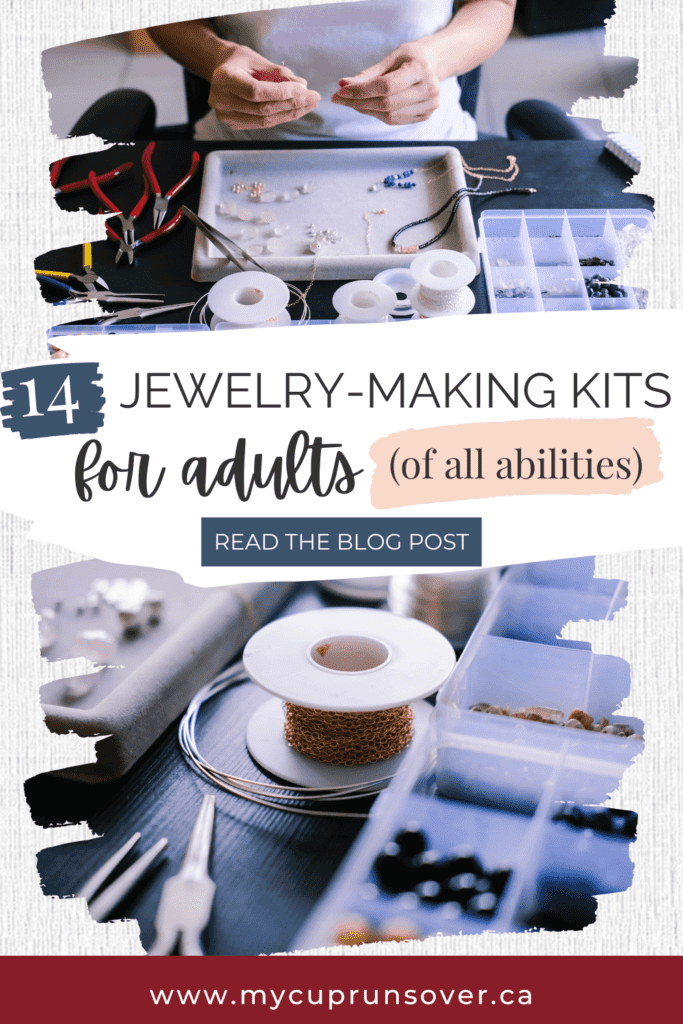 Affiliate disclosure: This post may contain affiliate links, which means we may receive a commission if you click a link and purchase something that we have recommended.  Please read our disclaimer for more details.
Key Considerations When Buying Jewelry-Making Kits
With thousands of starter kits on the market, it's important to think about what you're looking for in a DIY kit before you start browsing the options. This will help you narrow things down and find the kit that's just right for you. Here are a few things to consider before you read the suggestions below.
Type of Kit
Do you want a simple kit or a comprehensive kit? Some jewelry-making kits come with just enough supplies to make one particular project, while complete jewelry kits include everything you need to make dozens of different pieces.
If you're looking to make a single pair of earrings to match a bridesmaid dress, for example, you can buy a DIY statement earrings kit like this one. But if you already know you want to create different types of jewelry, you'll want a jewelry-making supplies kit like this one that lets you do it all.
Kit Components
Some jewelry-making kits assume you already have the fundamental tools of jewelry-making and therefore only include the components required for the jewelry itself. Others come with everything you need, including the necessary tools. Even if you're only going to make one pair of earrings, you'll likely still need some basic supplies such as chain nose pliers, round nose pliers, wire cutters, and crimping pliers.
If you know someone else who makes jewelry, you might be able to borrow their tools until you decide whether this is a one-time thing or a new hobby. Otherwise, consider getting a kit that includes the tools or purchasing the tools separately.
Just be careful and read all the reviews thoroughly—sometimes the tools included with kits are not as high quality as those you'd buy as standalone products and their usefulness may be shortlived.
When evaluating a jewelry-making kit, look for details about the instructions. Are they well-written? Thorough? Did other users have a hard time following them? While some kits may be more intuitive than others, a detailed instruction manual—preferably one with pictures—will make your life so much easier.
Price and Value
Your budget will impact the specific kits you take into consideration. Lower-end jewelry-making kits for adults start at less than $20, but comprehensive kits or those with higher-quality parts can cost $100 or more.
Think about the end results you hope to get from your handmade jewelry. Are you looking for a trendy piece you can wear for a season and then donate to a thrift store or do you want to create a beautiful piece of jewelry as a DIY Christmas gift that a dear friend will cherish for years? Do you prefer to work with cheap plastic beads, glass beads, or precious stones?
All of these factors will influence the price of the kit you purchase.
As you consider the price, don't forget to take value into account as well. How much is the finished product worth to you? How much would you pay for a similar item in a store? Are you saving money by making it yourself? Are you creating something that aligns with an idea you have in your head but aren't able to find anywhere in stores? How much is that worth to you?
This answer will vary for everyone, but it's important to take a moment and make some intentional choices about your jewelry-making kit before you take the plunge and press the Buy Now button.
Personally, I prefer quality over quantity, so I am willing to pay slightly more to have a high-quality DIY piece that will last a long time, rather than a bunch of lower-quality pieces that might break or lose my interest before the season is out.
Skill Level
Consider your own skill level. How much experience do you have with making jewelry? Is this your first time or have you been making DIY jewelry since the days of embroidery thread and friendship bracelets?
Some jewelry kits for adults are designed for absolute beginners and make the process as simple as possible. Others require a high degree of skill, patience, and mechanical ability. Jewelry-making should be a fun experience, not a frustrating one. Look for a kit that aligns well with your own skill level for the perfect way to start making your own beautiful jewelry.
Think, too, about how much time you want to invest in this project. Do you need a quick gift for your aunt? You'll want to look for a simple kit from a company that offers expedited shipping. If you're looking for craft kits to fill up your Saturday afternoons for the foreseeable future, go ahead and jump into a more complex project.
Sustainability
Finally, take a moment to consider the sustainability or eco-friendliness of the jewelry kit you are purchasing. Here are some questions to help you assess this:
Where was the kit made? By whom?
How far did it (or will it) travel to get to you?
What kinds of materials does it include?
Where did they come from?
Does the product come with a ton of excess packaging? Is it recyclable?
What is the likely lifespan of the finished product? Will it last more than a few weeks?
What will you do with it after it has served its purpose (or breaks?) Can the materials be repurposed? Are they recyclable? Could you gift the jewelry or donate it somewhere?
Does your purchase support small businesses or local artisans or make a positive social impact on a community in need of greater equality, economic growth, or development opportunities?
There are few products out there that are truly sustainable, though their ranks grow daily. When considering the ecological and social impact of any product, we need to consider these factors and weigh them against each other. For example, what is more important to you: reducing carbon footprint or getting closer to zero waste? Look for products that best align with your beliefs and values in this area.
Now, without further ado, let's jump into some of our top recommendations for jewelry-making kits for adults.
The Best Jewelry-Making Kits for Adults
*Note: All prices below are listed in USD unless stated otherwise.
Photo Credit: akola.co
Handcrafted in Uganda with sustainable materials including raffia tassels sourced from palm leaves and hand-rolled Ugandan Karatasi beads, the Karatasi Bracelet Kit allows you to create beautiful jewelry while providing for women in extreme poverty.
The kit contains multiple shades of rainbow-inspired Karatasi beads, raffia tassels, & plenty of stretch cord to make several bracelets. Get ready to ignite your creativity with the added bonus of sharing a positive message!
Photo Credit: etsy.com
These gorgeous earrings are trendy and easy to make. Select your preferred tassel color and have your earrings ready to go within an hour of receiving your kit. They're affordable, simple, and stylish enough to make one in every color.
Components include metal hardware, earring hooks, rubber ear nuts, tassel thread, and step-by-step instructions. Scissors and pliers are required but not included.
When you purchase from Tangled Up in Hue, you are supporting an Art Collective located in Eau Claire, Wisconsin.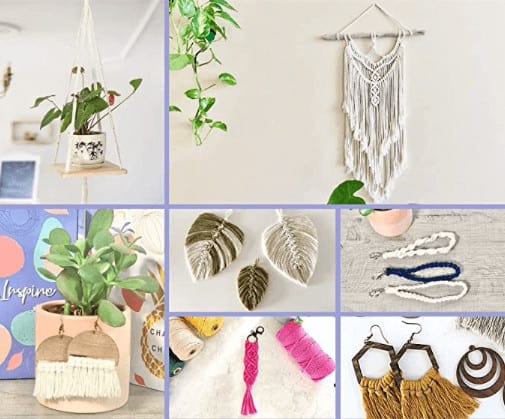 Photo Credit: chachaandchicky.com
This kit allows you to make hundreds of different projects, including several trendy jewelry pieces (depending on the size of the projects you take on, you may need to replenish your cotton cord regularly). Designed for beginners and seasoned pros, the ChaCha and Chicky Macrame kit includes 109 yards of 3mm cord, 50 wooden plain and painted beads, plant holder toggles, and dowel wall hanging sticks.
Full instructions for 16 projects are included in both written and video formats. Projects include: macrame plant hangers, wall hangings, wooden earrings, key chains, wristlets, wood plank plant holders, and lanyards.
When you purchase from ChaCha and Chicky, you are supporting a Canadian business owned and operated by a homeschooling family.
Photo Credit: doodlehog.com
Create up to twelve pairs of earrings with this boho-inspired polymer clay earring set. The kit includes six pairs of earring hooks, forty jump rings, jewelry glue, sandpaper, 1 pair of pliers, brass charms, earring posts, five blocks of clay in a boho-themed palette, metal clay cutters, an acrylic roller, craft sticks, and two dual-tup cutting/texture tools.
You can get started with this earring kit with little to no experience in jewelry making and use the included tools to create different shapes of on-trend clay earrings. Bake your creations in the oven to set them. The instructional manual covers three different techniques: terrazzo, color-blocked, and marbled.
Photo Credit: etsy.com
For a more mature spin on polymer clay earrings, check out this premium earring kit on Etsy. This kit includes high-quality components for up to six pairs of earrings as well as the necessary supplies such as a wooden pick, circular cutter, wooden roller, and sandpaper.
The included clay fits within a neutral pallet that is versatile and can be styled with a wide variety of outfits. The seller also includes comprehensive, easy-to-follow instructions so you get the results you're looking for.
When you purchase from Dew Drop Inc., you are supporting a small, women-owned business in Canada, and a portion of the proceeds from every sale goes to Pancreatic Cancer Canada.
Photo Credit: playmonster.com
From beads to braiding, this specialty bracelet kit lets you make eight unique and beautiful bracelets, perfect for stacking or wearing separately.
The kit includes 80 plastic beads, 20 wood beads, faux suede cord, elastic cord, polyester thread, cotton thread, waxed cord, metal rings, 1 wire triangle, 1 wire threader, and instructions.
When you purchase from Craft Crush, you are supporting a small, Michigan-based, woman-owned company.
Photo Credit: moddahobbykits.com
If you want to make different kinds of jewelry using your own designs rather than following step-by-step instructions, this kit might be a good fit for you. It includes a wide variety of beads, charms, and findings so you can experiment with different styles.
On the downside, there is not a huge quantity of each type of bead, so you may have to get creative with your designs to make sure you have enough of each type to finish your desired pieces.
Not only do Modda's bead kits include an instruction manual, they also come with a 15-lesson video course to help you develop the basic skills needed to make each type of jewelry.
Additional tools in this kit include a jump ring opener, two different pliers, wire cutters, and tweezers.
Photo Credit: amazon.com
With this kit, you can make trendy statement pieces using different colors of tassel, leather, and charms. Follow the included instructions to make ten pre-designed projects, or make your own design up as you go.
Inside, you'll find a pair of 3-in-1 pliers, wooden beads, wax cotton cording, leather cording, various charms, lobster clasps, jump rings, crimp beads, tassels, and more.
The skill level required for these projects is very low. You could take them on as a first-time adult jewelry maker or as a project with kids or teens. It's a simple kit with a small number of pieces, but the projects are quick and easy to complete. Aside from jewelry, you can make keychains or a colorful accessory to jazz up a purse strap.
Photo Credit: amazon.com
If you already have the beads and charms necessary for the jewelry project you want to make, but still need the findings, this kit might be your best choice. It's a simple storage case filled with various types of clasps, crimp beads, pins, jump rings, and wires.
It also includes a pair of jewelry pliers, two pairs of tweezers, a plastic caliper, a tape measure, and a jump ring opener.
Many people purchase this kit for the sole purpose of doing jewelry repair. If you have a favorite piece of jewelry that is broken, you can probably fix it somewhat easily using the tools and findings in this kit.
Overall, it's a great option to have on hand, but it does not include all of the components you will need to make jewelry, so plan on pairing it up with another kit if you're planning to make your own.
Photo Credit: quenchkit.com
Quench Kits offers the unique opportunity to design your own customized silver ring. Whether you're looking for personalized stacking bands, wedding rings, family rings, or signet rings, the ring you design will be one of a kind.
When you order a Carve Your Own Ring Kit, you receive a wax file, two wax ring blanks, sandpaper, a storage pouch, and video instructions. You then carve the design you want in one of the wax ring blanks (the other is for practice) and send it back to Quench.
They will then cast your wax in silver (included in the price) and send it back to you. You'll also have the option to upgrade to 10k, 14k, or 18k gold and add a personalized inscription. If you are looking for high-quality jewelry to give as the perfect gift, making your own silver ring could be the way to go.
Photo Credit: etsy.com
This DIY kit includes the supplies and instructions need to make one pair of brick-stitched earrings. You have five options of primary colors to choose from: black, white, red, turquoise, or purple.
Along with a supply of Japanese seed beads in your chosen color, you also get gold beads for the bottom edge, nylon thread, earring wire, and a fine beading needle. The finished earrings are 2 inches long.
Note: this kit comes with the pattern for making the design shown but not the instructions. The seller advises that brick stitch patterns are widely available online, but that prior brick stitching experience is recommended.
When you purchase from AG Jewelry Studio, you support a small women-owned business in Canada.
Photo Credit: artbeads.com
Available in seven eye-catching color schemes, these beaded cuff bracelets are made with a variation ladder stitch. The kit includes everything needed to make a bracelet up to 9" in length. It's a more advanced design, so it should be attempted by intermediate beaders or by a beginner working with a mentor.
The mountain path bracelet kits come with detailed written instructions as well as a tutorial video from the designer, who also encourages you to reach out to her personally if you need help.
When you purchase from Glass Garden Beads, you are supporting a small women-owned business in Minnesota.
Photo Credit: amazon.com
The Deuxper sandalwood ring craft kit comes with everything you need to make six wooden rings: wood files, sandpaper, four natural wood ring forms (including blackwood, rosewood, and sandalwood) and two bodhi ring forms, a mini vise, a ring measuring rod and circle, buffing block, and more. Complete instructions and a training video are included as well.
These unique wooden rings would make a great gift for your loved one or even a nice wedding ring.
Photo Credit: coastalcrafts.co
For those who can't get enough of jewelry making, a jewelry-making kit subscription box might be the best option. Each month, Coastal Crafts sends out a kit with all the supplies and materials to make a new piece of jewelry. Past boxes have included projects such as a Venice chain, statement necklaces, and layering bracelets.
Their boxes use high-quality materials such as natural gemstone beads, gold and silver chains, African beads, freshwater pearls, and hematite stones.
They also offer one-time purchase special edition kits if you're not ready to make a monthly commitment.
Whether you're shopping for yourself or looking to purchase (or make) the perfect Christmas gift for a friend, these jewelry-making kits for adults offer both a fulfilling experience and a beautiful finished product.
Which new piece are you most excited to create?
Sophie Agbonkhese is a writer, veteran homeschooling mother of four, and a recovering overachiever (who occasionally relapses). She is the founder of My Cup Runs Over, a site dedicated to helping busy women simplify and enrich their lives, homes, and homeschools. When she's not writing or debugging websites, Sophie spends her time reading with her kids, gardening, listening to audiobooks, and striving fruitlessly to have a clean house for at least five minutes. She lives in southwestern British Columbia with her husband, Ben, and their children.