With the Christmas decorations finally put away, your home might be starting to feel a little bit unfestive. Whether or not you celebrate Valentine's Day, it is the perfect excuse to get a little crafty between Christmas and Easter and whip up some DIY decor. Here are my top 17 favorite Valentine's Day decorations for you to make at home.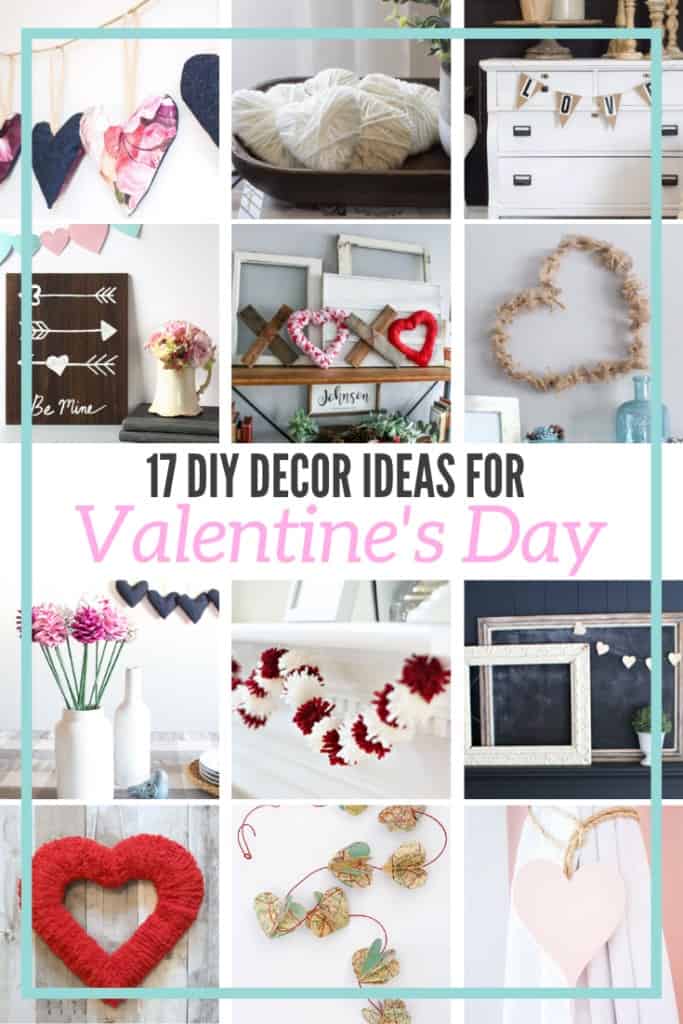 Disclosure: This post may contain affiliate links, which means we may receive a commission if you click a link and purchase something that we have recommended. Please read our disclaimer for more details. Thank you for your support!
Fabric Scrap Heart Garland: Easy Valentine's Wall Decor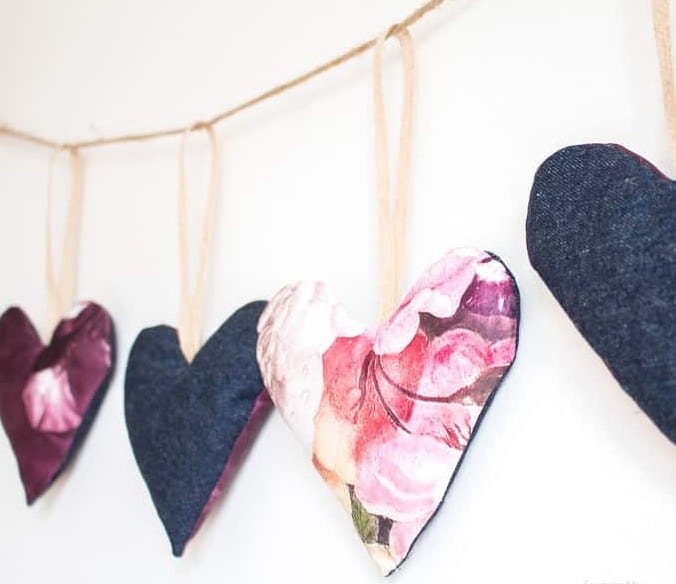 Looking for some stylish wall decor ideas?
Create a classy heart garland to match any room by selecting coordinating fabric scraps in a variety of colors and textures. Sew them together, stuff them with batting, and string them on a piece of twine to add a quick pop of color to your winter decor.
And there's no need to take these down as soon as Valentine's Day is over. These decorative hearts are both tasteful and versatile enough to stay up right through the spring.
Fun & Easy DIY Pennant Banner with Stick-on Letters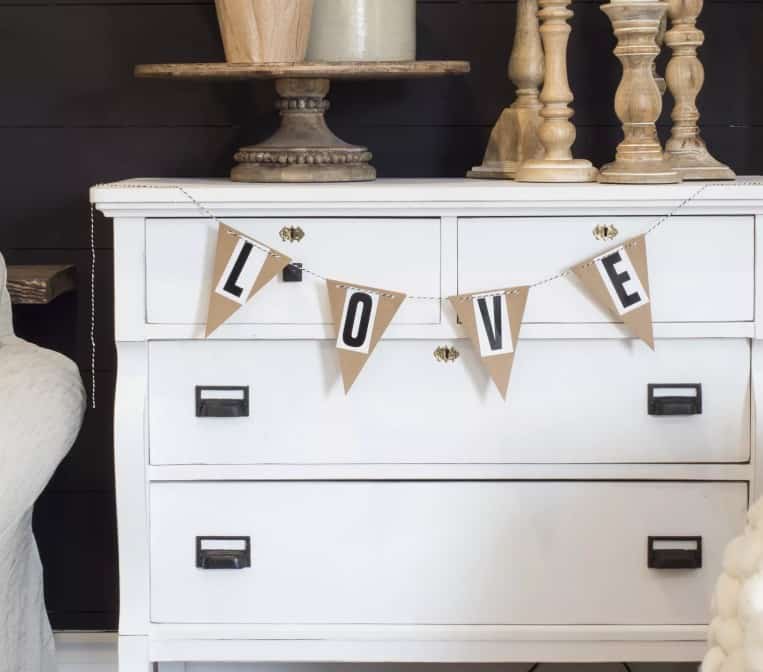 Valentine's Day decor doesn't need to be pink or red to capture the spirit of the day. It doesn't even need to feature hearts!
I favor simple seasonal DIY decor projects that look contemporary and classy while still fitting in with the existing look of the room. With its neutral color scheme and clean design, this easy Valentine's Day pennant will be at home anywhere.
Other Valentine's Day posts to check out:
Yarn Wrapped Hearts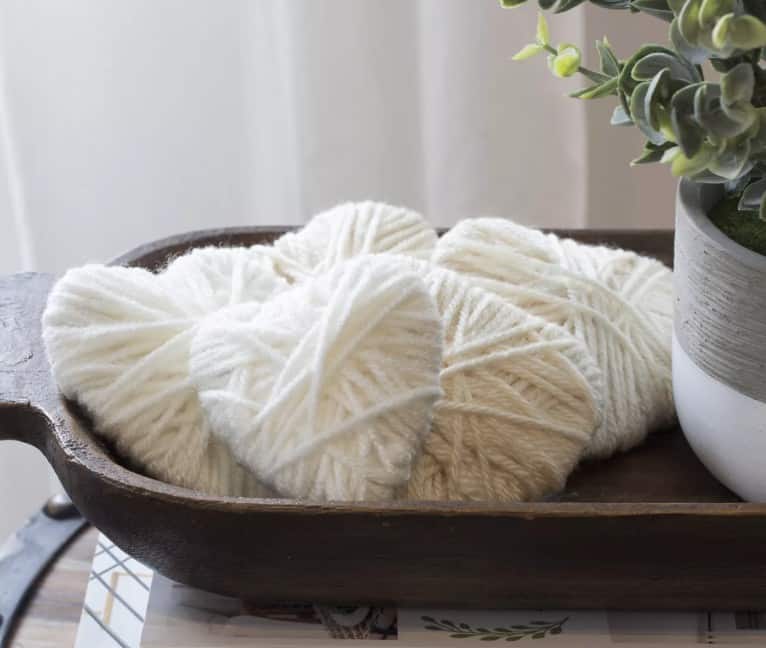 If you're looking for cheap Valentines Day decorations for your home, this project is almost free and comes together in a snap.
Yarn wrapped hearts add texture and possibly a splash of color to your decor for Valentine's Day, depending on the yarn you choose.
This project is simple enough that you can do it with kids, perhaps while listening to a favorite audiobook. Display your creations in a bowl or on a mantle for an instant Valentine's Day atmosphere.
DIY Valentine's Day Arrow Heart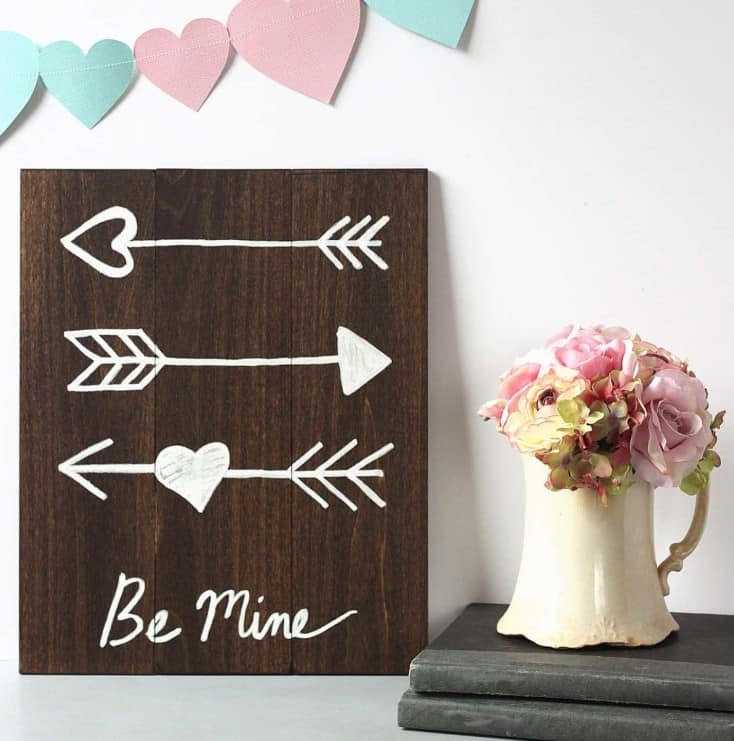 Making wooden signs is one of my favorite hobbies and it's also simple enough that older kids can get involved. I love the clean look of the finished design and the inclusion of the tracing file in this tutorial!
To simplify this DIY wooden sign project even more, you could make your sign on a single piece of scrap wood and save yourself a few steps.
XOXO Decor: Easy DIY Valentine's Day Home Decor Idea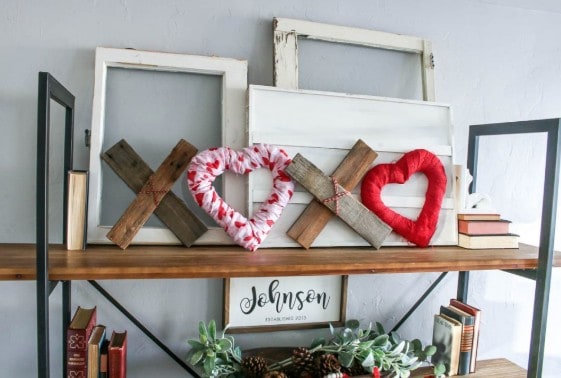 I love the way this adorable XOXO Valentine's Day DIY decor piece comes together.
What I love even more is that all of the pieces can be repurposed into something else when Valentine's Day is over. This is a great way to spice up your decor for February without saddling yourself with excess clutter when the holiday passes. Brilliant!
Wire and Burlap Heart Wreath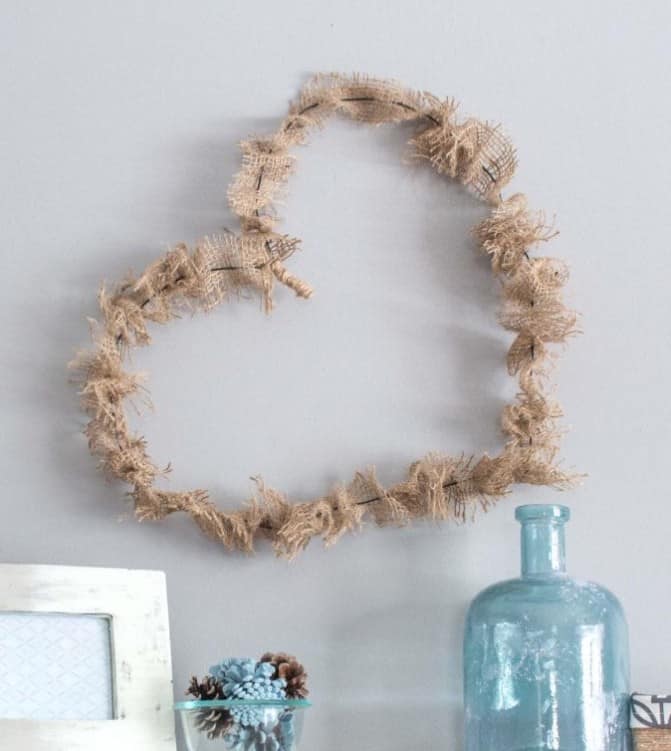 If you're looking to make a simple heart-shaped wreath, this DIY Valentine's Day burlap and wire project is a great option. Using just a few materials you likely already have at home, this rustic heart wreath can be hanging on your wall or door in no time flat (and for little cost too!).
And no need to take it down on Feb. 15—its simple design and neutral colours make it perfect for the whole year.
Pinecone Rose Bouquet
A dozen red roses might be totally cliche, but these pinecone roses are sweet and fresh. Pop them in a white chalk-painted mason jar and brighten up any room with this nature-inspired DIY decor project that can be reused again and again. (Bonus points for the DIY fabric heart garland in the background!)
Paper Heart Garland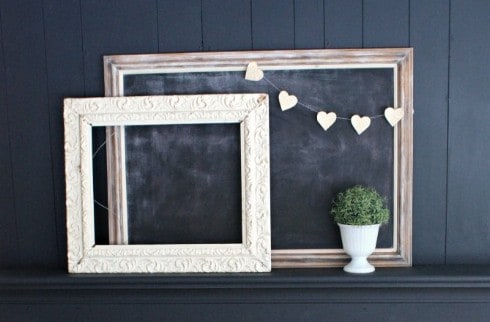 Heart decorations tend to steal this show at Valentine's Day, and for good reason! There are endless options for incorporating hearts of all sizes into your crafting projects for this holiday.
This paper heart garland is a quick and cheap DIY Valentine's day craft that will add a touch of Valentine's cuteness to any spot in your home!
Valentine's Décor with Upcycled Game Blocks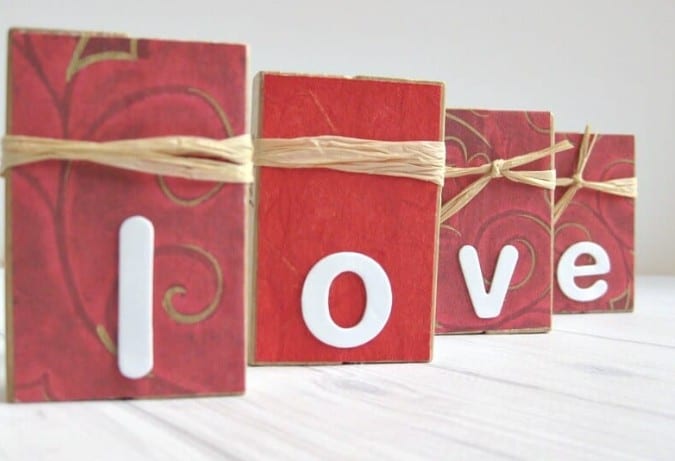 If you have an old stash of Jenga blocks you're no longer using or come across a bag of wooden blocks at the thrift store, this upcycled Valentine's Day DIY decor project is the perfect use for them.
With some hot glue, straw, and colored paper you can turn them into a unique and stylish display.
Valentine's Day Red Burlap Heart Wreath with Couple's Monogram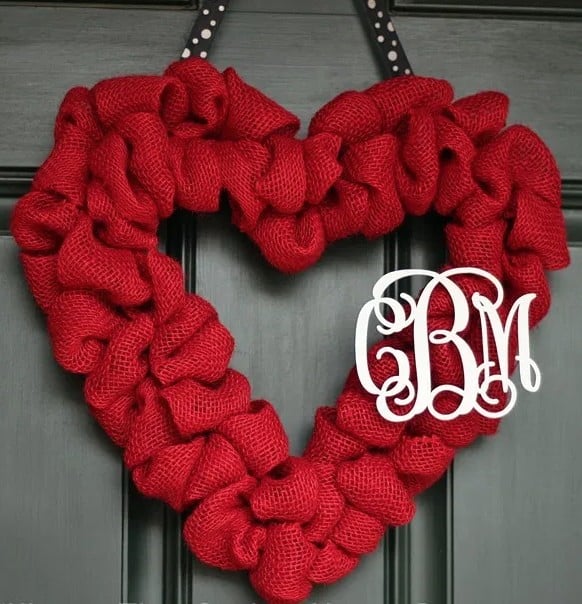 This project is a little more time-consuming, but if you have a Saturday afternoon to spare or are organizing a craft night, why not try a burlap heart wreath with (or without) a monogram?
This big heart is a sweet way to celebrate your relationship and will add a festive pop of color to a neutral decor or a white door.
Valentine's Day Mini Pom Pom Garland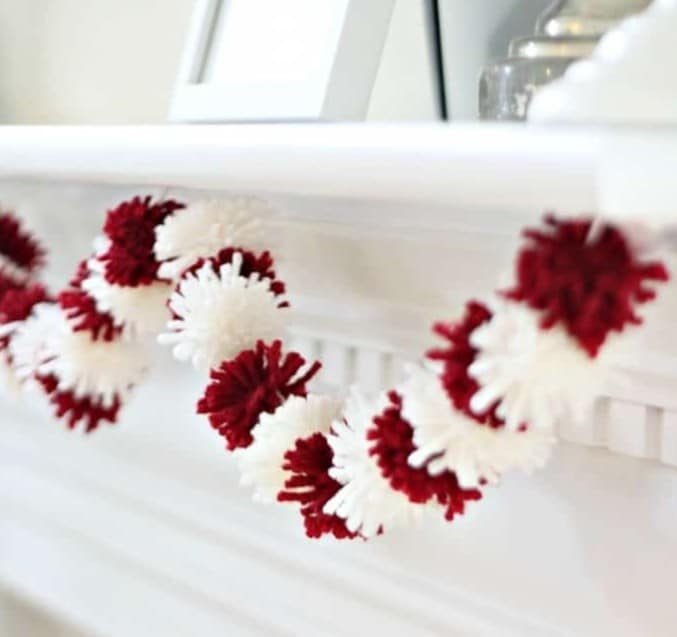 Perhaps you need a break from all the hearts this Valentine's Day. A pom pom garland is a fun alternative that the whole family can help create. This one uses simple tools and materials and looks stunning set against a white mantle.
It's also adaptable enough that it need not be limited to Valentine's Day decor. A red and white pom pom garland could be saved for other holidays or for birthday party decor. I know my daughter would be thrilled just to have this hanging on her bedroom wall or in front of her dresser all year round.
DIY Heart Curtain Ties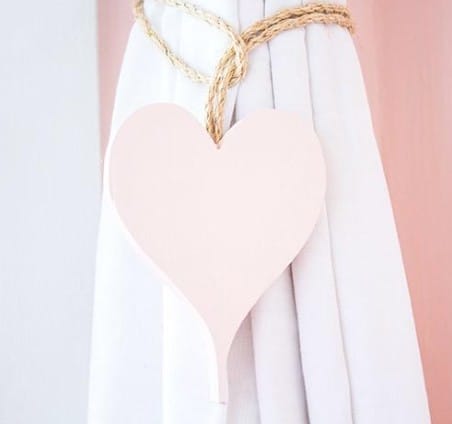 These picturesque and feminine DIY curtain ties give a subtle nod to Valentine's Day without being cheesy, tacky, or attention-stealing. The blush pink finish is perfect for a room decorated in soft, neutral tones.
DIY Love Marquee Sign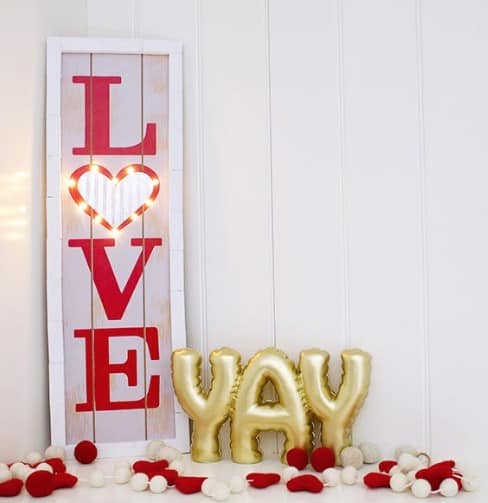 Wooden blocks make another appearance in this cute dollar store craft. In this tutorial, Michelle helps you turn a generic wooden love sign into a framed, backlit masterpiece. It does require some advanced skills, but if you're up for a little drilling, this DIY sign would be a great addition to your Valentine's Day decor.
Vintage Map Heart Garland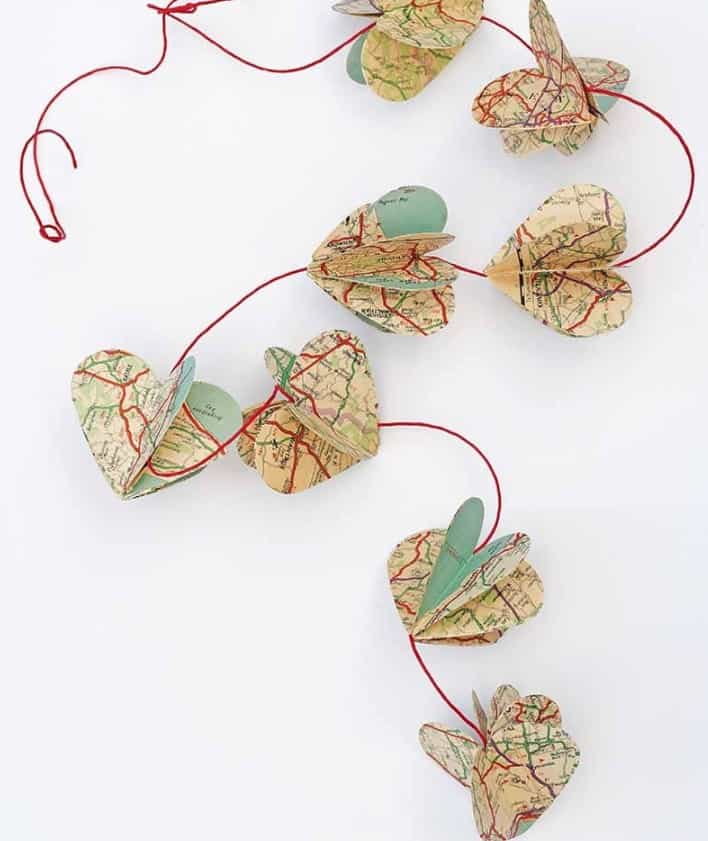 Garland's seem to be the decor du jour, with each one adding its own particular twist to the trend. This one features 3D paper hearts constructed from vintage maps. Although it looks like an intricate papercraft, it actually comes together quite easily with the help of a heart punch.
Double-Sided Fluffy Valentine Wreath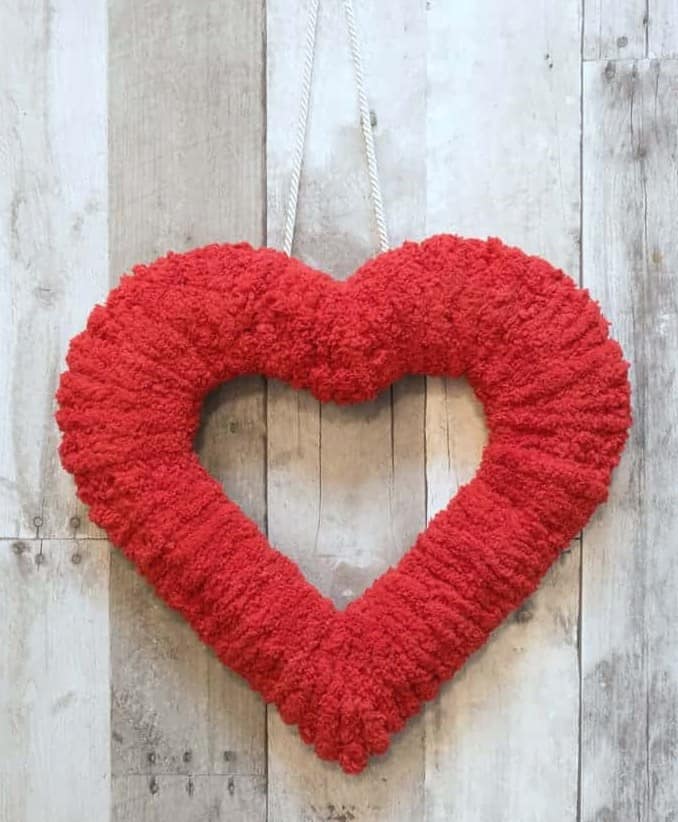 This fluffy double-sided wreath can be hung on a door, or hang it in a window to be enjoyed both inside and out.
DIY Wax Paper Valentine's Banner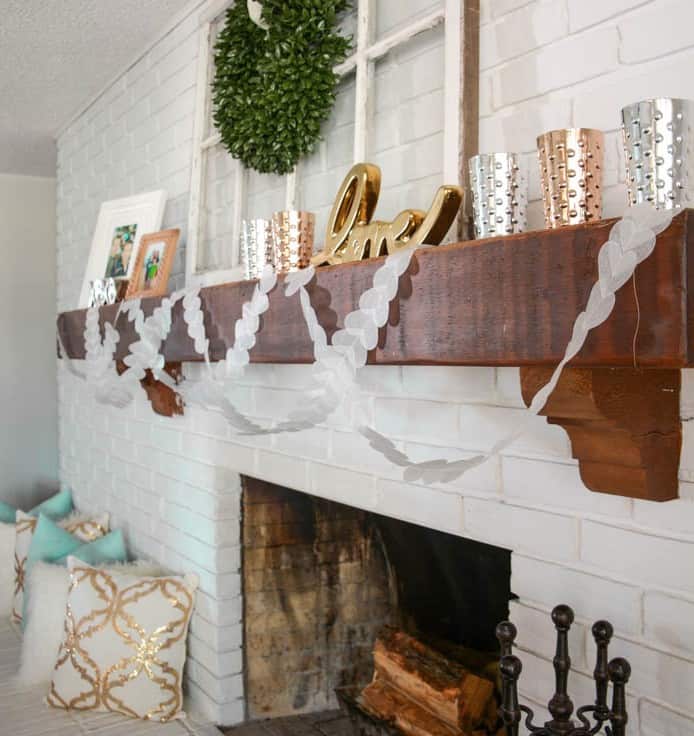 If you're not into all this pink and red stuff, this Valentine's Day DIY decor project is just for you. Wax paper and white thread come together for a simple craft that looks artsy and whimsical when displayed across a fireplace.
XO Valentine's Day Door Decor with Flowers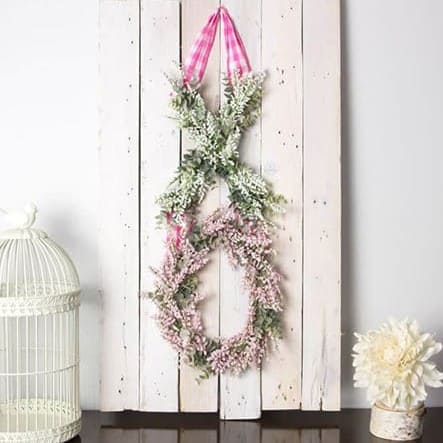 This XO Valentine door decor, created with delicate white and pink flowers is also a lovely reminder of the spring to come.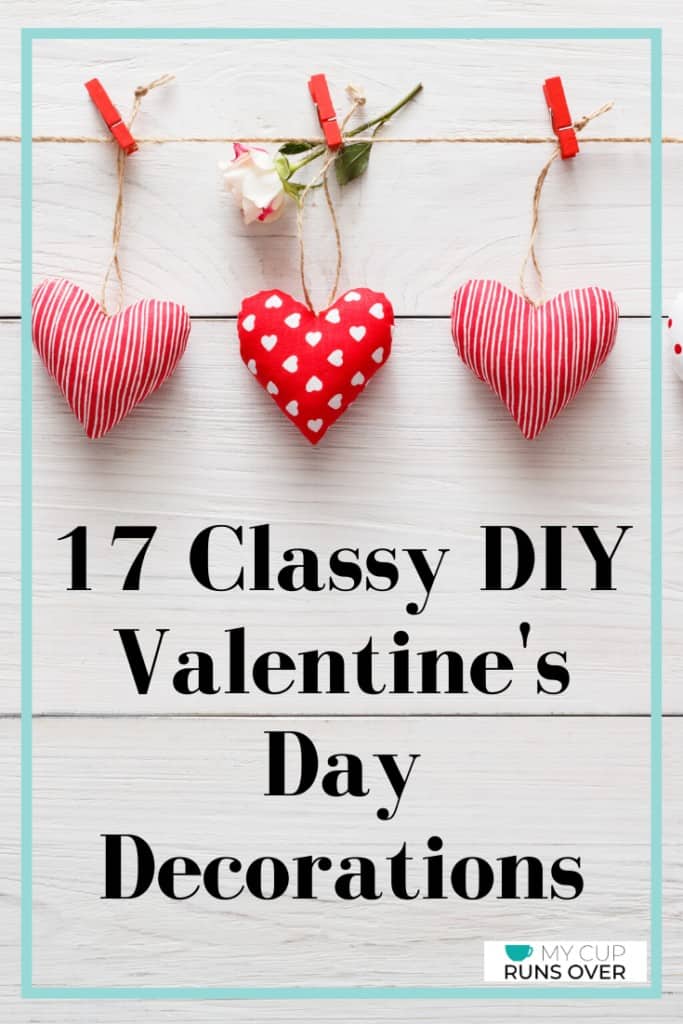 Sophie Agbonkhese is a writer, homeschooling mother of four, and a recovering overachiever (who occasionally relapses). She is the founder of My Cup Runs Over, a site dedicated to helping busy women simplify and enrich their lives. When she's not writing or debugging websites, Sophie spends her time reading, dancing, bullet journaling, reading, gardening, listening to audiobooks, and striving fruitlessly to have a clean house for at least five minutes.