Last updated on February 11th, 2022
Need some Valentine's Day inspiration? Look no further. Here are 26 adorable and simple Valentine's Day crafts for preschoolers, kindergarten and up.
These are all easy projects that use materials you most likely have on hand or should be able to access easily. From rock painting to slime to heart-shaped brownies, there's something here for even the most reluctant of crafters.
Have fun and have a happy Valentine's Day!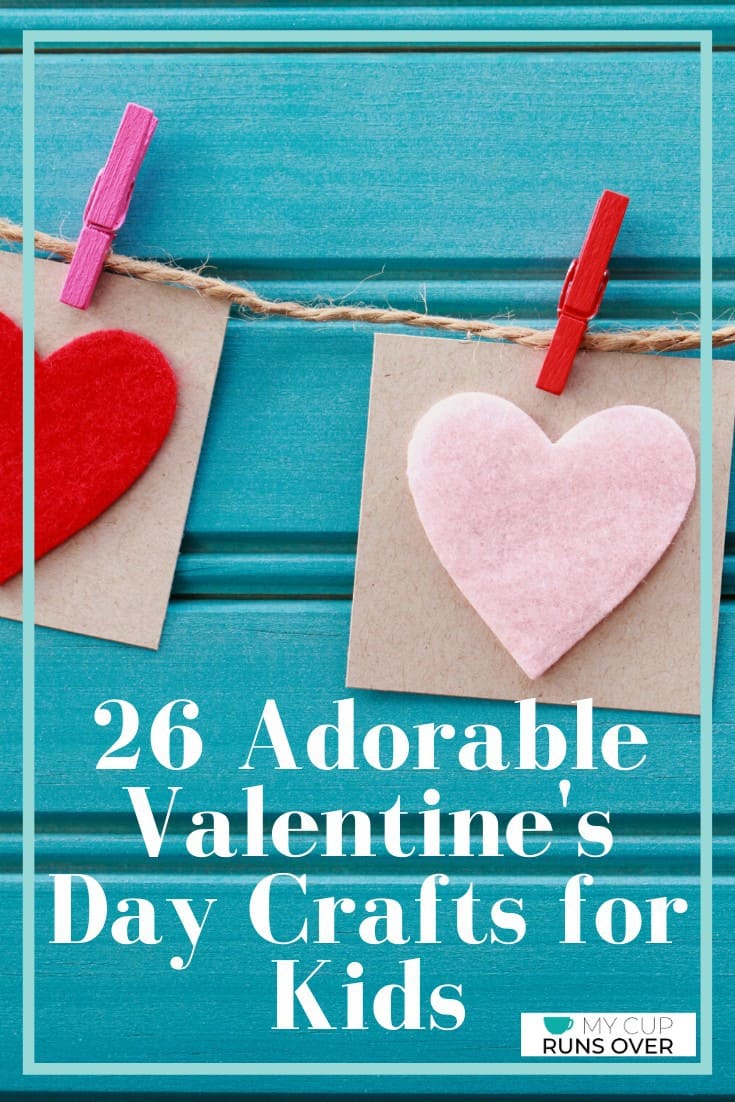 1. Easy Photo Valentine Wreath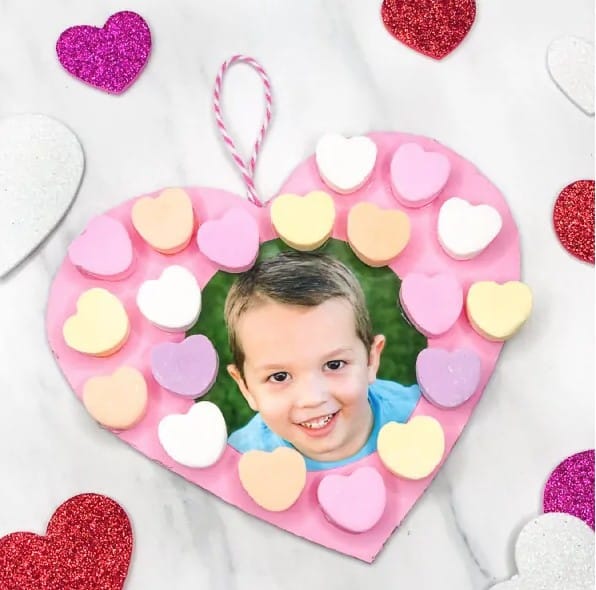 Kids will love painting a cardboard heart cutout their favorite color and decorating it with a picture of themselves and mini conversation hearts. This easy Valentine's day wreath craft would make a perfect gifts for grandparents.
2. 
Valentine's Day Flower Pot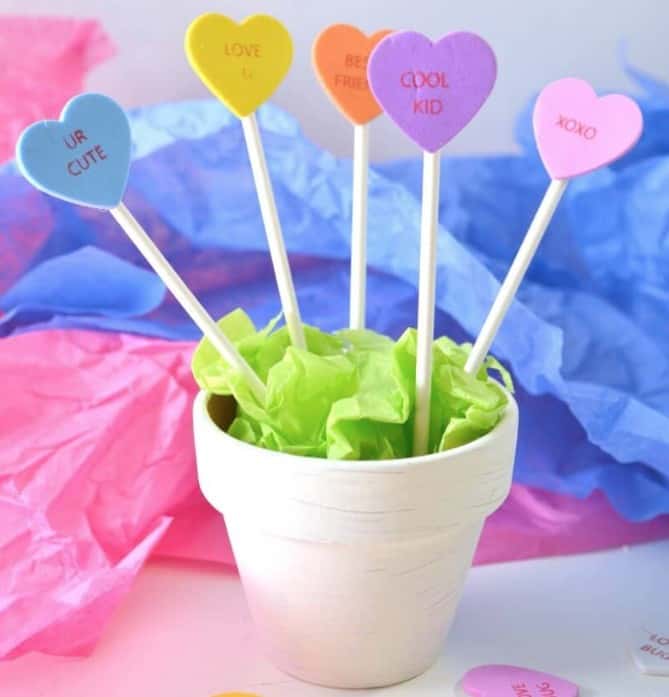 Words of love bloom from this tissue-filled terracotta pot. Kids will love painting the pot, filling it with tissue, and planting their "flowers." If you don't have a hot glue gun or want your kids to do the craft more independently, you could tape the hearts to the sticks or use a craft glue and let it dry thoroughly before adding the flowers to the pot. 
3. 
Valentine's Day Headbands and Crowns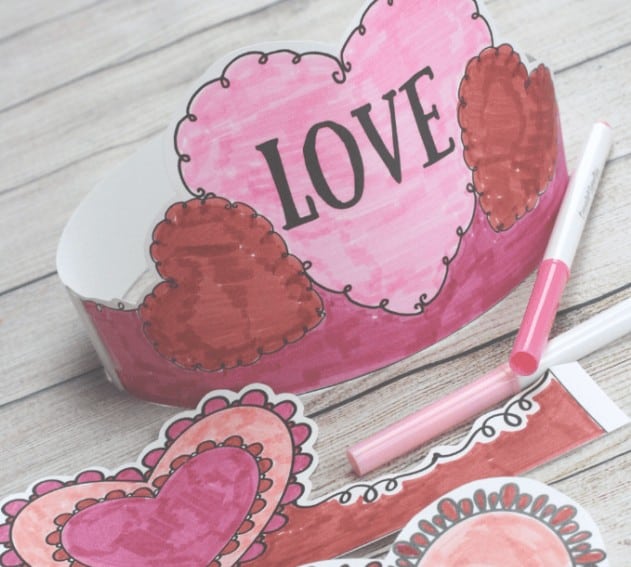 Use the provided templates to print out crowns and headbands on cardstock and let kids color them in with their favorite markers. Encourage them to cut out their creations themselves and then staple or tape the cutout into a crown or a headband. 
4. 
Valentine's Hugs for Preschoolers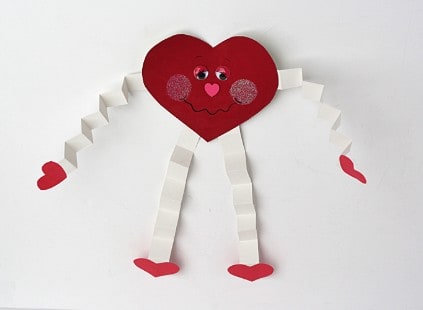 This little guy is adorable. Preschoolers will enjoy painting the heart, adding sparkly cheeks and googly eyes, and bouncing their creation on its bendy legs. There are lots of opportunities to develop fine motor skills with this fun Valentine's Day craft.
5. 
Valentine Tinker Tray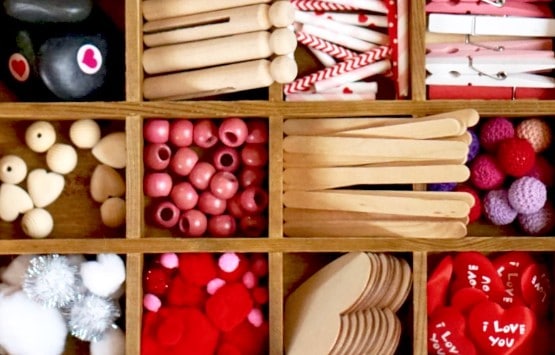 I love how this activity provides endless opportunity for creative play and exploration. Kids are free to experiment openly without the need to create a particular end product. This tinker tray is perfect for filling a rainy (or snowy) February day.
6. 
Valentine's Day Homemade Slime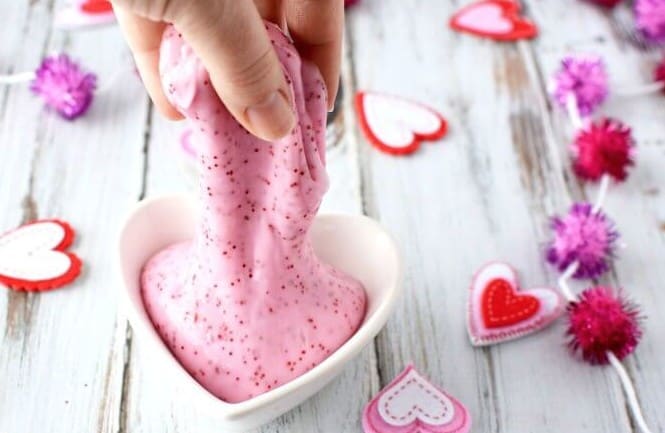 What preschool craft roundup would be complete without some theme-appropriate slime? Grab some glue, food coloring, and sparkles and mix up a batch—or two or three—of this fluffy and addictive crowd-pleaser. 
7. 
Textured Yarn Valentine's Day Heart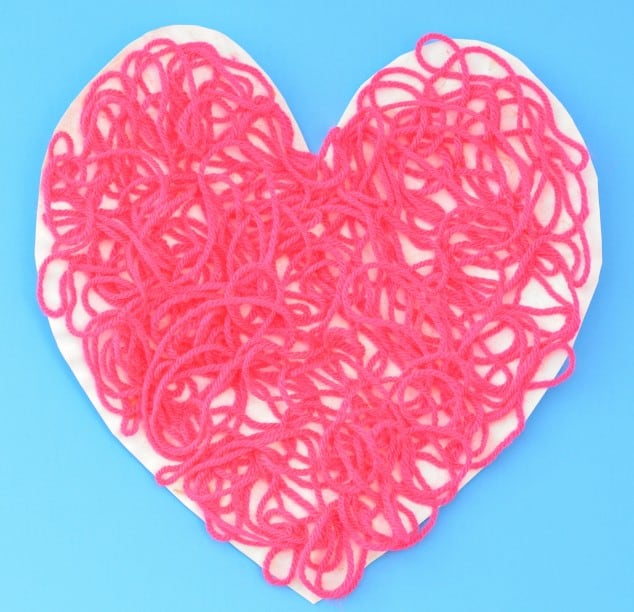 This extremely simple craft for preschoolers uses a paper plate, a glue stick, and yarn. It's basic enough that they can do it on their own (except, perhaps, for cutting out the heart) and they'll love making their own unique designs with the yarn. 
8. Washi Tape I Love You Valentine's Day Painting Project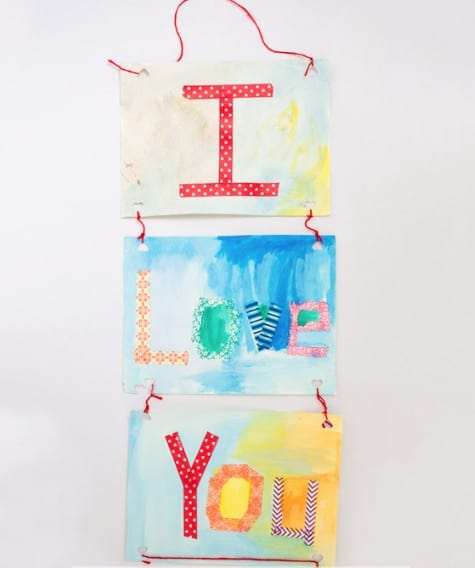 This project will be tons of fun for preschoolers if you don't get too caught up worrying about the details. Outline the letters on the page for them and let them place their favorite Washi tape on top then paint around the letters. This is great for developing letter recognition skills as well as fine-motor skills. 
9. 
Lots of Love Valentine's Day Craft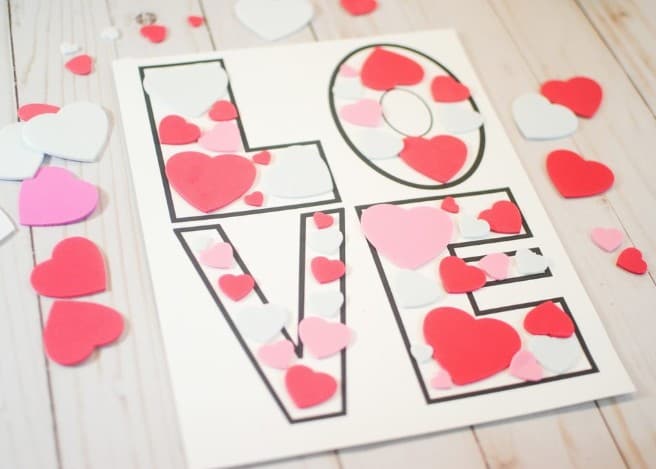 Looking for a fun Valentine's Day Craft for kids that is quick and easy to set up and will work for a wide variety of ages? This lovely printable can be adapted to whatever supplies you have on hand and is a tested winner with kids ages 2-12.
10. 
Heart Thumbprint Art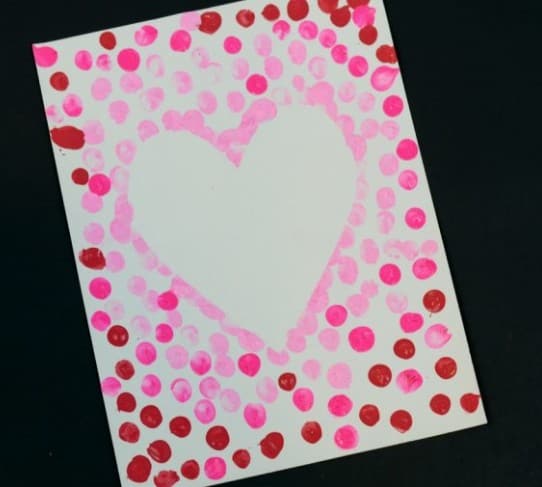 This project can be done as a display piece or as a card. Let kids pick their favorite color cardstock and a few colors of paint then get creative with their thumb and fingerprints. So much fun!
11. 
Ladybug Corner Bookmark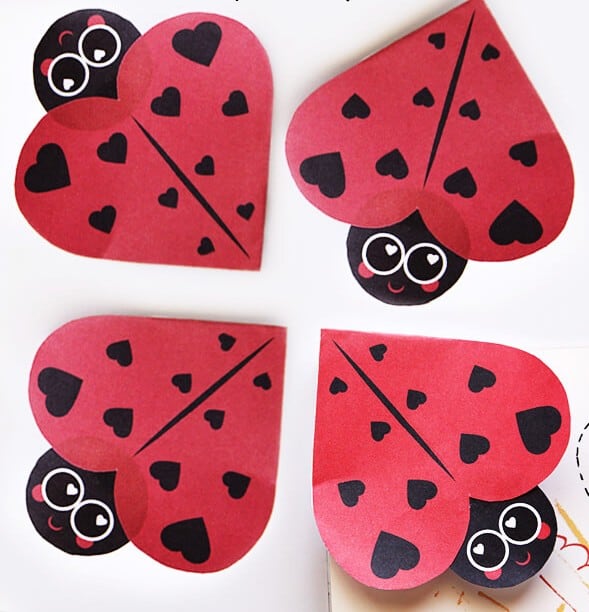 This ladybug activity is ideal for kids of any age and comes with a printable template. All you need to assemble them is folding, cutting, and gluing.
12. 
Let Love Grow Pot of Hearts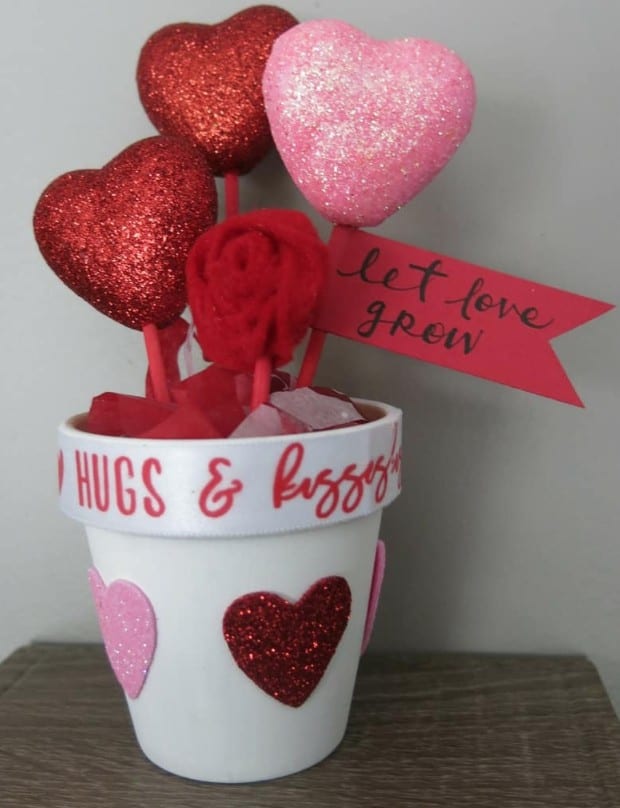 Here's another take on a Valentine's Day flower pot. This one might appeal to slightly older kids and has a bit more fine detail than the earlier one. If you're working with a multi-aged group, you could offer both options to keep everyone engaged. 
13. 
Valentine Stain Glass Craft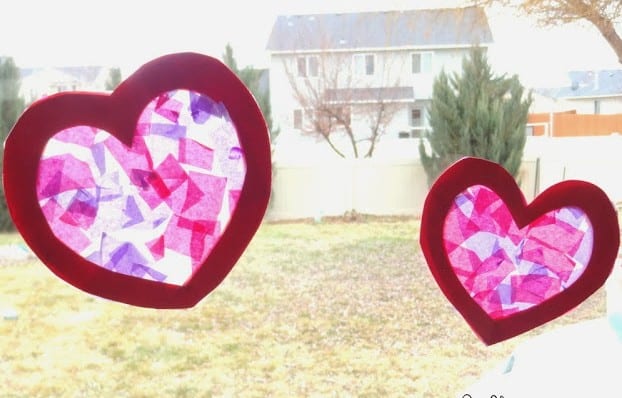 This Valentine's Day craft is also great for a wide variety of ages. Younger kids will enjoy sticking little bits of tissue paper on wax paper and seeing the light shine through their design. Older kids might choose to get more intricate with their stained glass design. It would be interesting to try this with bleeding tissue paper and spritz it with a little water when they finished to give the designs a watercolor look. 
14. 
"Love You to Pieces" DIY Valentine Wreath
My toddler brought home a Love You to Pieces project last Valentine's Day with his picture in the middle and I bawled at how sweet it was. Here's a wreath version you can make at home with your preschooler. Again, if you want to make it a more independent craft, you could use glue dots or craft glue instead of hot glue, just make sure you give it time to dry before hanging it up. 
15. 
Easy Valentine's Day Heart Shaped Brownies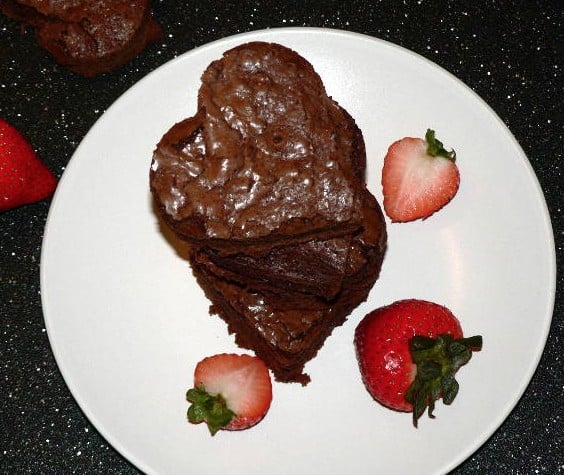 If your preschooler loves baking, these heart-shaped brownies are the perfect Valentine's Day activity to do together.
16. 
Egg Carton Love Bugs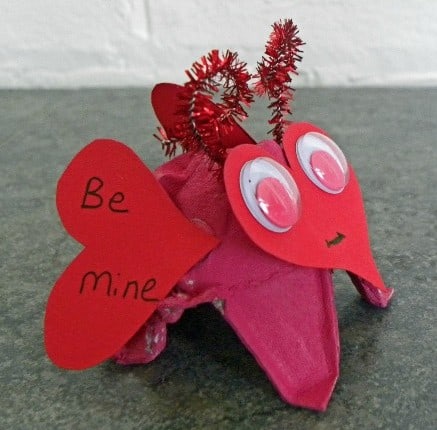 These love bugs, with their oversized googly eyes and their sweet messages, are too cute to resist. Younger kids will need help with the finer details of this craft (cutting, poking holes, etc.) but should be able to do most of the other steps.
17. 
I'm Yours, Gnome Matter What Valentine's Day Craft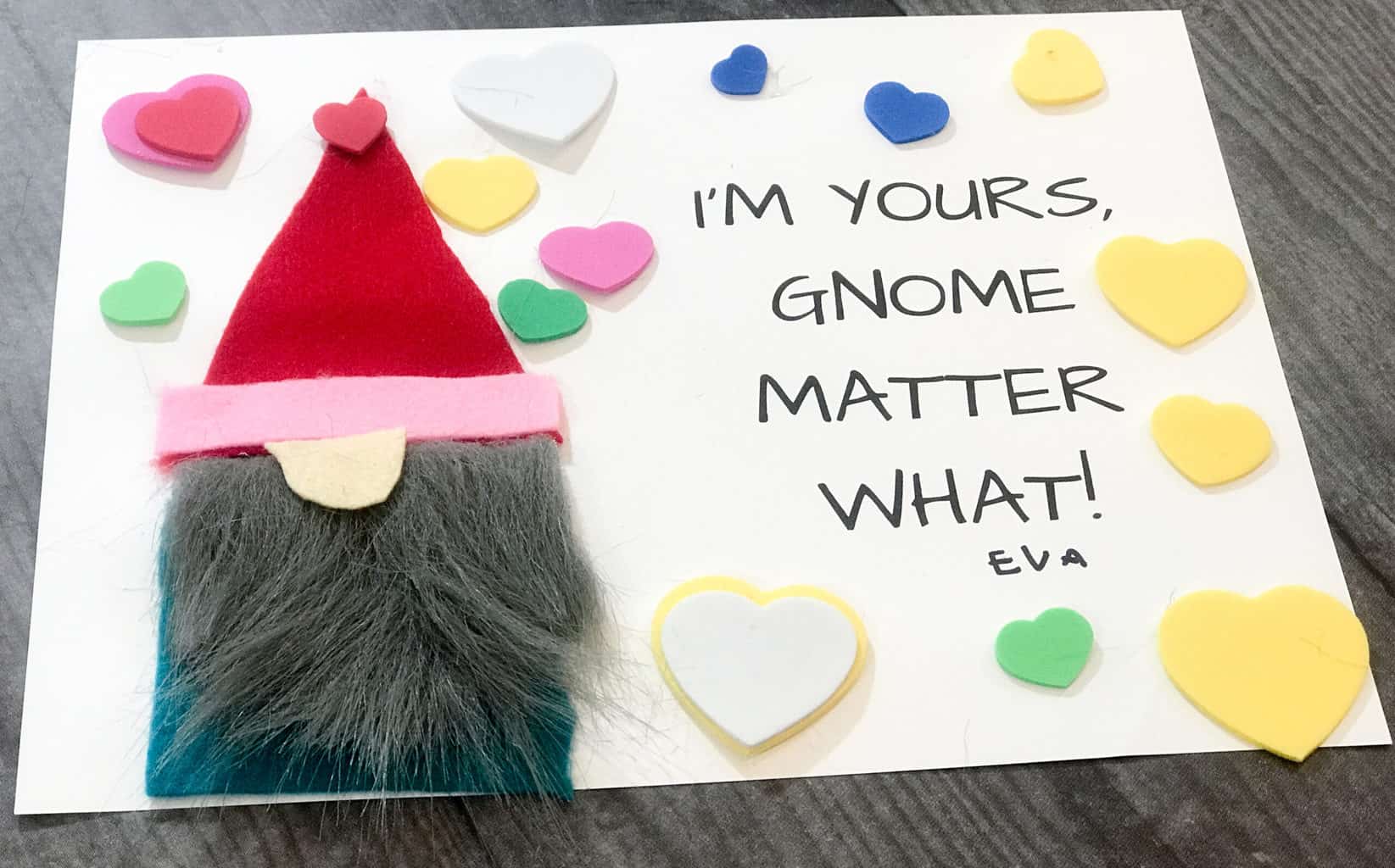 If you're looking for a fun Valentine's Day craft to do with preschoolers or kindergarteners this year, why not try something unconventional, like a gnome? After all, nothing says "I love you" like a shaggy-bearded man who can't keep his hat out of his eyes.
18. 
Cute Valentine's Day Birds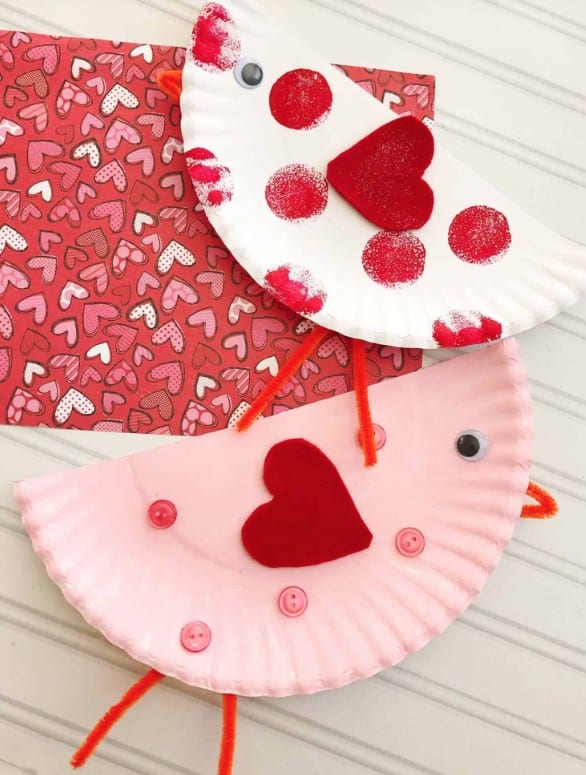 If you like birds, you'll love these precious Valentine's Day creations with heart-shaped wings. This project might be a little complicated for younger preschoolers but children four years and up will have a great time crafting a cute little bird family.
19. 
Long Distance Hug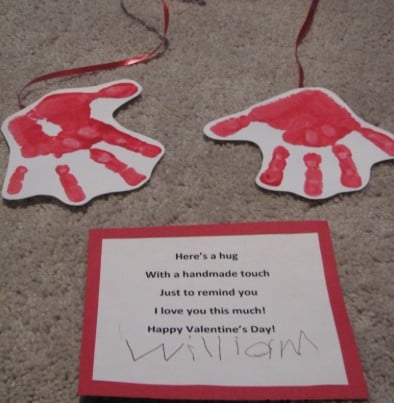 If you have long-distance loved ones, why not make this delightful handprint craft with accompanying poem a few days before Valentine's Day and send it to them? It's a great chance to teach kids about the postal system and how we can stay in touch with our friends and family who are far away. 
20. 
Cupid's Bow and Arrow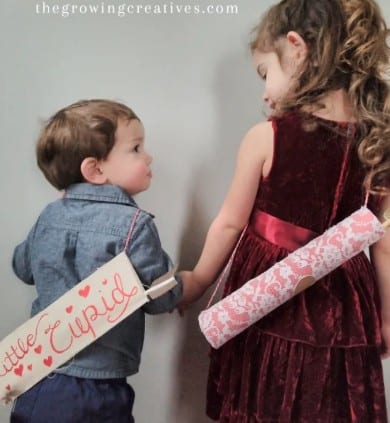 We may be taking ourselves down a dangerous path here, teaching our kids to make bows and arrows, but I'm willing to take the chance for this outrageously creative project. I know all of my kids will be excited to make something so cool.
21. 
Valentine's Day Picture Frame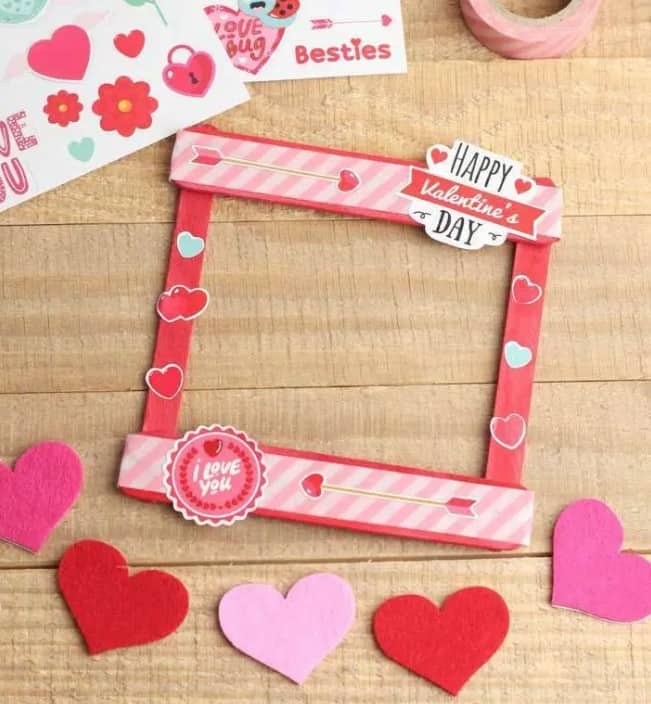 Whether you're looking for a cute Valentine's Day keepsake or a simple Valentine's Day gift your toddler can make, this easy Valentine's Day craft for toddlers is perfect.
22. 
Handprint Owl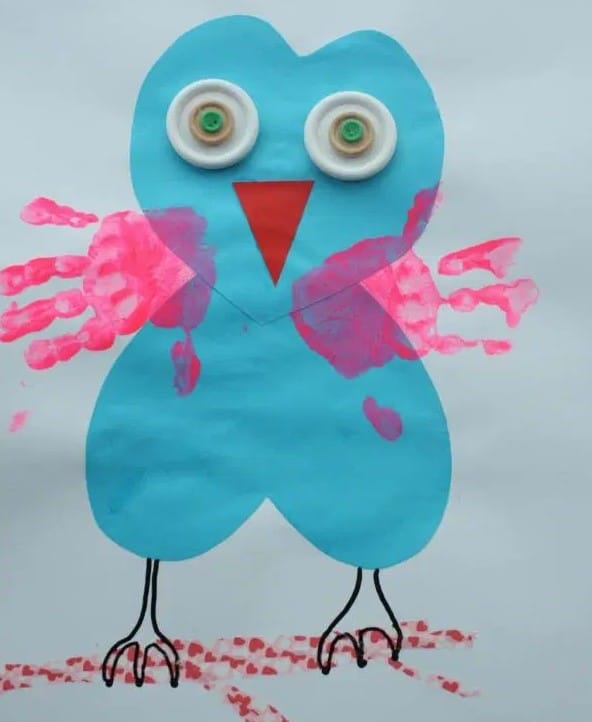 I love everything owl and these heart-shaped and handprinted cuties are no exception, of course. I love how this owl craft combines so many different skills for preschoolers to learn and offers endless options for creativity. You might even want to encourage them to add a little note, like "Owl always love you!"
23. 
Valentine's Day Bird Seed Ornaments
If you're going to do just one Valentine's Day craft, I vote for this one! Not only is it fun and simple, you can also combine it into a nature study and use it to attract hungry little birds to your yard, making for some lovely winter birdwatching. Win-win-win!
24. 
White Clay Heart Bunting (Valentine's Day Decoration)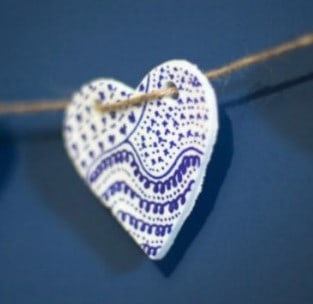 Here's another project that will appeal to a wide variety of ages. Older kids can use sharpies to make intricate designs on their clay hearts while younger ones can dab paint on with a Q-tip. Display them altogether afterward for some dainty DIY decor. 
25. 
Toilet Paper Roll Love Bugs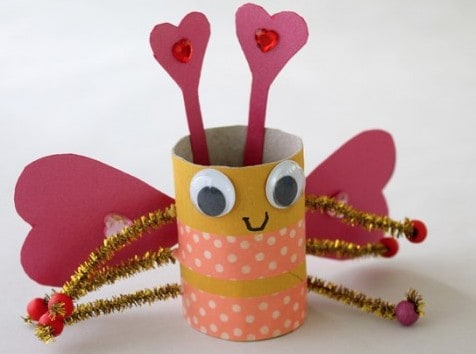 These love bugs are very simple to put together and the sky is the limit to how they can be designed and decorated. 
26. 
Painting Rocks with Love: Painted Mandala Hearts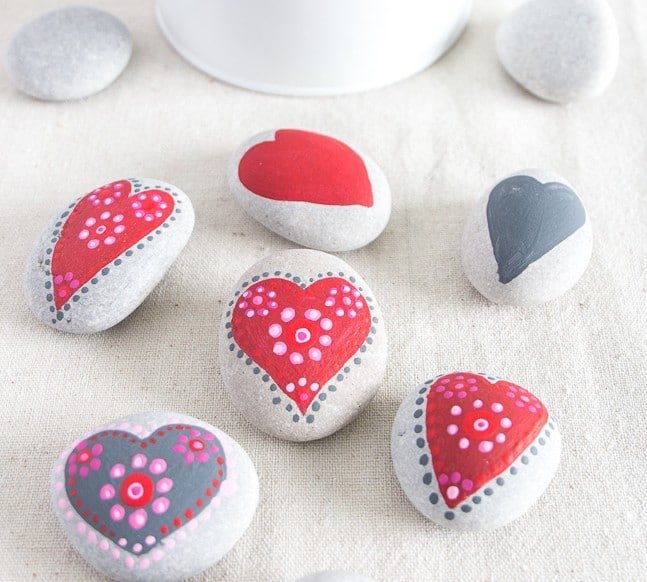 These easy rock painting ideas, inspired by mandala designs, are a great way to relax, be artistic and make a perfect craft for Valentine's Day.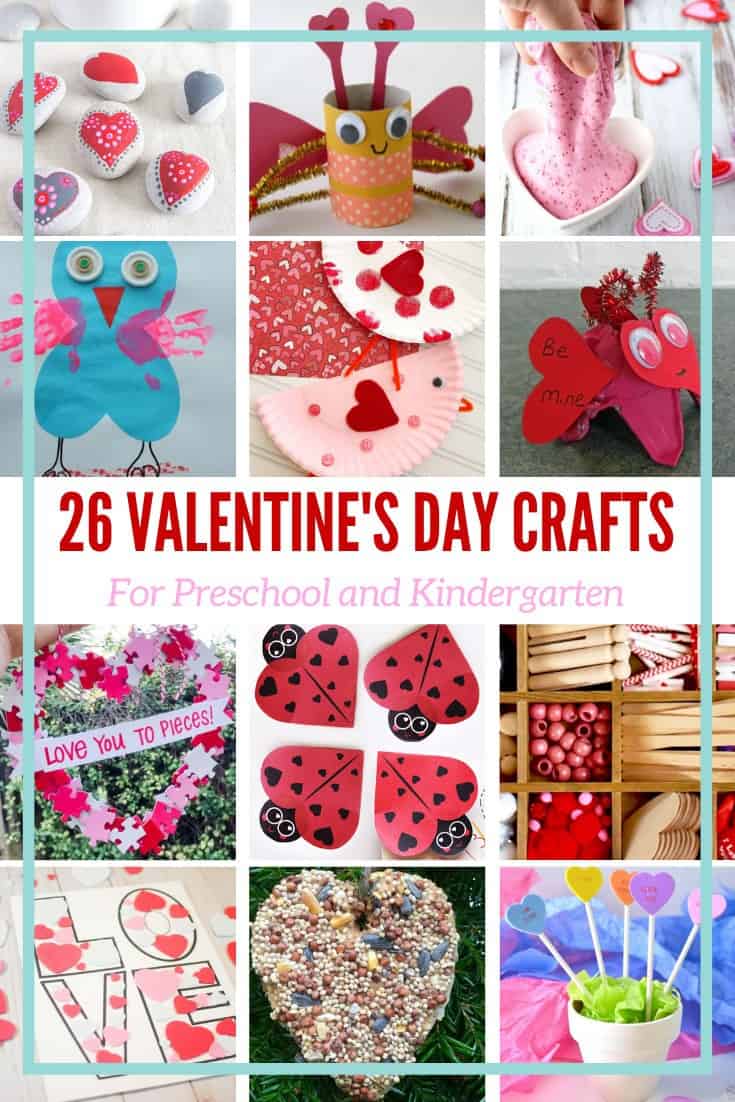 Pin for later
Sophie Agbonkhese is a writer, veteran homeschooling mother of four, and a recovering overachiever (who occasionally relapses). She is the founder of My Cup Runs Over, a site dedicated to helping busy women simplify and enrich their lives, homes, and homeschools. When she's not writing or debugging websites, Sophie spends her time reading with her kids, gardening, listening to audiobooks, and striving fruitlessly to have a clean house for at least five minutes. She lives in southwestern British Columbia with her husband, Ben, and their children.