Last updated on March 10th, 2021
It is a challenge to teach kids Spanish—or any second language—when you don't speak it yourself. With FabuLingua's fun and engaging Spanish app for kids, this isn't an issue. Listen to a growing series of beautifully illustrated stories with your child and soon you'll learn to speak Spanish together.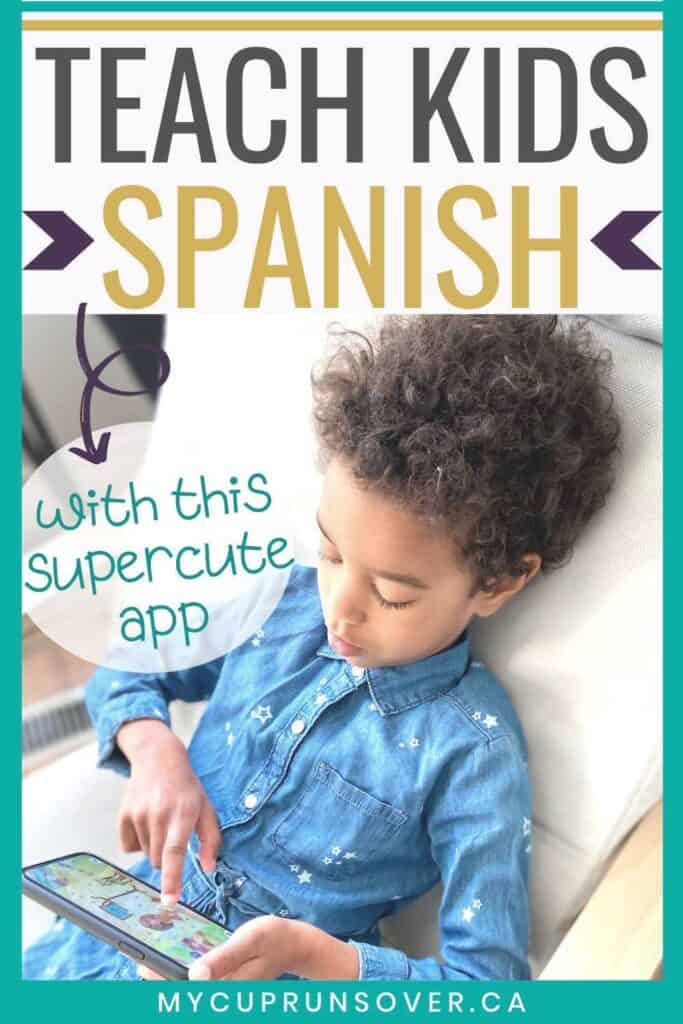 I received a free trial of the FabuLingua App for review purposes and I was compensated for my time. All opinions are my own and I am not required to post a positive review. 
It's time to teach my kids Spanish
As Canadians, French is usually our first choice when it comes time to learn a second language. Many jobs in our country require French-speaking abilities or at least look highly on those applicants who are bilingual.
We've studied French in our homeschool for a few years now, but this year, I'm encouraging my kids to learn Spanish too—and fast! They're going to need it.
See, my husband suffers from a neurological disorder that causes severe pain in his feet when the weather is cold. Living as we do, in the Pacific Northwest, that's about a third of the year.
This condition has progressed to the point where he can no longer stand to be in Canada during the winter, so this year, we are going to fulfill our dream of becoming snowbirds, albeit much earlier than expected. 
Starting this November, we'll be spending our winters in Mexico!
I know, we probably could get by for a few months with rudimentary Spanish skills, but we don't just want to get by. We want to thrive. We want to find community, join classes, go places locals go, and we won't be able to do that unless we seriously expand our Spanish vocabulary. 
And that's why we were excited to discover FabuLingua's Spanish learning app for kids. 
Assessing Spanish Learning Apps for Kids
Installing apps on my phone for my kids to use is not usually my first choice, but I know if I want them to succeed at learning a foreign language, I need to make it as easy as possible for all of us. Here's what I'm looking for when I assess Spanish learning programs for kids:
1. The program we use needs to be fun. We have a lot going on in our home and homeschool. New hobbies and interests don't survive long unless the kids have a really strong internal drive to pursue them. I need their Spanish learning app to be so engaging that they beg me to use it.
2. It needs to be simple enough for them to do on their own. Again, I'm busy. Not in the, 'oh I'm doing so many important things,' kind of way. In the, 'if I don't follow this 3-year-old around like a hawk, he's going to do something super dangerous,' way. 
I really miss the days when I could sit with my kids while they did all their work, but it's just the reality of our lives right now. If it's not something they can work on independently, it likely won't get done. 
3. It must actually teach kids Spanish. There are many fun and simple programs out there full of games and activities. But if my kids aren't actually learning to speak Spanish from interacting with the app, what's the point? 
They need an app that helps them make connections, rewards them for learning new words and phrases, and ultimately, teaches them Spanish without their even realizing it. Bonus points if it teaches me Spanish too!
Why My Child Loves the FabuLingua App
My five-year-old daughter has been practicing her Spanish with the FabuLingua app for a couple of months, and she's absolutely obsessed with it. Every morning when she wakes up, the first thing she asks me is, "When can I do Spanish stories?" I'm pretty sure she'd do it all day if she were allowed.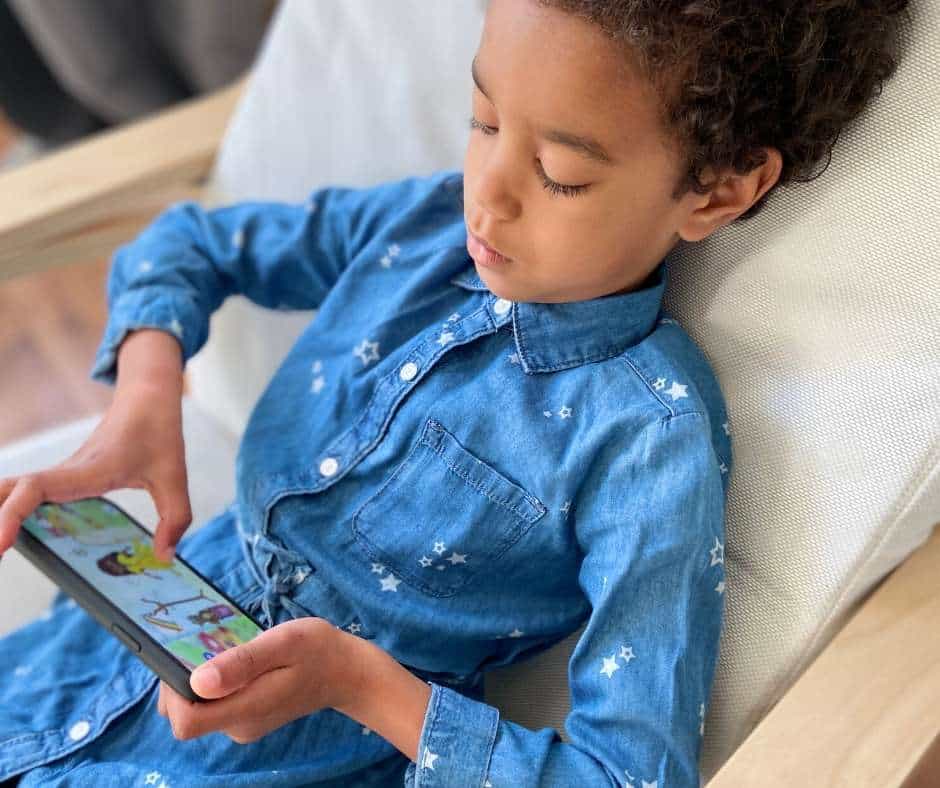 She loves the stories, for sure, but she also loves to play games. With each Spanish lesson she completes, she collects stickers, which she arranges and rearranges in her digital sticker book. The stickers are characters and objects from the Spanish books she read and she likes to pretend she's writing her own movies by laying out the stickers just so. 
She also loves interacting with the stories themselves. Inside the pages of each book—lovingly illustrated with detailed watercolor paintings—she can click on words or pictures to hear their names or make characters take actions. 
How to use the FabuLingua App to Teach Kids Spanish
When kids first sign in, they see a map with several different characters on it. Clicking a character takes them to a pop-menu where they can choose how they want to interact with the story.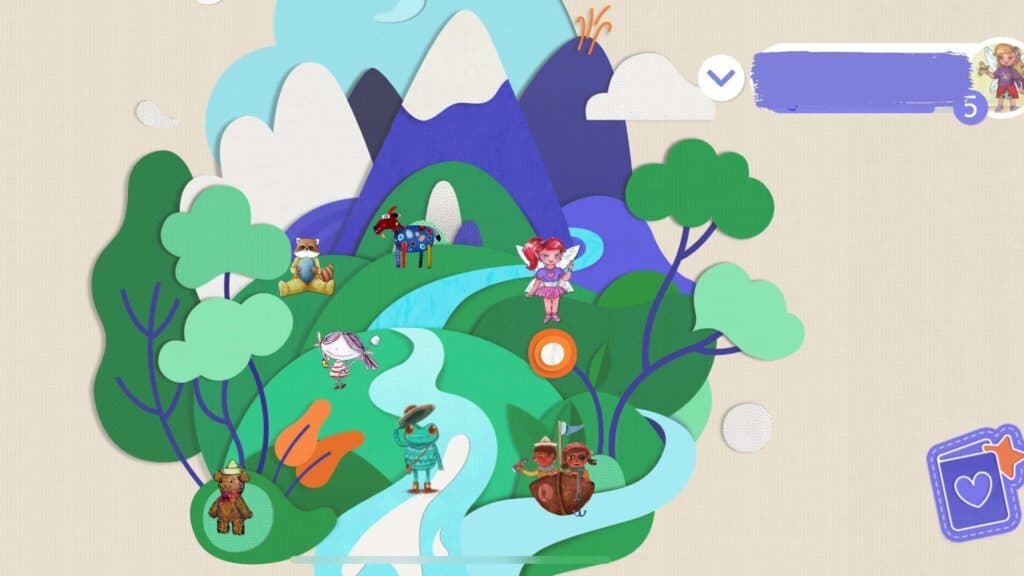 ¿Qué Quieres Hacer? (What do you want to do?)
This is the central question for each story. Their options are:
Magical Translations
Spanish Only
CopyCat
Read by Myself
Games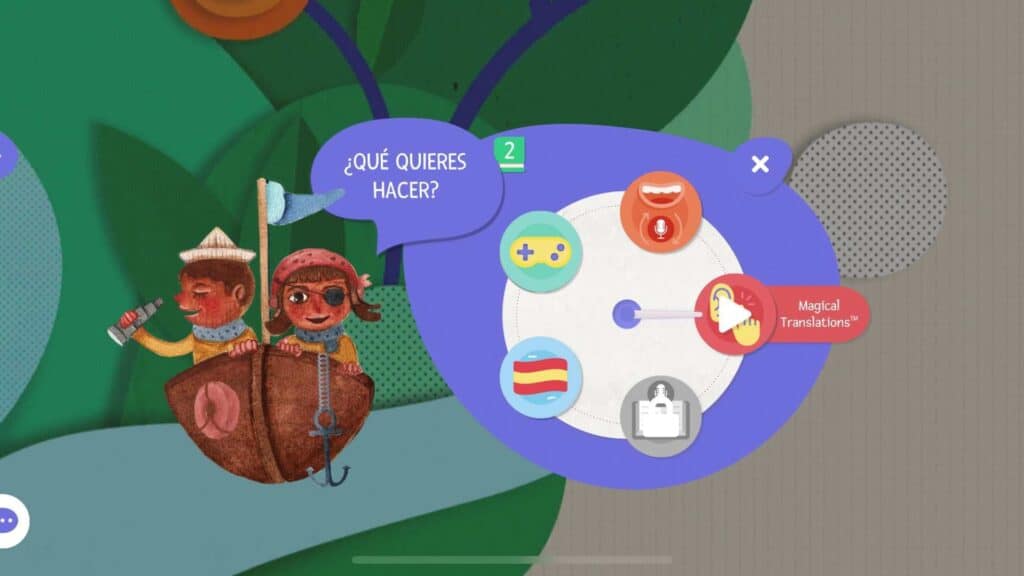 1. Magical Translations: To Listen and Touch
Each Spanish story begins with an animated cover page. The narrator reads the title in both Spanish and English. The interactive images allow kids to click on different aspects of the picture and hear the narrator say the word in Spanish and then in English. They click an arrow when they're ready to turn the page.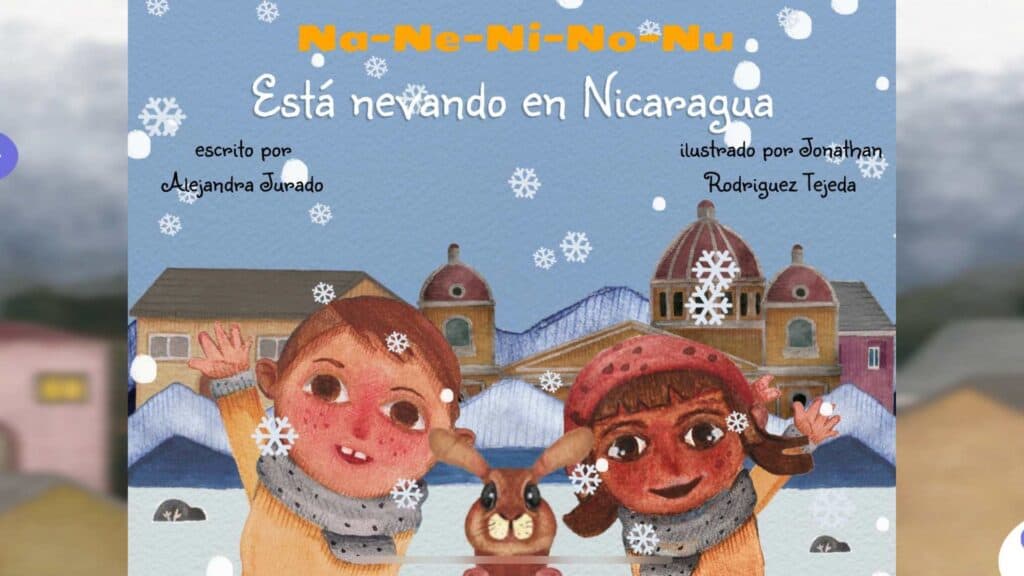 The words of the story appear at the top of each animated page. The narrator reads a highlighted section in Spanish and then translates that section to English before continuing. She uses appropriate and amusing voices for each of the characters. 
I love the approach FabuLingua takes to introducing vocabulary to children. Instead of presenting a series of short, disjointed vocab words and drilling those into kids' heads before allowing them to move on, FabuLingua's stories jump immediately to a rich and colorful use of the language. Kids are exposed to a wide variety of words and expressions read by a native Spanish speaker, whose soothing tone never gets tiresome. 
As they move through each whimsical tale, readers can click on words and pictures to hear the word again and get the Engish definition.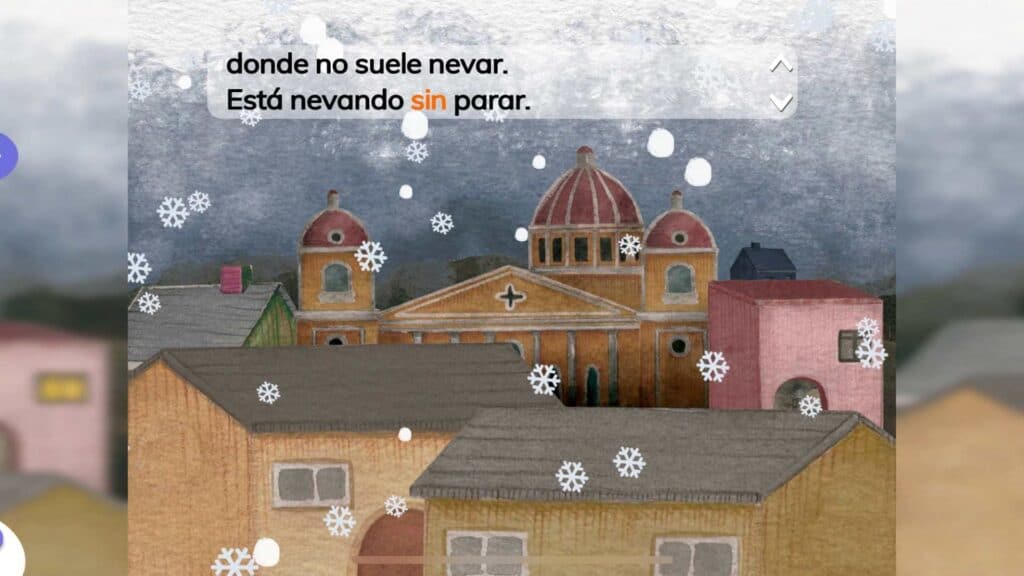 The images, interactive options, storyline, background, and sound effects are just the right amount of stimulation to hold the attention of young children without overwhelming them. Unlike with video, kids can move through the stories at their own speed, listening to as many words as they want to again and again. 
When they finish the story, they win stickers. This mode must be completed first. Finishing it unlocks the next three modes. 
2. Spanish only: To Listen in Spanish
The narrator reads the story straight through in Spanish without translating to English.
3. Copy Cat: To Imitate and Record
In this mode, the narrator and the child go through the story together, reading a few words at a time. The narrator reads the words and the child records themselves repeating the same words. The app plays the story back line by line with the narrator's recording and then the child's so they can compare their pronunciation to that of the narrator. 
Although the app doesn't actually rate or correct the reader's pronunciation, hearing your own voice contrasted with the narrator's really helps you to hear whether you're pronouncing words correctly or not. 
4. Games
FabuLingua offers two games for each story to help reinforce knowledge. 
Matching Game
Kids drag pictures of the various characters and objects from their stories to match with the correct words.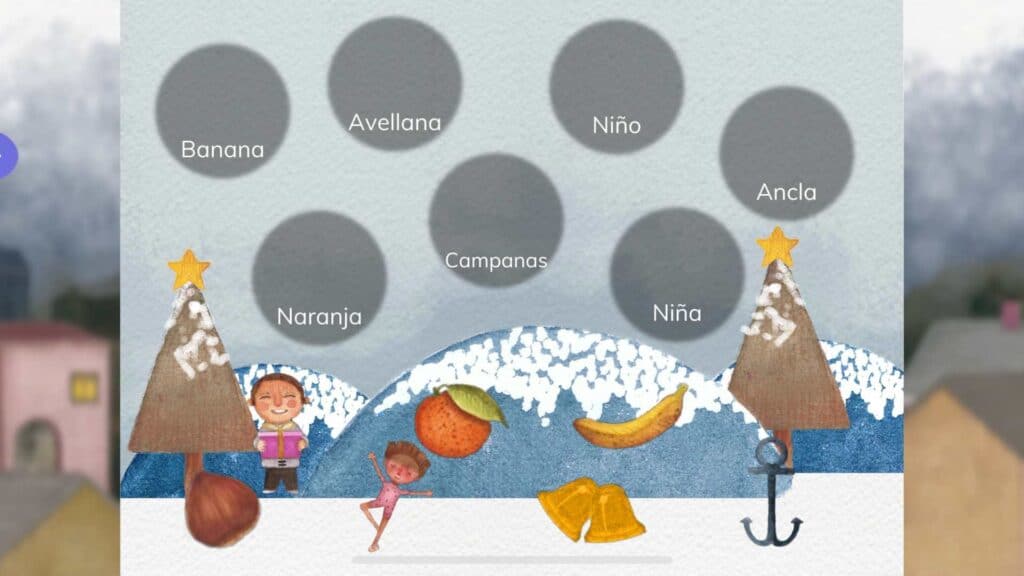 Articles Game
Kids must sort words into feminine or masculine articles (el or la). 
Read by myself 
The narrator's voice is removed and the child records herself, line by line, and then listens back to her recording. This mode is not activated until the Copy Cat activity is complete. 
Try FabuLingua to Teach Your Kids Spanish Today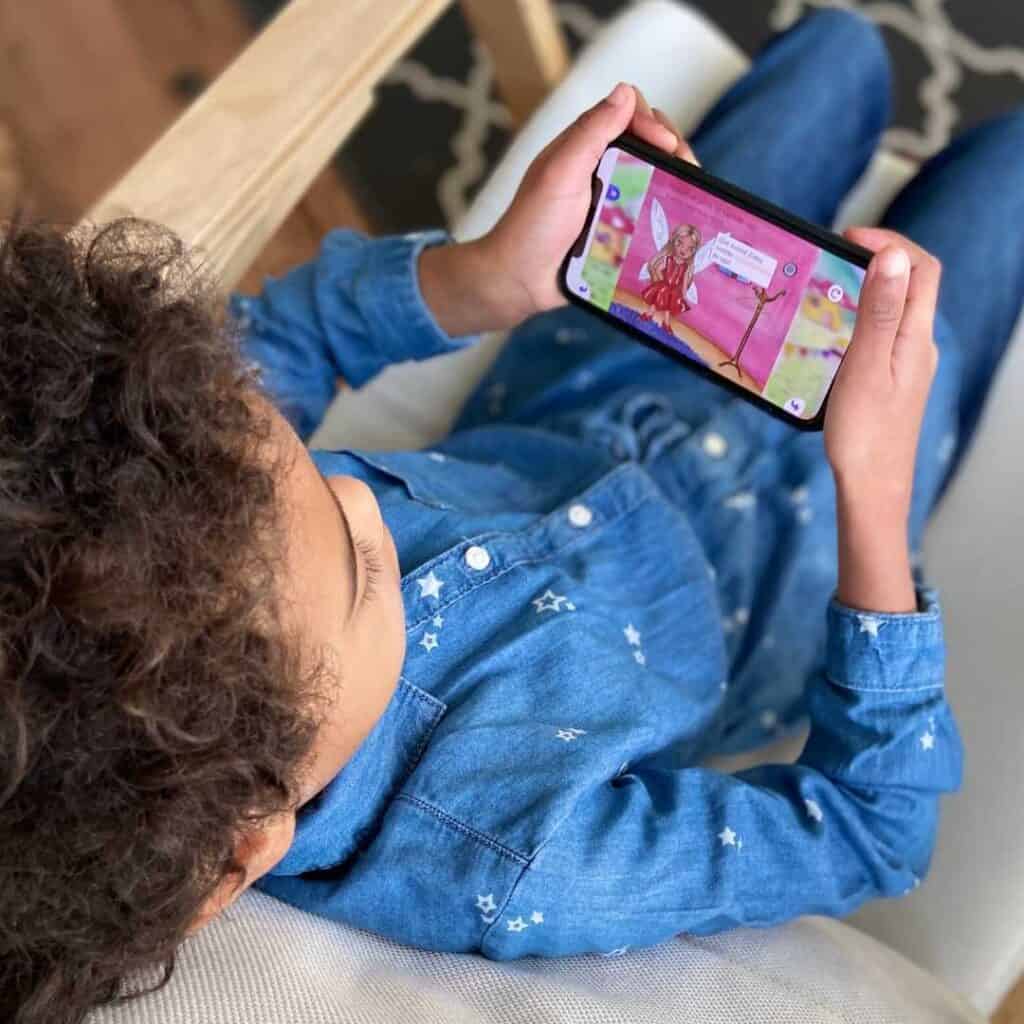 It's so easy to get started with the FabuLingua app. Their introductory prices are 55% off AND your first month is free of charge!  Their rates are as low as $2.66/month.
Sophie Agbonkhese is a writer, veteran homeschooling mother of four, and a recovering overachiever (who occasionally relapses). She is the founder of My Cup Runs Over, a site dedicated to helping busy women simplify and enrich their lives, homes, and homeschools. When she's not writing or debugging websites, Sophie spends her time reading with her kids, gardening, listening to audiobooks, and striving fruitlessly to have a clean house for at least five minutes. She lives in southwestern British Columbia with her husband, Ben, and their children.