Bullet journaling has become a popular way to stay organized and productive, and habit tracking is an effective tool that can be used as part of your planning system. If you're looking for a simple approach to habit tracking, bullet journaling could be the perfect solution. In this blog post, we'll discuss how integrating a minimalist bullet journal habit tracker into your routine can help keep you focused on completing tasks, form beneficial new habits, and lead a more organized life.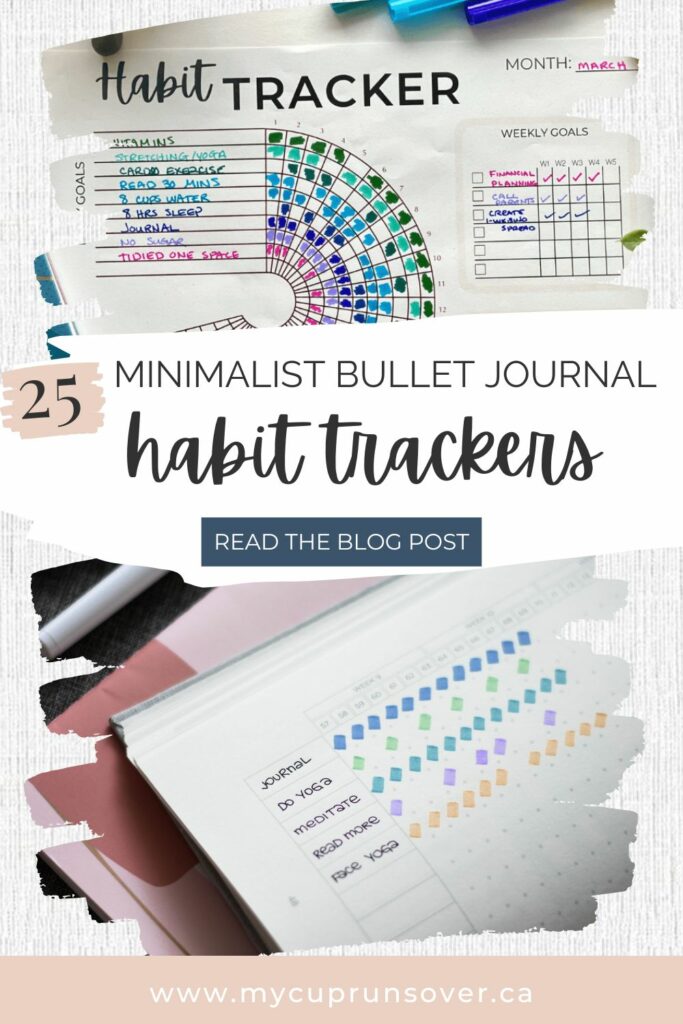 Affiliate disclosure: This post may contain affiliate links, which means we may receive a commission if you click a link and purchase something that we have recommended. Please read our disclaimer for more details.
What is a Minimalist Bullet Journal Habit Tracker
A minimalist bullet journal habit tracker is a great way to stay organized and focus on the most important things in life. It's an easy way of making sure you don't forget anything important on a daily basis.
With highly customizable setups, these simple habit trackers allow you to focus on the positive habits you want to cultivate and motivate yourself to practice them regularly. Whether you track diet, exercise, or time management, your minimalist bullet journal habit tracker will keep you on track to reaching your personal goals.
While any habit tracker template will help you establish a daily routine and develop better habits, a minimalist design is especially helpful if you get easily overwhelmed, are short on time, or don't want to put a lot of effort into setting up your monthly spreads.
Whether you use a monthly habit tracker, a weekly habit tracker, or daily habit trackers, keeping the design as clean and simple as possible will keep you motivated, even if you have limited time to dedicate to your bullet journal spreads.
How Does a Habit Tracker Help You Reach Your Goals?
When you're trying to develop good habits, a habit tracker can be the best way to reach your goals. Not only will having a regular daily reminder keep your personal goals top of mind but seeing your progress will motivate you to keep chipping away at them each day.
Monthly trackers can also help you identify any bad habits you might still have lurking in the background and commit to changing them so that you can really zero in on those good habits that are most important for your personal growth. A good habit tracker—whether it's part of your weekly spread or a standalone option like one of these circular trackers—is an incredibly effective tool when it comes to reaching your goals.
How to Set Up Your Own Minimalist Bullet Journal Habit Tracker
Follow these steps when you're ready to set up your simple habit tracker.
1. Gather Supplies
You will need a journal or notebook, preferably with dot grid paper, as well as writing utensils such as pens, pencils, markers, or highlighters. You should also get some washi tape and stickers to decorate your journal if you want. See the Supplies section at the bottom of this post for some of my favorite options.
2. Create an Index (optional)
An index is a great way to easily keep track of all your bullet journal spreads in one place and make sure nothing gets forgotten. This saves you from having to flip back and forth through the pages each day as you search for specific spreads.
Start by creating an index at the beginning of your notebook and label each page accordingly as you go so you can refer back to it when needed.
3. Establish Your Habits
Think about what habits you want to track in your bullet journal. Here are some examples of habits you might want to track:
Fitness goals
Water intake
Remembering to water plants
Hours of sleep
Steps taken
Pages read
Time spent journaling
Self-care routines
Putting money in a savings account
Make your list of habits before you create your bujo tracker so you know which of your favorite habit trackers will work best for your needs and how many you'll need to make room for on your template.
4. Set Up Habit Tracking
Once you have established which habits you want to track in your bullet journal, the fun begins! Browse through the bullet journal habit tracker ideas below to see the different ways bullet journalists track habits.
Don't overthink it. One of the great things about bullet journaling is that you can try new types of trackers every month, so if one spread doesn't work for you, there are plenty of new layouts waiting for you to take them for a spin. Keep experimenting until you find the best one for you.
Create your habit tracker spread in your bullet journal. A few options include:
Multi-page habit tracker spread. Set up a template for tracking each habit over time on separate pages of the journal.
Minimalist table habit tracker. This template could include columns with days of the week or months along with boxes next to each column where you can tick off whether you completed that particular habit on a given day or not.
Mini habit trackers. Many people prefer to use mini trackers which show several monthly calendars on one page, each of which represents a habit. They check off or color the box corresponding to the current date for each habit they've completed.
Circular trackers. Circle habit trackers are a creative way to track monthly habits. You create a circle or semi-circle comprised of several thing lines—one for each habit. These lines are broken into 28-31 segments, depending on the month. At the end of the day, you color in a box for each habit you've completed.
A segment of your weekly layout. Depending on how many habits you're tracking, you may not even need a dedicated minimalist bullet journal page. You may actually be able to incorporate your habit tracker into your regular weekly spread, at the bottom of the page, say. This is my own favorite way to track habits because I keep my bullet journal open to this spread most of the time. I check it on a regular basis (every couple of hours) to make sure I'm on track with my daily activities and my to-do list. This is a good way to stay on top of my habits throughout the day so I can make sure I'm on the right track.
No matter how you set up your minimalist bullet journal habit tracker, having this simple tracker visible during the day will help you monitor how regularly you are completing the daily tasks required for building your new habits. When you look over your habit tracker at the end of the day, week, or month, you'll get insights into which habits may need more work on your part.
A lot of the time, this can be as simple as reprioritizing your time and/or your habits. If you notice that one of your habits is rarely getting checked off, ask yourself why that is. Are your other habits taking up too much time? Is this habit still important to you? If it is, make an action plan for giving it a higher priority the following month. For example:
Can you complete that one first thing in the morning?
Do you need an accountability partner?
Do you need more specific goals surrounding that habit?
Do you need more inspiration for how to make that habit enjoyable?
Being consistent about filling out your tracker is a great habit to get into (you can even add that to your tracker!). Small steps like this add up over time and make it possible for you to meet the goals you set for yourself.
5. Keep Track of Goals and Progress
It's important to have a place in your bullet journal where you can record any goals that relate to the habits that you're tracking as well as progress made towards those particular goals over time. Make sure to dedicate at least one page of your journal just for this purpose so that everything related to goal setting is kept together in one spot for easy access whenever needed.
Check out our bullet journal goal-setting spreads for ideas on how to set this up.
6. Get Creative
To help make tracking these habits more fun and interesting don't be afraid to get creative with the design and layout of your bullet journal page! Use different colors, fonts, shapes, etc. Whatever works best for helping motivate yourself to keep up with all those new healthy habits.
7. Celebrate Successes and Reflect on Failures
Lastly, it's important to take time periodically to celebrate successes as well as reflect on any failures so that adjustments can be made and progress toward your goals remains steady.
Minimalist Bullet Journal Habit Tracker Ideas
Here are 25 of my favorite minimalist bullet journal habit tracker ideas. Click on any of them to visit the bullet journalist's Instagram account.
This habit tracker is extremely simple to set up. Using a portrait orientation, you can divide the month in half and dedicate two lines to each habit. With a short list of goals, you still have space at the bottom left over for reflection or doodles.
This spread uses a separate calendar graphic for each habit. It still has a simple design, but it takes quite a bit longer to set up as you need to draw each calendar separately. This works great for tracking nine habits or fewer.
This one also uses a calendar method, but spreads it out over two pages. Like the one above, it allows you to incorporate mood tracking into your habit tracker design. The highlighting around the edges of the calendar graphics really makes them pop, giving them the illusion of being 3D.
Another option is to have the dates going down the page and have the habits running along the top. Most bullet journals should have just enough lines to make this possible, but you'll want to count the number of vertical dots in your notebook before committing to this design.
This design has a higher element of simplicity than the calendar grids while still maintaining aesthetic flair. You do have to write out the days of the month numerous times to achieve this look, but the white space left around each box keeps it looking clean.
While not the most efficient use of space, this spread captures a truly minimalist vibe. With dates running horizontally across two pages and a list of habits running down the side, there is plenty of room at the bottom of the page for your own sketches and ideas.
For optimum simplicity, use icons instead of words to represent each habit.
Here's another take on the calendar grid method. This one is a little easier as you don't have to format the boxes in a calendar shape, you are simply making two lines of boxes. This one skips the numbers, which makes it a super simple spread to make, though it may decrease ease of use.
This is a beautiful minimalist habit tracker spread with oodles of white space. Again, each habit gets its own rectangle and the dates are represented by outlined boxes. Here, the numbers are filled in so you don't have to count the boxes to figure out which one you are on.
This one is sort of the inverse of the calendar spreads. Instead of blocking out the calendar, it uses colored boxes around the edges of it, leaving the calendar completely blank. It still looks pretty clean and it probably takes a little less time to create.
Here's an interesting take on the circle habit tracker method. it has a minimal number of habits to track and the outside has been designed as a gear. Can't you just see those wheels of change turning?
Here's another two page spread that leaves room at the bottom for mood tracking. This one allows you to track a ton of habits without getting cluttered, but it does look like it would take a bit of time to set up.
Turning your bujo sideways gives you plenty of room to run a horizontal spread that only takes up one page. This one is Christmas-themed, perfect for getting into the holiday spirit.
With black bujo pages and gold marker, even the simplest habit tracker design pops off the page.
I love how this minimalist habit tracker design managed to work in some colors without looking too cluttered or busy.
Here's another holiday themed design that uses the boxed rectangle method. It looks beautiful, but I might find it hard to remember which square corresponds to each day. I guess each line has 10 boxes (with the third having 11), but I feel like I'd still have to count every day to make sure I was using the right one.
This fun design minimizes the habit tracking portion of the spread and maximizes the cute snow-themed drawings.
Here's a 3-in-1 mood tracker, habit tracker, and sleep tracker with a Christmas theme.
This one is very minimalistic. The design is beautiful, simple, and clean. I don't know how you track which day you're on (am I the only one who has this problem?), but it sure is lovely!
This spread keeps it simple by limiting the page to three habits. I love the way the journaler created the calendars (with numbers!) on separate paper and pasted them in. It's so classy looking.
Here's a beautiful black-and-gold circle habit tracker that's music to my ears.
Want to infuse a touch of magic and whimsy into your habit tracker? This spread uses gold-accented flaps to make each individual tracker look like a fairytale book.
I'm in love with the beautify, simplicity, and aesthetic of this habit tracker design. I love how it incorporates printed graphics, washi tape, and Kraft paper.
Here's another twist on the flap method. Instead of designing your flaps as book covers, why not try designing them as gifts to open? This could help serve as a reminder to reward yourself for meeting your habit tracking goals.
To round out this list, here's a habit tracker that does something I haven't seen before. Instead of just checking off habits or coloring in a box to show a yes or a no, this one uses a line graph strategy to actually track how much of the habit you did. For example, instead of just asking "did you read?" or "did you meet your goal of reading 10 pages?" this spread captures exactly how many pages you read each day. This is a fantastic way to capture more in-depth data about your habits so you can make better decisions and goals in the following months.
Tips for Staying Motivated and Keeping on Track With Your Habit Tracker
Staying motivated and keeping on track with your habit tracker requires discipline, focus, and dedication. Begin by setting realistic and achievable goals for yourself that you can use your habit tracker to monitor. Start with simple tasks such as drinking a glass of water, following a healthy morning routine, or doing some gentle stretching every day then gradually increase the complexity of the tasks. As time passes, these small goals will accumulate into larger accomplishments and you will be able to clearly see your progress.
In addition, it is important to create accountability by sharing progress with friends or family members who may be able to provide encouragement and support. This may be done through a habit-tracking app, by sending regular emails or text messages documenting progress, or even by having weekly check-ins with trusted confidants.
It can also help to establish rewards you'll give yourself when you accomplish a goal such as checking off a habit every day for a week. This will help keep you accountable and give you an extra push when motivation starts to slip. Rewards do not have to be extravagant. They can be simple things like going for a coffee date with a friend, getting yourself some new bujo stickers, or watching an episode of your favorite TV show. Setting these rewards in advance will increase motivation and give you something to look forward to when you reach one of your milestones.
Finally, set reminders for yourself. Whether it is setting alarms throughout the day reminding you to drink water or scheduling regular check-ins with yourself or someone else, receiving these little nudges will keep you on track and motivated to continue working toward your goals.
Bullet Journal Supplies
If you're just getting started with bullet journaling, you will need a few supplies, but probably not as many as you think. You can start small and add additional supplies as you go. At a minimum, you will need a journal and some pens. I like to have black pens in a variety of thicknesses as well as dual-tipped watercolor pens for coloring.
You could stop there, or you might want to step it up a notch and add a ruler, some washi tape, and a pack of planner stickers.
I've linked to a few of my favorite items below, or you can click here to see all my bullet journal recommendations on Amazon.
Other Things to Track in Your Bullet Journal
The more you start using your bullet journal to track the different areas of your life, the more you'll experience the benefits of this practice. Better accountability, motivation, and insights into your life are just a few of the positive changes you can expect to see. Once you get into it, you'll want to track everything.
Although the fancy bullet journal spreads you find in the bullet journal community do take a lot of time, keep in mind that how you set up your journal is a matter of personal preference. You don't need to make your spreads as complicated as those you see in other people's bullet journals. Simple spreads are equally effective as their more complex variations and are must easier to put together.
Here are a few more things to add to your bullet journal:
Mood tracker
Sleep tracker
Physical health goals
Weekly schedules
Reading lists
Over time, as you build more spreads and hone your tracking methods, your bullet journal will become a rich reflection of your life and the person you are at this stage of it.
A word of caution though: Your bullet journal is just that. Yours. It's up to you what goes in it and how you use it. Don't succumb to internal or external pressure telling you that you need to invest in expensive supplies, become an amazing artist, or track every single aspect of your life.
Setting and achieving goals is great, but if your goal-setting strategies get to a point where they're robbing you of your joy rather than increasing it, take a step back and make sure you're making the best choices for you, as an individual, in the particular season you're in.
Establish New Habits Easily with a Minimalist Bullet Journal Habit Tracker
Using a minimalist bullet journal habit tracker is an effective way to achieve personal goals such as improving health or saving money. By tracking daily habits associated with these goals, it becomes easier to identify which practices are effective and which ones need improvement. By carefully monitoring your habits over time, you gain greater insight into your behaviors. This insight helps you make better decisions about your lifestyle choices, allowing you to actively shape your habits in alignment with your overall goals so you can reach them sooner.
Sophie Agbonkhese is a writer, homeschooling mother of four, and a recovering overachiever (who occasionally relapses). She is the founder of My Cup Runs Over, a site dedicated to helping busy women simplify and enrich their lives. When she's not writing or debugging websites, Sophie spends her time reading, dancing, bullet journaling, reading, gardening, listening to audiobooks, and striving fruitlessly to have a clean house for at least five minutes.