What is Bullet Journal Weekly Spread?
Do you want to get creative with your bullet journaling in 2023? Are you looking for weekly spread ideas that are minimalistic yet inspiring? If so, then this blog post is for you! We've compiled a list of 32 minimalist weekly spread ideas to help you explore the wonderful world of bullet journaling.
From classic color schemes and simple illustrations to modern design techniques and geometric patterns, there's something here for everyone. With just a few basic supplies and some creativity, these minimalist spreads will have your bullet journal pages looking amazing all year long.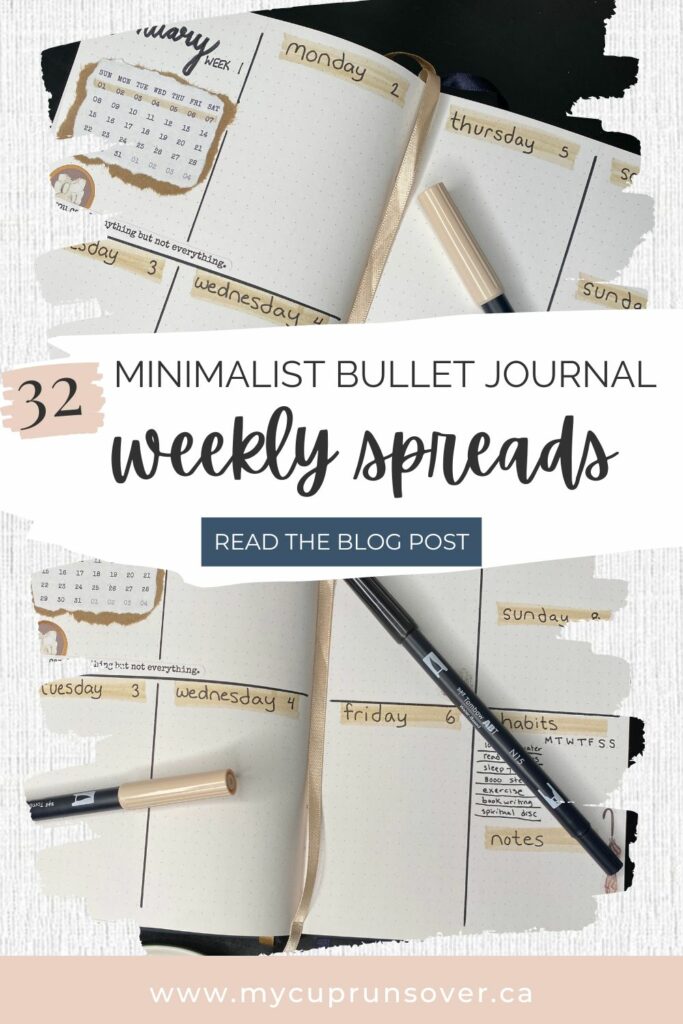 Affiliate disclosure: This post may contain affiliate links, which means we may receive a commission if you click a link and purchase something that we have recommended. Please read our disclaimer for more details.
What is Minimalism?
A minimalist approach to design focuses on creating simpler, functional designs with fewer decorative elements. Minimalist designers seek to enhance the experience of using their spaces—or, for our purposes, pages—by removing visual clutter and focusing on simple, attractive designs. The result is an aesthetically elegant yet still functional design focused on simplicity and utility.
A minimalist design keeps only what's essential with a few elements displayed in an organized manner that adheres to traditional composition principles of balance and unity, creating a strong visual impact with fewer resources and content. By leveraging the minimalist approach to design, we can create the perfect minimalist environment to support our goals and simplify our lives.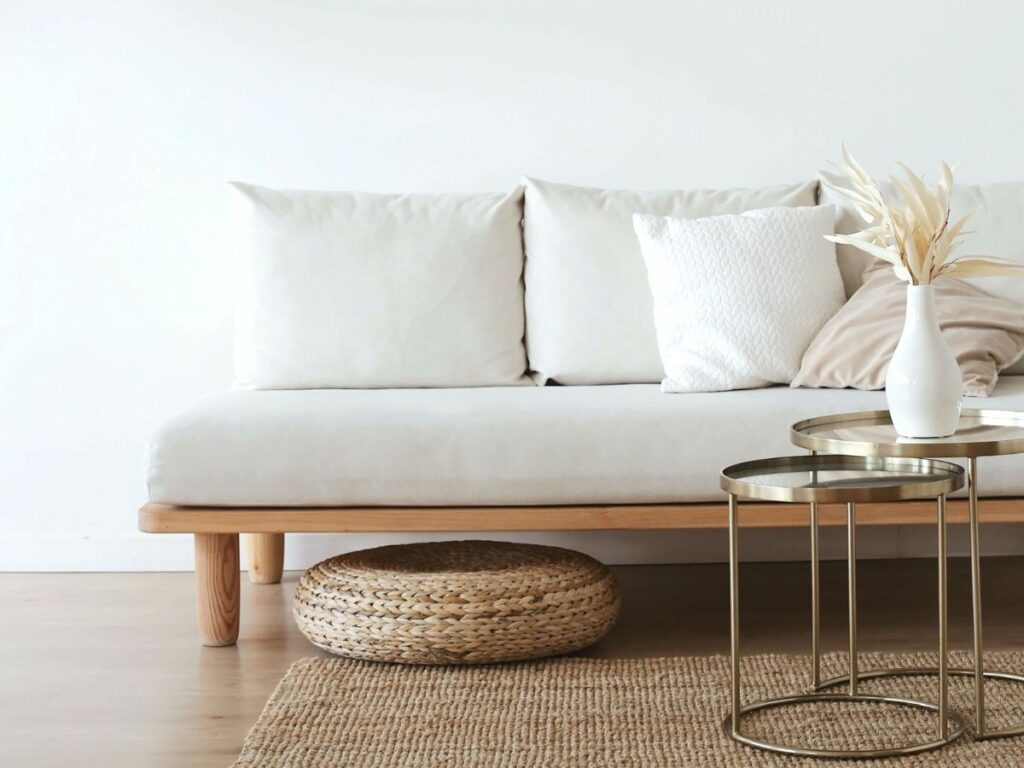 Design Notes for Your Minimal Bullet Journal Spread
Minimalism design principles focus on simplicity and minimal use of colors, shapes, and elements to create a clear design with a minimalistic visual impact. Keep these minimalist design notes in mind as you plan your bujo spread.
White space. Seek to achieve balance, beauty, and harmony through maximum space for white buffers or "white space" around the minimal elements.
Neutral colors. To create a truly minimalistic style that still brings impactful visual stimulation, neutral palettes can be used instead of bright and complex colors.
Purposeful design. Any design components must have a purpose. A simple design is more effective than an over-decorated one.
Eliminate clutter. Minimalism allows designers to prioritize important visuals and text without distractions or clutter. While one or two non-functional design elements can enhance your bullet journal layout and create a cohesive theme, going overboard on washi tape, stickers, and drawings will quickly overwhelm your design.
Font choice. The font size and type should enhance the overall look and feel of your minimalist spread, but it should also be legible for easy reading.
Grids and lines. When used in moderation, these can make your pages seem neater and more organized than if you didn't use them at all. They'll help you space out elements so they don't look too overcrowded and will keep your writing neat and even throughout the page.
Focus. Stick to one focus per page. It might be tempting to try and fit a bunch of information onto one page in order to save space, but this could end up looking cluttered or overwhelming instead of minimalistic. It's better to focus on just one main topic per page instead so that each has its own individual feeling without any confusion between what belongs where on the spread.
Consistency. Be consistent in both design and content by maintaining the same style throughout your spread and ensuring all the information is clearly visible and organized in an orderly fashion.
Subtle accents. Incorporate small accents such as color blocks or symbols to draw attention without overwhelming your design.
Balance text/illustrations. Make sure you don't overcrowd your spread by balancing illustrations with text. Try using meaningful but brief quotes, icons, decorative border frames, creative layouts, etc., for visual interest without being overwhelming.
Have fun. Remember that this should be enjoyable for you. Use colors you like and experiment with different designs until you find what works best for you personally.
Why Use a Minimalist Bullet Journal Weekly Spread?
Incorporating a minimalist weekly spread into your bullet journal can transform the way you organize tasks, access information, and interact with your weekly log. Working with a simple layout that reduces clutter allows for improved visibility of information and simplification of the journaling process.
Minimalism isn't just aesthetically pleasing—it provides greater focus on what's important within your weekly spread, makes navigating simpler and more intuitive, and enables efficient time management. With minimalism at work in your weekly spread, you can make the most out of this crucial piece of your bullet journal.
The Pros and Cons of Using a Bullet Journal Weekly Spread
The bullet journal weekly spread is a great tool for organizing your goals and tracking your progress on a weekly basis. It is an increasingly popular method of planning that can help you stay focused on the tasks at hand and gain control of your day-to-day life.
When setting up your bullet journal, you'll probably want to decide upfront whether to use a monthly spread, weekly spread, or daily spread format. There's no reason why you can't use all three, assuming you have the time to create and maintain that many pages. My personal preference is to do a monthly overview at the start of the month immediately followed by four or five weekly spreads for the month.
A weekly spread layout gives you an overview of the whole week, which feels like the most natural unit of time to track on a single page. You can map out your schedule, make adjustments, and strategize about how to accomplish your weekly goals. While it is an efficient and effective way of managing your time in your bujo, there are some pros and cons associated with using this type of layout.
Pros of Using a Weekly Layout in Your Bullet Journal
It allows you to visualize your current commitments and upcoming events for the entire week so you can keep track of all activities in one place.
It can also give you a place to incorporate your long-term goals and objectives into your weekly schedule, letting you see how each task fits into the bigger picture.
Following the same layout each week (for a certain period of time) saves you the time of having to come up with new layouts all the time (or creating daily layouts) which can help you be more productive throughout the week.
Having everything mapped out in one place eliminates the need for multiple lists since all tasks can be managed from one centralized source.
A weekly spread is a great way to incorporate a habit tracker into your bullet journal.
Cons of Using a Weekly Layout in Your Bullet Journal
For your bullet journal weekly spread to be effective, it requires regular updating as new tasks arise throughout the week. It's helpful to have it on hand at all times, which isn't always convenient.
Planning your days too far in advance could mean you have to make several changes in your bullet journal spread if your plans change, which can end up looking messy.
If too many tasks are crammed into one spread it may become cluttered making it difficult to identify important details or prioritize certain items over others without getting overwhelmed.
You will not have as much space to write the details of your daily tasks as you would with daily spreads.
Ultimately, the type of bullet journal spreads you use comes down to personal preferences. You may find weekly bujo layouts hard to keep up with or you may become addicted to your weekly bullet journal spread. The only way to find out is to give it a try, so let's jump into some of my favorite minimalist bullet journal pages.
Find Your Favorite Minimalist Bullet Journal Weekly Spread
These 32 minimalist bullet journal spreads give you tons of options for your own bullet journal. Try a different one every week or draw inspiration from these to create one minimal spread that you use all year long. The possibilities are endless.
Black and White Minimalist Bullet Journal Weekly Spreads
This is a very simple weekly bujo spread with just a hint of whimsy in the lower right-hand corner. If you wanted to stick with a core design, a fun way to switch it up each week would be to do different flower doodles in the corner each week, depending on the season.
This design has a little bit more detail than the previous one but still keeps it quite simple. The trees at the bottom have a hint of green on them, but could just as easily be done in black if you prefer a monochromatic vibe.
This spread is extremely simple and minimalistic but the combination of fonts gives it an elegant flare. I love the way the lettering on the days of the week connects with the other days and the idea of recording the weather.
This one has a bit more of an intricate design with patterns on both the top and bottom, cursive block letters, and extensive shading/highlighting, but it still manages to maintains its minimalist design.
Minimalist Bullet Journal Weekly Spreads on Blackout Paper
Here's a reverse take on the black-and-white theme. Blackout bullet journals take every design to the next level. If you plan to mostly stick with minimalist spreads, consider switching to black pages for an elevated aesthetic.
This black bujo weekly design managed to fit two weeks into the two-page spread without feeling overly crowded. It's a great use of space that steers clear of excess clutter.
While this spread is a little more ornate in design, the large graphics are counterbalanced nicely by the ample white—er, should I say black—space. If you're looking for something even simpler, you could scale back on the size/intricacy of your embellishments or just use a couple of thoughtfully chosen stickers to round out your design.
Lastly, this green and white foliage theme comes together quickly and keeps your weekly notes looking clean and streamlined.
Minimalist Bullet Journal Weekly Spreads with Color
This theme takes simplicity to the extreme, omitting both dates and day labels. Without the splashes of color lent by the gold paint, the torn paper, and the adorable deer, it would just be a boring spread, but these accents give it a sophisticated charm.
In this design, the daily sections are separated cleanly by a single line of green ink, while the top is adorned with a monochromatic forest theme. My favorite part of this page is the numbering of the dates.
Elevate a basic eight-block spread by using a muted monochromatic palette to draw some simple flowers (or clovers) along the top border.
This one takes a bit more effort but if you're artistically inclined, a design like this is a good balance between minimalist design and a fully painted page.
Minimalist Bullet Journal Weekly Spreads with Washi Tape
This design stays simple while adding a touch of seasonal spirit with two strips of vertical washi tape. If you prefer more white space, you could cut back to one strip.
Another way to use washi tape would be as a horizontal divider between your weekly schedule and your notes or goals section.
This Christmas-themed spread comes together super quickly with two strips of washi tape and a collection of washi dots. Using two strips of coordinating tapes in different sizes adds visual interest to the design.
A big, bold, beautiful font combined with a strip of washi tape and a coordinating highlight make this minimalist bullet journal spread feel fresh like a spring day.
Minimalist Bullet Journal Weekly Spreads with Stickers and Cut-Outs
Delicate and whimsical, this spread hides the seventh day under an innovative flip-open feature. The stickers give it a dignified, artistic flair without creating clutter or taking too long to create.
Stickers and cutouts can pull a design together and make bullet journaling an even more satisfying experience, but if you're going for a minimalist design, you want to apply your add-ons with a light hand. This design strikes the right balance with neutral tones and a few hints of pink and red.
Custom cut-outs can be a little laborious. If you prefer a quick weekly spread that still features embellishments, stickers are the way to go. Grab a book or two of themed stickers (like these from Happy Planner) and decorate your basic spread in no time flat.
Here's another beautiful design that comes together really quickly with the help of neutral-toned stickers and cut-outs.
Minimalist Bullet Journal Weekly Spreads You Can Make in 5 Minutes or Less
Short on time? There's no reason to skip out on your weekly bujo spread. Just grab one of these super simple designs and take five minutes to create it in your journal. Voila!
A simple design is just as effective as a complicated one in helping you meet your goals and if it's all you have time for, it's exactly what you need.
If you're in a rush to get your weekly spread setup, it doesn't get more simple than this efficient design.
Instead of including a notes and goals section in your super simple weekly spread, you might prefer to use that space for a mini monthly calendar and a tiny drawing.
Using just a midliner and a gel pen, you can pull together a functional and classy minimalist weekly spread quicker than your fast-drying ink can set.
Minimalist Bullet Journal Weekly Spreads with Beautiful Hand Lettering
Sometimes all a minimalist bullet journal design needs to make it stand out is some beautiful hand-lettering. This design doesn't use boxes or dates, but the gold writing makes it shine.
This one is a little busier (partially as it's already filled in), but I love the fonts used on the monthly and weekly headings. Even without the embellishments, this page would be timeless and inspiring.
The neutral ombre on the block lettering on this design is lovely. Try using three or more watercolor pens (I love these ones) and a blending brush to create this effect.
One way to increase the amount of white space in your designs is to break the week up over two double-page spreads. The design is fairly simple but the combination of hand-lettered fonts makes it look lovely.
Minimalist Weekly Bullet Journal Spreads with Rustic Color Palettes
Neutral, rustic color palettes add pops of interest to your minimalist journal spread without creating an overpowering design. Here are some of my favorite weekly spreads filled with browns, beiges, and taupes.
This spread uses a Dutch door feature to fit some extra days at the end of the month into the spread without having to carry them over into a new month's layout.
Although the grid on this sepia-toned layout is super simple, the designer add dimensionality and a touch of whimsy with these little pop-up houses—a perfect spread for the holiday season when we need as much cheer as we can get.
This one's a bit less minimalistic, but the neutral colors still keep it grounded. I love how the prolific use of Kraft paper pulls the two pages together.
Skip the grids and add visual interest with snippets of scrapbook paper, Kraft paper, and washi tape in a coordinating color scheme.
Bullet Journal Supplies
If you're just getting started with bullet journaling, you will need a few supplies, but probably not as many as you think. You can start small and add additional supplies as you go. At a minimum, you will need a journal and some pens. I like to have black pens in a variety of thicknesses as well as dual-tipped watercolor pens for coloring.
You could stop there, or you might want to step it up a notch and add a ruler, some washi tape, and a pack of planner stickers.
I've linked to a few of my favorite items below, or you can click here to see all my bullet journal recommendations on Amazon.
How To Create Weekly Planning Routine
Find a Time
Creating a routine for updating your bullet journal is the best way to stay organized and on task. To start, decide on how frequently your journal should be updated—daily, weekly, or monthly. It may also be beneficial to set aside specific times each day or week for writing in your journal. This could be a few hours on the weekend or thirty minutes every night after dinner.
How much time you choose to dedicate to your journal will depend on the amount of time you have available, how many things you want to track, and how in-depth your spreads are. Sticking with a minimalist layout will help you keep up with your bullet journal system, even during busy weeks.
Set Up Your Space
Once you have established when you will be writing, make sure to create a space that is comfortable and conducive to productivity. This could include having all of the necessary supplies handy—pens, pencils, paper clips, etc.—as well as keeping distractions away by putting your phone on silent mode or turning off notifications while you write.
Plan Ahead
When it comes time to actually begin writing in your bullet journal, make sure to start with a clear purpose and plan ahead. It may help to break down larger tasks into smaller steps so that they are more manageable and easier to complete. Use checklists and lists of goals as well as sketches and diagrams if that helps you stay focused.
For example, it can be helpful to have a checklist of topics you want to cover in your journal each week. This can include regular updates about your physical and mental health, reflections on recent experiences, or even personal goals and ambitions. Your weekly planner might include day-to-day activities, a simple to-do list, and your weekly tasks, or it might include much more than this. Your checklist will keep you consistent and save you from forgetting something important.
Create Your Own System
It helps to develop an effective system for organizing your thoughts and ideas. Using different colors, symbols, and codes can help make information easier to track and remember. Consider dividing your bullet journal into sections dedicated to specific topics like daily activities or long-term projects. Having templates or outlines you use every week as a starting point keeps things organized while providing a consistent structure for tracking progress over time.
Finally, it's essential that you find a writing style that works for you. Whether this means incorporating more vivid descriptions, adding additional context around events, or simply taking the time to record highlights from the past week, having an individualized approach helps ensure that each session feels meaningful and productive. By creating an enjoyable yet structured process for logging events, tasks, and goals in your bullet journal weekly, you'll soon find yourself looking forward to revisiting these pages every single time.
Sophie Agbonkhese is a writer, homeschooling mother of four, and a recovering overachiever (who occasionally relapses). She is the founder of My Cup Runs Over, a site dedicated to helping busy women simplify and enrich their lives. When she's not writing or debugging websites, Sophie spends her time reading, dancing, bullet journaling, reading, gardening, listening to audiobooks, and striving fruitlessly to have a clean house for at least five minutes.