Gardening with kids is both enjoyable and educational. If you're looking to get your hands dirty working in the garden together, but also use the opportunity to introduce topics like botany, ecosystems, and plant science, the resources in this post are exactly what you need. Use them to create the perfect gardening unit study for your kids.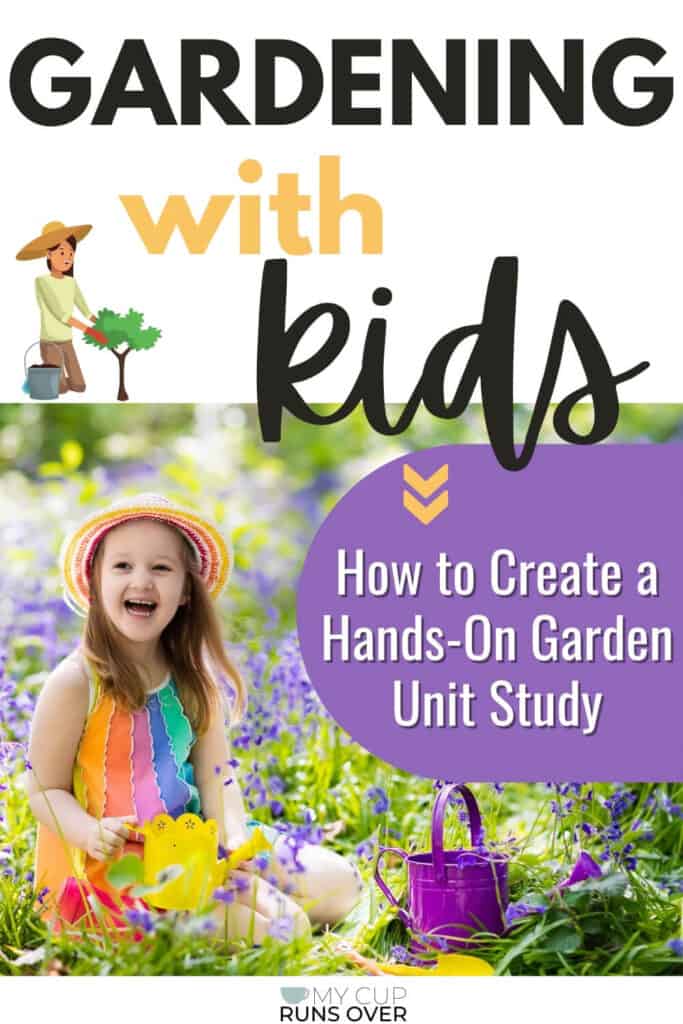 Unit studies are a great way to explore a topic of interest with your children, incorporating deeper learning opportunities into hands-on activities.
While there are tons of free and affordable unit study packages available on the Internet, it can also be fun to create your own unit study so you can truly customize it to your family's needs and interests.
The image below highlights the steps we recommend when creating your own unit study.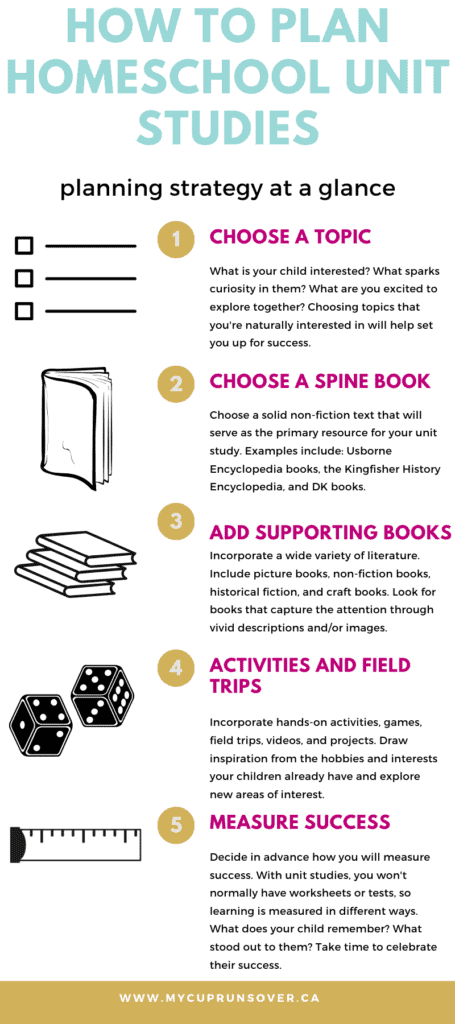 Creating a Unit Study on Gardening with Kids: An Overview
We'll go into each of the steps in more detail below, but here is a quick overview so you know where we're headed.
First, you'll choose one or more spine books to act as your primary resource for the unit study. The book you choose will depend on the scope you want to cover. Do you want to give preschoolers a gentle introduction to the intricacies of garden life? Do you have older kids who are eager to grow their own food? Do you have teens who need to earn biology credits?
You can accomplish any of these goals with a gardening unit study–you'll just need to choose the appropriate books.
After you have your spine book(s) selected, you'll choose supplementary books to go along with them. Below, we have listed a good selection of supplementary books you might consider using in your unit study.
Next, you'll add in activities and field trips. With a gardening unit study, you're obviously going to have a lot of hands-on activities, either in the garden, on a patio or balcony, or perhaps in your kitchen. If you don't have the resources or space to do any actual gardening at home, you may need to think outside the box and perhaps borrow a spot in someone else's yard or try to nab a plot in a community garden.
Finally, you'll measure success. How will you know when you've successfully completed the unit study? Will you have grown something cool in the garden? Will your child give a presentation on what they've learned? What are the target outcomes?
Books for a Gardening Unit Study
Activities and Field Trips for Your Gardening Unit Study
Since gardening with kids is your primary goal here, it makes sense that much of your unit study time should be spent–you guessed it–gardening with kids! As much as you can, you'll want to be outside together, digging in the dirt, planning your garden, amending soil, planting seeds, watering, weeding, and harvesting.
There is no better way for kids to learn the processes, joys, and frustrations of gardening than to do as much of it as they can.
If you need specific directions on creative gardening projects, many of the books recommended above have great projects included in them. In particular, we recommend the following books for their hands-on activities:
Specific Gardening Activities to Do Together
Planning Your Garden: Use grid paper, dot matrix paper, or an online garden layout designer to draw the shape of your garden and plan what you might grow in it. Be sure to try several options before committing to one.
We love to use a big piece of paper and draw the garden plot on it to scale and then cut up index paper (to scale) to represent different sized planters and garden features. Then we can move them around on the page as much as we want without having to erase and redraw.
Start Seeds in an Egg Carton: Seed starting is the perfect way to recycle old cardboard egg cartons. Just fill them up with potting soil and plant a seed or two in each one. Then gently water every couple of days. When the plants are ready to transplant, just separate the individual receptacles and plant the whole thing.
Make a Rain Gauge: A rain gauge helps you keep track of how much rain has fallen in your garden so you know when and how much to water your garden. You can make one using an old plastic pop bottle.
Cut the top off the bottle about a quarter of the way down from the top. Using a ruler, make marks going up the side of the bottle at every one-inch interval. Using wire, attach the bottle to a fence or some other free-standing structure outside where rain will enter it freely.
After each rainfall, check the level, record it, and empty the bottle. This will help you keep track of your weekly rainfall–most gardens will need about an inch of water per week, so if you're not getting that, you'll definitely want to supplement with soaker hoses, a sprinkler, or manual watering.
Attract Birds to Your Yard with Bird Feeders and a Birdbath: Birds play an important role in the garden. They help control the insect population, and some of them, like hummingbirds, also act as pollinators. Plus, they're just so lovely to watch.
You can create an environment that attracts birds by including elements that they look for, such as food and water.
This post has some really cool ideas for DIY birdbaths and this one has tons of ideas for DIY bird feeders.
Field Trips to Help You Learn More About Gardening
Fields trips are always an exciting addition to any unit study. They introduce kids to new concepts and ideas, as well as to people who are often passionate experts in their field and are more than willing to share some of their knowledge with an eager family.
Here are a few places you could go visit to supplement your gardening unit study:
Garden supply store
Commercial nursery
Honeybee center
Bird sanctuary
Butterfly center
Local farm
Agricultural museum
Pick-your-own (apples, berries) farm
Local community garden
Nature center
Measure Success
Before you start, decide how you will measure the success of your unit study. This can be as simple as nurturing a love of gardening in your kids. It doesn't need to be more than that if you're just looking to develop a shared interest.
If you are using your gardening unit study for homeschool credit, you may need something more substantial to show for your efforts. This could include a garden logbook, a photobook depicting your gardening journey, a report or presentation on one aspect of the gardening process, or simply evidence of the completed gardening projects.
However you choose to measure success, don't put too much emphasis on this part of the process. Remember that kids are learning all the time, even if they can't necessarily express what they know yet. They're absorbing everything and not all of the benefits of gardening with kids can be summed up in a simple school assignment.
The value they derive from their time spent working with you in the garden will far exceed anything they get from doing a formal project about it.
I hope that these ideas have inspired you to spend more time gardening with kids this year.
Leave a comment below and let us know which gardening ideas you're most excited about and don't forget to save this post to Facebook or Pinterest so you can find it later.
Sophie Agbonkhese is a writer, homeschooling mother of four, and a recovering overachiever (who occasionally relapses). She is the founder of My Cup Runs Over, a site dedicated to helping busy women simplify and enrich their lives. When she's not writing or debugging websites, Sophie spends her time reading, dancing, bullet journaling, reading, gardening, listening to audiobooks, and striving fruitlessly to have a clean house for at least five minutes.