Here are some tips to help you create your own homeschool unit study. We also offer some top unit study best practices that will get you out of even the deepest homeschooling rut.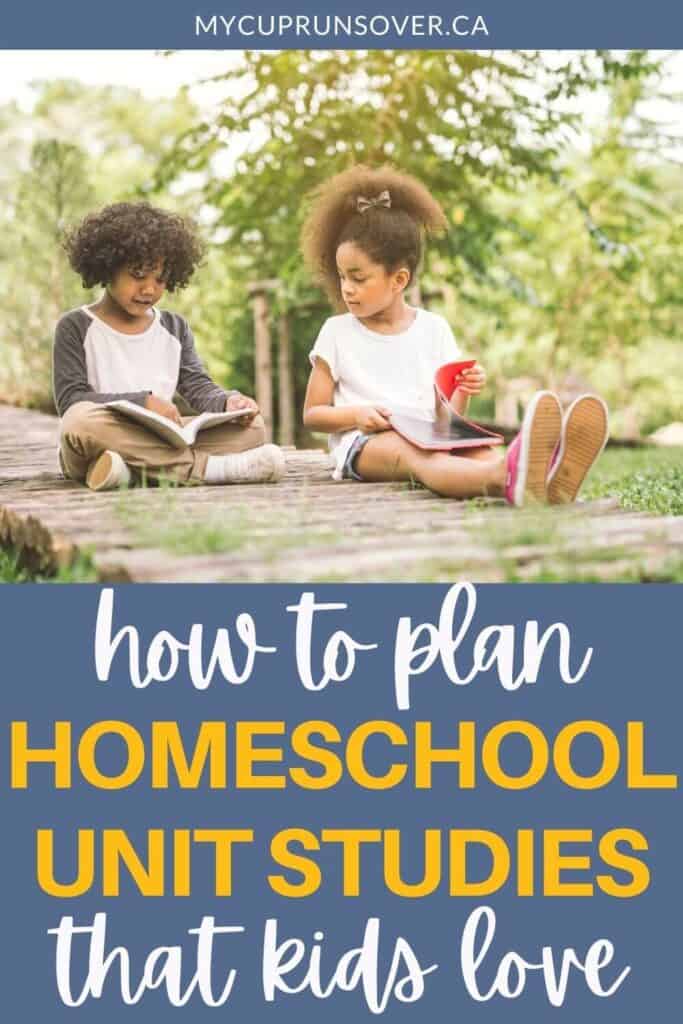 Whether you use an out-of-the-box homeschool curriculum or you are slowly learning how to homeschool without a curriculum, homeschool unit studies are an invaluable tool for presenting a topic of interest. Because homeschool unit studies make it easy to tailor your study approach to your child's particular needs and interest, many parents use them as their primary way to homeschool.
What is a Homeschool Unit Study?
The unit study approach provides children with the opportunity to learn about one particular theme or topic in a hands-on way. A unit study can be as short or as long as you like and often incorporates a variety of subjects within the study. Use unit studies with students in any grade, whether they're in elementary, middle school, or high school.
Each study may have a component of language arts, science, math, and social studies presented in relation to the theme.
For example, a unit study about birds could include a variety of books about birds, biographies and writing assignments about famous ornithologists and a hands-on science activity involving dissecting owl pellets.
You could incorporate math by measuring or calculating various birds' wingspans or determining egg sizes for particular birds. There are a variety of ways to incorporate particular subjects into a unit study.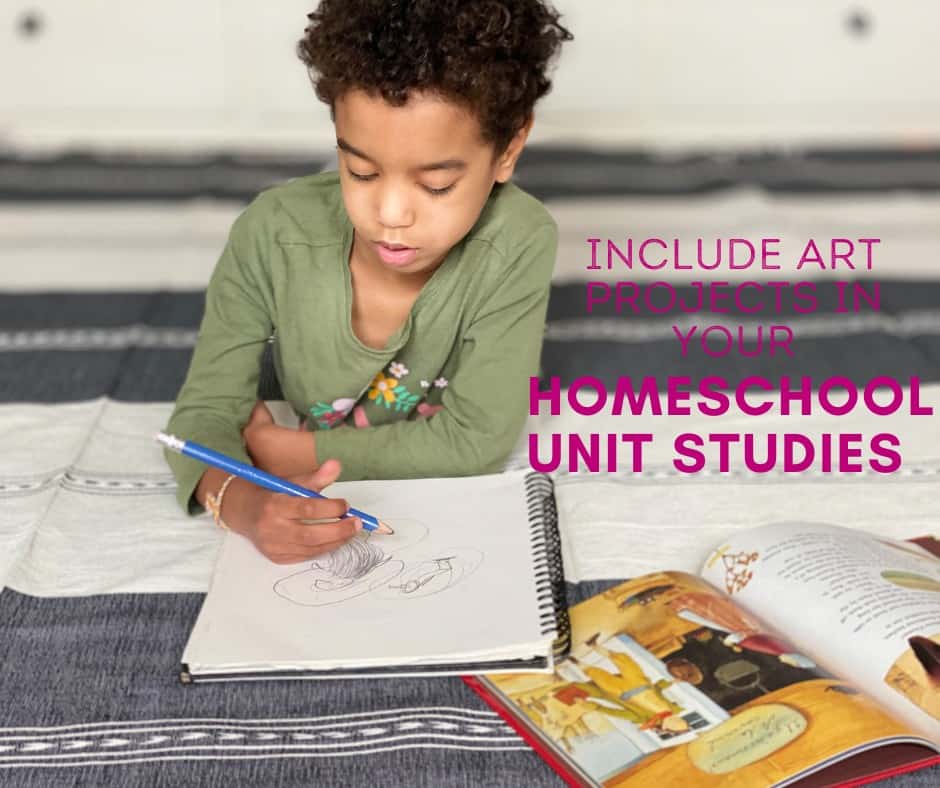 How To Plan a Homeschool Unit Study
You may already have a theme or topic in mind that you are interested in presenting to your children. They may have seen something on television about penguins and have talked non-stop about penguins for three weeks. Whatever the case, you can create a unit study around pretty much anything.
Choose a Unit Study Topic
When you decide to create a homeschool unit study, you've likely already got a unit study topic in mind. If not, look no further than what your child is working on, playing or talking about. Often you'll find inspiration in the everyday things they see or do.
You can also take the reigns and incorporate some topics you would like your child to pursue. After all, that's likely a big part of why you chose to homeschool your family anyway; you wanted to be able to provide your children something different than the norm. If that's the case, you're ready to create a custom homeschool unit study.
Give Your Unit Study Some Backbone with a Spine
Spine books are exactly that, the backbone of your unit study. This book will be your main go-to when you start working through your unit study. Within it, you'll be able to find topics or rabbit holes that you can meander down.
Some of the most popular spine resource books homeschoolers use to create their unit studies are Usborne Encyclopedia books. These books cover topics like World History, Science, and The Ancient World, and present information in a more visually stimulating way than typical textbooks do.
The Kingfisher History Encyclopedia and even the DK series of books from Penguin Random House are top choices for unit study spines. Since this is your homeschool. though, you can choose a spine that works for you and your child.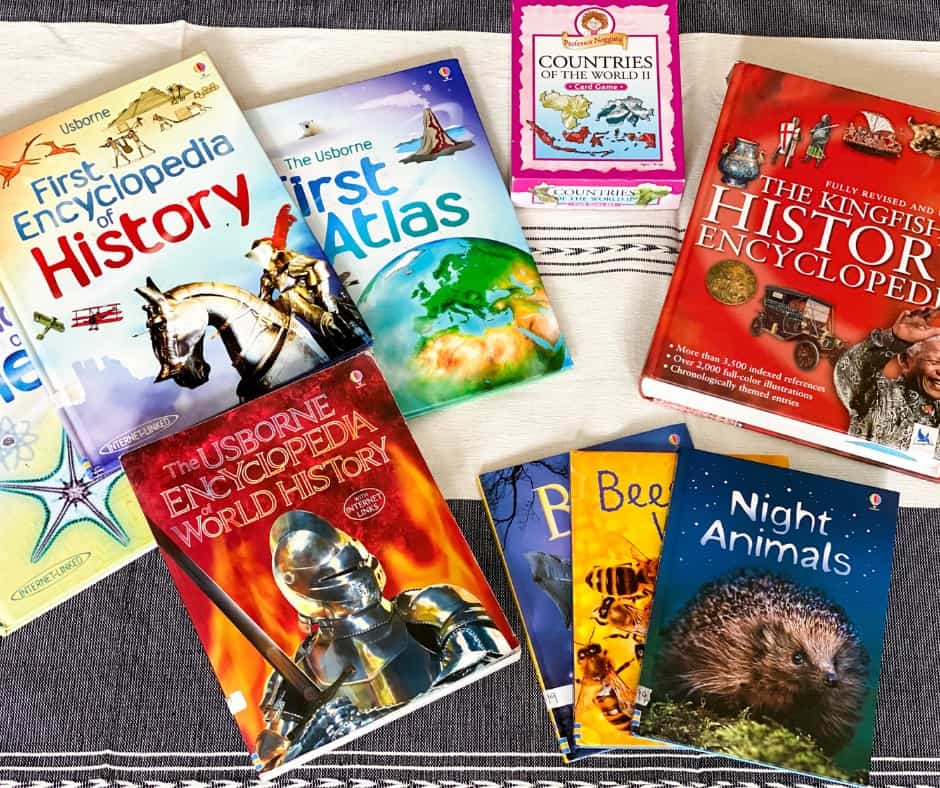 Research and Aquire Supporting Books
To me, this is the fun part. When you begin to create a homeschool unit study, you'll need additional supporting books. I love books and enjoy searching the internet to find just the perfect books for our unit studies.
My youngest is eight years old so I like to incorporate a wide variety of literature. Picture books are some of my favorites to use. There are just so many amazing options with gorgeous photos that truly help bring the topic of choice to life.
I specifically gravitate toward any book by Gail Gibbons, and will sometimes even use her books as our spine. Gibbons' books include topics like The Moon, Bees, Knights, Pandas, Galaxies, Tornadoes and many, many more. The books are full of age-appropriate information presented in small chunks with ample illustrations.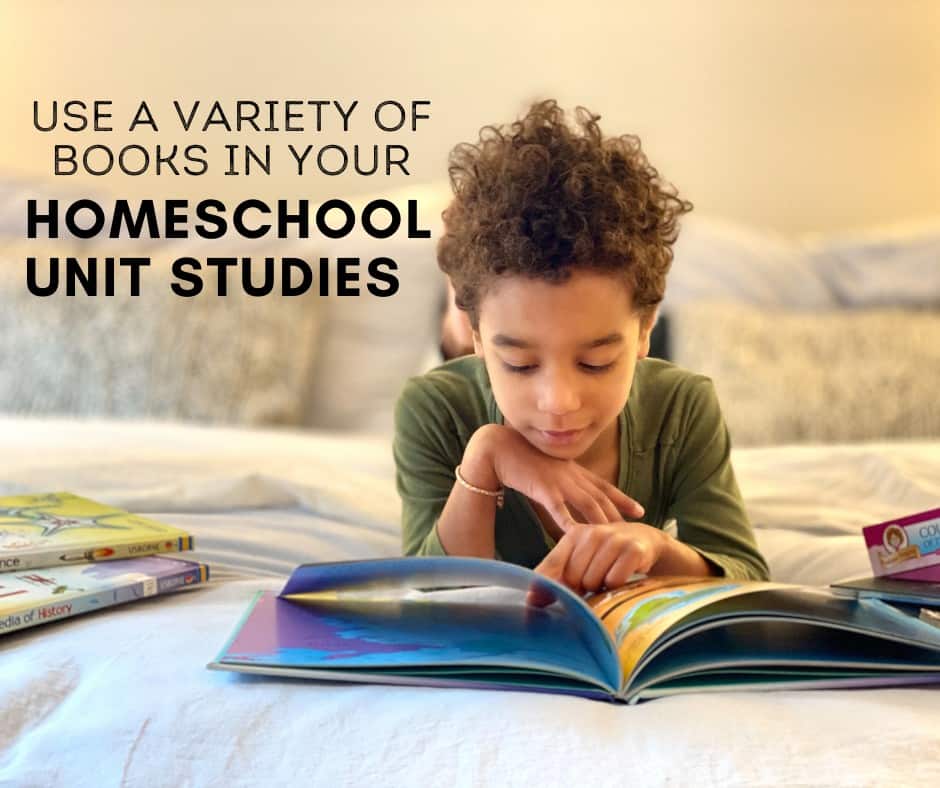 Charles Micucci is another favorite children's book author. His The Life and Times series of books are top-notch and much like those of Gail Gibbons, present quite a bit of information in a way that is easy for young children to understand. Again, the illustrations are what take these books to the next level. Micucci's titles include The Life and Times of the Ant, The Life and Times of the Peanut, etc…
Plan Activities or Field Trips
Here's the fun part. Providing activities that correspond to the theme of your unit study can help solidify the information your child has learned. You can read and learn about Ancient Egypt and then build a pyramid from sugar cubes, or purchase a more detailed pyramid kit to excavate online.
My son and I learned how to play Senet last year when we did a unit study on Egypt. The Egyptology book offers a world of information and includes a Senet game board within the book. Senet has easily become one of our favorite gameschooling choices.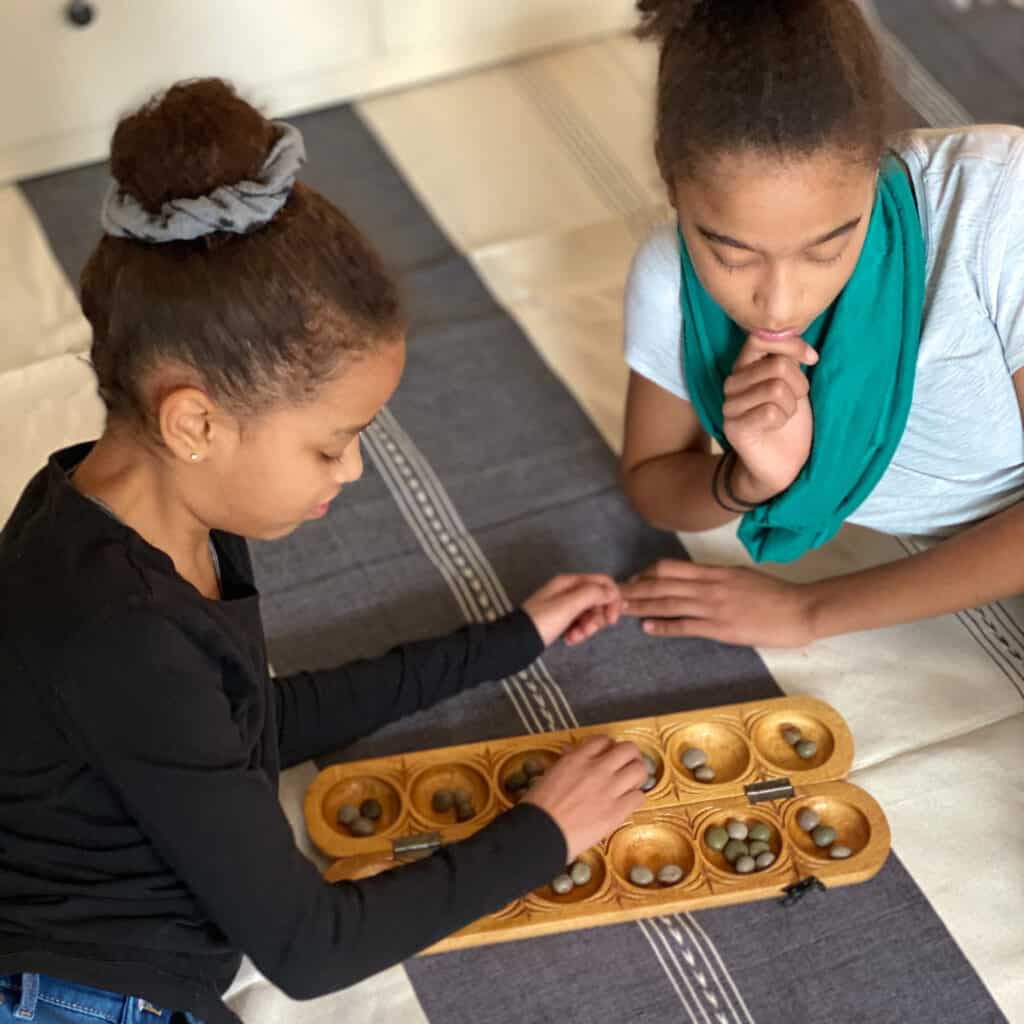 This, coupled with recreating an Egyptian feast for dinner one evening, is a great way to get the whole family involved. Dinner time is also the perfect opportunity for children to share their newfound knowledge with their families.
Determine How You'll Measure Success
The goal in homeschooling, for many of us, is not to continuously barrage our children with information. We strive to foster a love of learning and instill in them a curiosity about the world around them.
Through unit studies, we can present information in small digestible bites and let them ruminate on it. If something piques your child's interest, a unit study will allow you to stop and dig deeper in any given area.
If something just isn't resonating with your child, you can put it aside and maybe reintroduce it in a new way down the road.
This is important because we often get caught up in teaching. We forget to just be and let our children gather information and let it sink in. By creating lapbooks, doing activities, and allowing your child to present what they've learned orally, you can easily determine whether or not they've grasped the unit study topic.
There's no need to create a test or have them answer a lengthy essay question to prove they've learned something. The act of just listening, being present and enjoying the process, is enough. One day they will pull a fact seemingly out of thin air, months down the road.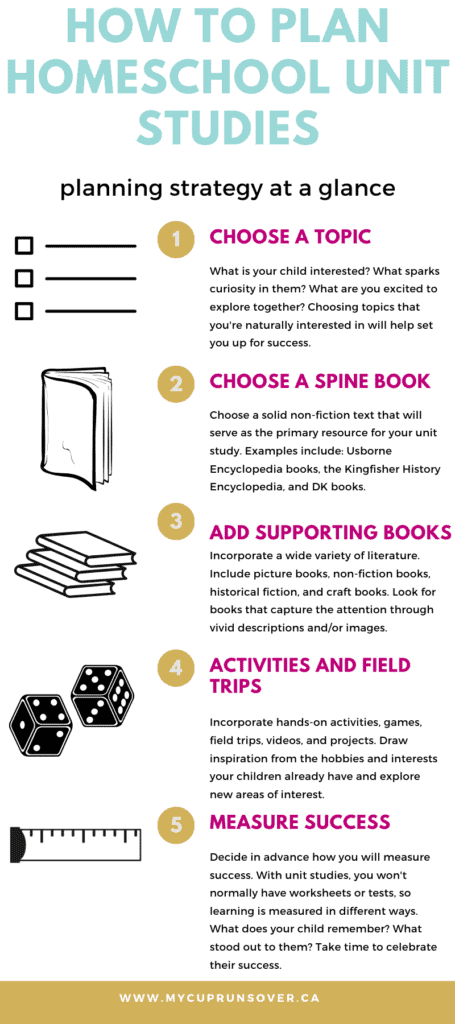 Where To Find Unit Studies
I get it, you've got a lot on your plate and the thought of sitting down and mapping out an entire month's worth of schoolwork sounds overwhelming.
The beauty of homeschooling today is that there are countless resources, curriculum options and companies, and blogs like this one, devoted to the business of homeschooling. Google and Pinterest will be your best friend in finding free unit studies and unit study resources for your family.
Unit Studies with a Christian Worldview
There are a number of companies that create ready-made unit studies for homeschooling parents to use in their homeschool. If you're already stretched thin, don't add pressure to yourself by trying to come up with your own homeschool unit study from scratch. No matter your homeschool preferences, there are plenty of options to choose from.
Parents seeking a homeschool curriculum based on unit studies taught from a Christian perspective will enjoy Amanda Bennett Unit Studies. This company provides a wide variety of online unit studies. From history to Geography, Science, Faith, Sports, Food and different animals, Amanda Bennet is a great option for families just beginning to step into the world of unit studies.
Where to Find Secular Homeschool Unit Studies
If you're seeking a premade unit study that is secular, Build Your Library is an optimal choice for busy parents. With titles around Pre-History, World War II and even Harry Potter literature-based unit studies, they are affordable, engaging and easy to follow.
Best Practices for Using Unit Studies in Your Homeschool
When you decide to create a unit study model in your homeschool, it's important to remember a few key points. It should be a fun and engaging way to learn that appeals to both parent and child.
Tips to Keep in Mind When Teaching with Unit Studies
Let your child offer suggestions, involve them in the process and ask them what they want to learn
Don't be afraid to think outside the box, even if a topic doesn't seem 'educational' you'd be surprised how, once you start researching, you find the lessons in everything. (movies, for example, make great jumping-off points)
Consider incorporating a Morning Basket (a dedicated basket of books and activities you work on in the morning) into your daily routine – this is a great way to set the tone of your homeschool day
If something isn't working, don't be tied to the outcome. It's ok to let something go if it isn't a good fit, give yourself (and your child) permission to switch gears.
Don't be a fun-sucker – early on I was that homeschool mom that tried to make everything a lesson or unit study – this takes the fun out of natural learning. If the thing your child is interested in moves beyond a general curiosity and comes up in almost every conversation, then it's time to create a unit study.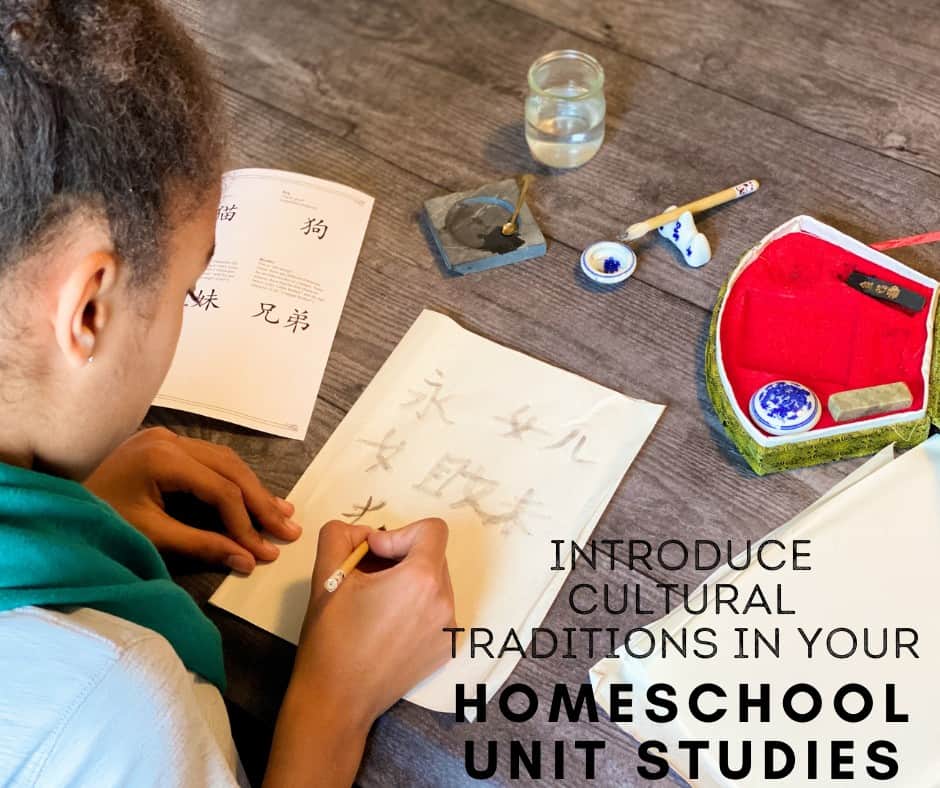 Homeschooling is never an exact science. The longer we homeschool and the older our children get, the more flexible we need to become.
Unit studies are a fantastic tool to help present information around a theme or topic of interest, and if you've never used them in your homeschool, consider creating a short and simple one as a trial run.
You may discover this untapped resource is just the thing you need to reset the mood and vibe of your homeschool. It may become something you choose to incorporate long-term, or maybe just for a season or two.
---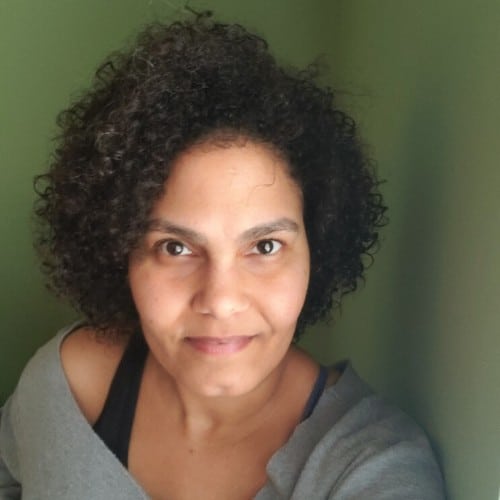 Marie has been writing professionally for over 20 years; travel and writing have been a significant part of her life and career. She successfully homeschooled her three now-adult children through high school and currently homeschools her youngest son. As a veteran homeschooler, Marie spends her time as a freelance writer and chronicles her homeschool journey, daily life, and family travel adventures on several parenting websites.