Now is the perfect time to begin spring cleaning and decluttering your home, but it can be a big job and if you don't really know where to start, it can be really hard work. Here are some of our top tips for getting your house clean quickly this spring, plus a free spring cleaning checklist printable.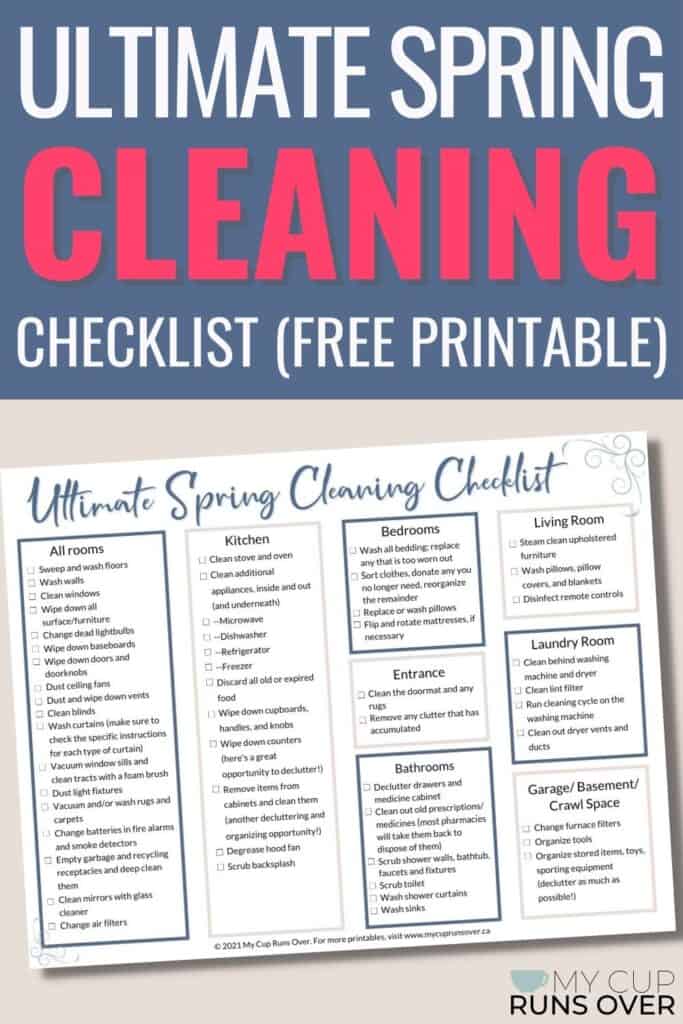 How to Make Spring Cleaning Easy and Painless
1. Make a Spring Cleaning Plan
Making a plan will make sure that you don't miss anything as you work, as well as allowing you to tick jobs off as you go to keep yourself productive.
Making a list of things you need to do can also help you break it down and work room-by-room, ensuring that you're cleaning properly and not just doing little bits and moving around the house, missing out on the bigger jobs that need doing.
These lists are handy for everyone, but especially good for those who find themselves getting distracted and needing some structure to their cleaning regimes.
You can download a printable spring cleaning list at the end of this article.
2. Start Small and Work with a Realistic Timeframe
Cleaning and decluttering involve a lot of work, and if you don't break them down and put too much pressure on yourself, it becomes very easy to give up.
Focus on one task at a time to see some progress before throwing yourself in and dedicating a single day to doing it all.
Decluttering, especially, needs more time than this, so designating time well from the start will make it much easier and reduce the risk of you running out of motivation. Give yourself a day or two for each room or area of the house to make the task more manageable.
The checklist at the end of this post will help you break each room down into smaller task lists.
3.Take it one room at a time
Cleaning and decluttering takes dedication and hard work to complete, and it's incredibly easy to lose motivation and give up partway through.
A common reason that we don't finish jobs like this is because we can't see the progress that we're making and it doesn't feel worth it, but this can often be because we're spreading the work too thinly, so it isn't noticeable.
Focusing on one room at a time will let you see exactly how much you've done and keep your spirits up, encouraging you to continue and get more done.
4.Get the right supplies
To do an effective clean, you need to have the right products, so make sure you've got everything you need on hand before you start so you don't run out partway through.
Some of house cleaning supplies you'll need are:
Sponges and some scourers for those more difficult areas
A mop and bucket
A broom and/or a vacuum
Rubber gloves
Glass cleaner
Bleach
Toilet cleaner
Oven cleaner
Toilet cleaner
Floor cleaner
De-scaler
Rags
A variety of scrub brushes
A foam brush for window tracts
If your current cleaning supply stock is low, it might seem extravagant to purchase all of this at once. Keep in mind that many of these things will last for several months (or longer), so stocking up on them will ensure you have everything you need whenever the inspiration to clean strikes.
However, if it's too much to get it all at once, just start with a good multipurpose cleaner and some rags and add the other things in as you go.
5. Tackle the areas you usually put off
There are lots of places around the house that get left out of the regular clean each week, especially the inside of the oven and microwave or the shelves in the fridge.
Make sure that when your big spring clean comes around, you don't put these jobs off again, as most of the time the reason we don't like doing them is because they don't get done regularly enough.
Get the right supplies to make it easier and once they're done, you'll feel much better for it!
6. Don't forget to date check
Whether it's the back of your food cupboards or the bathroom cabinet, most of us have got things that went out of date a long time ago that we just haven't gotten round to throwing away yet.
Date checking is an easy way to start clearing clutter and making more space for yourself. Decluttering can be an incredibly emotional task as you'll likely have formed attachments with a lot of the things that you need to get rid of, so clearing areas that don't have that same bond will ease you into the process and prepare you to tackle more difficult spots.
7. Try the Four Box Method
One of the most difficult things when you start to declutter is deciding what to do with the items you're going through, so the 4-box method is a really helpful idea. These boxes will be split as:
Things to give to charity
Things to be thrown away
Things to sell
Things to keep
Set yourself a target to fill these boxes every week or so, and deal with them accordingly to get them moved out of your house. It won't take long for you to notice a big difference and see the space forming, making those deep cleans much easier and helping your house feel more organized.
8. Before and after photos
This works for both spring cleaning and decluttering, and is a great way to monitor your progress and prove to yourself just how much you've done.
They also make for great inspiration to maintain the work that you've achieved, as it can be very easy to fall back into bad habits and end up cluttering the place again, giving you more work in the long run.
Some like to publish these photos to show others, but you can keep them to yourself if you prefer; the purpose of them is to show how far you've come and how much work you put in to achieve the end result.
Printable Spring Cleaning Checklist
Now that we've covered these eight tips for making your spring cleaning and decluttering less daunting, let's move on to the checklist.
Although it's nobody's favorite task, it's a good idea to set aside a few weeks each year to do a deep cleaning of your home, going through each room and not only wiping away the dust and grime, but also taking note of any small (or major) repairs that need to be made in the coming months.
Having a routine in place for this project will ensure you don't miss anything and catching small problems as early as possible will help keep your home in top notch shape.
Here is a room by room checklist you can use to make sure your home is as clean as possible when you're through. You can also get a printable version at the bottom of this page.
All rooms
Sweep and wash floors
Wash walls
Clean windows
Wipe down all surface/furniture
Change dead lightbulbs
Wipe down baseboards
Wipe down doors and doorknobs
Dust ceiling fans
Dust and wipe down vents
Clean blinds
Wash curtains (make sure to check the specific instructions for each type of curtain)
Vacuum window sills and clean tracts with a foam brush
Dust light fixtures
Vacuum and/or wash rugs and carpets
Change batteries in fire alarms and smoke detectors
Empty garbage and recycling receptacles and deep clean them
Clean mirrors with glass cleaner
Change air filters
Entrance
Clean the doormat and any rugs
Remove any clutter that has accumulated
Kitchen
Clean stove and oven
Clean additional appliances, inside and out (and underneath)
–Microwave
–Dishwasher
–Refrigerator
–Freezer
Discard all old or expired food
Wipe down cupboards, handles, and knobs
Wipe down counters (here's a great opportunity to declutter!)
Remove items from cabinets and clean them (another decluttering and organizing opportunity!)
Degrease hood fan
Scrub backsplash
Living Room
Steam clean upholstered furniture
Wash pillows, pillow covers, and blankets
Disinfect remote controls
Bedrooms
Wash all bedding; replace any that is too worn out
Sort clothes, donate any you no longer need, reorganize the remainder
Replace or wash pillows
Flip and rotate mattresses, if necessary
Bathrooms
Declutter drawers and medicine cabinet
Clean out old prescriptions/medicines (most pharmacies will take them back to dispose of them)
Scrub shower walls, bathtub, faucets and fixtures
Scrub toilet
Wash shower curtains
Wash sinks
Laundry Room
Clean behind washing machine and dryer
Clean lint filter
Run cleaning cycle on the washing machine
Clean out dryer vents and ducts
Garage/Basement/Crawl Space
Change furnace filters
Organize tools
Organize stored items, toys, sporting equipment (declutter as much as possible!)
Decluttering and spring cleaning are a lot of work but with these tips will make it easier and get you on the right path to organize your home! And trust us, you will feel amazing when it's all done.
Ready to get going? Fill out the form below to get your Ultimate Spring Cleaning Checklist printable.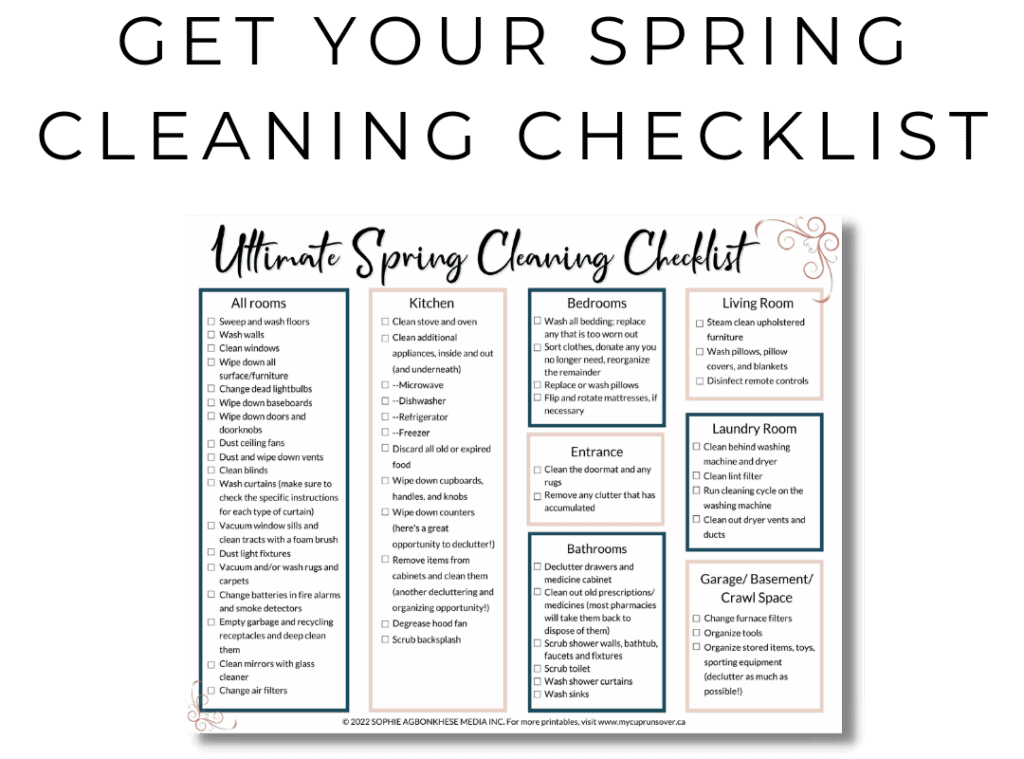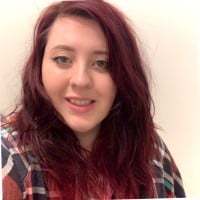 Holly Herbert is a content writer for We Buy Any House, focusing mainly on home improvement trends, looking into interior design and easy ways to keep your home beautiful!