Climb toys for toddlers can make a great addition to your household. They will encourage physical activity, and they come in a variety of different bright colors. Here is a round-up of some of our top picks for indoor and outdoor climbing toys for toddlers.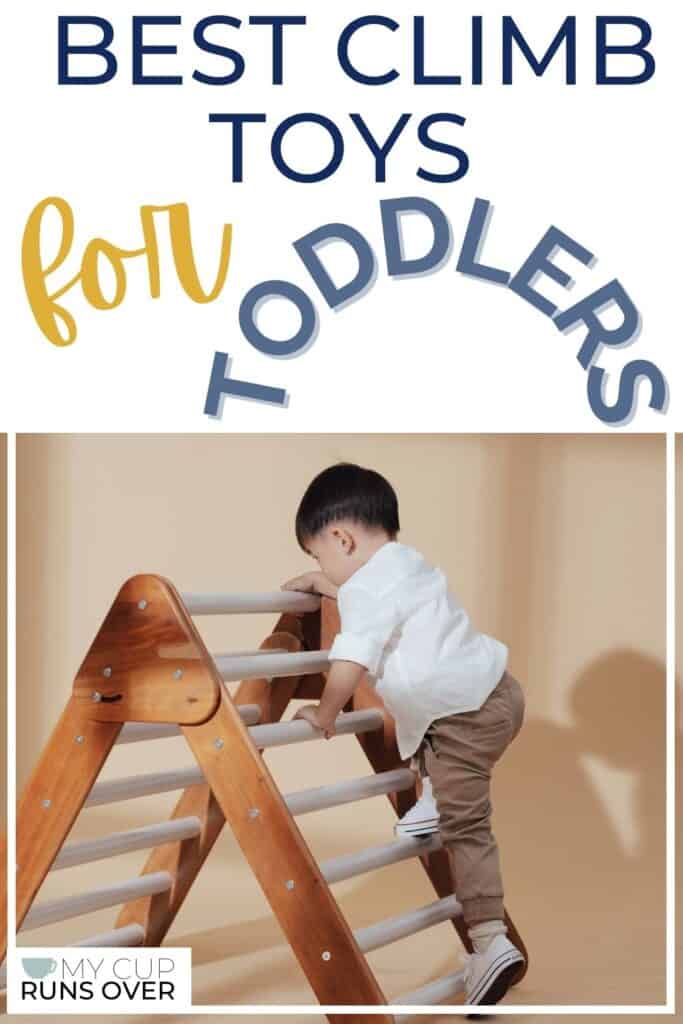 Affiliate disclosure: This post may contain affiliate links, which means we may receive a commission if you click a link and purchase something that we have recommended. Please read our disclaimer for more details.
How to Choose the Best Climb Toy for Your Toddler
Toddlers are full of energy. If you don't give them something to concentrate that energy on it can lead to headaches, destroyed furniture, or injuries. However, there are lots of considerations that go into choosing the perfect climbing toy for your kid or kids.
Where Will You Use the Climb Toy?
We recommend first deciding whether you want an indoor or outdoor climbing apparatus. Naturally, this will help narrow down the selection you're considering. You'll also want to consider how much space you have available for your climb toys. Are you working with a corner of your living room or a spacious backyard? Knowing the dimensions of your space will help you determine the best climbing toys for your toddler.
How Many Children Will Use the Climbing Toy?
You'll also want to consider how many children will use the toy. Some climb toys for toddlers are designed to keep multiple kids entertained at once, while others are designed for just one child at a time.
Your child's age is another important factor. Do you want a climb toy for a specific stage (for example, 18-24 months), or do you want something that is adaptable and can grow with your child? If you have multiple children of different ages who will be using the toy, you might want something a little more complex so each one can feel challenged at their own skill level.
What Materials Should You Look For?
Consider the materials you want in your new climb toy: Do you have a preference for natural wood, high-quality plastic, or squishy foam? Your home's aesthetic, along with the toy's placement and intended use, will all play a role in determining the best materials for your climb toy.
When it comes to helping your toddler build their motor function, climbing toys are not the only thing available on the market either. We recommend a ball pit, a basketball hoop, ring toss games, or even something like a steering wheel playset to help build motor function in your toddler as well.
Below we have compiled a list of the best climbing toys for toddlers in 2021. These will all make great holiday gifts, birthday presents, or just a spur of the moment gift for your child or children. They will have hours of fun while concentrating their energy on something positive, such as learning valuable motor skills they will use for the rest of their lives.
Best Climbing Toys for Outdoors
The toys in this section are designed for outdoor use. They include swings, slides, climbing walls, and much more. There is a wide range of options when it comes to outdoor toys for toddlers. Outdoor jungle gyms and plastic tubes are just the tip of the iceberg. Even older children can enjoy some of the items found below.
Designed with safety in mind, these toddler climb toys do not have sharp edges. Each one has its own safety features, which may include ground anchors, stability handles, or a wide base that provides support.
Wherever possible, we've listed multiple websites that sell these indoor and outdoor climb toys as stock levels and pricing are constantly changing. Make sure to check all of the links provided to find the best deals and availability.
We'll start off our list with a classic brand that is known for its safety and longevity–Little Tikes. It comes with a sloped climbing wall, slide, lookout tree with steering wheel, and two swings. It can keep multiple active toddlers entertained at once, and its beautiful natural design will enhance any backyard.
This tree house and swing set is intended for toddlers and children from three years old to eight years old. It will entertain your toddler and their older siblings for hours on end. Your toddler will be able to grow with this set, getting years of use out of it before they outgrow it.
The set weighs about 145 pounds and measures 139 x 93 x 81 inches. Each piece of the set has a weight limit of 81 pounds. It comes with an anchor set to secure it to the ground.
Spimbey, a new competitor in the high-end backyard toy space, is set to release some of the highest quality toy sets for kids this spring. The Spimbey Swing Set Deluxe with Play Deck and Play House Minor Edition is made from sustainably harvested cedar and durable plastic.
Coming in a variety of different colors, this playset will become a focal point of the backyard. It also has a little something for children of different ages, even your toddler's older siblings. The sandbox can be enjoyed by the youngest of children; older children can enjoy the 8-foot wavy slide and hand-hold climbing ladder. It even has a telescope that kids will find fascinating. It also comes with 3 swings.
One of the cutest features of this set is the built-in lemonade stand and sitting area. Underneath the slide is a small bar with a bench in front of it. This feature provides an opportunity for imaginative play, and it doesn't have to be used for a lemonade stand. The possibilities are unlimited with these stylish outdoor playground sets.
The playset weighs in at just over 300 pounds and measures 14 x 7 feet. It comes in blue/grey, gold/blue,grey/green, and pink/purple. It comes with a step-by-step assembly manual and takes approximately 6 hours to put together.
This playground set is designed to last. The plastic parts come with a 2-year warranty, and the wooden frame that holds it all together comes with a lifetime warranty. If it ever breaks, simply contact Spimbey and have the wooden pieces replaced at your earliest convenience.
It is currently 50% off until December 4, 2021, and shipping will begin in February of 2022.
Toys like this are designed to encourage free play and build muscle strength in children and toddlers. Appropriate for ages three to eight, the climbing structure's interlocking plastic tubes and connectors with double self-locking springs make this set durable. Toddlers and children will be able to hone their fine motor skills all while having a blast doing it.
This stylish dome climber can hold up to 150 pounds at once, meaning several toddlers can use it at once.
Weighing just 25 pounds and measuring 70 x 46 x 65 inches, this dome climber can be set up in even a small backyard. Its small size makes this climber appropriate for younger toddlers. While intended for outdoor use, it can also be used indoors as well. For added fun, try sliding a ball pit underneath and watch the kids have a great time with it.
One of the only downsides to this climber is it can be difficult to assemble. However, anyone that can raise a toddler already has the patience to properly put this thing together.
Winner of the 2019 Parents' Choice Award, the Young Explorers Adventure Climber offers hours of fun for kids from one-and-a-half up to six years old. The Adventure Climber has an off-road vehicle theme and gives up to three children the opportunity to climb, slide, crawl, and drive.
High rails on the elevated platforms guard against falling and the durable plastic construction is weather and UV resistant. It takes up 71 x 50 x 29 inches and can hold a maximum of 180 pounds (three children at 60 pounds each). Some reviewers have noted that there is a gap between the platform and the rails that a toddler could climb or fall through. For that reason, you might prefer to use this with kids who are two and up, and as with any climbing toy, close supervision is advised.
If you're looking for something more substantial, the Climber can also be combined with Simplay3's Discovery Playhouse and Activity Climber into a modular system designed to provide endless fun for a group of young kids. When combined into a set, kids will have access to slides, climbing ramps, ladders, crawling tunnels, steering wheels, a kitchenette, a built-in easel, double doors, and a mail slot.
Take a backyard safari with this adorable truck climber. Designed to look like an off-roading safari vehicle, the Safari Truck Climber offers lots of opportunities for kids to explore and develop gross motor skills.
Instead of climbing stairs or a climbing wall, kids will use a combination of strength and coordination to mounth the truck's tires to reach the platform, which is large enough to accommodate multiple children. The front tires are open to provide opportunities for crawling through.
Measuring 61 x 85 x 42 inches, the Safari Truck Climber holds up to three children weighing up to 60 pounds each. Designed for children aged two to five, the Truck Climber comes with a full 3-year warranty and will provide years of entertainment.
You May Also Be Interested In
Best Toddler Climbing Toys for Indoor Use
The toys we have listed below are intended for indoor use; however, many of them can be safely used outdoors as well. We have also selected indoor toys that are more appropriate for a younger audience than our outdoor sets. Most of these toys are intended to be used by toddlers ranging from one to five years old, whereas the outdoor toys were intended for a wider range of ages.
Your small toddler will be able to form a great set of skills with the toys found below. Whether your toddler has just learned to walk or they have been walking for months, these toys will see lots of use in any playroom. Most of these can even be used in the living room and conveniently stored away when your toddler isn't using them.
This adjustable pikler triangle can be customized to fit the needs of any child. Its included ramp can be used as a hand-hold climber, and the hinges built into the legs can be turned and adjusted many different ways. It can also be conveniently folded away for storage when your toddler isn't playing on it.
The entire piece is made with solid wood and created with safety first. The ramp has slots cut out on the end to make sure it is securely locked with the hand holds of the pikler triangle. The ramp can also be reversed. One side is a slide; the other side has the colored hand-holds intended for climbing.
With a 260 pound weight limit, it allows multiple children to play on it at once, encouraging group play and the development of social skills. The ability to change the toy into many different shapes also encourages toddlers to think outside of the box and engage in imaginative play too. It truly makes for one of the best indoor climbing toys on the market today.
The toy can be adjusted to any size you need it to be, meaning it can fit into even the smallest of living rooms.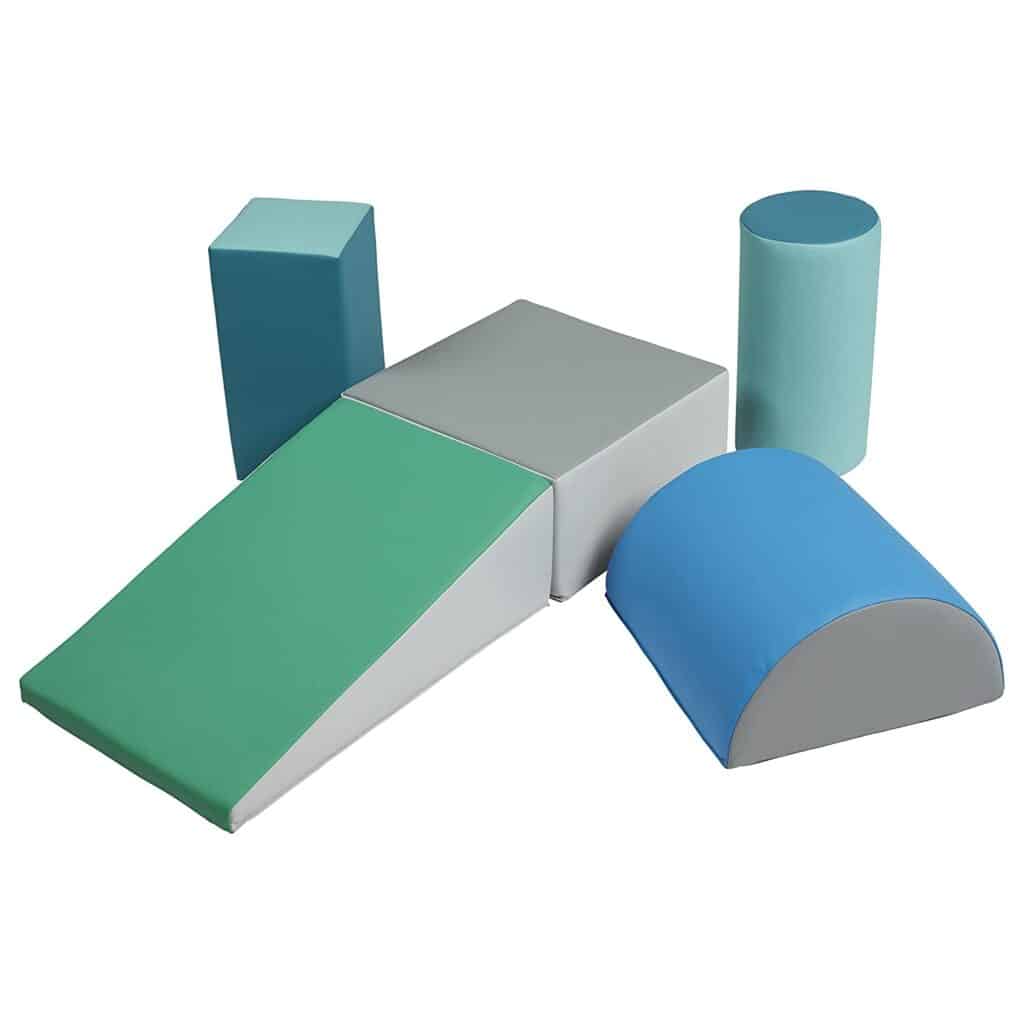 This set comes with many different shapes that are intended to be moved to create a customized indoor obstacle course for young toddlers. It will allow your toddler to build their hand-eye coordination while from the comfort of soft foam material. It is a great toy for young toddlers who haven't yet learned how to walk.
These climbing blocks are small, soft, and brightly colored, making them perfect for younger children. They can even be fun for multiple children at once as they work together to build the perfect climbing structure. It allows children to socialize while engaging in imaginatie play. This EXR4Kids softzone climb toy will provide endless hours of entertainment for your young toddler.
The product, when packaged, weighs just under 9 pounds. The packaging comes in at 56 x 32 x 16 inches. It comes in two color schemes. One of the color schemes is made of different hues of green and blue. The other is a more natural color scheme consisting of shades of brown and dark green. Wayfair also offers a brightly colored set.
One of the big downsides to this product is the pieces do not come with any way to fasten them together; however, this can easily be remedied with a cheap pack of Velcro. Simply stick the Velcro to each piece and you will be able to semi-permanently bind each piece together, ensuring a safe, secure place for your child to climb and build their motor skills.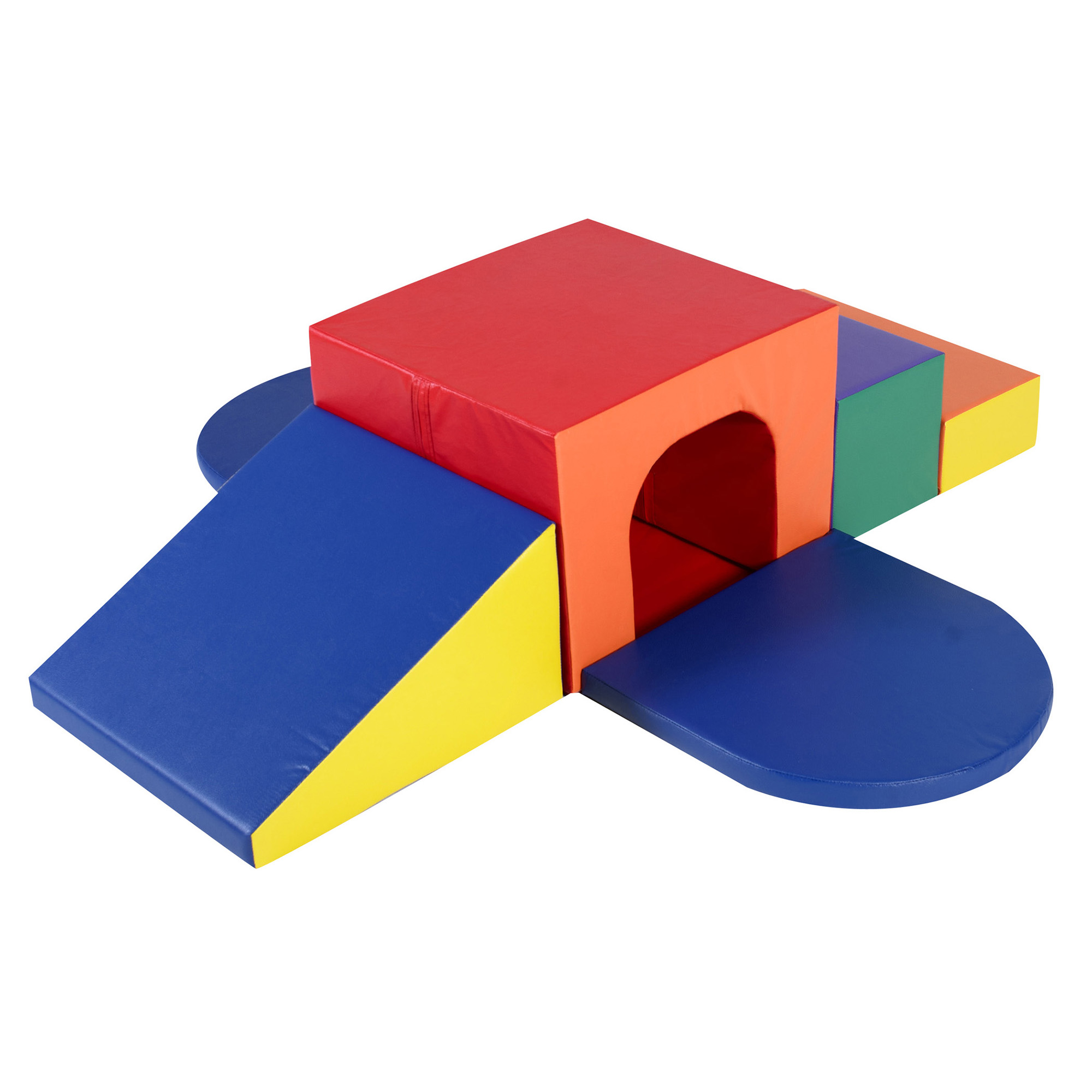 This product is a great entry point to get your toddler to begin working on his motor skills. It has a ramp on one side and stairs on the other, providing options for your child to reach the top. There is also a soft foam tunnel in the middle that your child can crawl through.
It is designed for kids who have just began to learn to walk. It will help them build muscle strength in their arms and legs as they climb up the ramp and crawl through the tunnel.
The soft exterior of the set is easy to clean, a huge plus when purchasing toys for toddlers!
It measures at just 36 inches tall, meaning it may be too small for older toddlers. this one is intended for babies who are just learning how to walk to about a year and a half. It is the perfect first choice to begin designing your toddler's playroom. When combined with similar types of climbers, you can even make an awesome obstacle course to help your child develop problem solving skills.
Packaged, it weighs just under 15 pounds and is 69 x 70 x 17 inches in dimensions.
View on Children's Factory's website
This indoor jungle gym is perfect for toddlers ranging from a year and a half all the way up to age 5. It is designed to provide your child with needed motor skills like balance and hand-eye coordination.
It comes equipped with a normal ladder on one side and a rope ladder on the other. The centerpiece of this product is definitely the slide. It also has a seat swing that can be used by young toddlers with a parent or older sibling's help. The seat swing is interchangeable with a set of rings that your toddler can use to develop a little gymnastic and athletic skills.
While designed to be used indoors, thanks to the product's sturdy, long-lasting wooden frame, it can also be used outdoors. It is recommended that you store it indoors during the winter months to avoid deterioration however.
This indoor jungle gym measures 91 x 52 x 50 inches and weighs 60 pounds. It comes with a recommended weight limit of 50 pounds per section.
Have Fun Watching your Kid Develop and Grow
Any of the toys we have listed will provide your children with opportunities for growth, knowledge, development, and entertainment. Research each product on Amazon and on the manufacturer's websites to determine which products are appropriate for your toddler. We have tried to list a wide variety of products for all ages, so not all of the products will be a perfect fit. However, we are confident you will be able to find at least one toddler climb toy that is great for your child.