Six is such an exciting age. Personality, interests, and passions are pretty firmly established by six, and creativity and the love of learning are running high. Even minimalists may find it difficult not to surround their six-year-olds with creative art supplies, hilarious books, and thought-provoking STEM toys. With so many amazing options out there, we've narrowed it down to our top 37 6-year-old Christmas gift ideas to help make your shopping season easier.
Art Supplies
There are many unique gifts available for 6-year-olds who love art. Beyond your typical sketch pads, markers, and paintbrushes, today's creative art sets let kids make all kinds of different art projects. From suncatchers to lanterns, these fun gifts will help kids explore their artistic skills while creating awesome keepsakes.
3D String Art Kit for Kids: This kit lets kids make a DIY light-up strong-art star lantern using a balloon, absorbent multicolor string, and some special glue. This is the perfect gift for the whole family to enjoy making together.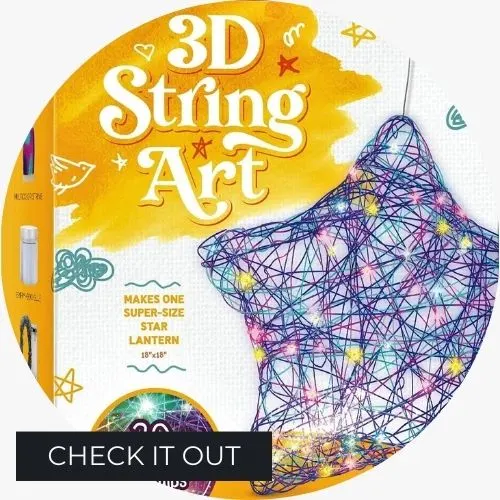 Scratch Paper Art Craft Set: Do you remember being a kit and filling a whole piece of paper with different colored crayons, going over it all in black, and then scratching our designs with scissors to reveal the colors underneath? These scratch pads have taken that concept but removed the laborious part of it. Instead of spending so much time coloring in the paper themselves, kids can skip straight ahead to making their designs. The set comes with two 20-page spiral-bound notebooks, four sets of stencils, and four styluses for scratching out designs.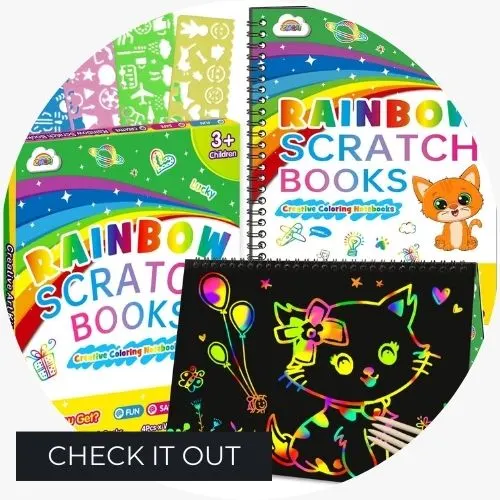 Window Art Suncatcher Kit: This kit is the perfect thing to pull out in the middle of winter when you want to bring some sunshine into the house. Using gems of different sizes and colors, kids follow a sun or rainbow pattern to make a beautiful suncatcher that they can hang on the window after.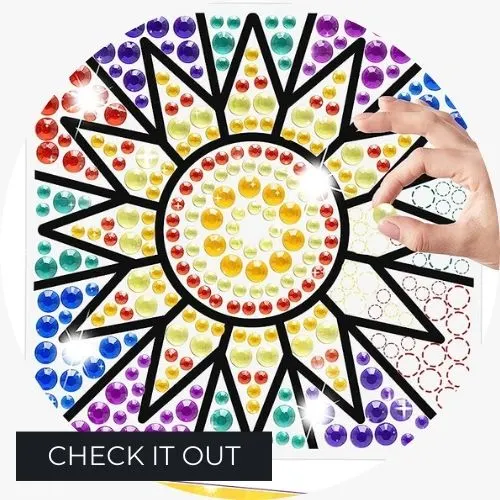 DIY Dinosaur Lantern Night Light: When kids are really into crafting, figuring out what to do with all their creations can be challenging, so it's really helpful when the things they make can serve some long-term purpose beyond just collecting dust. This lantern night light fits the bill nicely. Using a jar, a lid with color-changing lights, a vellum dinosaur landscape, stickers, glitter, and other art supplies, kids will fashion their very own lantern that they can use at night to brighten up their room a little. This is a great gift for the kid who always asks to have the door left open just a little.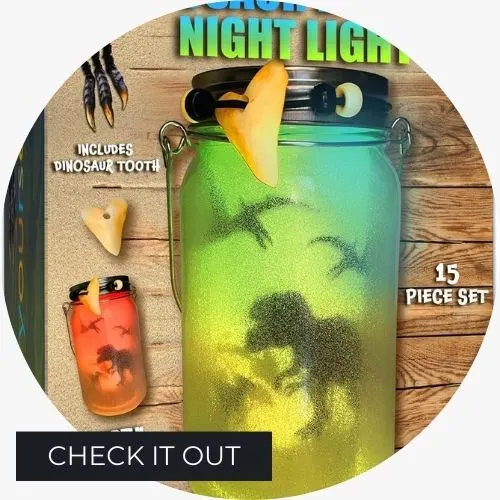 Athletic Toys
Many 6-year-olds have a lot of extra energy to burn off. They need to do a lot of running around or another type of activity to get all their sillies out. Help them try some new types of sports with a gift that gets them outside being active.
Roller skates: Roller skates might seem like a retro item that we no longer see in everyday life, but that doesn't mean we shouldn't bring them back! Roller skating helps kids with balance and coordination and it's so much fun. This pair is the perfect choice for growing kids as the boots are adjustable and can grow with the child through four different shoe sizes. All eight of the wheels light up when in motion for an extra cool experience.
Soccer ball: Not every 6-year-old Christmas gift idea has to be trendy or flashy. A good old-fashioned soccer ball (or football, in most parts of the world) is a beloved gift that kids can derive many hours of entertainment (and exercise!) from for years to come. It's a good opportunity to increase physical activity, teach a new sport, and bond with your child.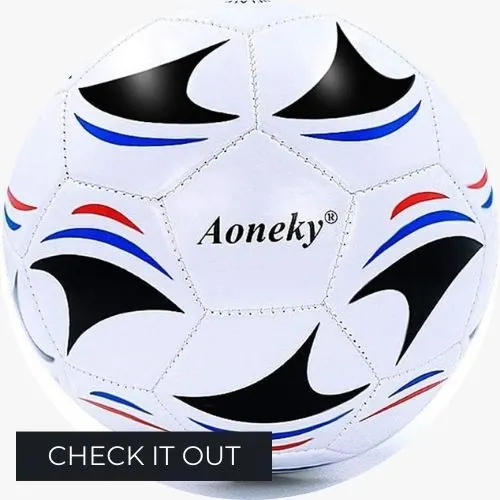 Ninja Tree Climbing Kit: Turn a strong tree into a rock climbing challenge with non-slip plastic foot holds and ratchet straps. Loop the straps through the holds, fasten them around the trunk, and let your little monkey start climbing. The straps and holds can be adjusted over time to make it more challenging. Rock-climbing games like this help build hand-eye coordination, spatial reasoning, and critical thinking skills.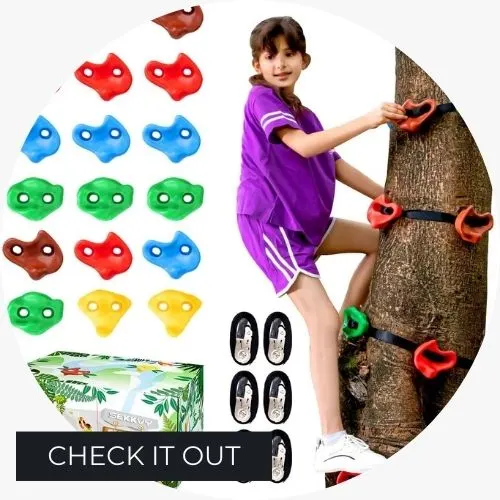 Books
Book options for 6-year-olds are endless and delightful. From picture books to early readers and read-alouds, this is an age for which many types of books are a hit. Take advantage of it and instill a love of reading widely in your child. And while you're at it, don't forget to show them how much fun books can be with some of these creative works.
How to Draw All the Things for Kids: Kids who love to draw will enjoy this beginner drawing book that simplifies dozens of drawing ideas into baby steps anyone can follow. Kids will develop their basic art skills and confidence while learning to draw an ice cream cone, fruit, a castle, a spaceship, a cactus, an airplane, and animals. Most of the drawings can be completed in five minutes or less.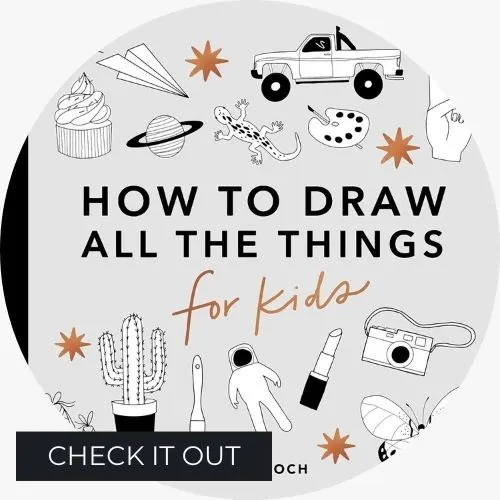 Awesome Jokes That Every Six-Year-Old Should Know: What does a cat see when you step on its tail? Mee-Oww! If your kid is a jokester, a book full of age-appropriate jokes will keep him laughing for days. With over a hundred jokes new and classic jokes, this is one of the best books for a budding 6-year-old comedian.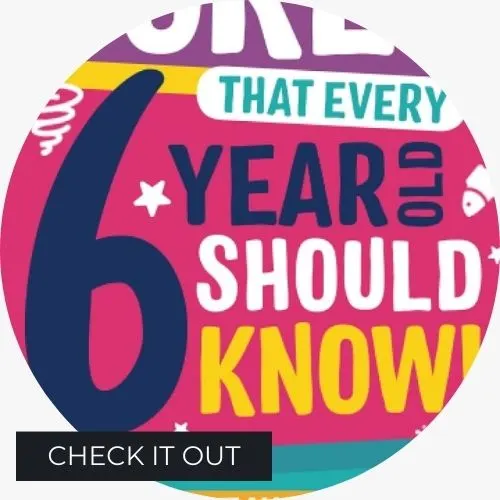 The True Story of the Three Little Pigs: If you're looking for a cute picture book for a 6-year-old's Christmas gift, True Story of the Three Little Pigs is a wildly popular choice. A hilarious retelling told from the perspective of The Big Bad Wolf (AKA Al), this book is wonderful for getting kids excited about reading and for introducing the topic of point of view.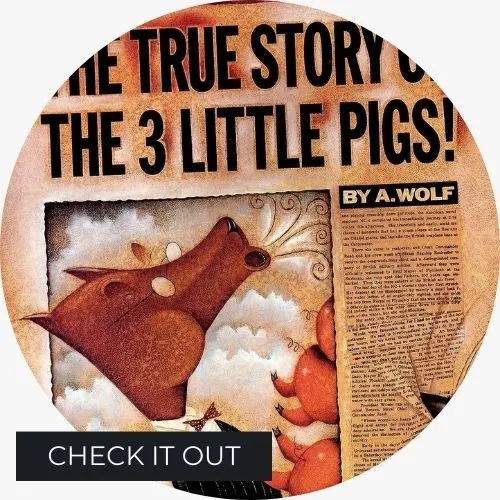 The Book with No Pictures: While some six-year-olds might be on the tail end of the demographic for this book, most will still find it delightful. A picture book with no pictures, B.J. Novak of The Office fame takes us on a wild ride through the land of storytelling. Challenging the premise that a book must have pictures to be interesting, Novak puts parents in the position of having to read every single thing in the book, even completely nonsense words. Kids struggle to contain their giggles as parents say, "Please don't make me say it," followed by long strings of gibberish. Ultimately, we are thoroughly convinced that it's not just the pictures that give a book its entertainment value.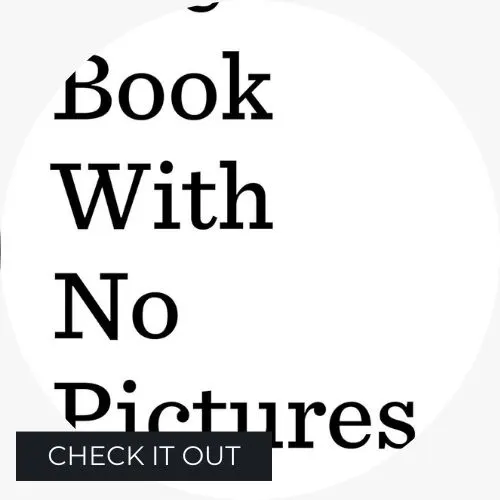 The Try Not to Laugh Challenge: Would You Rather? EWW Edition: Would You Rather is always a great game to play with 6-year-olds, but the Eww Edition makes it even more so. Perfect for road trips, parties, and game nights, the 160 creepy-crawly, ooey-gooey, and smelly questions in this book are guaranteed to thrill this age group. Thought-provoking and laugh-inducing, the book's questions delve into deep topics such as "Would you rather lick the dirty cafeteria floor or stick your face in the toilet for 1 minute?" and "Would you rather have footlong toenails or footlong fingernails?"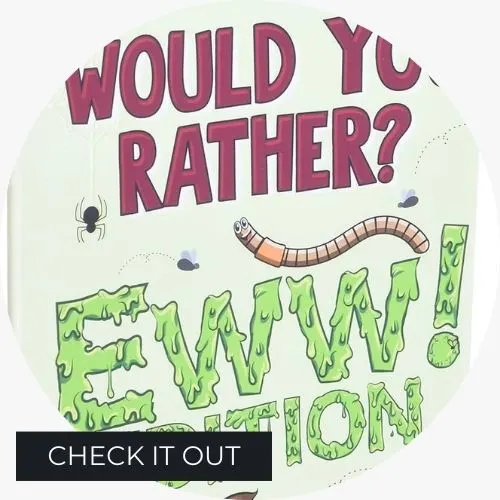 Board Games
Whether you want to encourage a love of classic games like chess and checkers or teach environmental responsibility through a game such as Recycle Rally, board games are some of the best types of toys for 6-year-olds. They provide countless hours of entertainment and give children something to do with their whole family.
Magnetic Wooden Chess Set: Teach kids the classic game of chess with a beautiful wooden chessboard. This one is compact and portable, perfect for taking with you to a park, a friend's house, or on a road trip. It's also magnetic so the chess pieces don't fall off if you bump the board or need to move it to a different surface during gameplay. It comes with extra queens for pawn promotion and storage drawers on each side of the board.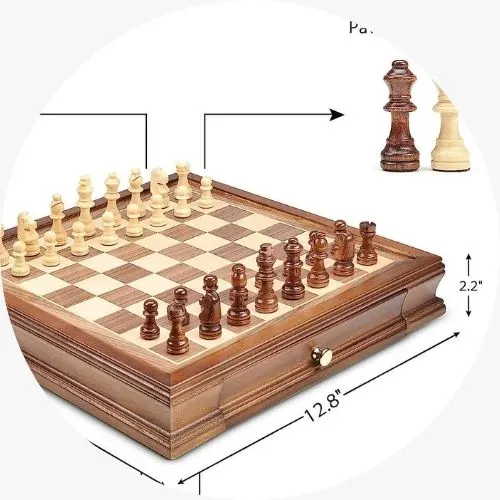 Recycle Rally: Teach kids about recycling and environmental stewardship with innovative this innovative. game. Winner of several awards including the 2021 Mensa Mind Games' "Recommended for Play", the 2021 Newsweek's Best in STEM, the 2020 Mom's Choice Gold Award, and the Spring 2020 Seal of Approval from The National Parenting Center, Recycle Rally challenges kids to drive recycling trucks around town and collect higher-value materials. By sorting and recycling plastic, glass, and metal goods, kids develop critical thinking and problem-solving skills.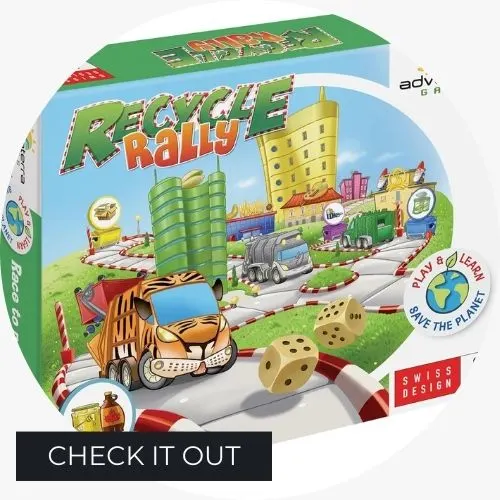 Pokémon Labyrinth: Pokémon fans will enjoy this Pokémon-themed maze game. Playing as Pikachu, Bulbasaur, Squirtle, and Charmander, kids must make their way through a maze looking for Snorlax, Gengar, Eevee, and more Pokémon. Other themed versions of Labyrinth include Harry Potter, Disney villains, and Super Mario.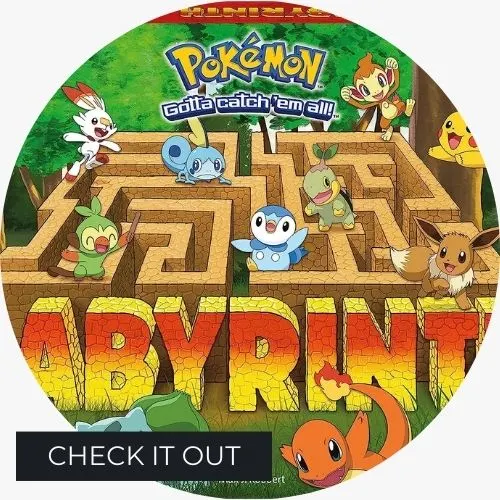 Smart Logical Road Builder: If you're looking for STEM toys that teach engineering and critical thinking skills, the Smart Logical Road Builder is a perfect gift. Kids manipulate several types of pieces in sixteen squares to build a path that matches a challenge card. They then wind up a toy bulldozer and see if it can transport a marble from the start to the end of the road. With 120 challenges across four difficulty levels, this is a puzzle kids can do again and again, even as they get older. The set includes six cross tracks, six curved tracks, four arc tracks, four bottom plates, one pull-back bulldozer, three marble balls, one initial point, one end base, and one tree.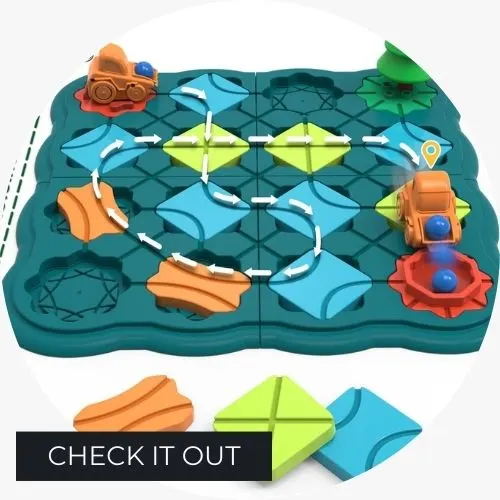 Card Games
Six is also a great ago to start introducing different kinds of card games. From strategy games like Sleeping Queens to simple conversation starter cards. there's an appropriate card game for all the different scenarios.
Found It: Found It is a great game to play with energetic kids on a rainy afternoon. Using scavenger hunt prompts such as "Find something with a pattern," and "Find something that rhymes with book," kids search the house for an item that matches the description. The first person to yell FOUND IT gets a card and the first player with seven cards wins. This super fun game can keep kids engaged for hours and boosts their observation and logical reasoning skills. Keep it on hand for family game night, birthday parties, and indoor playdates.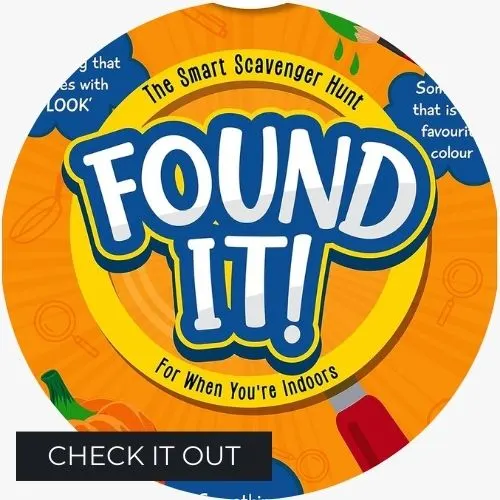 Uno: Uno is a classic card game that makes a great 6-year-old Christmas gift or stocking stuffer. It's good for teaching colors, numbers, and strategy. This set comes in a tin case for durable storage and it's small enough that you can take it anywhere and play on the go.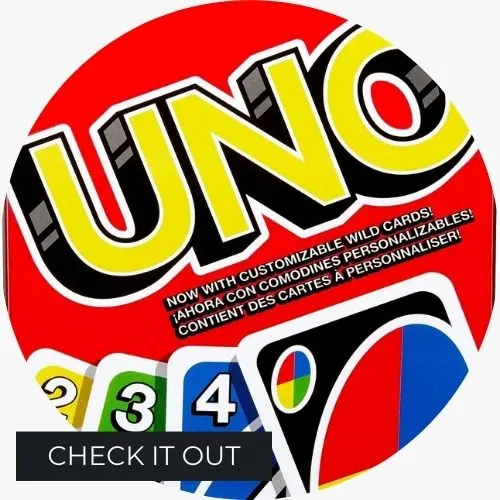 Sleeping Queens: We cannot recommend this game highly enough for 6-year-old girls and boys. It's one of the best birthday gifts our kids have received, and we had to buy a second set because they were fighting over it. In this addictive card game, players compete for twelve comedically illustrated queens such as the Heart Queen and the Pancake Queen. They wake the queens by playing kings, but they have to guard them fiercely with dragons lest other players use their knights to steal them. Mixed in with the special cards are plain number cards, which players can play individually or as part of a math sequence (e.g. they could play a two, a four, and a six in one turn because two plus four equals six). Sleeping Queens teaches strategy and math skills and never seems to get old, no matter how many times you play it.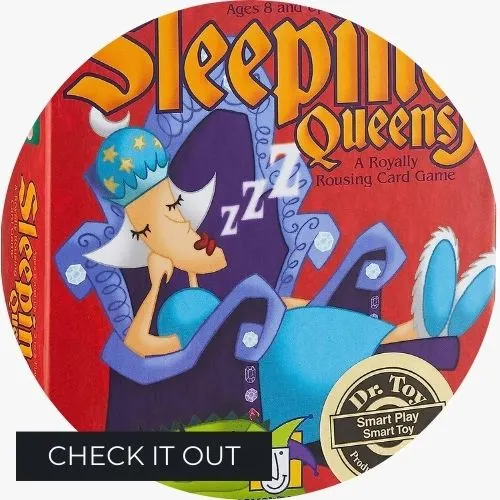 Train of Thought: Train of thought is a game of conversation starters that help kids build deeper connections with their friends and family. Players answer thoughtful questions and complete challenges to build a 3-car train. Best suited for 2-6 players, the game is a great way to learn more about people through meaningful conversations. Train of Thought helps teach social and communication skills and is also a good opportunity for young kids to practice their reading skills.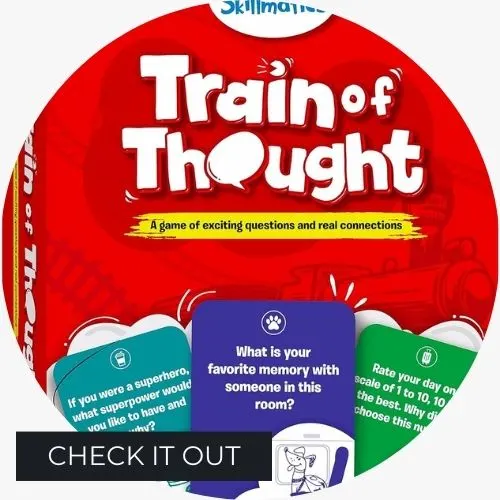 Digital Toys
While we are typically more in favor of helping kids unplug than we are of giving them digital toys, there are some exceptions. When digital toys are combined with creativity or other interest-based explorations, they can enhance a child's experience of that topic. Whether it's drawing, photography, or science, digital toys should serve a specific purpose and add value to the child's life, not just give them another screen in front of which they'll zone out for several hours.
Digital camera for kids: For the kid who is always begging to take a picture on your phone, a kid-friendly digital camera could be one of the best toys. With a 2.62″ LCD screen, 12 megapixels image resolution, and a 1080p HD camcorder, this toy camera is a sweet way to introduce kids to photography. And, with a 32 GB SD card, kids will be able to take quite a few photos and videos before you need to to transfer their media onto a computer.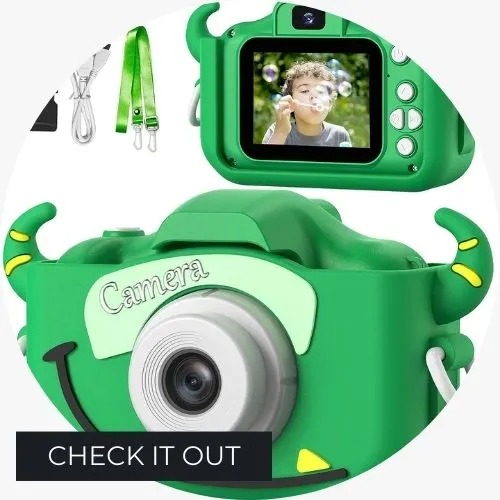 LCD Drawing and Writing Tablet: If you're tired of your little kids going through reams of paper perfecting their drawing skills, an LCD tablet for drawing and writing could be the perfect choice. This 10-inch tablet lets kids draw or write to their hearts' content without wasting any paper at all. The background incorporates a number of different colors so the drawings look effortlessly cool. These are great toys to have when you're traveling, whether on a plane or a long road trip. Despite its simplicity, it's the type of you that will hold kids' attention for a long time.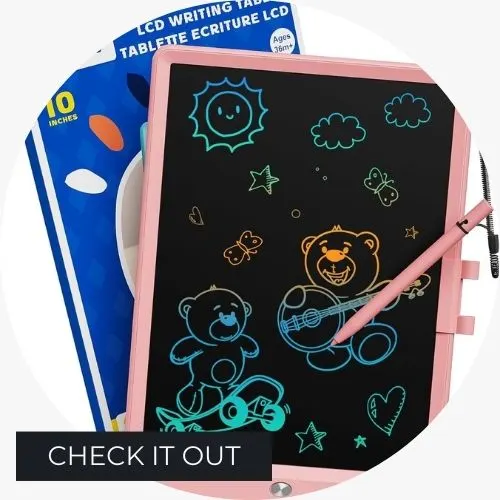 Microscope Science Lab: Let kids explore microbiology with their own microscope from National Geographic. With large focus knobs, a soft-touch eyepiece, and an adjustable platform. kids can position their specimens in just the right position for observation. The lights and the 3x magnification allow them to get up close and personal with their samples. The set includes six prepared plant slides and six rocks and minerals as well as six blank slides they can prepare themselves. With the included lab supplies and instruction guide, kids can perform tons of different experiments.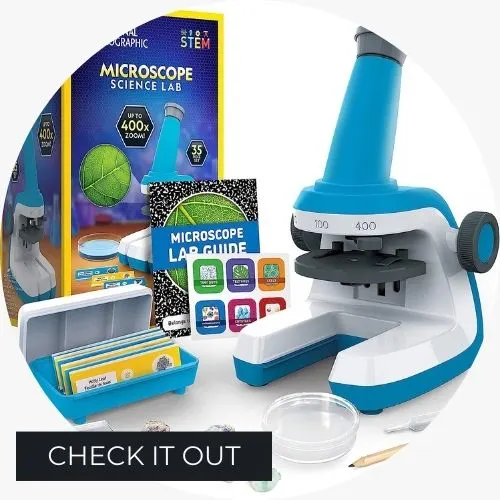 Educational Toys
For toys that have educational value, look for high-quality products that are going to last at least as long as the child's interest in the topic. A few well-chosen educational toys can help fuel an interest and turn it into a passion.
Interactive World Map: This award-winning toy is the perfect way to teach kids in first grade about world geography. Hang it on a wall or lay it on the floor and let them explore and learn about capital cities, flags, populations, languages, and landmarks. With over a thousand facts and questions, this must-have item develops concentration, memory, and problem-solving skills, while also increasing their knowledge about the world.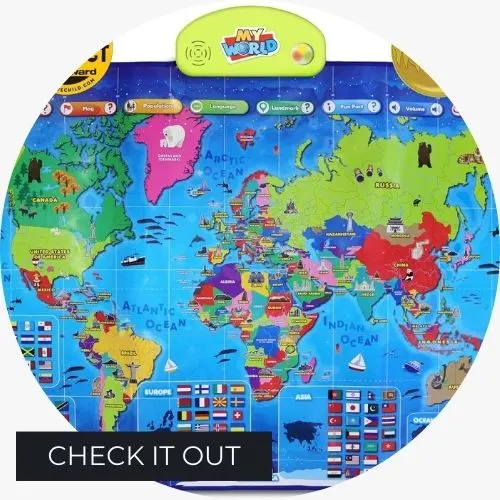 Dinosaur Egg Dig Kit: Let kids discover the excitement of paleontology with a dinosaur egg kit. This set comes with twelve eggs, each with a different dinosaur inside. Soak them for 3-5 minutes, excavate them, and crack them open with one of the included chisel tools to reveal a unique baby dinosaur. The matching dinosaur information cards make this a great educational toy for 6-year-olds.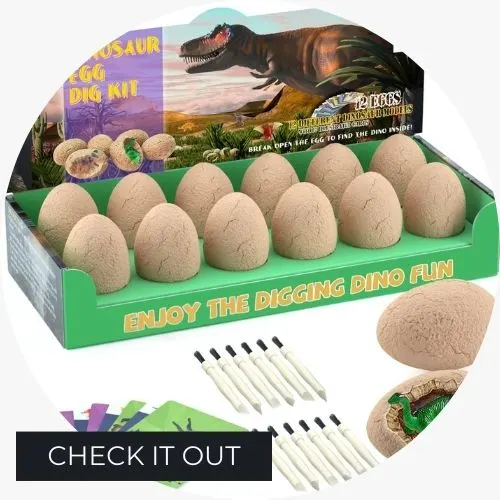 Crystal Growing Kit: Teach kids about crystals with this fast-growing multi-color kit. With easy-to-follow instructions a two silicone growing chambers, kids will grow six beautiful crystals with crystal growing powder, water, and a seed rock. When the crystals have grown (in about 3-4 days), kids can display five of their favorites in the included light-up display. The set also includes four gemstone specimens including rose quartz, fluorite, blue calcite, and quartz geode.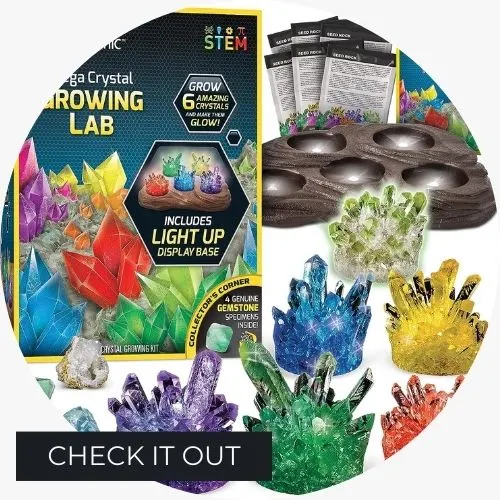 Pretend Play
Pretend play is essential for developing many critical skills such as language, social and emotional skills, thinking skills, and imagination. Playing dress-up, running a pretend store, and helping out around the house with their own mini-tools are important experiences that help kids make sense of the world. Consider giving the 6-year-old in your life props or objects that will inspire them to play make-believe a little more.
Remote Control Excavator Toy: Kids can run their own construction site in the sandbox with a battery-operated excavator. The cab can swivel 680 degrees and the tracks can move over sand, dirt, and gravel. There's also a coordinating dump truck that can be paired with the digger to increase the size of the crew.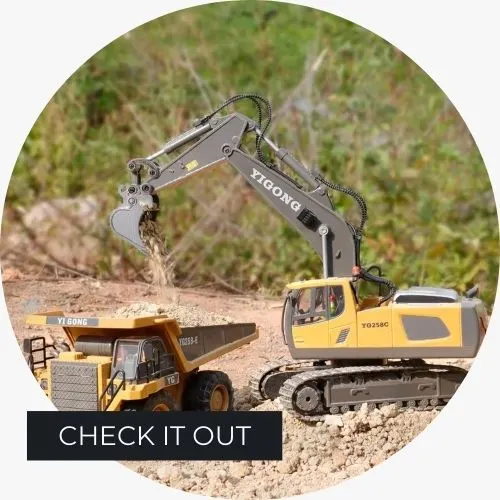 Money Activity Set: Encourage imaginative play with a set of realistic coins and bills. Teach kids how to add, subtract, and make change as you play store, restaurant, or coffee shop. The set includes a small set of double-sided money puzzle cards where kids match a price tag to the right amount of money. For Canadian money, check out the Canadian currency exchange set.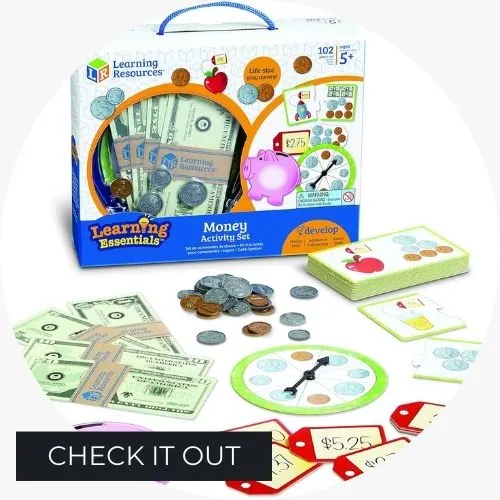 Kids Tool Set: Kids who are interested in helping fix things around the house will enjoy this set of real tools. Featuring gloves, a tool belt and storage bag, pliers, wrenches, measuring tape, screwdrivers, and more, this set of mini tools lets kids participate in your DIY projects with tools designed for their small hands. Made of steel with rubber handles, the tools are safe and comfortable for kids to use (with supervision).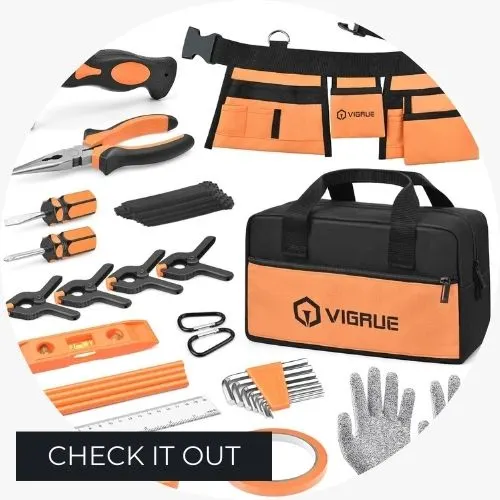 Puzzles
Traditional and 3D puzzles are excellent for building and maintaining important brain functions. From fine and gross motor skills to cognitive development and critical thinking, puzzles provide a mental workout that kids—and adults—badly need. Plus, there's just plain fun to do!
Melissa & Doug Land of Dinosaurs Jigsaw Puzzle: Help 6-year-olds develop their fine motor skills with a puzzle slightly more challenging than they were likely doing in kindergarten. A 60-piece puzzle with age-appropriate-sized pieces gives them a little bit of a challenge without being so hard as to become frustrating.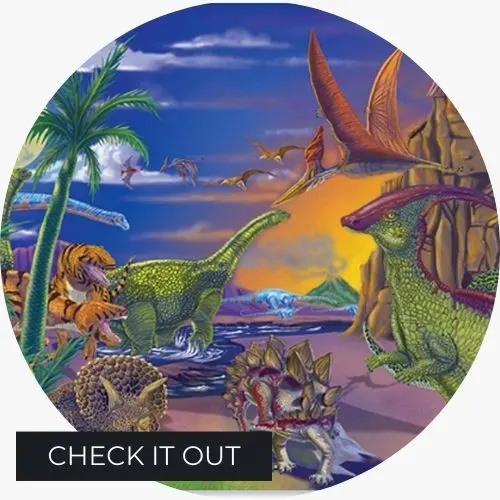 CAT Day at The Quarry: For kids who prefer construction sites to dinosaurs, check out the CAT Day at The Quarry puzzle by MasterPieces. With durable pieces, the puzzles in this set can withstand being put together countless times without getting damaged.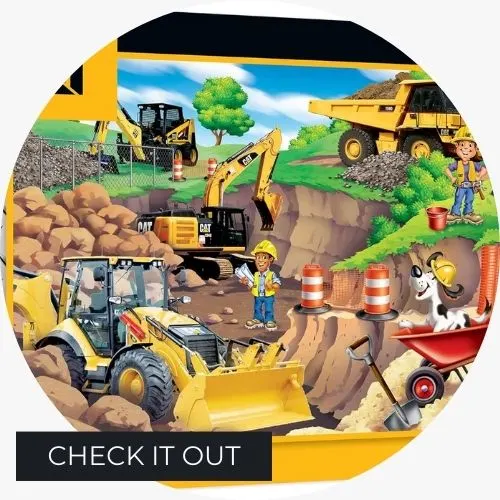 3D Wooden Brain Teaser Puzzle: Reminiscent of Tetris, this 3D wooden puzzle is a great gift for 6-year-olds who love a good challenge. Kids will have fun trying to slot the pieces together in just the right way while also improving spatial reasoning and creative thinking skills.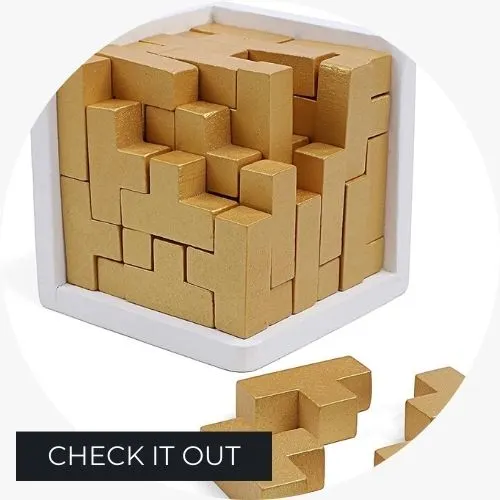 Kanoodle: Perfect for an avid 6-year-old puzzler or a nearly 7-year-old, Kanoodle is one of the best Christmas gifts for younger kids and big kids alike. With over 200 2D and 3D puzzle challenges, it provides ongoing entertainment for months. It's also a great way to keep kids occupied in any waiting situation, such as in a restaurant or at a doctor's office.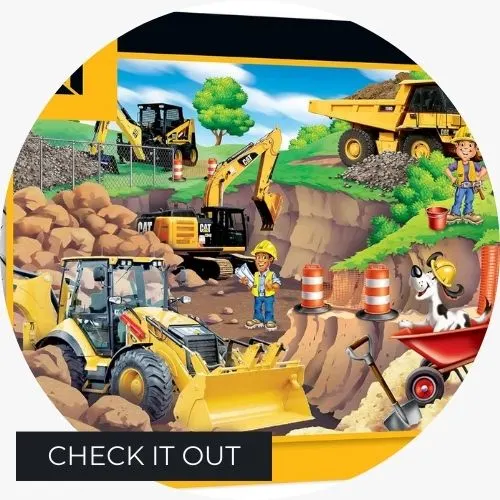 STEM Toys
Nurture a love of science, tech, engineering, or math with some cool STEM toys designed to teach and entertain kids at the same time.
Laradola Dinosaur Construction Set: In the eyes of a 6-year-old, there is perhaps only one thing that is better than both dinosaurs and construction—dinosaur construction. With this innovative set, kids get to construct their own dinosaurs using their own low-speed electric drill and screwdrivers. The set comes with the pieces to make a T-Rex, a triceratops, and a velociraptor, but young children will get an especially big kick out of making their own hybrid models. This is a wonderful gift that develops hand-eye coordination as well as self-confidence.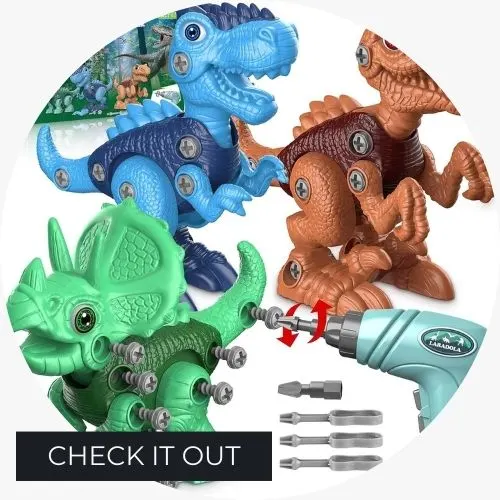 Motor Machines: STEM toys are some of the best gifts because they teach kids important skills while also entertaining them for hours. They are usually a fun way to explore interesting new concepts. Motor machines is a great option if you're looking for a toy that teaches STEM skills. With 50 pieces, kids will get to build several machines including a vacuum cleaner, a spin art machine, a tornado mixer, a hovercraft, and a motorboat. A detailed step-by-step manual is included.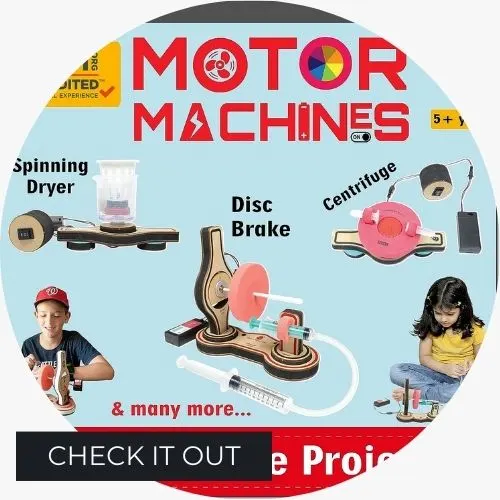 Unicorn Soapmaking Kit: Teach kids the basics of soapmaking with this fun, kid-friendly kit. Kids will learn about melt-and-pour soap, customizing soaps with colors and fragrances, and using molds to create uniquely shaped soaps. The molds in this kid include a unicorn, a horn, and a rainbow. The materials in the kid include six soap base blocks, two fragrances, four colors, glitter, three soap molds, a beaker, six pop sticks, a working tray, a trimming tool, and an instructional guide.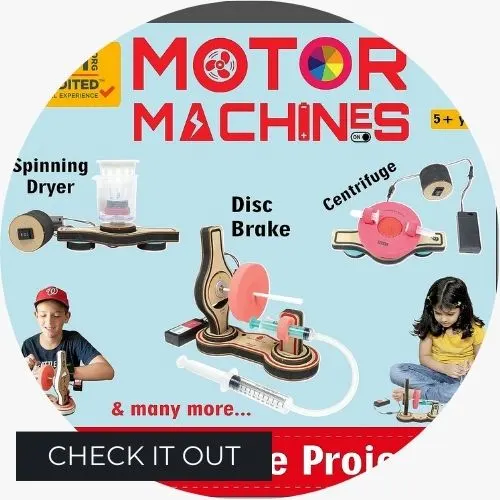 Snap Circuits: Snap Circuits is one of our all-time favorite gifts to give. It provides countless hours of fun and educational value. There are many different Snap Circuits sets available, and while younger kids with a particular bent toward engineering may advance quickly toward more complicated projects, we suggest starting off with one of the beginner kids for this age group. Snap Circuits introduce kids to electrical engineering and lets them snap pieces together to create real working circuits. The beginner set includes 20 projects that give kids a basic understanding of switches and circuits.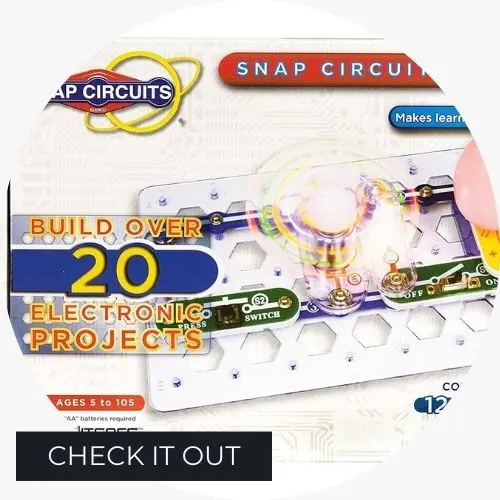 Shopping for first graders has never been easier with this list of 6-year-old Christmas gift ideas. Which ones are your favorites? Which will your favorite 6-year-old will love most? Let us know in the comments.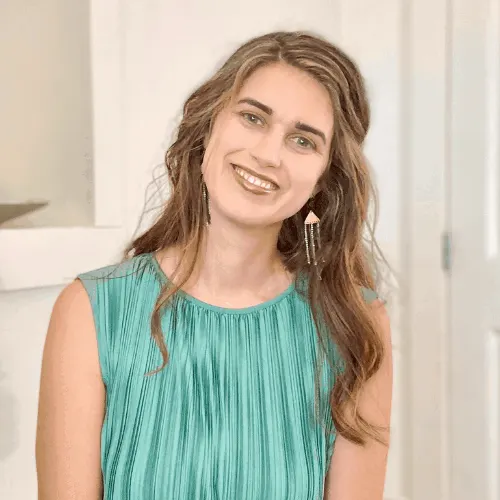 Sophie Agbonkhese is a writer, homeschooling mother of four, and a recovering overachiever (who occasionally relapses). She is the founder of My Cup Runs Over, a site dedicated to helping busy women simplify and enrich their lives. When she's not writing or debugging websites, Sophie spends her time reading, dancing, bullet journaling, reading, gardening, listening to audiobooks, and striving fruitlessly to have a clean house for at least five minutes.