If you've been meaning to start your own garden but have no idea where to start, the new online gardening course for beginners from Halden Garden will teach you all the new skills you need to start a successful garden.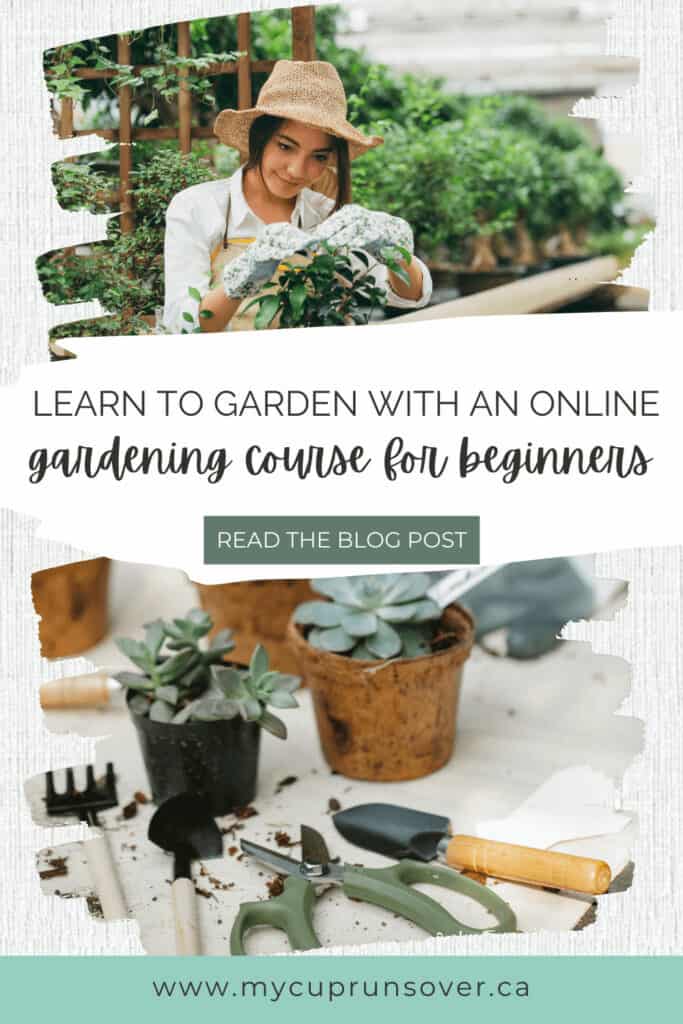 I received free access to The Halden Home Garden Course for review purposes. All opinions are my own and I am not required to post a positive review. 
Affiliate disclosure: This post may contain affiliate links, which means we may receive a commission if you click a link and purchase something that we have recommended.  Please read our disclaimer for more details.
Gardening Isn't Just for Experts
Although I've been gardening for over ten years, I still don't think of myself as an experienced gardener. When I look out into my backyard and survey the flowering shrubs—which sometimes bloom and sometimes don't—and the vegetable beds—which I have yet to sow in the middle of May—I know I still have a long way to go before I upgrade myself to gardener status. For now, I'm still a new shoot, trying to push its way through the soil, striving for more hours in the sun.
But my lack of skill doesn't deter me from trying to grow a beautiful garden each year. Though I'm far from an expert gardener, I can still reap many of the benefits of maintaining a garden. These include:
Organic Vegetables. Our family tries to eat only organic fruit and veggies, but it's hard. The cost is much higher, and the produce we want isn't always available as an organic option. By growing our own vegetables, we know exactly what chemicals did and didn't come in contact with our food, and we can grow varieties that would otherwise be unavailable to us.
Fresh Food. When you live in Canada, much of the most interesting produce is imported, meaning it travels a long way and isn't as fresh by the time we get it on the table. When we grow our own food, it can go from soil to plate in about thirty minutes. Fresh vegetables taste so much better and have higher nutrient retention than their imported counterparts.
Exercise. Gardening is hard work! From pushing wheelbarrows to lifting bags of soil to pulling weeds, it's a great way to get a workout in while still being productive.
Time Spent Outside. If one of your goals is to spend more time outside, gardening is a great way to ensure you hit your goal. Although you can automate your water system to reduce the amount of work required on a daily basis, the more you develop your garden, the more time you'll want to spend in it. It's a great place to be.
Fun Family Activity. Gardening is an activity the whole family can get involved with. From watering to sowing to harvesting, even toddlers can find a way to help in the garden. It's definitely an activity to add to your summer bucket list.
Beauty. Flowers and plants add so much beauty to your landscape. Whether you do flowering shrubs like rhododendrons, climbing vines like clematis, or a cherry tomato hanging basket, plants significantly enhance the look of your outdoor space.
Increased Home Value. Most people love looking at gardens, but not everyone has the time, energy, desire, and skill needed to cultivate them. Lots of would-be homeowners look for mature gardens when looking for a home because they want to go straight to the enjoyment phase. By putting in the work now, you're increasing your home's value in case you want to sell down the line.
Lifelong Learning. No matter how much gardening you do, there's always more to learn. Each year that you work on your garden, you will learn more about plants and how best to grow them. It's a skill that you can keep developing throughout your whole life.
Making a Contribution to Local Ecosystems. By planting native plants and those that attract pollinators such as honeybees and butterflies, you're contributing to your native ecosystem and helping to build a flourishing habitat for the creatures you share your space with.
The good news is that we don't need to be master gardeners to experience all these benefits. Even if you're a newbie gardener buying plants for the first time, you can develop your green thumb and have a successful garden. And spring is the perfect time to check out some of the best online gardening classes and get a crash course on gardening best practices.
Learning to Garden
I recently had a chance to review Halden Garden's online gardening course for beginners, The Halden Home Garden Course. Taught through a series of short videos by Sarah Haller, the course covers basic gardening skills, such as:
Understanding frost dates and zones
The differences between annual, perennial, and biennial plants
Soil science, including how to have the most fertile soil
Understanding sun needs
Water foundations, including soil saturation, drainage, watering schedules, and root depth
Vegetable gardening
Flower gardening, including starting a cutting garden and flowerbed design
Developing a garden plan for the entire year
Growing seeds indoors and outdoors, saving seeds
Pest control, including pest management techniques for deer, rodents, birds, and insects
Organic gardening
Container gardening
What I enjoyed about this course is that you can go at your own pace because all the videos are pre-recorded and you have lifetime access to the content. Therefore you can jump around and watch the videos that are most pertinent to you right now and come back to watch the rest on your own time schedule.
I also like that the videos are short and to the point. There is no fluff here. In Sarah's online classroom, she covers one specific topic per video, averaging about five minutes in length. (The longest is 16 minutes). It doesn't take much time at all to get through an entire section and the entire short course can be completed in less than four hours.
She covers all the basic skills you need to build a solid foundation but also to take your gardening to the next level.
Get Your Garden Started Today
Gardening offers many benefits for the gardener and her family, the land, and the planet. Taking an online gardening course for beginners such as The Halden Home Garden Course will help you improve your gardening skills and knowledge so you can start growing nutrient-dense food and gorgeous flowers this season. Check out the Halden Garden website for more information on their online classes.
Sophie Agbonkhese is a writer, veteran homeschooling mother of four, and a recovering overachiever (who occasionally relapses). She is the founder of My Cup Runs Over, a site dedicated to helping busy women simplify and enrich their lives, homes, and homeschools. When she's not writing or debugging websites, Sophie spends her time reading with her kids, gardening, listening to audiobooks, and striving fruitlessly to have a clean house for at least five minutes. She lives in southwestern British Columbia with her husband, Ben, and their children.