Last updated on May 4th, 2022
How are you doing with those New Year's resolutions? Are you seeing the change you were hoping to see so far in the new year? If you need some extra help, this free printable habit tracker is a good tool to give you the accountability you need to crush your goals.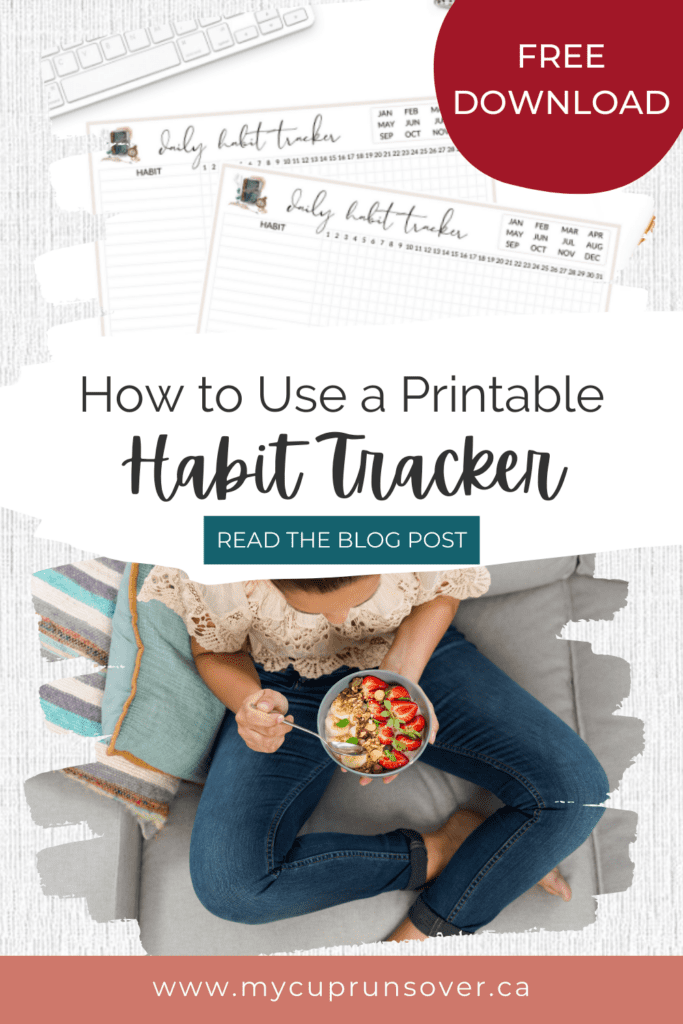 Affiliate disclosure: This post may contain affiliate links, which means we may receive a commission if you click a link and purchase something that we have recommended.  Please read our disclaimer for more details.
Why I Use a Monthly Habit Tracker
Three years ago, I decided to get serious about changing my lifestyle. I had so many goals I wanted to achieve and changes I wanted to make, but I wasn't making any real progress.
Every time I committed myself to a new routine or creating new healthy habits, I would wholeheartedly embrace it for one or two weeks–maybe even a month–before slipping back to my older, easier patterns.
Exercising more regularly? I could keep it up until the first rainy morning hit. Then I'd stay in bed and skip the run. And that would be it. Habit broken.
Drinking more water? I tried so many strategies from a family water challenge to pre-measuring a pitcher of water each morning and trying to get through it.
Nothing worked for me.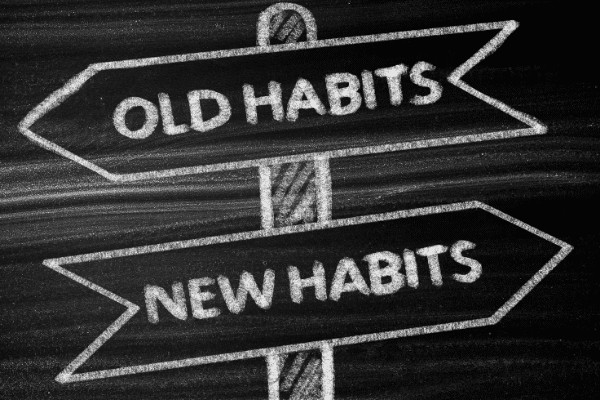 As a busy mom of four kids, I'm usually operating in survival mode: I just need to keep everyone alive and healthy.
That doesn't leave a lot of room in my consciousness for keeping track of my daily habits.
That's why I started creating and using habit tracker printables.
Why are Habit Trackers Essential Goal Setting Tools?
Whether you choose a daily tracker, weekly, or monthly printable–is an essential ingredient to developing new habits, especially if you're a super busy person.
Lifestyle changes start with taking small steps. They are accomplished primarily through the development of better habits.
And positive habits are developed one day at a time through persistent effort and awareness.
Most of us are willing and motivated to meet the goals we set for ourselves, we just need a system that allows us to do so in a way that doesn't weigh down our already overwhelmed brains more than they can handle.
Most of us are willing and motivated to meet the goals we set for ourselves, we just need a system that allows us to do so in a way that doesn't weigh down our already overwhelmed brains more than they can handle.
That's where the magic of habit trackers comes into play.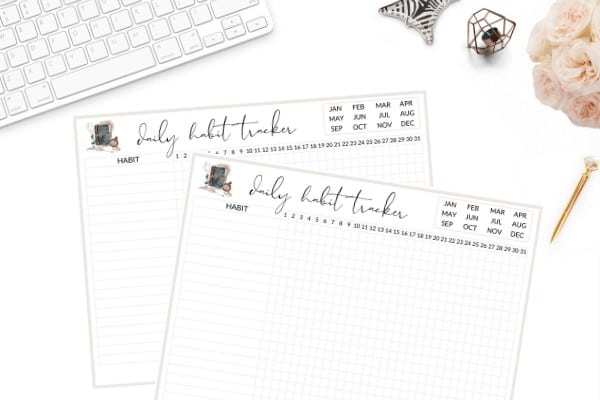 The simple act of writing down your goals and displaying them in a prominent place is an easy way to increase the likelihood that you'll follow through on that goal.
I personally use both daily and monthly habit trackers to keep track of all the little things I want to do in a single day as well as the spiritual, mental, and physical practices that are most important to me.

The beauty of habit tracking is that it can be customized to fit your life.  Once you begin tracking your habits, you may find that daily or monthly trackers aren't right for you and that a weekly habit tracker or even an annual habit tracker is a better fit for your life. 
The Key Benefits of Using a Habit Tracker
Here are a few of the benefits you can expect to see when you start to track habits using a habit tracker.
✔️ Writing your goals down makes the commitment more real and tangible.
✔️ A printable habit tracker ensures all your habits are tracked in one, prominent place. No more jumping around between different apps on your phone, trying to keep track of multiple habits.
✔️ Seeing your habit-tracking goals throughout the day serves as a constant reminder to make time for the things you set out to do.
✔️ All of those empty squares begging to be checked off create a sense of accountability that makes keeping track of your habits on a regular basis more rewarding.
✔️ You get a feeling of accomplishment every time you check a box off, which further motivates you to keep working toward your goals.
✔️ Having your habit goals written down encourages you to manage your time better and establish good routines that support your goals.
✔️ Creating a record of your progress gives you the data you need to adjust your goals, your time management strategy, or your routine.
✔️ Using a habit tracker consistently is a habit in itself, and building up this discipline will also improve the chances of you following through on your other habits.
✔️ Using the data from your habit tracker as a decision-making tool will continuously enhance your productivity.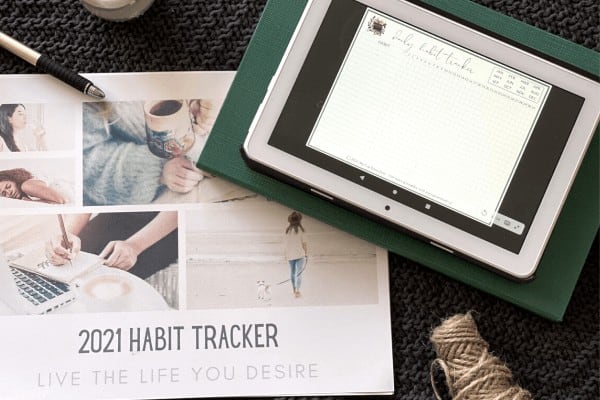 What Habits Should I Track?
This is entirely up to you and should align with your overall goals (both short and long-term).
Whatever changes you want to make in your life to move you closer to your goals can be tracked on your habit tracker printable. Just break the changes down into measurable activities that can be chipped away at each day.
With both monthly and weekly habit trackers, we're not looking for qualitative information about our habits so much as quantitative information. So, instead of asking what did I do? we're more interested in did I take this specific action? and how often?
If you're more interested in a deeper, more qualitative record of your progression toward your goals, you'll probably prefer a daily habit tracker to a monthly tracker.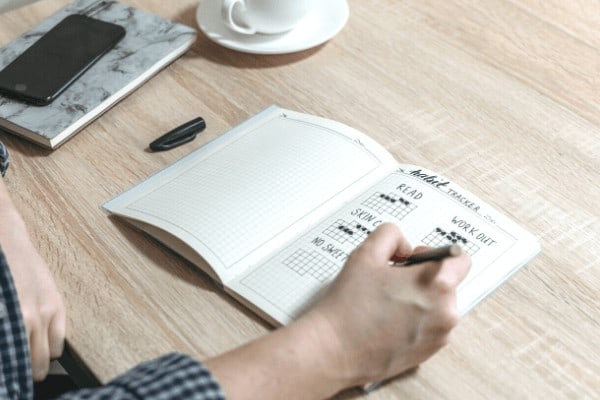 I like to break my habits into three categories: physical, mental, and spiritual.
Here are some ideas for each of these categories:
Physical Wellness Goals to Track on Your Habit Tracker Printable
weight
water consumption
steps
exercise (you can be specific or general, i.e. run for at least 20 minutes vs. worked out.)
vitamins and/or medications taken
calorie tracking
hours of sleep (i.e. total hours, or waking up by a certain time or going to bed by a certain time)
abstaining from alcohol or other food/drink items you want to cut down on
flossing
tracking symptoms of an illness
fruit and vegetable intake
Mental Health Goals to Track on Your Habit Tracker Printable
journaling
writing
reading (i.e. read for at least 10 minutes)
working through a course of study
talking to a friend
time spent working on a hobby (crafting, playing an instrument, photography, etc.)
Spiritual Practices to Track on Your Habit Tracker Printable
Other Tasks to Track on Your Habit Tracker
taking care of pets
laundry
cleaning the house (or a room)
cooking at home
watering plants
paying bills
making your bed
meal prep
emptying your inbox (does anyone ever actually get this one done? If so, please share your secret with me!)
How Do Habit Trackers Work?
To be effective, a habit tracker should be seriously simple.  There are many beautiful, creative ideas out there for designing habit tracker spreads in a bullet journal, and they sure are lovely to look at. 
However, most busy moms I know don't have the capacity in their lives right now to replicate these beautiful spreads each week or month. The task of designing a creative new spread every 30 days can get overwhelming and put you off the idea of tracking habits altogether.
(Of course, if you are creatively inclined that way and have the time to do it, by all means, make yourself the most inspiring habit tracker out there!) The important thing is writing down your goals and keeping track of them on a daily basis. The simplest way to get started is by downloading one of the many free printable habit tracker templates that are available online.  
What I like is something I can just print out once a year and either stick in a binder that I use every day or tape to my wall or refrigerator. I need that thing to be in my face throughout the day if it's going to have any impact at all on my behavior.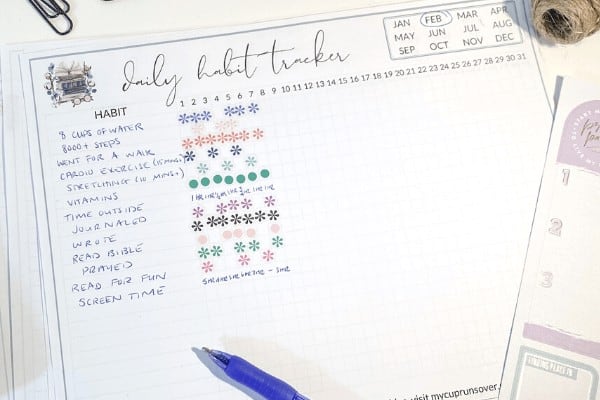 Steps to Using a Habit Tracker to Meet Your Goals
Once you've downloaded it, printed it out, and chosen a good place to keep it, decide on the habits you want to track and fill them in on the leftmost column.
Try to be specific about your goal so you know when you've achieved it (i.e. slept 8 hours vs. got enough sleep.)
Set yourself up for success by spending a few minutes each evening thinking about how you will fit your habits into the next day's schedule. I like to have a morning routine that includes as many of my habits as possible as I know that's when I'm most likely to get things done.
Each day you meet one of your habit goals, give yourself a check mark in the appropriate box or colour it in. If you're feeling really fancy, you can even use planner stickers such as these.
At the end of the month, reward yourself for meeting your goal. Take some time to reflect on your progress: are you headed in the right direction? Are you happy with how things are going? What changes might you make to your day to see even better results?
Repeat until your habits become second nature and your goals are crushed. (Then to it again!)
Features of this Printable Habit Tracker
There are tons of options out there for free printable habit trackers. Here are a few features about this one you might enjoy:
This monthly habit tracker is a great option for managing the whole month on one page. It's best for habits that can easily be tracked with a checkmark. If you need something more detailed, you may want to go for a weekly or daily habit tracker.
There are 12  unique designs in the digital download package. You can print the whole thing out to have a yearlong habit tracker, or if you want all the pages to be exactly the same, just print out the same page 12 times.
The habit tracker pages are simple designs that are undated so you can start tracking any month. Just circle the appropriate month in the upper righthand corner of each page.
Print off as many copies of the printable template as you want.
Supplies to Help You Take Your Habit Tracker to the Next Level
If you want to decorate your habit tracker, store it in a beautiful binder, or dip your toes into the waters of the bullet journaling world, here are a few of my favorite supplies to help you take your habit tracking to the next level. 
With tools like this, becoming more productive has never been so delightful!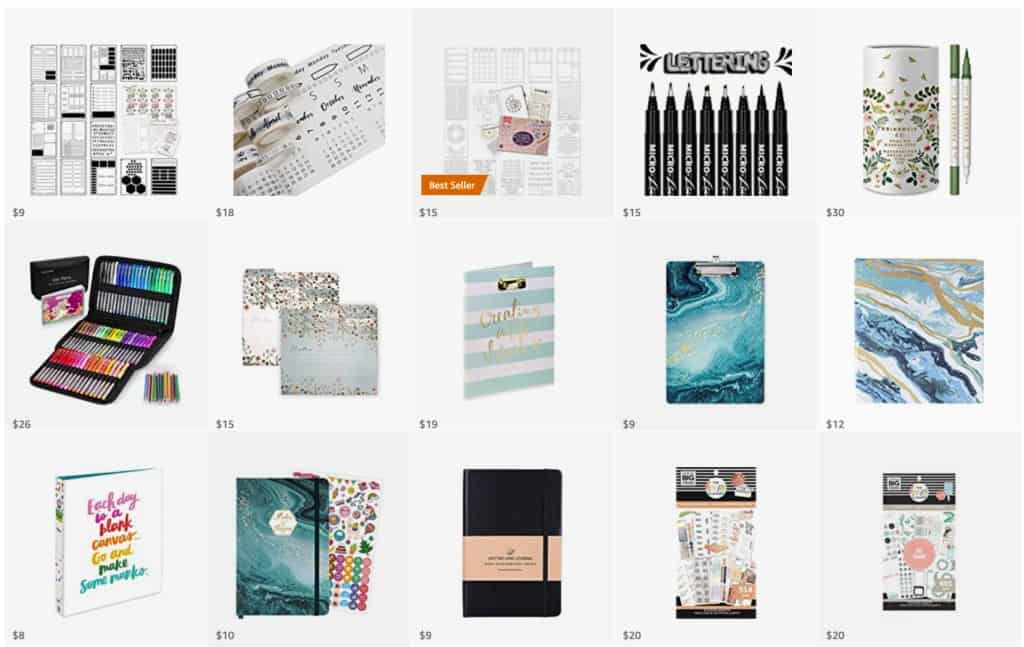 Download Your Habit Tracker Printable Here
Enter your info below to get your free printable PDF version of the monthly habit tracker. Print out as many copies as you need and enjoy!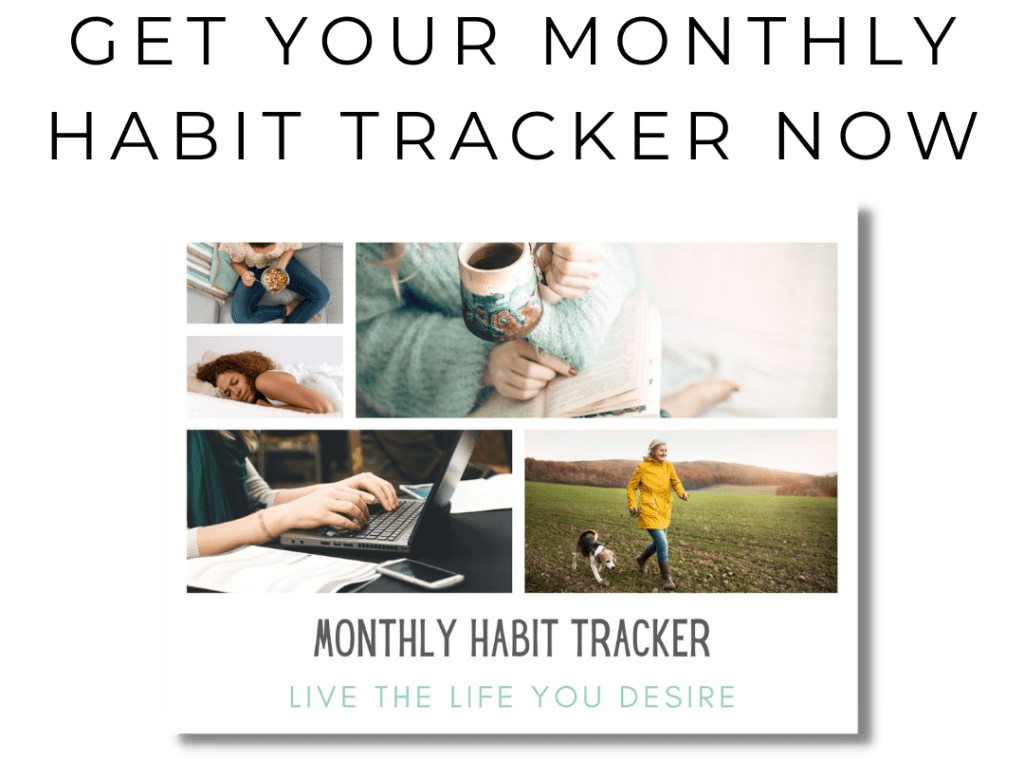 Whichever method of habit tracking you choose to use, I hope you find it as helpful as I do in helping you achieve your goals.
Leave a comment below or message me on Instagram to tell me what you love about habit tracking.
Sophie Agbonkhese is a writer, veteran homeschooling mother of four, and a recovering overachiever (who occasionally relapses). She is the founder of My Cup Runs Over, a site dedicated to helping busy women simplify and enrich their lives, homes, and homeschools. When she's not writing or debugging websites, Sophie spends her time reading with her kids, gardening, listening to audiobooks, and striving fruitlessly to have a clean house for at least five minutes. She lives in southwestern British Columbia with her husband, Ben, and their children.