Do you dream of playing piano but don't have the time or resources for in-person lessons? Would you like to be able to help your kids learn to play piano at home? These eight websites and apps offer the best online piano lessons to help you learn piano as an adult. Many of them will also help you teach music at home to your kids!
Enjoy!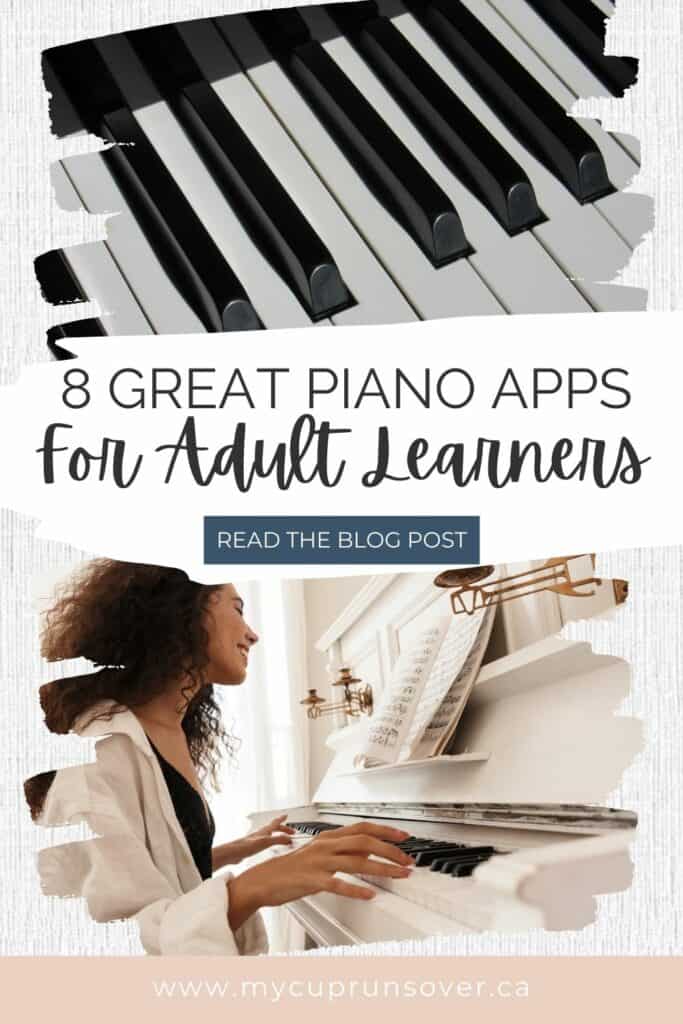 Affiliate disclosure: This post may contain affiliate links, which means we may receive a commission if you click a link and purchase something that we have recommended. Please read our disclaimer for more details.
For as long as I can remember, I've dreamed of being able to play the piano.
As a child, I picked up a couple of songs, and I'd gleefully sit at any piano I encountered and play until someone told me to knock it off. Unfortunately, I never really progressed past that point.
I tried to teach myself over the years, and because I had some music theory knowledge, I was able to get a bit further. Then, when my kids were taking classes at an art school a couple of years ago, I did a crazy thing.
I signed myself up to take piano lessons while I was waiting for them.
I was so excited to finally be learning how to play the piano! My teacher was awesome–he let me bring in any songs I wanted and he helped me learn to play the chords and melodies way faster than I had hoped.
But after the semester ended, I finished my lessons and that was it. I didn't have any other opportunities to study piano so I just kind of let it go.
The Perfect Time to Study Piano for the First Time, or Relearn It
Many of us have a bit more time on our hands these days, or at least, a bit more flexibility with our time. That makes this the perfect time to learn skills we have long wanted to learn, or that we developed as a kid but have forgotten along the way.
As long as you're curious and have five to ten minutes a day to spare, you can find plenty of intuitive apps and websites to learn to play piano online.
For some people, online courses are the best way to gain new knowledge and skills. Why not take on that long-held goal you've kept in your heart and let it see the light of day?
One major benefit of learning piano online as an adult is that you can save valuable time and money. You don't have to drive to lessons or worry about making your schedule work around an instructor's availability. You can learn when and where you want to.
You may have to check out a diverse range of websites and apps to find the best options for you. You can opt for software with pre-recorded video lessons or one with a specialized music instructor who can help you push boundaries.
In-person lessons require a commitment of time and resources that not everyone is able to make right now. Whether you're looking to learn piano as an adult or want to find online lessons for your kids, these websites and apps are a great way for people with different needs and resources to learn music at home.
Here are some of the best apps and websites to help you learn piano as an adult (many of which are also great for kids and teens).
We recommend trying a few different options for online piano lessons to find the best at-home learning experience for you and your family.
1. Skoove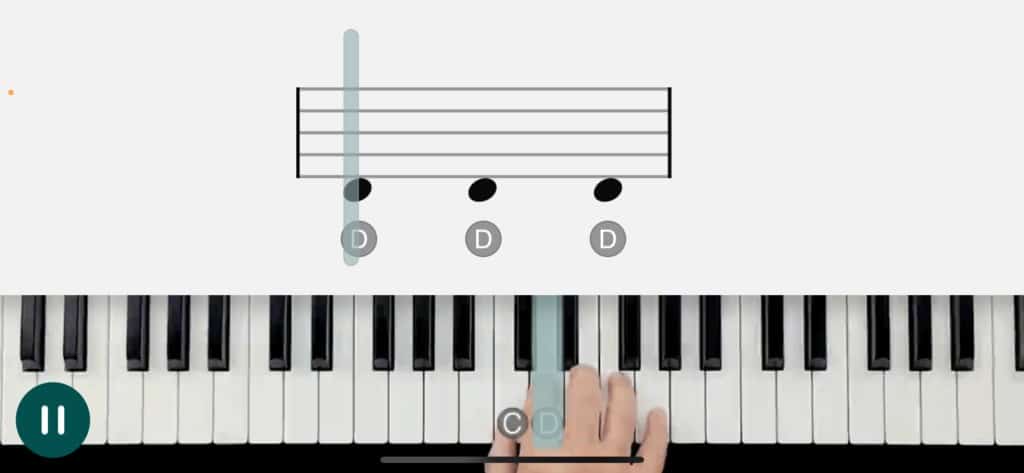 If you want an AI-based instructor with a selection of songs and hand movement techniques, you'll want to check out Skoove. It offers cutting-edge e-learning technology and is designed specifically for students ages twelve years and older.
With Skoove, you can use either an acoustic piano or a digital one. The beginner level starts with the very basics and progresses slowly through a series of very short lessons.
Once the beginner level becomes easy for you, you can take your learning process to the advanced levels. As you add new notes and music theory knowledge, you will progress through more challenging songs.
Skoove's tiered learning system includes levels such as:
Beginner: Basics
Piano Beginner 1
Beginner Theory: Sight Reading
Piano Beginner 2
Piano Beginner 3
Piano Songs Beginner
Piano Intermediate 1
Piano Intermediate 2
Piano Intermediate 3
Piano Songs Intermediate
Users can then move into the repertoires of various composers as well as categories of songs such as classical music, pop, advanced piano songs, blues, and Christmas songs.
There is even a specific level for producers who want to learn more about harmony, arrangement, and scale building.
Compatible Devices
Skoove works on: PCs and Macs made within the last five years, iPhone, iPad, Android and Windows tablets, Chromebooks.
Pricing
The free version gives you access to 25 lessons for an unlimited time. Upgrading to Premium opens up over 400 lessons, with new lessons and songs added each month, as well as one-on-one support and special courses. The Premium Skoove subscription costs $19.99 USD/month, $39.99 for three months, and $119.99 for 12 months.
Try Skoove today.
2. flowkey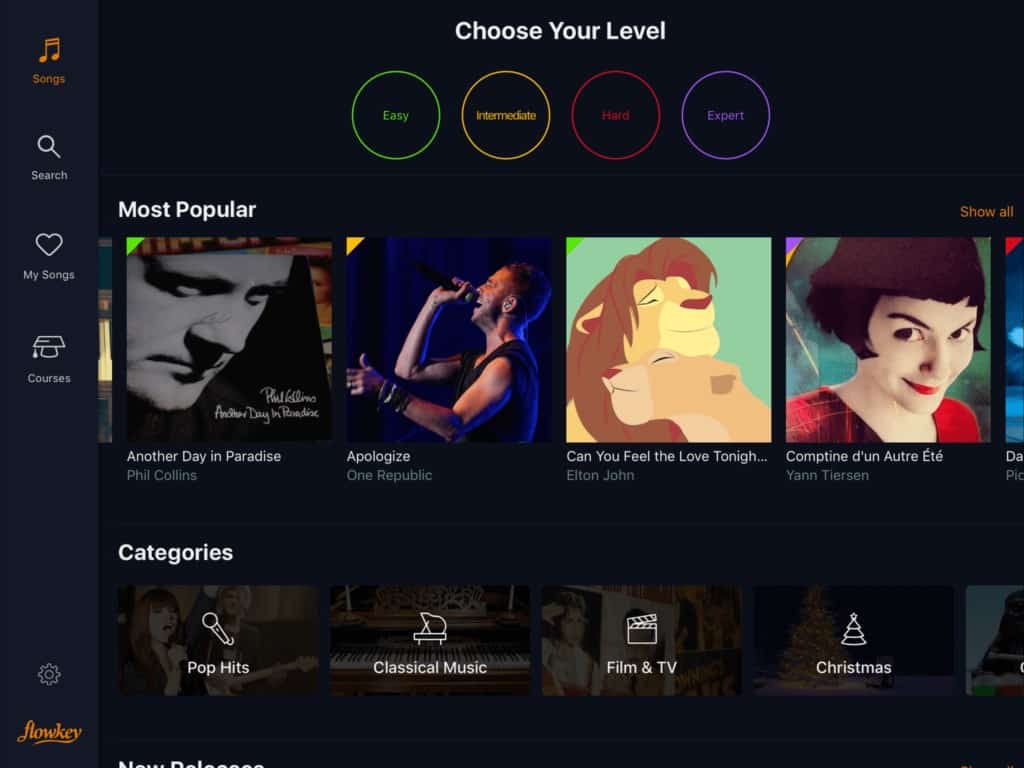 With flowkey, you can learn to play the piano with new songs or songs you already know and love.
The app, which is designed for beginners as well as returning and advanced players, helps you learn songs quickly.
flowkey allows you to practice notes and chords interactively and receive instant feedback. The Wait mode shows the sheet music on your phone and waits until you've played the correct mode before moving on.
With the Loop feature, you can select any number of bars of music and practice the same segment over and over until you get it down.
You can also slow down the tempo and choose whether to work on one hand at a time or both hands simultaneously.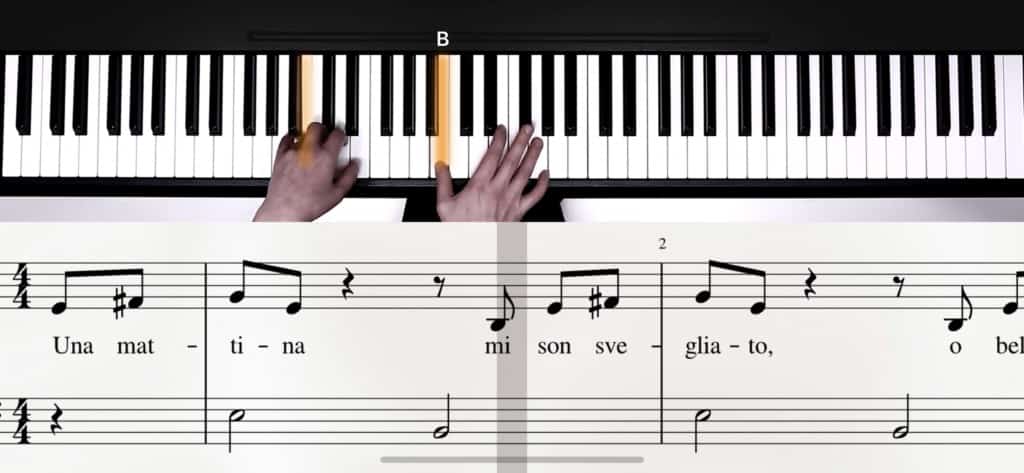 flowkey features over 1500 songs from a variety of genres and each one is rated at one of four skill levels, from beginner to pro. The app helps you learn music theory, master chords, and improve your sheet music reading skills.
Compatible Devices
flowkey requires a piano, midi keyboard, or regular keyboard. You may also need a cable to connect your phone or another device to your keyboard. The app can be used on all Apple and Android devices.
Pricing
The seven-day free trial gives you access to the whole app. After seven days, you will have to upgrade to a Premium subscription or cancel to continue with a free account. The free version offers access to eight songs.
Premium subscriptions range from $29.99/month for month-to-month access, $124.99 for six-month access, or $175.99 for one year. The Premium subscription gives you access to hundreds of lessons across four levels as well as over 1500 songs.
Try flowKey today.
3. Hoffman Academy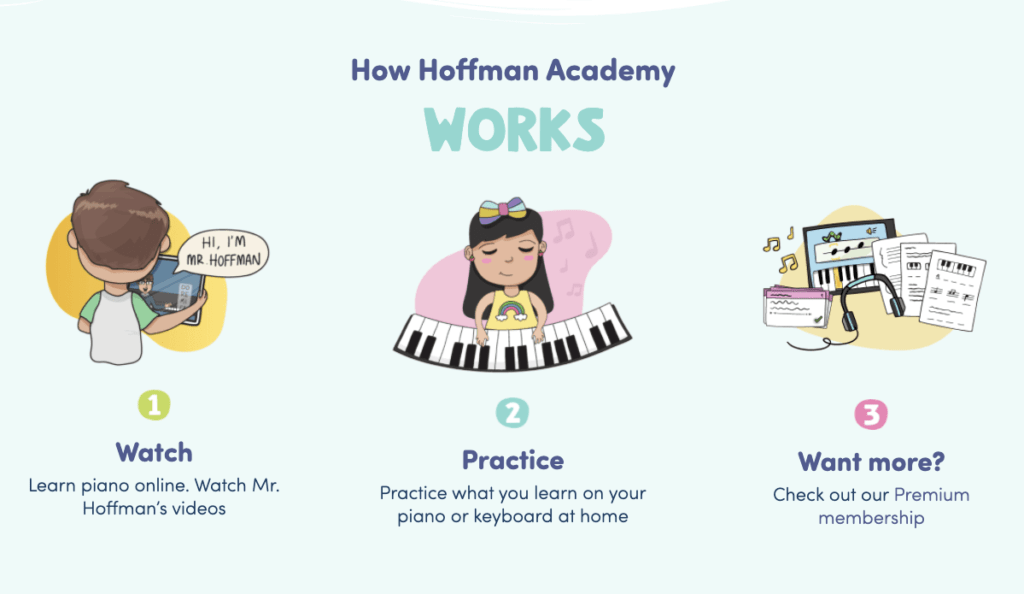 Hoffman Academy offers online video piano lessons that are great for both kids and adults. Students watch piano lessons online, then practice on their piano or digital keyboards at home.
Hoffman Academy takes a comprehensive approach, much like you would receive in traditional music lessons. Rather than tackling songs immediately and learning to memorize them, the focus is on building a solid foundation by offering a robust musical education from the ground up.
The site includes over 240 video lessons covering a wide range of topics such as ear training, sight-reading, theory, improvisation, solfege, repertoire, and composition.
Compatible Devices
Hoffman Academy is a browser-based app, which can be used in any mobile or desktop browser. You can use any type of piano for your lessons, though they recommend one with weighted keys for an authentic experience.
Pricing
All of the Hoffman Academy videos are available for free online. However, there is also a Premium subscription for those who want to take their virtual piano lessons to the next level. For $18/month (or $179/year or $595/lifetime), you can track your progress in a student dashboard, access over 355 printable music learning resources, get daily practice plans, and play interactive games.
Try Hoffman Academy today.
4. Piano Marvel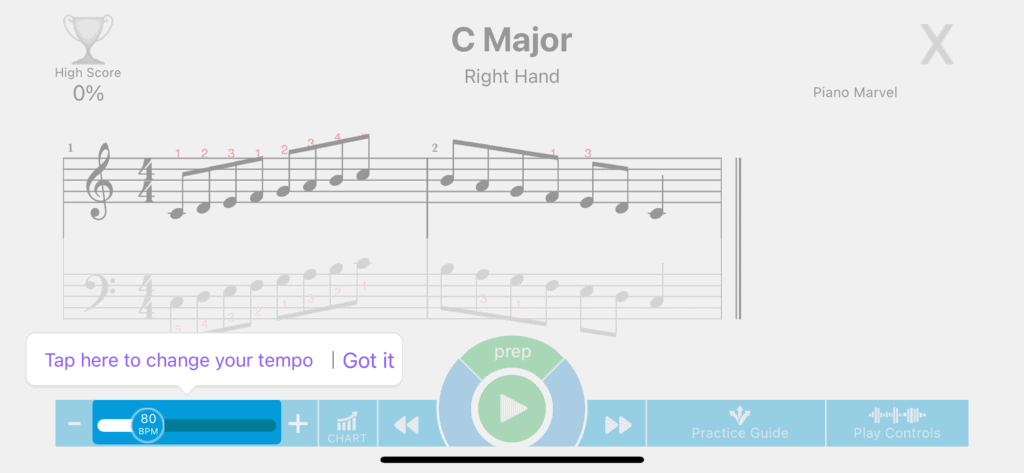 The focus of Piano Marvel is helping you learn popular songs you already know and love through guided training lessons. It's great for adults who already have a background in piano, but it's also a good tool for beginners, both adult and younger.
The Method and Technique sections are specifically designed after the most popular and comprehensive method books for a beginning piano player. The music library also has over 25,000 pieces all ranging in difficulty from levels 1-18.
Once you've selected a song, you can choose the appropriate arrangement for your skill level. You can start your first lesson right away using an on-screen keyboard or you can connect your phone to your piano to get instant feedback on your playing.
The sheet music will progress as you play the correct notes. Further, the practice guide allows you to break the song down into small learning chunks and slow down the tempo.
The play mode lets you play along with the real music accompaniment to get a better sense of the piece's timing. You work through each piece of the song until you learn the whole thing.
Piano Marvel also invented the SASR, the Standard Assessment of Sight Reading, which is the only standardized test to give pianists a definitive score for how well they sight read. Scale Ninja, which has been created for Beginners, Advanced, and Professional Pianists, can be found in the Music Library and is a super fun way to learn your scales.
Compatible Devices
Piano Marvel is available on Windows, Mac, iPad, or iPhone.
Pricing
Piano Marvel's free account offers access to over 200 Level-1 songs and exercises as well as 30-day access to all 18 levels. A Premium subscription costs $15.99/month or $110.99/year and includes access to a sheet music library with thousands of songs and 18 training levels.
When you try a monthly subscription to Piano Marvel through this link, you'll get a discounted rate of 12.99/month!
5. Playground Sessions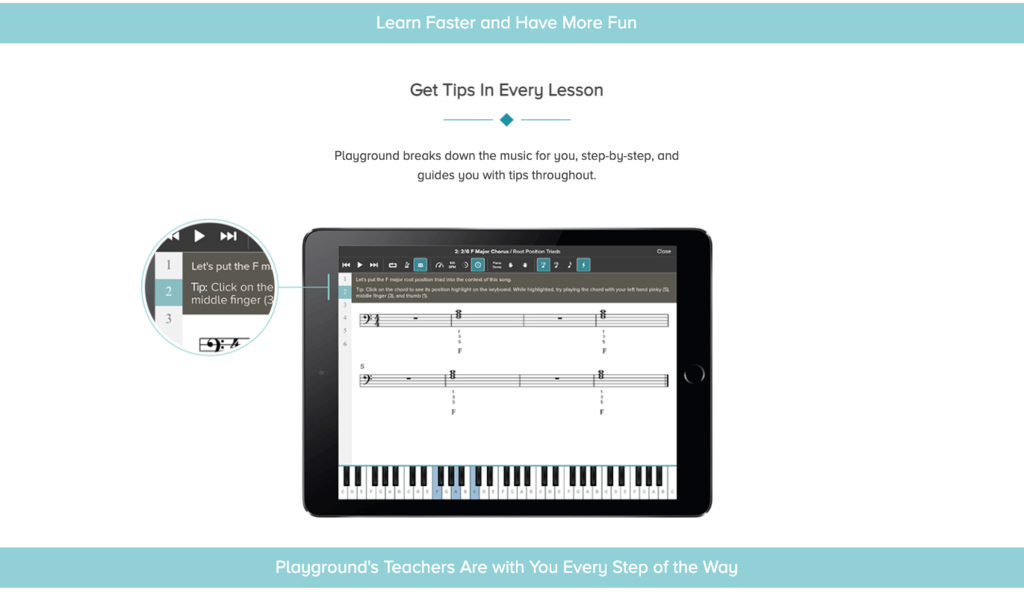 Playground Sessions is a popular piano software program that teaches you how to play the piano with interactive lessons featuring your favorite songs. If you love learning from music legends and other piano-playing celebrities, Playground Sessions could be for you.
It was co-created by Grammy-award-winning musician Quincy Jones, who contributes to the learning methodology, as well as the curriculum and arrangements on Playground Sessions, and serves as the company's Chief Creative Officer.
Additional teachers on Playground Sessions include Harry Connick, Jr. and David Sides. They help you learn to play the piano through an immersive environment of discovery and interaction.
David Sides breaks down favorite songs and music theory concepts one step at a time, shows you how to play them, then invites you to play along with him.
The app's Bootcamp section includes hours of interactive video tutorials and practice sessions that help you learn notation, rhythm, and how to play by ear.
You can also receive interactive feedback from the app, and set a particular song section to play on a loop so you can practice it until you nail it.
Compatible Devices
Playground Sessions is supported on both Mac and PC. It's recommended that you use a MIDI or USB keyboard to take advantage of the interactivity of Playground Sessions, including real-time feedback, scoring, badging, and progress visualization.
Pricing
Piano Sessions offers monthly, annual, or lifetime memberships, as well as family plans. Annual membership costs $9.99/month, monthly is $17.99/month, and lifetime is $289.99.
Try Playground Sessions today.
6. Simply Piano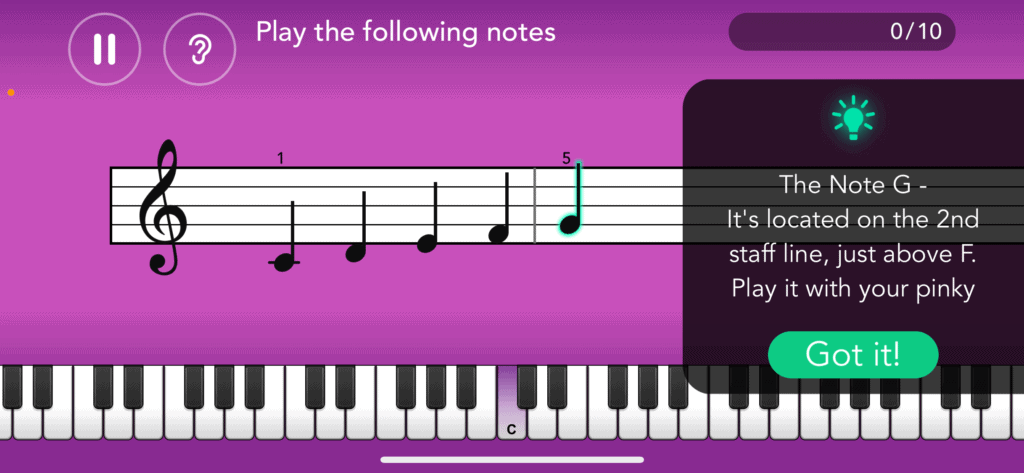 Simply piano is one of the highest-rated piano apps in the App store.
When you first sign up for a free account, you'll provide some basic information about your existing piano knowledge. Then you'll choose the first song you want to learn to play. Like many of the other apps reviewed here, Simply Piano gives interactive feedback based on your real-time piano playing.
With Simply Piano, you can complete one introductory level on the free plan, but you need to subscribe if you want to move forward with the program.
After completing the first two levels of basic training, you get to choose a path for your piano lessons: Soloist or Chords. On the Soloist path, you will focus on playing melodies, expanding your note range, and polishing up your technique.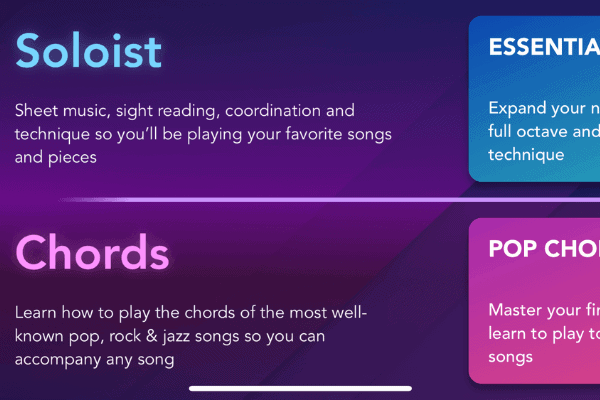 On the Chords path, you will focus on learning how to accompany songs in all genres, the fundamentals of playing piano chords, and different styles of accompaniment.
You can stick to one path exclusively, or continue taking lessons on both paths.
Simply Piano is easy and enjoyable to use, and the lessons are short and simple enough that you can complete several in each sitting.
JoyTunes, the maker of Simply Piano, also offers two other apps for learning piano: Piano Maestro and Piano Dust Buster.
Piano Maestro is an in-depth educational tool to study piano. It is a professional tool that can be used by piano teachers and their students. From a single note to complete pieces, Piano Maestro makes sheet music come to life.
Piano Dust Buster is the ultimate introduction to the piano for kids, no previous piano experience is needed. It turns learning piano into a game.
Compatible Devices
Simply Piano works with any piano or keyboard. It's available on Apple devices (iOS 10.0 or later) and Android devices.
Pricing
In addition to the free account, Simply Piano offers three premium subscription plans. There is no monthly account; the shortest subscription is three months ($82.99 every 3 months, about $28/month). Six-month ($125 every 6 months, about $21/month) and annual ($165 per year, about $14/month) are also available.
Try Simply Piano today.
7. Lessonface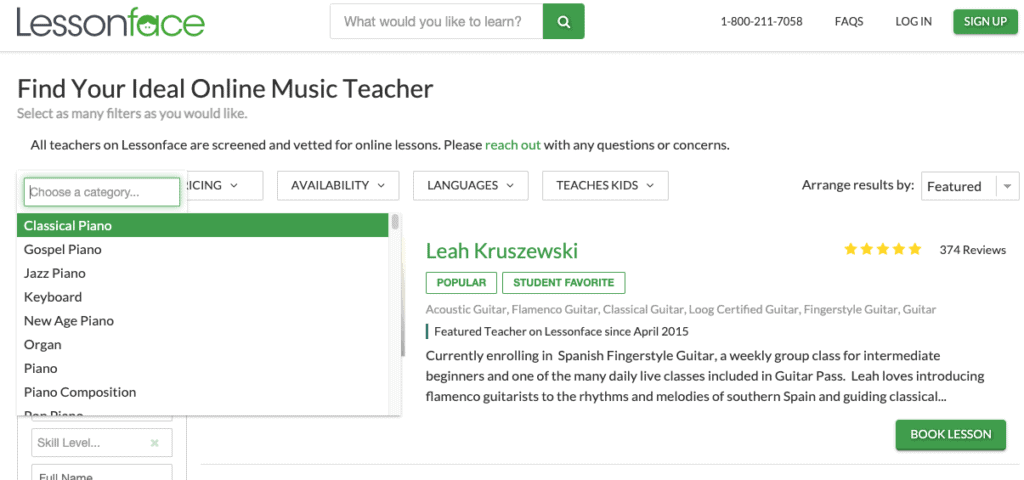 So, AI has come a long way, and all of these interactive feedback programs truly are amazing. But what if you still want private lessons with a live teacher? A virtual music school of sorts?
Well, if that's what you're looking for, you might prefer something like Lessonface. This site allows you to connect with qualified and professional music teachers from around the world.
With Lessonface, you're not restricted to learning piano. You can find live instructors who will help you start learning to play musical instruments like guitar, strings, brass, percussion, other wind instruments, woodwinds, vocals, and more. You can even find teachers who will help with music theory, songwriting, and exam and audition prep. On top of that, you can branch out into mixing, mastering, digital music, and even language studies.
When you visit the Lessonface website, you can click on any of these topics to find available instructors offering lessons in that subject. You can filter your results by pricing, availability, and whether or not they work with kids.
Once you find the perfect instructor for you, you simply book a lesson through the website. After that, the teacher will conduct lessons with you online.
Compatible Devices
The lessons are offered over Zoom (like everything else these days), so as long as you have that installed on one of your devices, you should be good to go.
Pricing
Each teacher sets their own rate. The cost of a 30 minute piano lesson ranges from about $15 US to about $40 US.
Try Lessonface today.
8. Complete Music Reading Trainer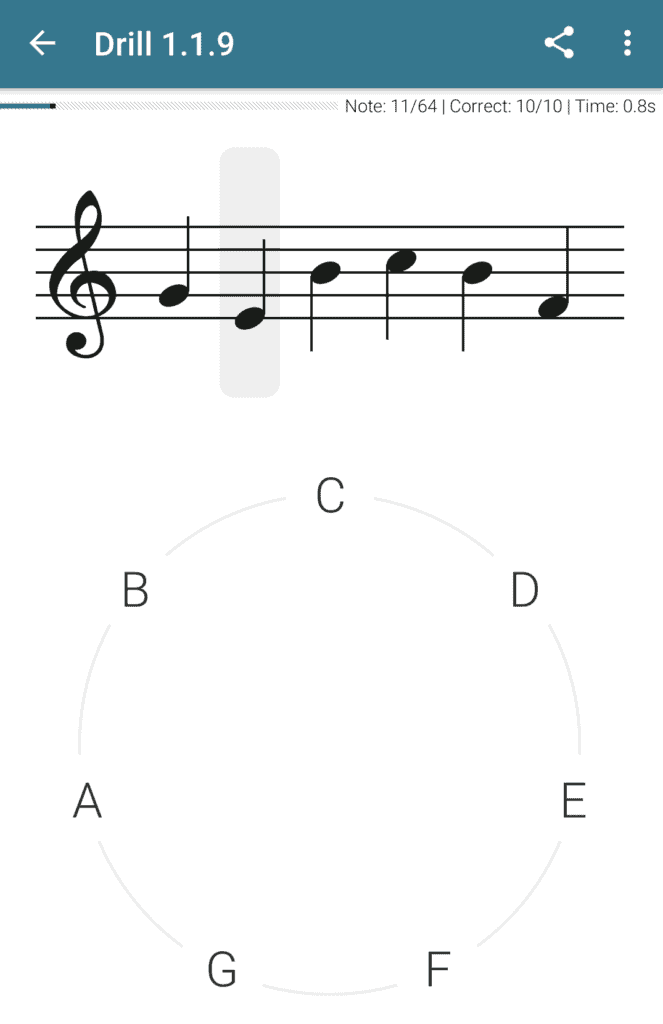 While this is not a comprehensive online piano lesson app, I wanted to include it in this comparison because I think it's such a well-designed and useful tool. I have this one installed on my tablet and I try to play it before bed several times a week to sharpen my music reading skills.
This nifty little app costs about $5 for a one-time purchase, making it a great accompaniment to other piano lesson programs you may want to try.
It contains 270 progressive drills covering all seven clefs over three levels. You can choose which levels or chapters are relevant to your instrument and focus on those.
You can also practice key signatures up to 6 sharps/flats in progressive key signature drills.
While this app is perfectly suitable for beginning pianists, it will be especially appreciated by those who have some background in music theory but have struggled to speed up their sight-reading skills.
Through gamification, the drills in the Complete Music Reading Trainer quickly help you familiarise yourself with the names and locations of each note so you will be whizzing through bars and systems before you know it.
Compatible Devices
Complete Music Reading Trainer is currently only offered on Android devices, though the developers hope to release an iOS version soon.
Pricing
Limited free version available. $5.49 one-time purchase unlocks the full features.
Try Complete Music Reading Trainer today.
9. Virtu.Academy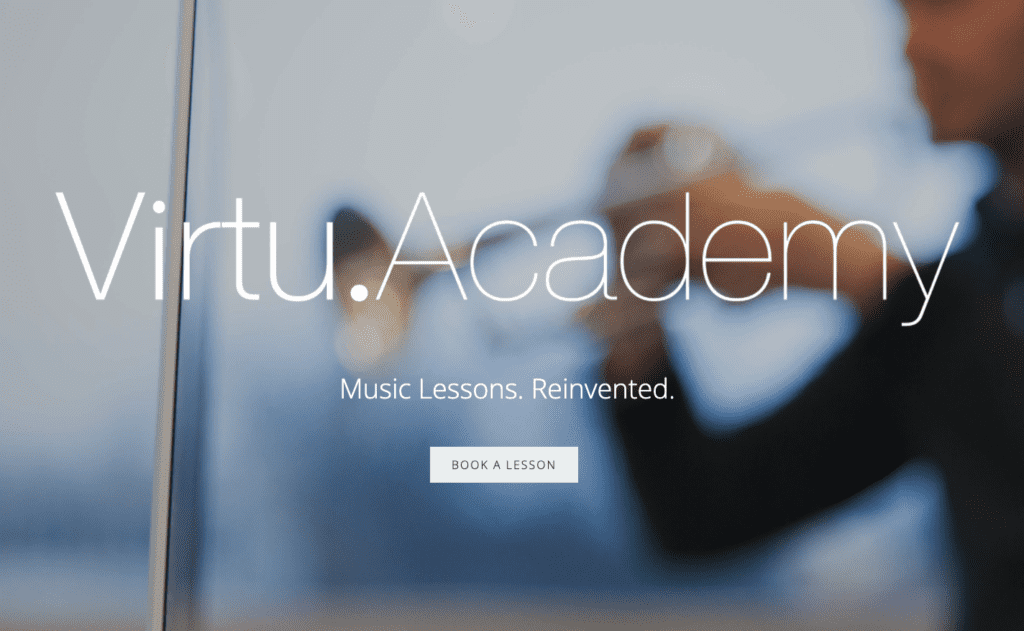 If you want the accountability and personalization of live instruction but prefer to learn from the comfort of your own home, you may want to explore Virtu.Academy. This site brings together renowned teachers from around the world, with experience ranging from Juilliard to the Cleaveland Orchestra to the Met Opera, to offer private one-on-one live sessions.
Virtu.Academy offers lessons not just in piano, but in many other instruments including banjo, bass, cello, drums, guitar, violin, and voice.
To browse the Virtu.Academy's teacher directory and purchase a fifty-percent-off trial lesson click here. From there, you can filter by instrument, experience level, genre, and age to find the perfect fit.
Compatible Devices
You can use any computer with a built-in microphone and webcam. You will also need Zoom and your instrument of choice.
Pricing
Lessons start at $29 per half hour ($54 for a full hour). Trial lessons are available for half price. Subscriptions and packages are available with savings of up to 15 percent.
Try Virtu.Academy today.
Comparison of Online Piano Learning Software and Websites for Adults
| App | Interactive Feedback | Live Instructor | Number of Lessons | Number of Songs | Monthly Cost (If paid Monthly) | Monthly Cost (If paid Annually) |
| --- | --- | --- | --- | --- | --- | --- |
| Skoove | Yes | No | 400 | ~175 | $19.99 | $9.99 |
| flowkey | Yes | No | Hundreds | 1500 | $29.99 | $14.66 |
| Hoffman Academy | No | No | 240 | – | $18.99 | $15 |
| Piano Marvel | Yes | No | 3000 | 25,000 | $15.99 (or $12.99 with our discount) | $110.99 |
| Play-ground Sessions | Yes | No | 35 | 1500 | $17.99 | $9.99 |
| Simply Piano | Yes | No | 25 | Hundreds | – | $14 |
| Lesson-face | Yes | Yes | – | – | Priced per half hour lesson. $15-$40. (4 lessons/month = $60-$160) | – |
| Complete Music Reading Trainer | Yes | No | 270 | – | One-time fee of $5.49. | – |
| Virtu.Academy | Yes | Yes | – | – | Depends on the length and frequency of lessons (starts at $29/30-minute, before discounts) | – |
No matter where you are on your musical journey, there is an app, website, or instructor out there who is ready and able to help you make your musical dreams come true.

Having tested out all of the above options, I'm confident that one of them will be just the right fit for helping you learn the piano. After exploring these options, if you still feel like you haven't found a good fit, then perhaps you may prefer something book-based like the Revolutionary method. You can check out my in-depth review of the program here.
I'd love to hear from you. Leave a comment below or message me on Instagram to tell me what you think of online piano lessons for adults. Which ones have you tried? What are you loving and not loving? I look forward to connecting!
Sophie Agbonkhese is a writer, homeschooling mother of four, and a recovering overachiever (who occasionally relapses). She is the founder of My Cup Runs Over, a site dedicated to helping busy women simplify and enrich their lives. When she's not writing or debugging websites, Sophie spends her time reading, dancing, bullet journaling, reading, gardening, listening to audiobooks, and striving fruitlessly to have a clean house for at least five minutes.