Teaching a second language in your homeschool when you're not bilingual yourself can be challenging. You struggle to read books you don't understand, pronounce words you can't say, and keep up with kids who learn at lightning speed. Thankfully, today's language learning resources make it possible (and easy!) for you to teach Spanish while learning it alongside your kids. We searched high and low for the best online homeschool Spanish curriculum and we found not one amazing option, but eight! Check out our reviews below and let us know in the comments which Spanish curriculum you're using this year.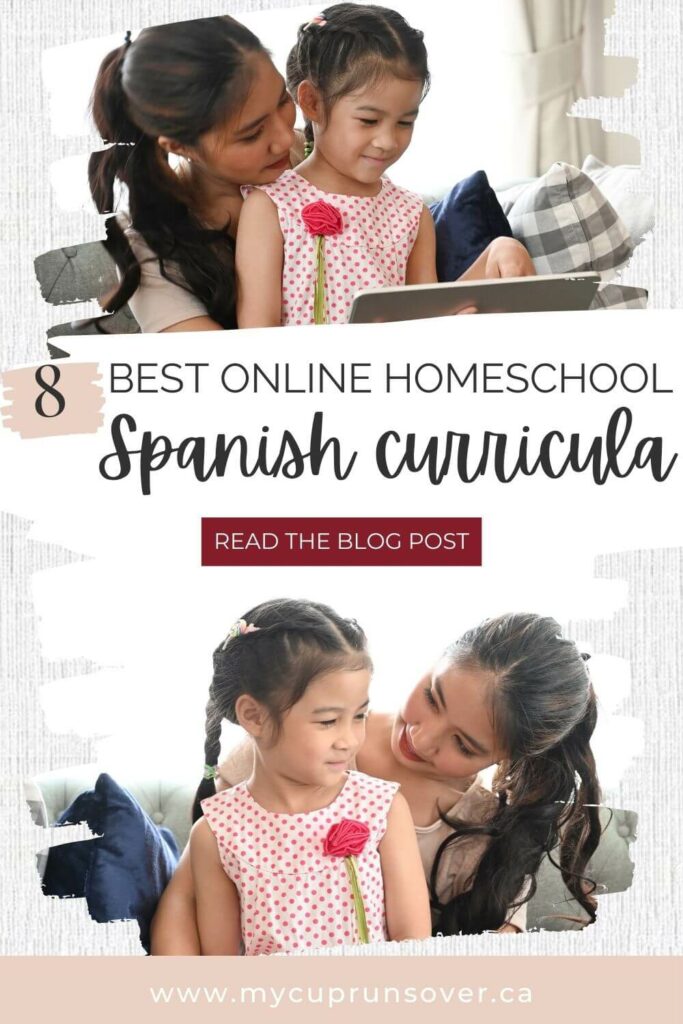 I received free access to FabuLingua for review purposes and I was compensated for my time. All opinions are my own and I am not required to post a positive review.
What Should You Look for in Your Homeschool Spanish Curriculum?
Anyone who has tried to study foreign languages knows that not all language learning programs are created equal. Some are much more effective than others at helping our minds absorb a second language. And, of course, what works for one learner may not work as well for another.
So how do you know what to look for in a Spanish program without investing time and money into trying a bunch of them? One way to at least filter down your options is to look at the science around learning a new language and understand the best practices. These can then be your yardstick for seeing how well different programs stack up.
Here are some of the most important things to look for when evaluating a Spanish homeschool curriculum.
It Offers Comprehensible Input
According to Dr. Stephen Krashen, a linguistic expert who specializes in language acquisition theories, language learners progress best when they receive input that is one step beyond their current stage of linguistic competence. He says, "We acquire language in only one way: when we understand messages." Teaching grammar, and memorizing vocabulary is not effective as exposing learners to spoken language in a way they can understand. We acquire languages when we understand what is being said. It's not helpful to teach a rule and then practice the rule over and over.
Comprehensible input is content that listeners can grasp the gist of, even if they don't understand everything being said. Some ways language learners can increase their exposure to comprehensible input are through:
Watching TV in a second language with subtitles on
A teacher who speaks the language while demonstrating their meaning with their actions
Reading easy children's books and stories
Ultimately, focusing on comprehensible input to teach second languages mimics the way we learn language in general. By hearing, repeating, responding, and interacting with language in natural ways.
Ideally, the homeschool Spanish curriculum you choose will introduce the Spanish language to your kids in an incremental and understandable way, using stories, video lessons, and other visual cues to help kids pick up new Spanish words instinctively.
The Lessons are Fun and Engaging
Language lessons can be a lot of things, but fun and engaging aren't necessarily the first descriptors that come to mind when we reflect on our high school language program. I remember dreading my high school French classes so much that I later wrote a novel whose plot started with a high school senior failing her required French class and being sent to France for some immersion lessons.
Unfortunately, unless the lessons are compelling for the learner, science tells us that little retention will take place. Dr. Krashen's Affective Filter Hypothesis suggests that the more pressure and stress we experience around language learning, the less comprehensible input our brains are able to take in and absorb.
An online Spanish course that subjects students to frequent quizzes and tests or makes them focus on conjugating endless verbs will probably not be as effective as one that engages them and encourages them to explore and connect.
If you're using a Spanish learning program that leaves your kids feeling bored, anxious, and unmotivated, it may be time to try something new.
It's Story-Based
Short stories, such as those found in children's picture books, are not just a fun way for kids to learn new language skills, they're one of the best ways to introduce a second language. These stories, and the pictures that accompany them, offer context that helps learners make meaning of the new vocabulary they encounter. j
Reading a Spanish book introduces children to conversational Spanish and real life scenarios they can relate to. They also help children relax and enjoy the process of learning Spanish, thus decreasing their affective filter and allowing more of the new input to stick in their memories.
It Respects the Student's Own Pace
When teaching kids Spanish, you want to look for a Spanish curriculum for homeschool that respects their need to learn at their own pace. Their brains need to absorb quite a bit of input before they will be able to start putting words together to make sentences. If they are pressed to do this too early, they could become frustrated and want to give up.
A top homeschool Spanish curriculum won't ask for too much too early or press young children to memorize grammar in the first few years. It will focus on introducing lots of new words in an entertaining way and allow Spanish skills to arise naturally as the child's interest and ability grows.
Charlotte Mason on Second Language Learning
For those who ascribe to the Charlotte Mason method of homeschooling, it won't surprise you to learn that these modern recommendations for teaching children a second language align well with her teaching on the topic. Charlotte Mason believed foreign languages were best taught by:
Starting at an early age, learning two to six new words a day
Having daily lessons, ideally nature-based
Delaying the introduction of written words
Introducing idioms
Introducing words in the context of sentences
Keeping track of the child's new words and sentences
Introducing very short, related statements that describe actions
Basing lessons on books and pictures
Although our modern programs look different and will likely include things like audio CDs, hands-on activities, online videos, and flash cards, we would do well to keep these time-honored principles in mind as we select our Spanish homeschool program. A solid Spanish foundation can be built with gentle, incremental, enjoyable activities just as well—or better—than with the textbooks, repetitive conjugation exercises, and rote memorization drills many of us were exposed to in school.
The Best Homeschool Spanish Curriculums for Preschool Students
Now that you know what to look for in a good Spanish curriculum, let's look at some of the top choices for each age group, starting with preschool, which is a great time for homeschool educators to start introducing Spanish vocabulary to their children.
FabuLingua
FabuLingua is a beautifully-designed immersive mobile game for kids ages 2-10 that uses the latest research on second language learning to teach kids Spanish in a fun, comprehensible, and compelling way.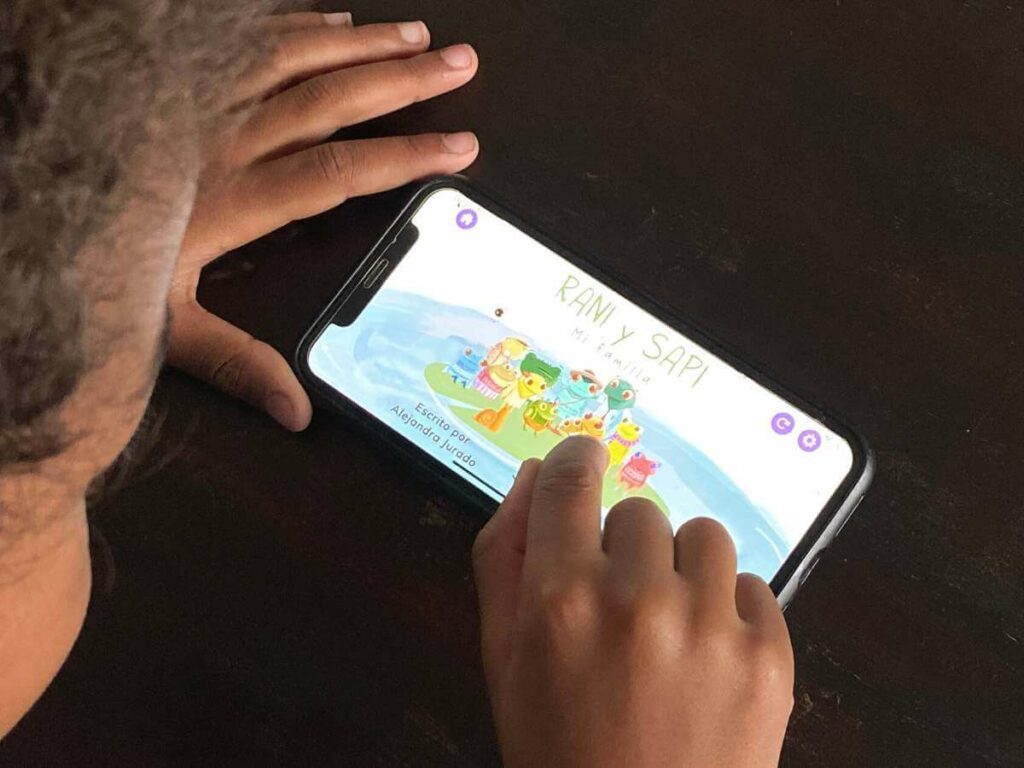 Grounded in interactive stories read by native Spanish speakers, FabuLingua makes it easy for younger children to start learning the language. These pre-readers will spend most of their time doing the first mode on the Learning Path—Magical Translations. They will hear stories read aloud and interact with different elements on each page and learn what those mean in the context of the illustration. Interactions include things like counting paper airplanes.
While parents may need to guide them through the game to get to the stories, kids should pick up the idea fairly quickly and will be able to play independently.
An annual subscription with six profiles costs $69.99.
Try out FabuLingua with a 1-month free trial with code MYCUP1MONTHFREE.
Llamitas Spanish
Offered by Mamallama Linguist, Llamitas is a homeschool curriculum for learning Spanish designed for preschool, kindergarten, and elementary-aged students. Rooted in Hispanic literature, art, and music and organized around thematic course books, Llamitas comes with bilingual instructions so both native speakers and beginners will be able to teach the program.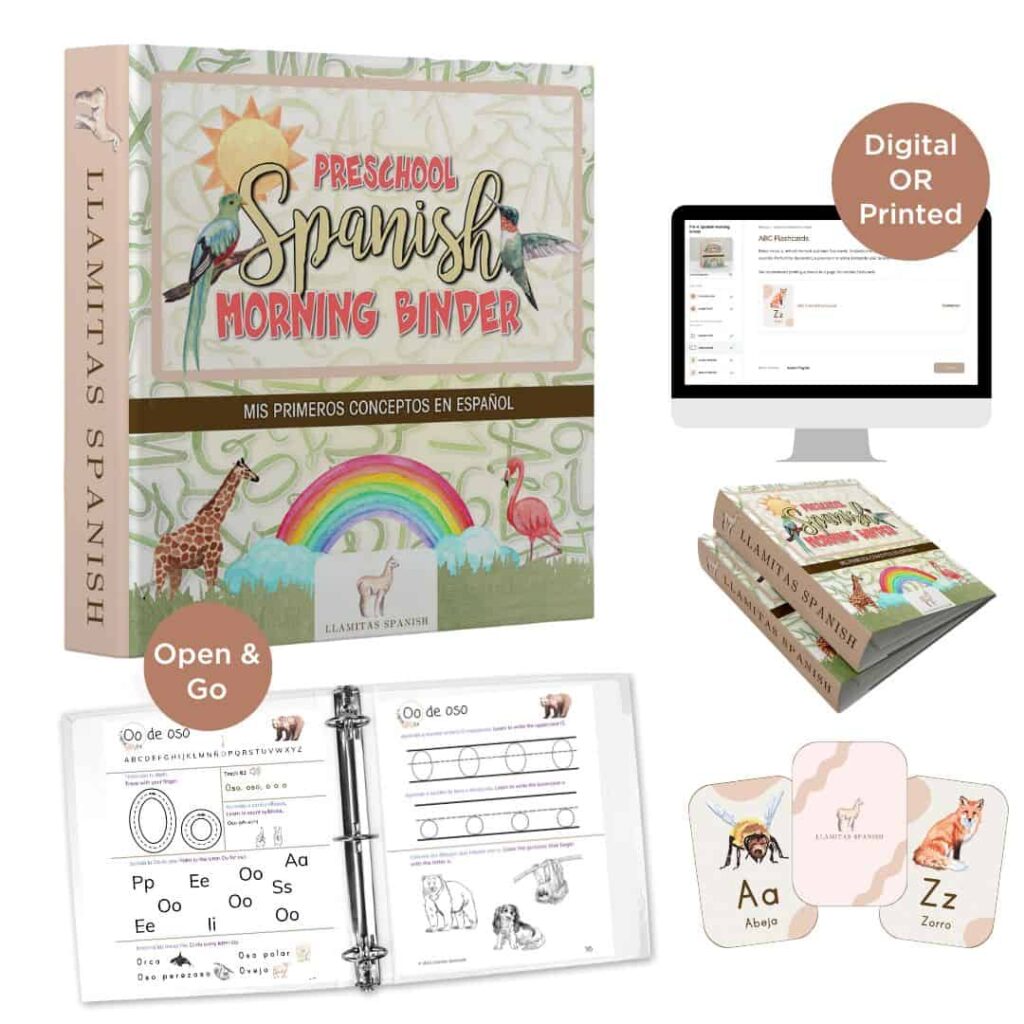 This curriculum is hands-on and requires a high level of parental involvement.
Llamitas Spanish Preschool Morning Binder is a great option for families who prefer an offline Spanish language resource. You can purchase the bundle for $47-$97, depending on the option you choose.
Flip Flop Spanish
Flip Flop Spanish products are designed for the whole family, so you can use the same resources with your preschoolers as you do for older children (assuming everyone is starting with the same level of Spanish experience). You would just modify your activities and expectations based on the ages you're teaching.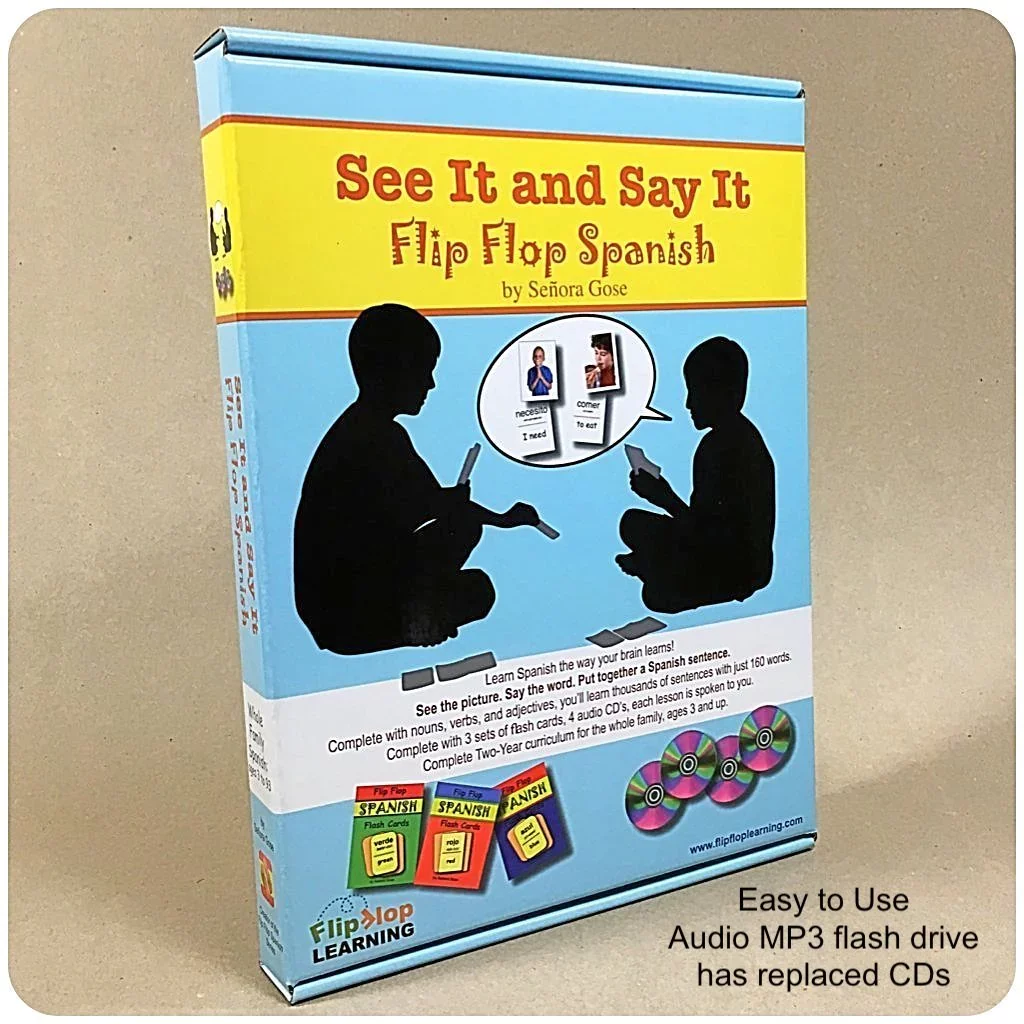 They offer several independent resources in addition to two levels of See It and Say It Spanish. These resources include flash cards, a student workbook, and various games.
See It and Say It Spanish is a two-year curriculum based on Charlotte Mason methodology. The program is designed for the non-Spanish speaking homeschool parent who wants to learn alongside their children.
It uses picture cards, games, charades, skits, and audio MP3 tracks to teach conversational Spanish. It's primarily an offline program with very little prep time. Although it was not created by a native Spanish speaker, the founder has been teaching Spanish for the past 21 years.
The two-year Level 1 curriculum starts at $49.97.
Con Mi Familia
Con mi Familia is a play-based Spanish immersion course and curriculum designed for children ages 2-7. It builds a strong foundation using thematic, nature-inspired lessons. No Spanish experience is necessary to use this curriculum successfully.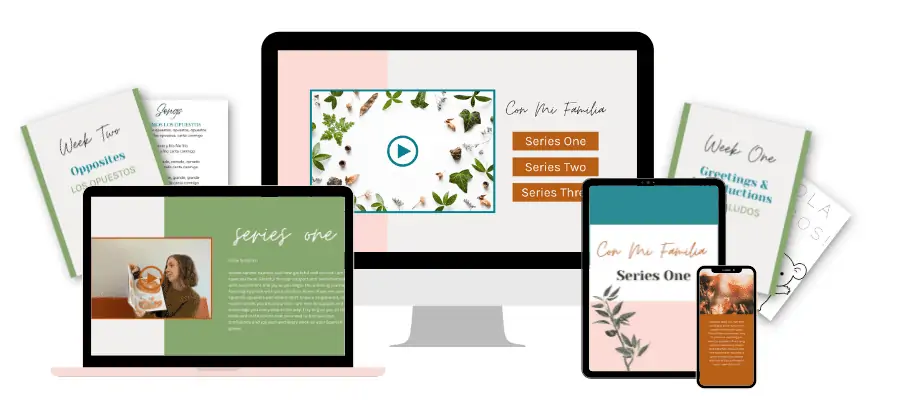 One of the main draws of the Con mi Familia program is that screen usage is optional. So if you are looking for an online Spanish curriculum that also has a substantial offline component, this could be a great option for you.
While parents may want to preview the instructional videos to better understand the grammar and pronunciation, kids will primarily learn through hands-on activities such as arts and crafts, sensory play, and movement games. Audiobook recordings also make for a fun family activity.
Con mi Familia consists of three series, each priced at $59.
The Best Homeschool Spanish Curriculums for Kindergarten Students
FabuLingua
As students progress in FabuLingua from the Magical Translations mode, they'll begin playing games. These include a matching game, where images from the story are matched with their Spanish names, and CopyCat, where they imitate a narrator reading a story in small chunks and hear their recording played back side-by-side with the narrator.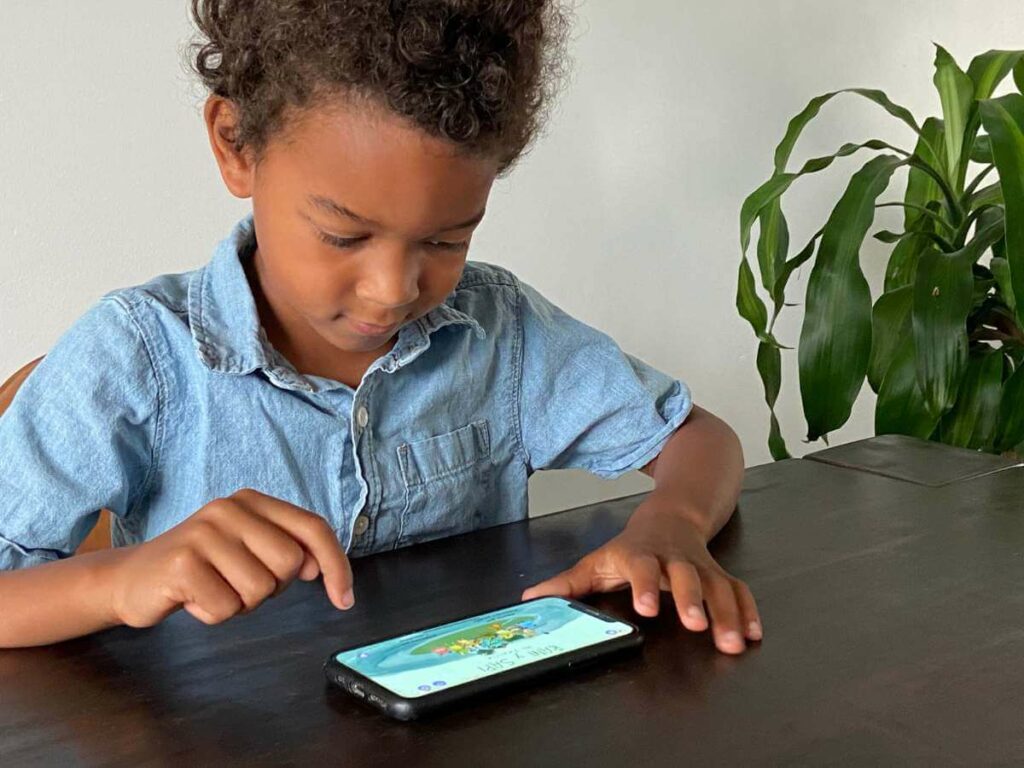 They'll also play the Scrambled Syllables game where they assemble words by putting the syllables in the correct order. It helps establish a foundation for pronunciation and starts the process of visual discrimination that is fundamental to reading.
An annual subscription with six profiles costs $69.99.
Try out FabuLingua with a 1-month free trial with code MYCUP1MONTHFREE.
Charlotte Mason Simple Languages
The Year 1 Bundle from Charlotte Mason Simple Languages offers a gentle introduction to homeschool Spanish lessons that would be perfect for kindergarten students. Parents who prefer a physical curriculum to a screen-based one will appreciate the printables included in this digital download.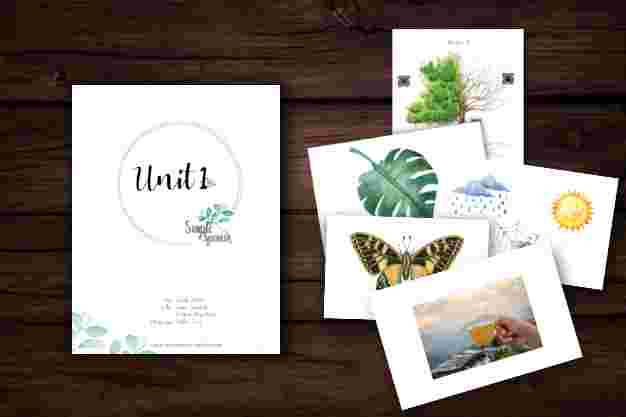 Rooted in the Charlotte Mason principles of language learning mentioned above, the Spanish Year 1 Bundle includes word lists, teacher notes, a song ard, a poem card, a Bible verse and a psalm in Spanish, a poster with translations, and links to native speaker audio. Through this program, younger students will study three picture books and six poems. Other interactive activities include treasure hunts, recipes, and songs.
This curriculum is designed to last one year and costs $50.
Calico Spanish
Calico Spanish is an online homeschool Spanish curriculum best suited for kids ages 4-10. Readers and pre-readers alike will benefit from the interactive video stories offered. The program is multi-leveled, so it can grow with your child.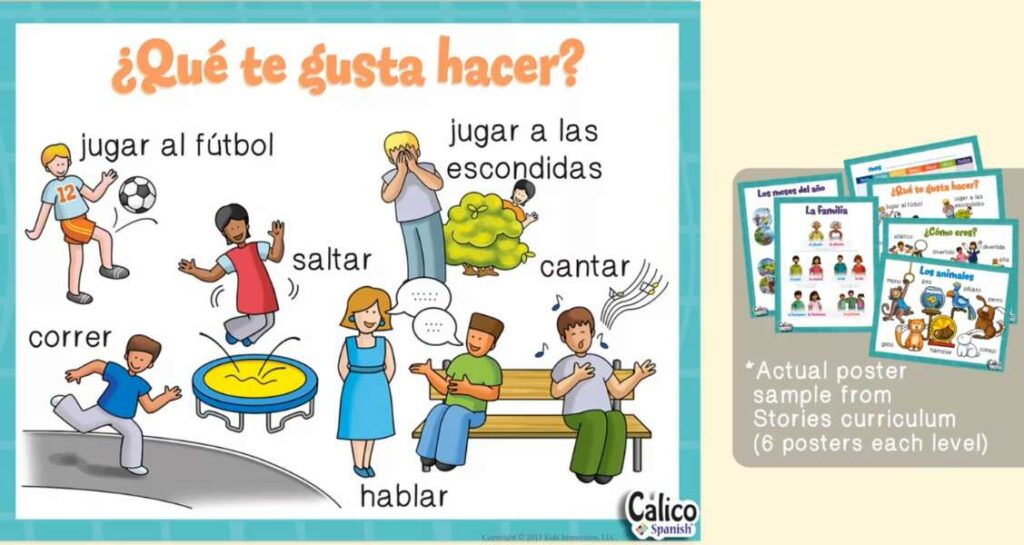 Each of the four Calico Spanish levels features eight lessons and is designed to last for one year with two to three lessons per week. Using videos, flash cards, music videos, games, activity sheets, and posters, kids are exposed to a wide range of Spanish vocabulary. Reading and writing are not incorporated until later, in keeping with best language learning practices.
Some of the activities require prep time, but the step-by-step lesson plans mean that your Spanish lessons are mostly open-and-go. Kindergarten students will learn how to ask and answer basic questions about names and ages and say things about themselves such as what they like. They will also learn about the days of the week, two colors, and counting to three.
Annual homeschool pricing costs $99/year for one family or $19 per month.
The Best Homeschool Spanish Curriculums for Elementary Students
FabuLingua
At the elementary level, FabuLingua users begin listening to stories in Spanish only. The games and activities at this level are designed for students who are starting to read more fluidly. New stories are unlocked as children progress through the various levels and the stories get more challenging.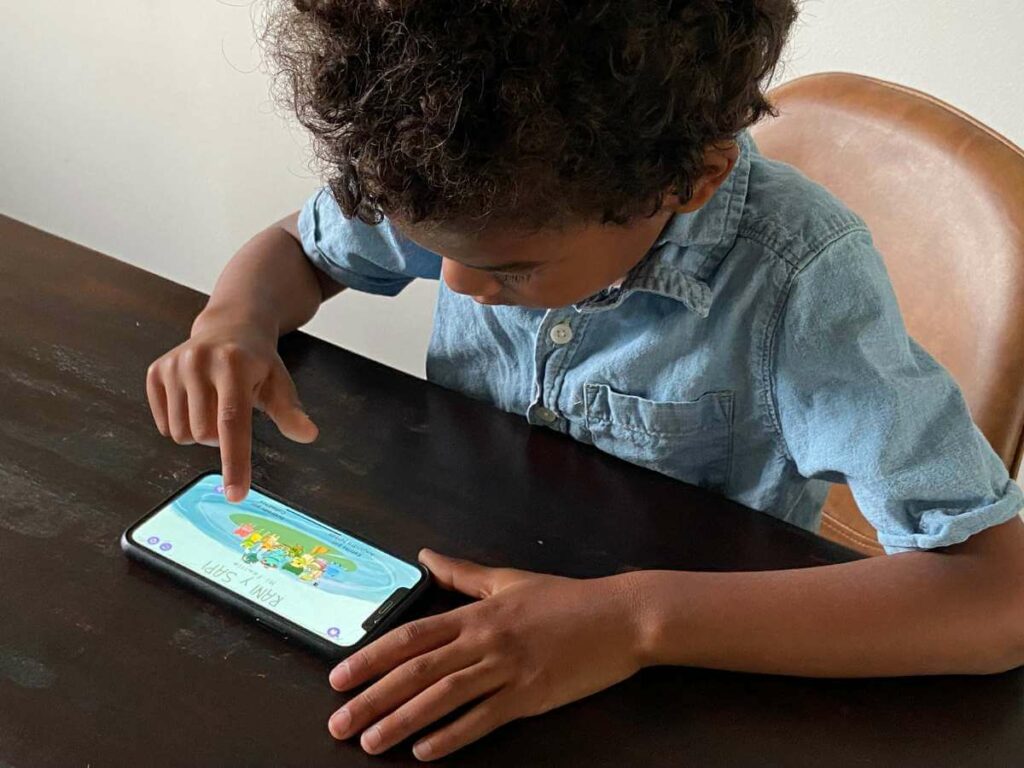 Learning is gamified through the use of keys. Kids earn keys by reading stories. The keys can be used to buy treasure chests full of cards for a Card Battler and stickers for a Magic Sticker Book. Students will start learning grammatical concepts and refining their pronunciation.
An annual subscription with six profiles costs $69.99.
Try out FabuLingua with a 1-month free trial with code MYCUP1MONTHFREE.
Homeschool Spanish Academy
Homeschool Spanish Academy is different from most of these other programs in that students are able to work one-on-one with a native Spanish-speaking teacher in real-time via Skype. In each 25 or 50-minute lesson, kids review key concepts, gain new skills, apply what they've learned, and receive direct feedback.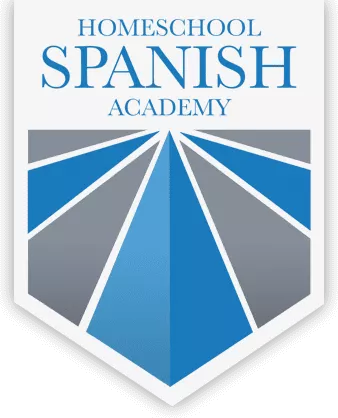 Outside of their lessons, they download and submit assignments online. Their homework is graded and discussed in the following class. Students move at their own pace and have 100 percent of the instructor's attention. Paired lessons are also available if you have two students who would like to learn together.
Specially designed for homeschooled students, Homeschool Spanish Academy prepares kids to study foreign languages as high school students. The program also offers lots of flexibility. You can choose any available instructor and select the day and time that works best for your family. You can also reschedule or cancel as needed.
Pricing starts at $7.65 per 25-minute class for private lessons at $11.65 for semi-private lessons.
TalkBox.Mom
TalkBox.Mom is not your typical Spanish language homeschool curriculum. Instead of teaching lessons, you learn Spanish as a family, incorporating common words and phrases into your everyday life. This is a fun and stressless way to learn Spanish as there are no formal lesson plans or classes.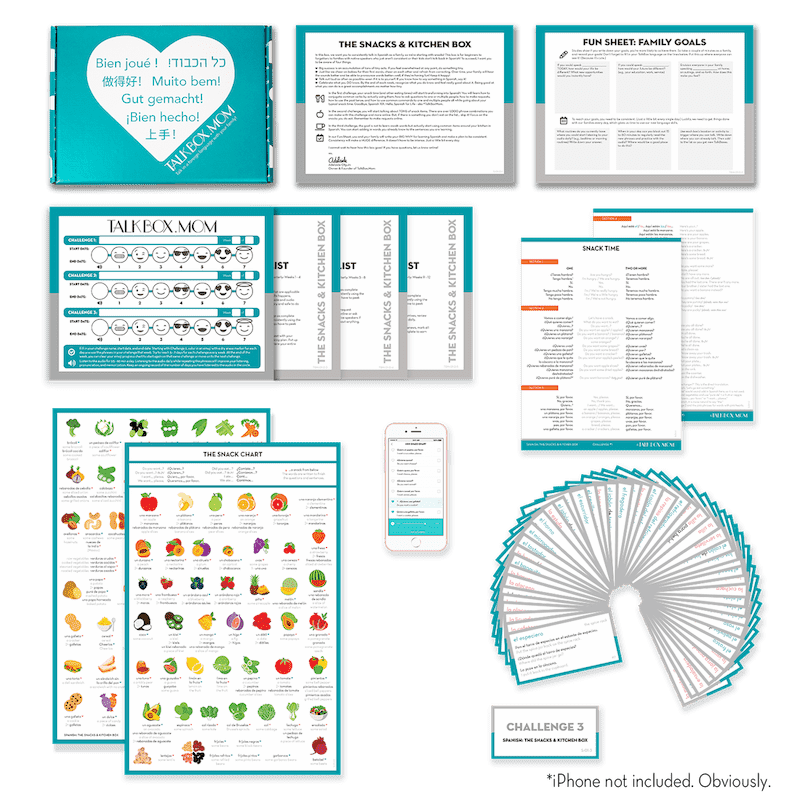 Here's how it works. The program is made up of a few different resources: the Use Spanish at Home phrasebook, the Use Spanish at Home app, and TalkBox.mom boxes. The app can't be used alone as it's a necessary support for both the phrasebook and the boxes.
With the phrasebook, you choose phrases you say all the time, such as "Buckle your seat belt." You then practice saying the phrases along with the native speaker audio in the companion app and try to incorporate the Spanish version of the phrase into your daily life. The phrases you heart in the app get added to your We Want to Learn list in the app. Once the phrase has been mastered, you move it to the Phrases We've Learned list.
There are nine TalkBox.mom themed Spanish learning boxes available. Themes include Snacks and Kitchen; Actions, Rooms, and Games; and Drinks and Dining. The boxes three different challenges. The layouts change in each box.
The first box includes:
A language guide poster that you post in a visible place in your home. Your family will spend 5-20 minutes a day practicing those specific phrases in Spanish with native-speaker audio files and naturally use the phrases as life happens.
A snack chart with full sentences so you can easily substitute your new Spanish phrases for English ones.
Phrase cards you place around the house to help remind you of the related phrases you're trying to learn.
The TalkBox.mom phrasebook is $35 as a standalone product. The boxes range from $82 to $90 per month depending on the number of boxes in your subscription.
---
Choosing a homeschool Spanish curriculum that works for your family may take some trial and error. The one that piques your interest the most may not be the one that resonates with your kids and vice versa. Take the time to explore all these options and choose one or two as a starting point for your family. Whichever one you pick, we know you'll have lots of fun learning a new language together.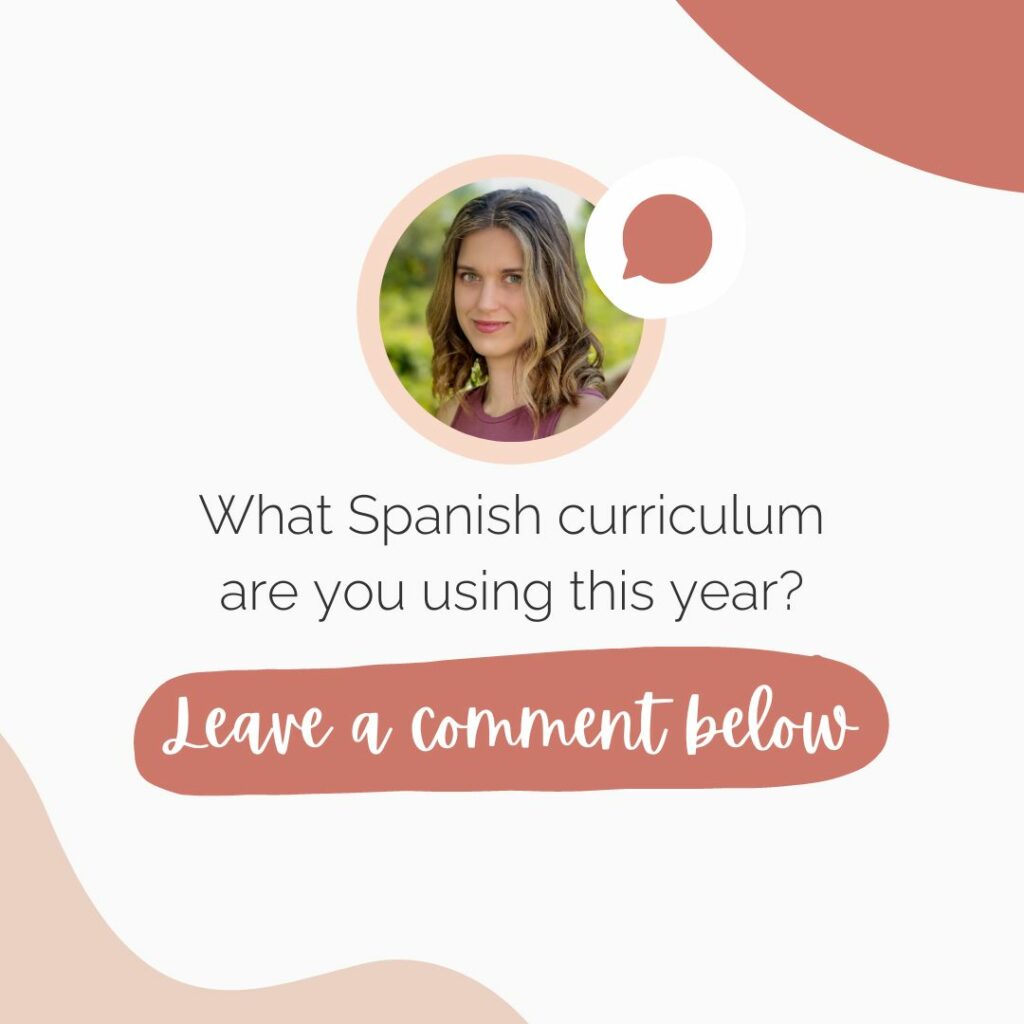 Sophie Agbonkhese is a writer, homeschooling mother of four, and a recovering overachiever (who occasionally relapses). She is the founder of My Cup Runs Over, a site dedicated to helping busy women simplify and enrich their lives. When she's not writing or debugging websites, Sophie spends her time reading, dancing, bullet journaling, reading, gardening, listening to audiobooks, and striving fruitlessly to have a clean house for at least five minutes.