Last updated on December 28th, 2019
Disclosure: This post may contain affiliate links, which means we may receive a commission if you click a link and purchase something that we have recommended. While clicking these links won't cost you any extra money, they will help us keep this site up and running! Please read our disclaimer for more details. Thank you for your support! 
There's something magical about fall…the air's a little cooler, but still warm enough for us to enjoy being outside. The trees put on their fiery display before covering the ground with endless piles of leaves to play in (or, ahem, laboriously shovel into bags). There are all kinds of new beginnings—new schools, new teachers, new types of activities, fresh paper and books. And, of course, fall food is AMAZING. From apple cider, to pumpkin pie, to rich and creamy soups, fall tastes delicious! 
And like summer, it goes too quickly. Before long, we'll be dragging out our snow boots and taking our van in for winter tires. But before we get ahead of ourselves, let's make the most of fall. 
I've put together a list of fun activities, treats, and projects that you can do and make with your family this fall. I hope that it helps you spend some quality time together and maybe even sparks some new family traditions.
The list is organized in three parts: things do do, things to eat, and things to make, but there is some crossover as many of the activities pair particularly well with certain foods, and vice versa. 
Enjoy!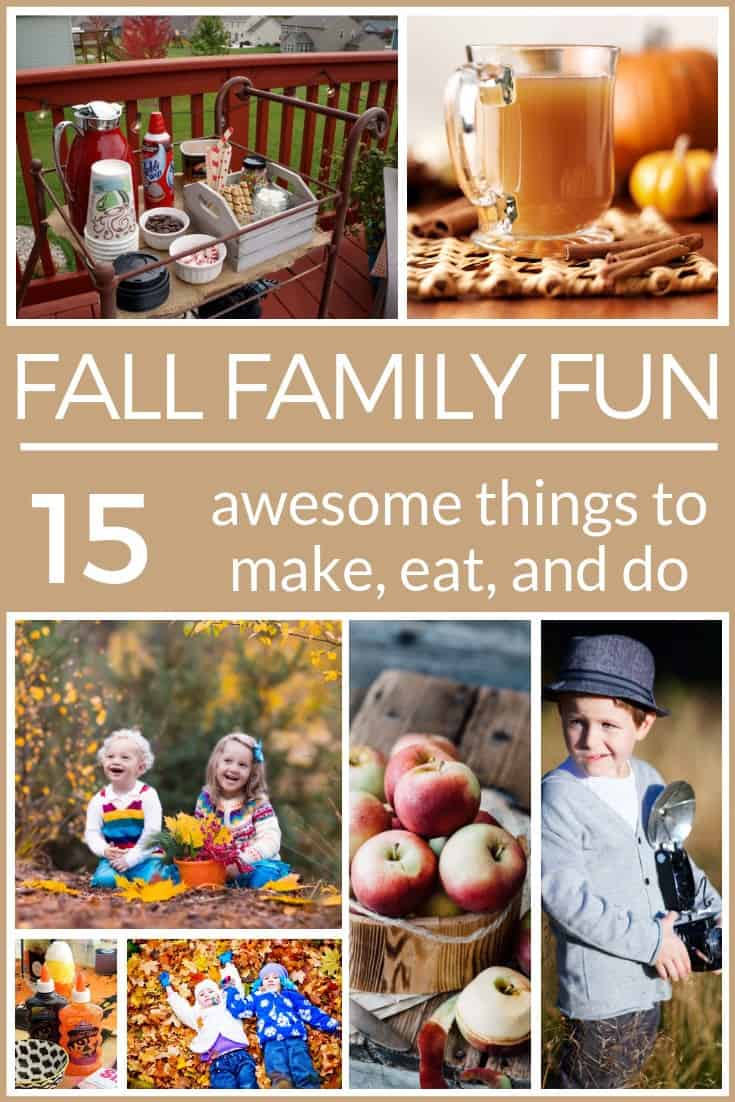 Fun Family Activities for Fall
1. Fall family photo shoot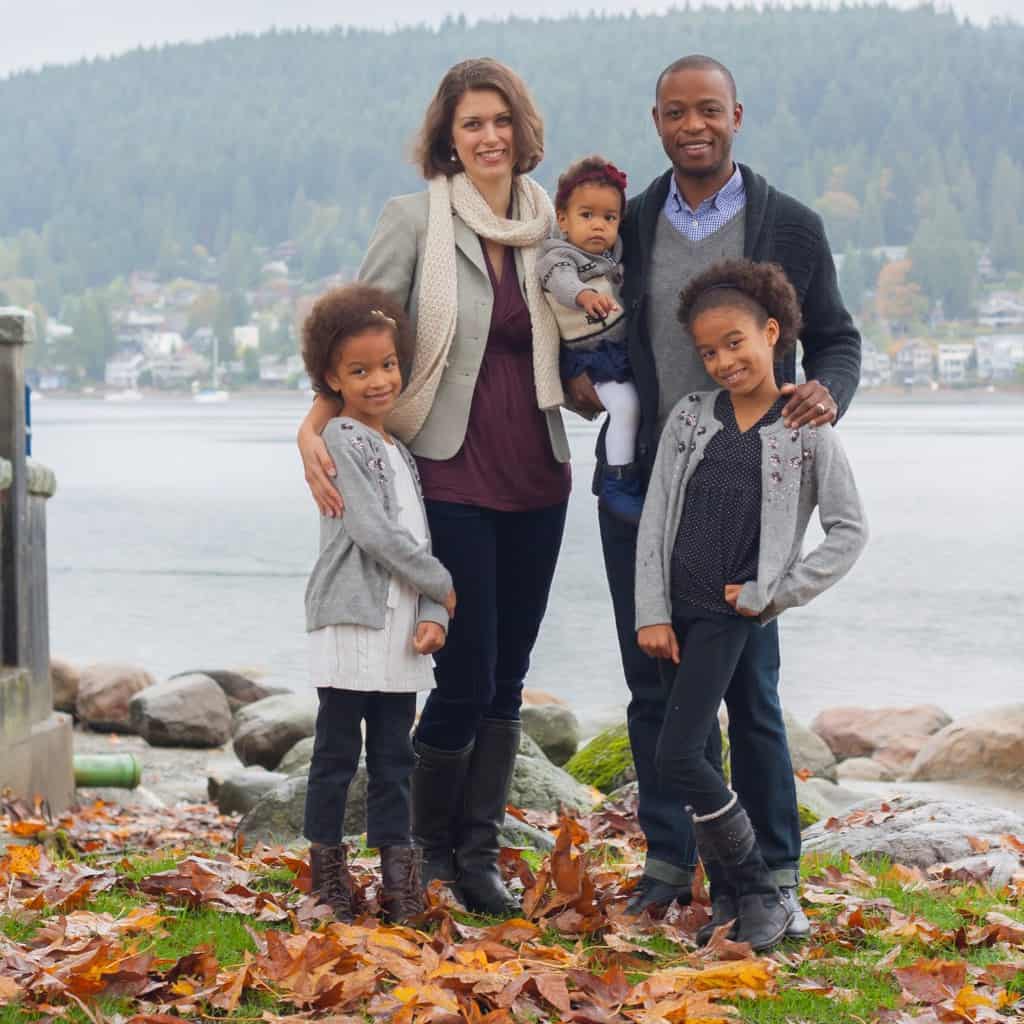 Fall is the perfect time for a family photo shoot. The weather is beautiful, the colours are amazing, and the coordinating clothes are so much fun to plan. Plus, if you're going to do personalized Christmas cards, this is the best time to get your photos ready.
A photo shoot doesn't need to be expensive. You can go with another family and take each other's pictures. You can find a photography student who needs to build up their portfolio. You can even do it yourself if you have a tripod and (optionally) a shutter release remote like this one that is compatible with your camera. (We love this starter tripod and use it all the time with both our camera and our camcorder).    
If you need some inspiration for your DIY photo shoot, check out my Family Photo Shoots Pinterest board. Does the thought of getting in front of the camera make you want to crawl under the covers? Me too! I am always the one holding the camera and saying I don't want to be in pictures, but everyone needs some good family photos to look back on. Time does fly, and when you look back and can't find yourself in any of the photos, you'll wish you hadn't worried about it so much. 
Photo shoots can be restful and fun, they don't have to be stressful. I think the differentiating factor, as with so many things, is preparation. Here are a few resources for making the most of your photoshoot and for feeling more comfortable in front of the camera:
2. Fall Family Beverage Bar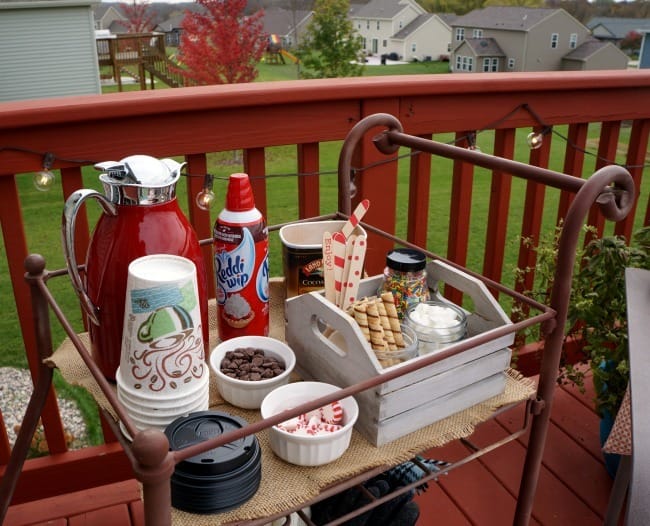 Photo used with permission from Creative Ramblings Blog
I love this idea from Creative Ramblings Blog; it's such a fun and easy family tradition to start. We have been doing a Christmas hot chocolate bar as one of our Advent calendar activities for about five years now, but I'd never thought to do one in the fall as well. As the Pumpkin Spice Latte trend continues to make clear, it's apparently never too early to start savouring the comfort of warm fall drinks. (Okay, the jury's still out on the whole PSL thing…I bought my first one today—Sept 19—but it was iced. Does that count?)
Pairing the beverage bar—fully stocked with all kinds of sweet goodies that our kids normally only dream about—with a nature walk is a brilliant idea. Not only will it make the walk feel more special for the kids, it will give them a chance to burn off the sugar while also assuaging my guilt. A win-win! 
3. Apple Picking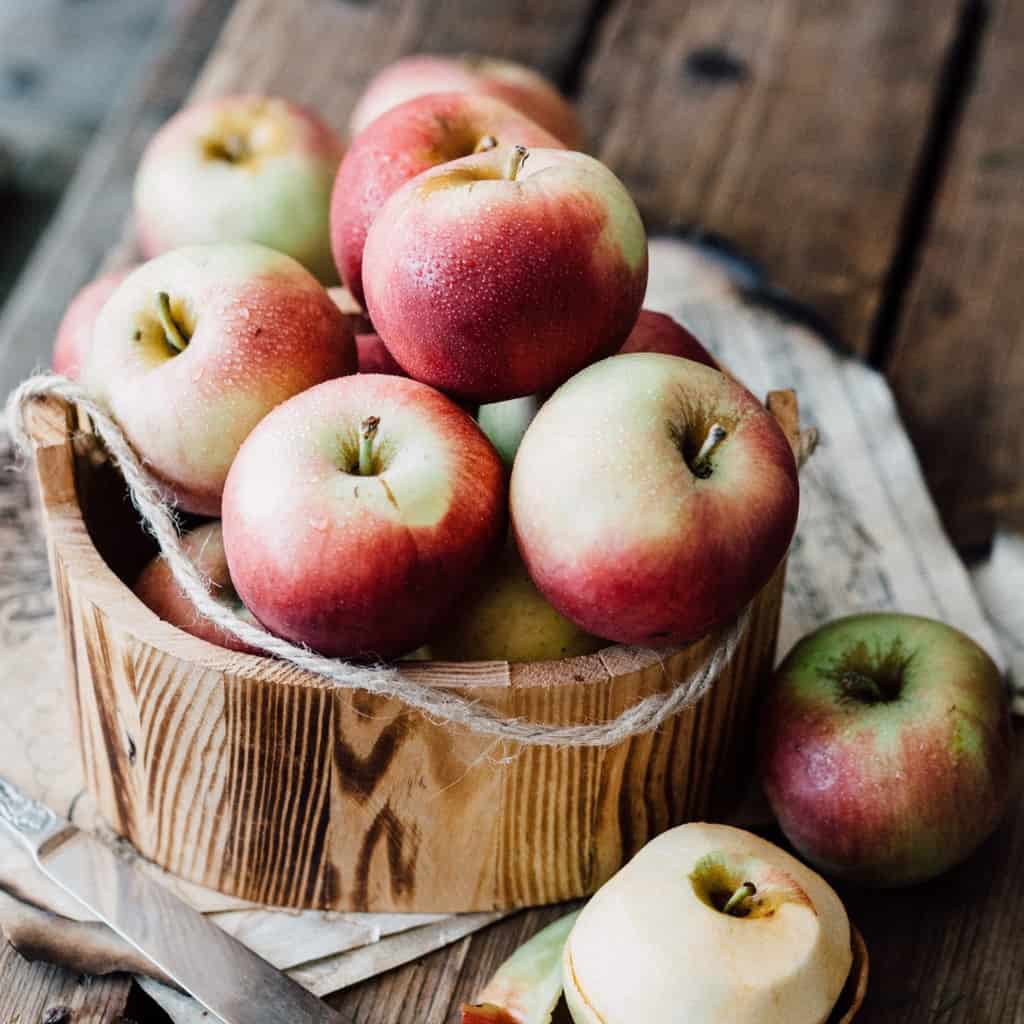 To be honest, I've never tried apple picking before, at least not in an official capacity. I attended university in Nova Scotia's Annapolis Valley, a region famed for its apple crops. In the five years I lived there, I don't think it ever occurred to me to visit one of the 1000+ apple farms. I was content to stock up on the many varieties available at the farmer's markets. 
Here in BC, we also have a large apple industry and I have actually visited an apple farm, but there was just too much other stuff to do there besides picking our own apples. 
We were able to witness apple cider being pressed (and taste it, of course!), go on a hayride, pick pumpkins from a pumpkin patch, and sample several types of apples. We didn't even make it to the corn maze or the petting barn. If you have a farm like this in your area, it would make for the perfect fall field trip or family outing. And if you do decide to actually pick the apples instead of just buying them, here are some tips for making your trip a success. 
Also, if you're looking for something to do with all those apples afterwards, I love this pie recipe paired with this crust. It's not healthy by any means, but I usually cut the sugar in half and still get rave reviews, and the kids LOVE weaving the top crust on the pie. A basic apple crumble with a nutty topping never lasts long in our house, either. My favourite crumble recipe is that in the Rebar cookbook.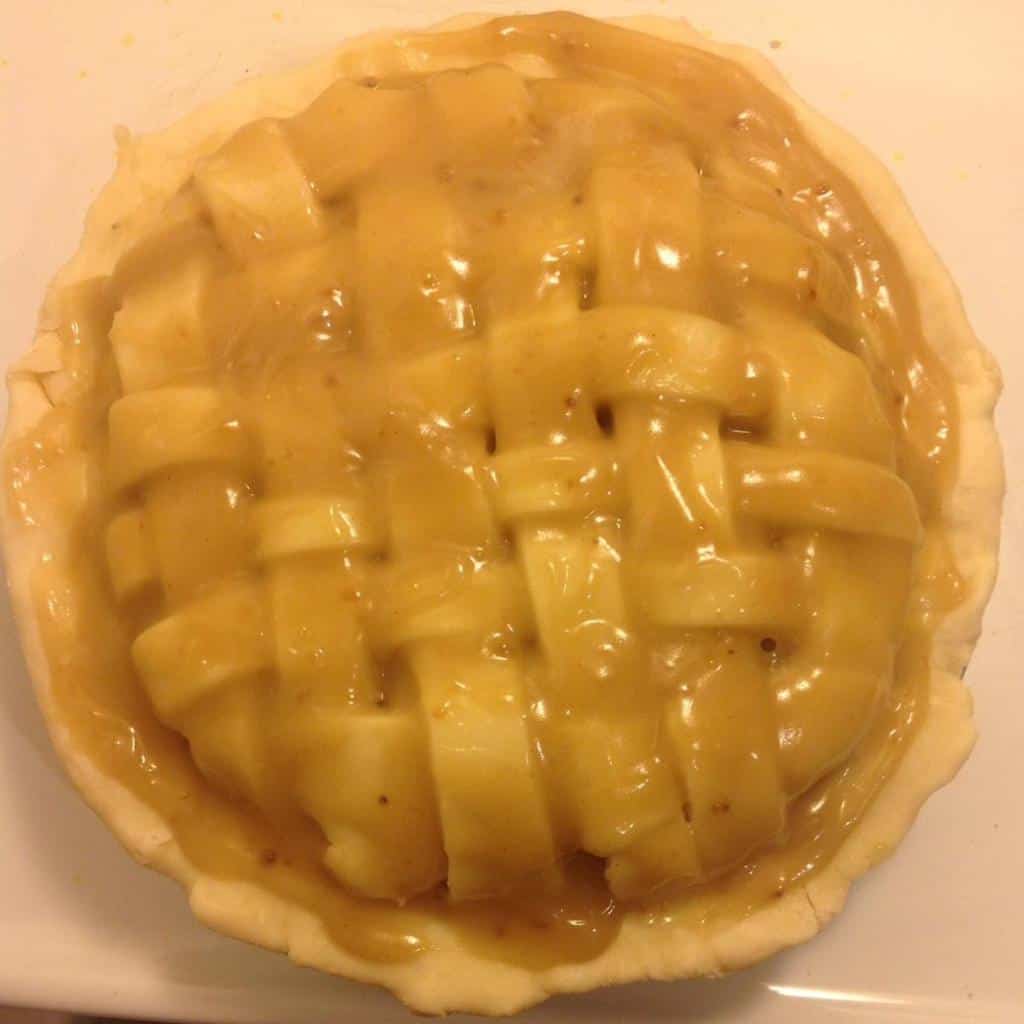 4. Glitter Slime Party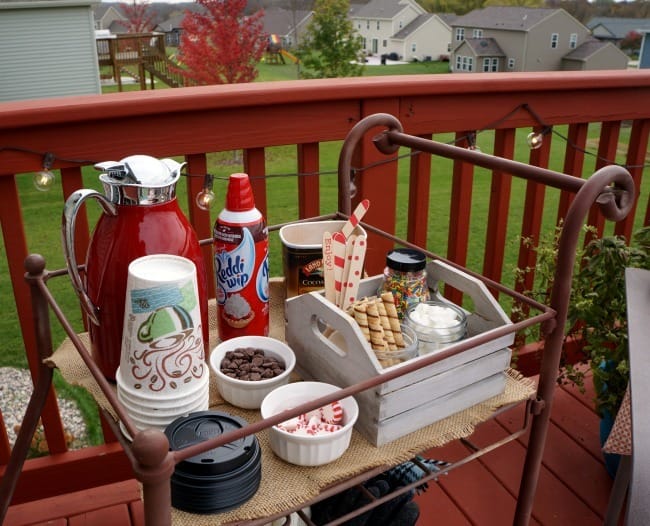 Photo used with permission from JenniferPerkins.com
I know the name of this activity is a little off-putting, but trust me, kids are going to go crazy for this. In my experience, wherever slime is produced, there are happy children. 
In this post, Jennifer Perkins explains how she hosted a glitter slime sleepover for her eight-year-old daughter. They made use of Elmer's glitter slime kit and Natalie Wright's Slime 101 book, both of which sound great. However, if you're looking for something a little more immediate, check out all the great DIY glitter slime recipes on Pinterest. 
I'm definitely going to try this at my daughter's birthday later this month!
5. Fall Scavenger Hunt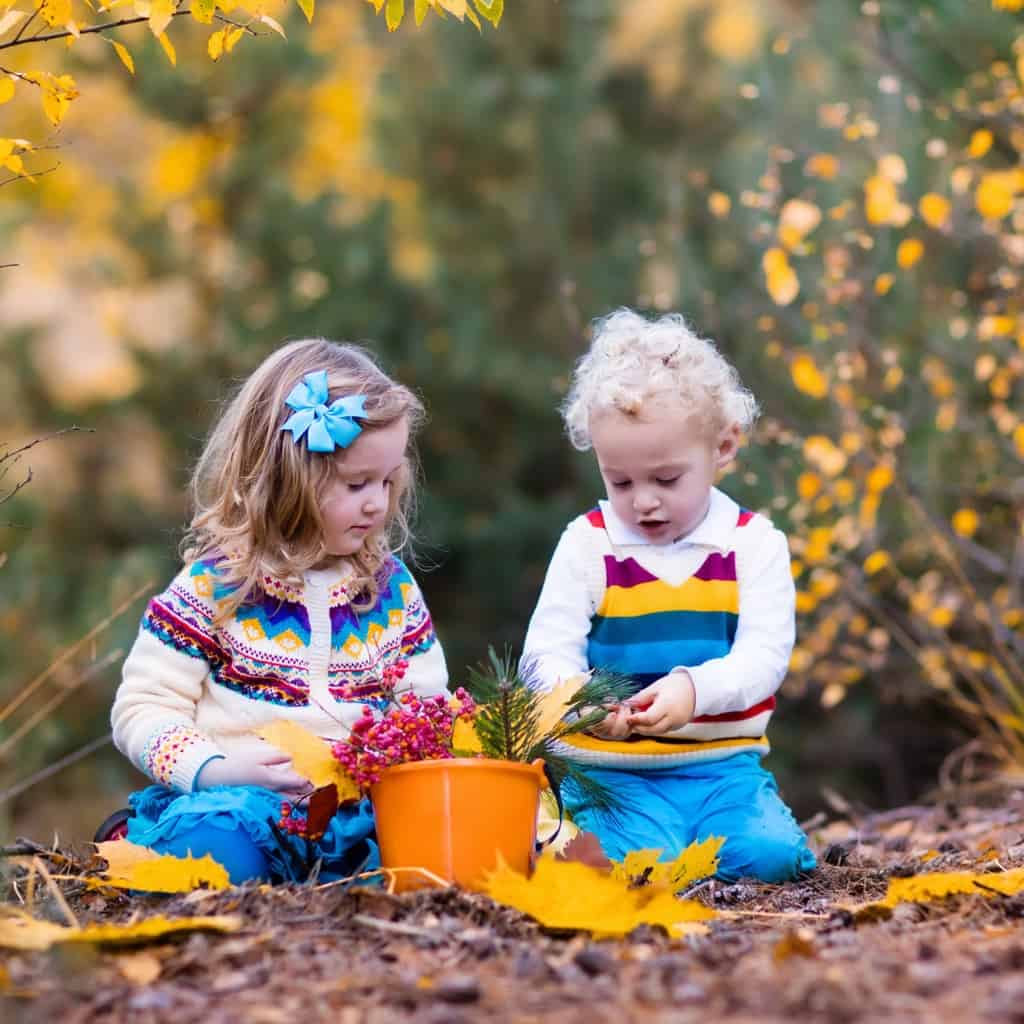 I am not sure why, but there is something about the challenge of looking for particular objects that heightens the experience of a nature walk with kids. This morning, I took my youngest two on a walk to the playground and as soon as we left to return home, my almost-four-year-old started complaining about how tired she was. 
I created an impromptu scavenger hunt—"Find one rock. Find two dandelions. Find three blades of grass."—that magically lasted until we reached our front steps, eliminating further complaints. 
Intentional scavenger hunts are even better. They provide context for time spent outdoors and help kids learn to observe more about their surroundings. There is a fantastic nature centre in our area, situated on a property with several walking trails. The nature centre provides different scavenger hunt lists as well as a variety of activity-filled backpacks that kids can check out during their visit. 
You can create the same experience on your own with free printables such as these. 
Fun Family Treats to Make this Fall
1. Sugar cookies and leaf hunts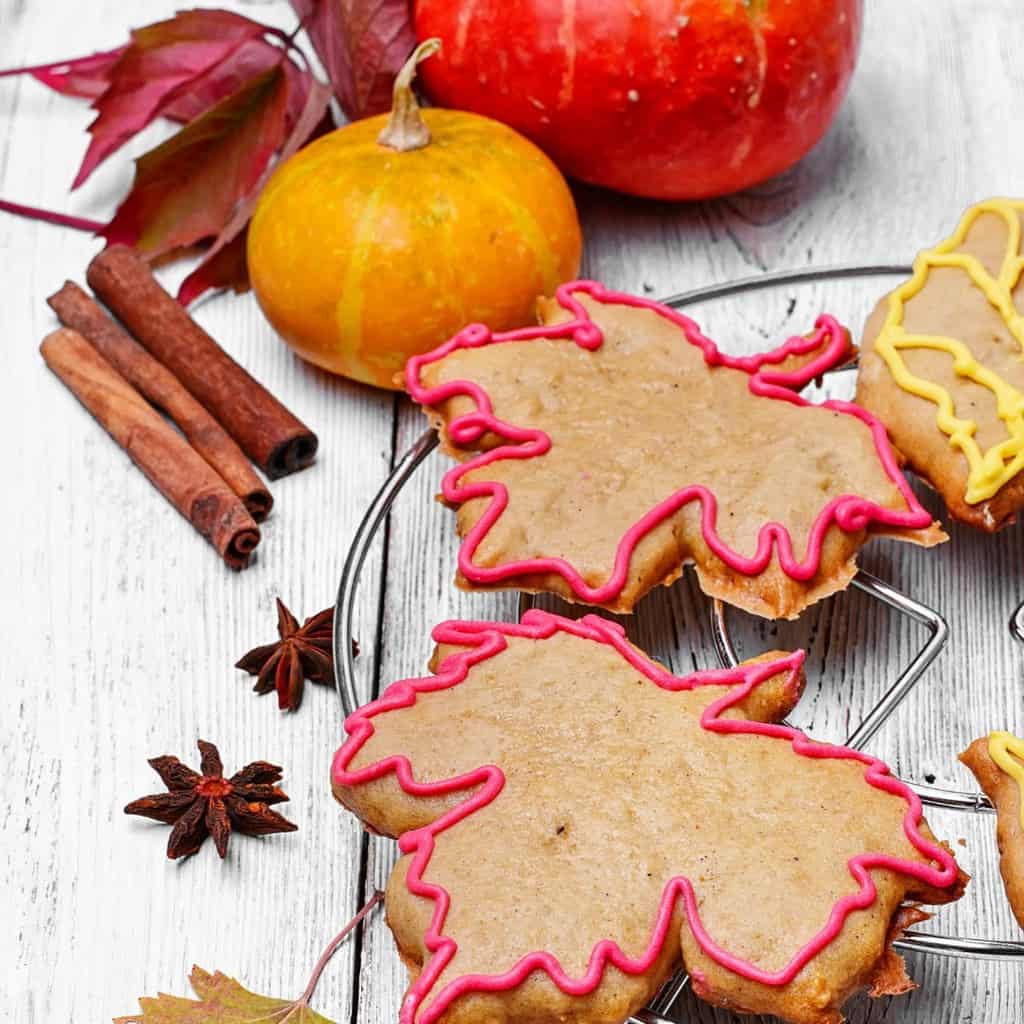 I've found that baking is one of the few things that my kids love to do altogether and can actually get through without fighting. I guess the promise of the end result is enough to keep them content and collaborative throughout the process. 
Rain and Pine has a fantastic post about a fun afternoon of making cookies and hunting for leafy treasures. (Isn't the photography on R&P gorgeous?). In the post, they used store-bought cookie dough, but if you're looking for a healthier version, you could try this recipe.  
If you are in need a set of autumnal cookie cutters, Amazon has a great selection. This set features a variety of different sized cutters, while this one features an adorable squirrel shape. 
2. Healthy Jack-o-Lantern Halloween snack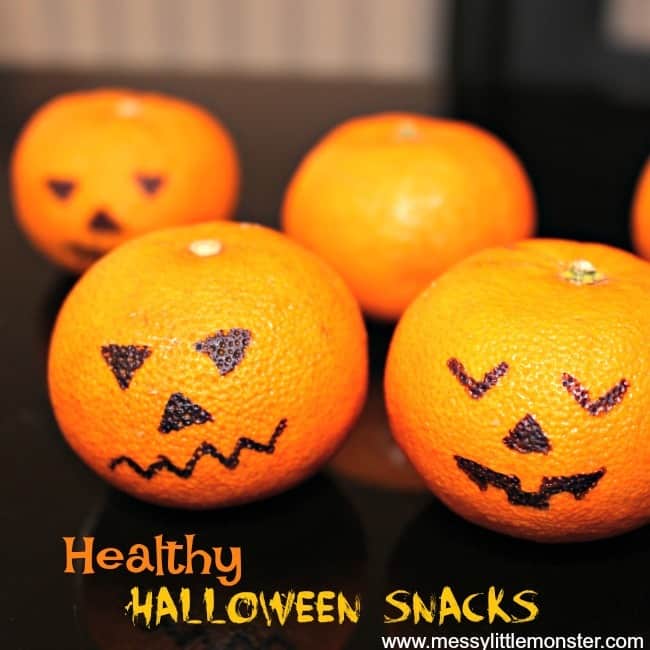 Halloween has always been a tricky holiday for us. We don't celebrate it in a traditional fashion, which was fine when our kids were little and they didn't know what they were missing out on. 
As they've gotten older, we've had to adapt our traditions to make sure that they can still have a fun night in a way that is safe and aligned with our values (and ideally comes with a lot less sugar!). 
For the past several years, we've attended this massive Halloween party organized by a local church. Half of the church is dedicated to the under nine crowd, and the other half is set up for the nine plus kids. There is a plethora of activities for everyone and we've never had a complaint since we started attending. 
Our older girls get some candy, but a lot less than they would if they went door-to-door, and we, as their terribly strict parents, make them throw or give mostly all of it away. 
But how fun are these little Jack-o-Lantern treats designed by Louise at Messy Little Monster? This is a fun, non-messy activity that all the kids can enjoy, with the reward of a delicious and healthy snack after. 
3. Maple Pumpkin Fall Harvest Trail Mix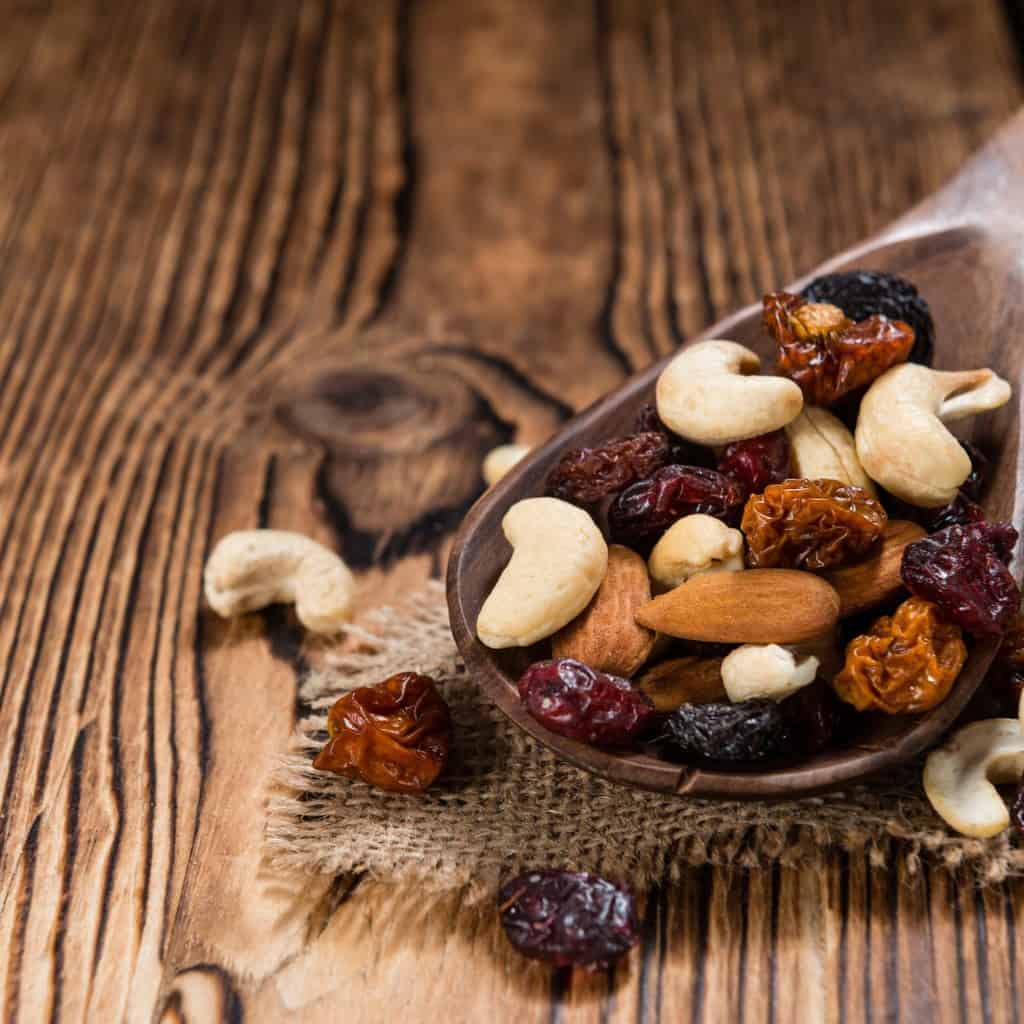 I've probably mentioned this before, (perhaps many times), but my kids eat A LOT. Like constantly. They just seem to always be hungry, most especially right after they've just announced that they're not. Right?
Anyway, I'm always on the lookout for high-energy snacks that will keep them satisfied for longer, and usually those involve some kind of nuts and seeds. This Maple Pumpkin Fall Harvest Trail Mix is the perfect "they'll think it's a treat" kind of snack. Anything with pecans, maple syrup, and pumpkin pie spice is a winner in our house.
4. Owl rice cakes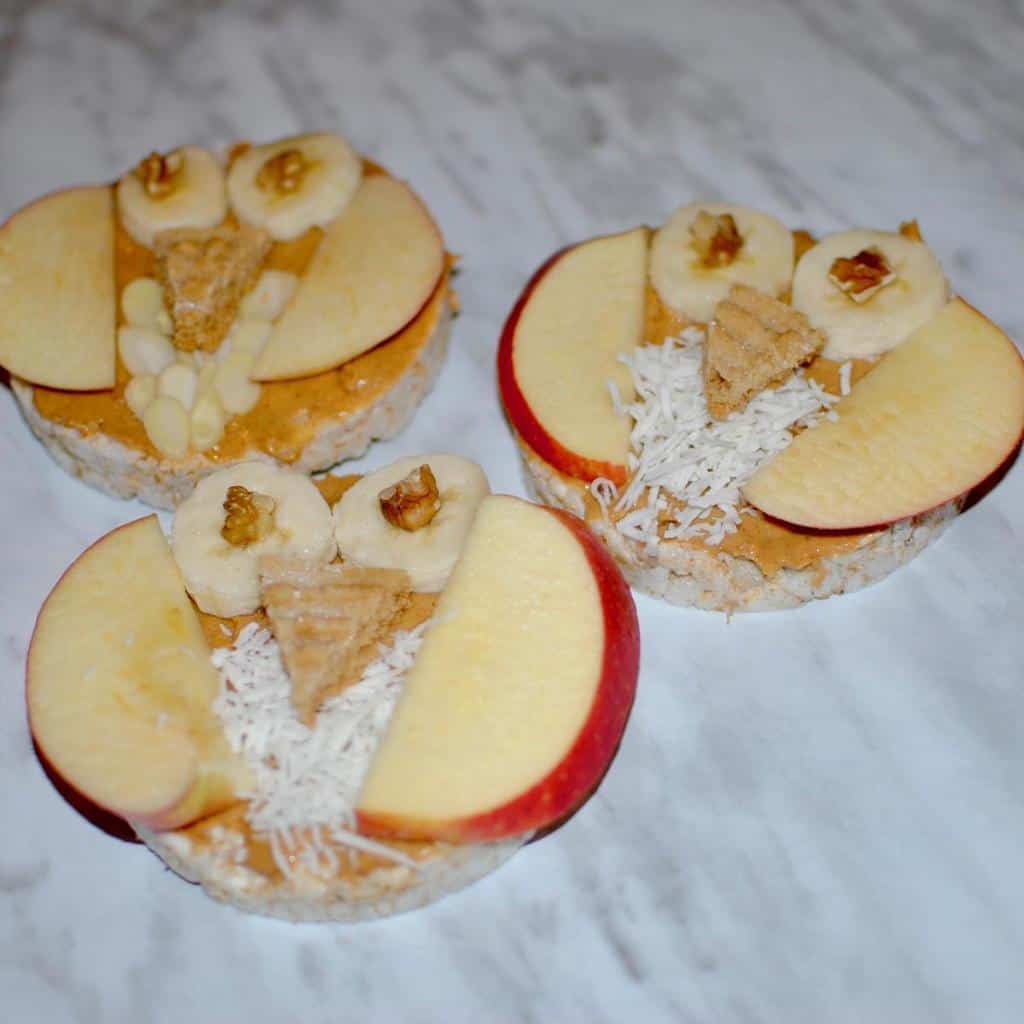 Okay, these owl rice cakes are seriously fun, easy, and adorable. I just made them for my kids this evening and it took maybe three minutes to prep. They were then fawned over by the girls before being swiftly devoured. I'm always looking for recipes with a high enjoyment to prep time ratio—you know, instead of those dishes that take hours to prepare and receive only sneers in response— and these hit the nail on the head.
5. Hot apple cider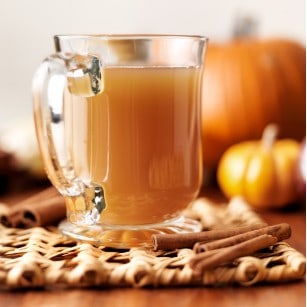 Philosophical question for you: is there such thing as fall without hot apple cider? I certainly hope not. We're not big juice consumers in our house, but when it's hot apple cider season, there's a lot more juice drinking going on. On special days, we'll just have a batch warming in the slow cooker all day, filling the house with its intoxicating aroma and providing much needed comfort after a chilly morning walk. 
If you're looking for a homemade recipe to try, this one sounds perfect. 
Fun Crafts and Projects to Make this Fall
1. Apple birdseed homemade birdfeeders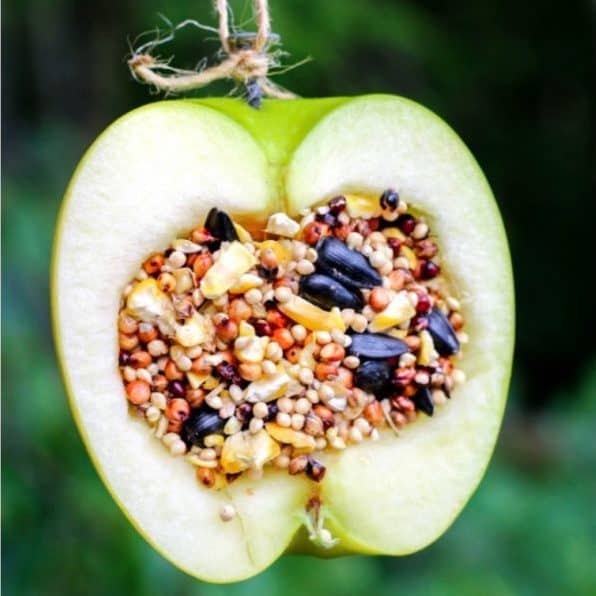 This is the perfect activity to do with kids on a Saturday morning in the fall. These apple birdfeeders require very few supplies and can be whipped up quite quickly…you could be getting some visitors that same afternoon. 
Check out this post from Natural Back Living for step-by-step instructions. I love how she has tied it in with some curriculum options if you want to extend this into a bigger lesson. 
One book that we really loved was The Boy Who Drew Birds: The Story of John James Audobon. This is a perfect tie in for a study of birds. 
If you are in need a set of autumnal cookie cutters, Amazon has a great selection. This set features a variety of different sized cutters, while this one features an adorable squirrel shape. 
2. Succulent-topped pumpkin centerpieces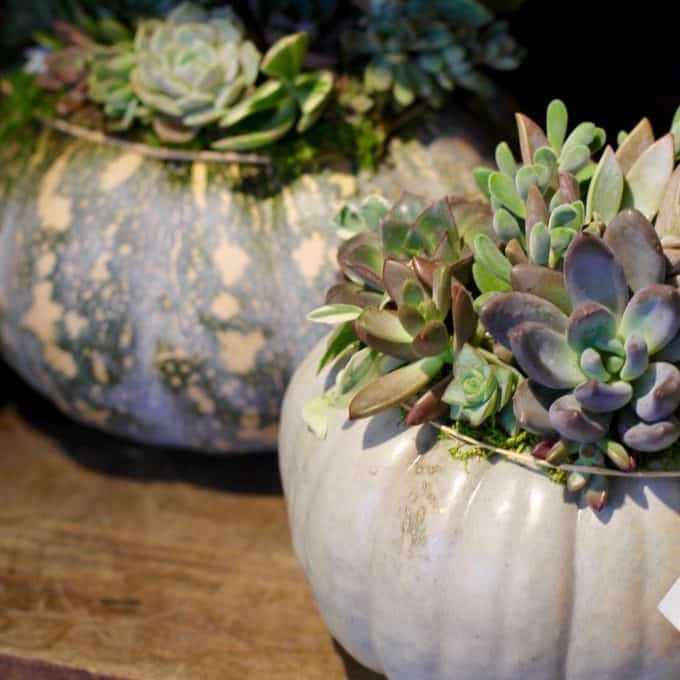 Photo used with permission from Delicious Table
These pumpkin centerpieces are so gorgeous, I can hardly stand it. I just want to fill every surface of my house with them right now. Alas, they may be a little bit more time-consuming than I can manage, but one day, I'm definitely making these. 
I'm not entirely sure how kid-friendly this craft is. I think that older kids could definitely do it with help, perhaps without. If not, this might be one to pull out at a mom's night get together.
See Delicious Table for instructions and photos. 
3. Rustic wooden sign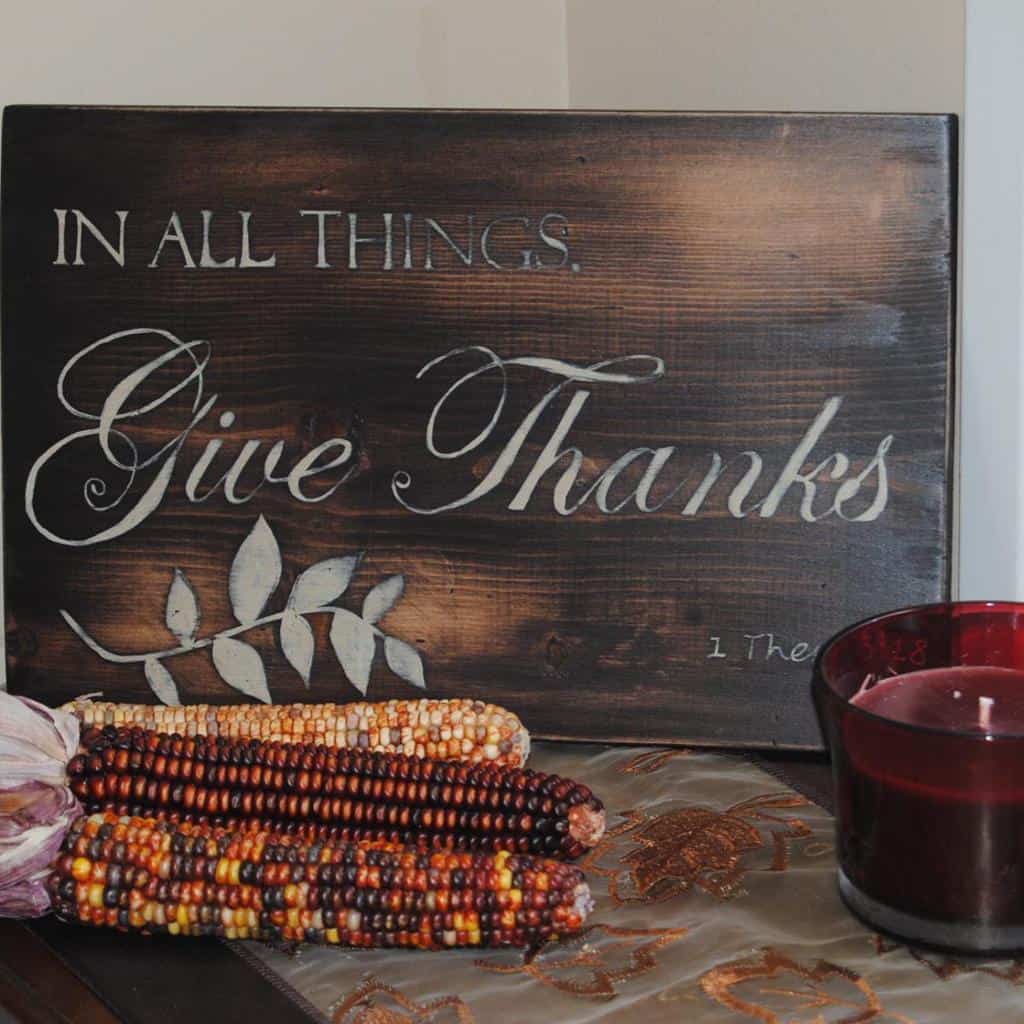 Back when I only had three kids, I used to have time for projects like this. I tried to make about one of these signs a month, which I gave away to anyone who happened to come to my house and comment on them. 
Oh, to have the luxury of that much time again. It's been a while since I made a sign just for the sake of it, and I miss it. This is a relaxing activity that can definitely be done with kids. 
Here is a condensed set of instructions on how to do this. If you need more specific help, send me an email. 
Find a piece of wood as the base for your sign. Any size or shape will work. I've used discarded pieces of hardwood as well as the tops of small tables. 
Sand it all over until it's fairly smooth. 
If desired, stain it with a water-based wood stain or paint it with chalk paint. It's easiest to not choose a very dark colour because you're pencil markings (step 5) will not show up very well on it. Let dry. 
Meanwhile, use your computer to create a template for your sign. Use text boxes to move things around freely. If your sign is bigger than a standard piece of paper, you will have to break the words up onto more than one page. I typically insert a rectangle onto the first page that is proportional to my piece of wood and lay out my design on top of that. Then I scale each set of words proportionately and paste them onto the following pages. It can take a couple of tries to get the hang of doing this, but once you get a system going, it's straightforward. If you want to grab a printable similar to the design I used in the sign above, click here. 
Trace the outline of the words and design onto the wood using carbon paper and a pencil. 
Fill in the writing with acrylic paint and allow to dry. Sand the whole thing again and cover with a finishing wax if desired. 
Affix mounting hardware on the back of your sign if you want to hang it. 
If you are doing this project with kids who are not perfectionists, you can totally make your life easier and just freehand the writing directly onto the wood and have them paint over it. 
4. Pumpkin pie playdough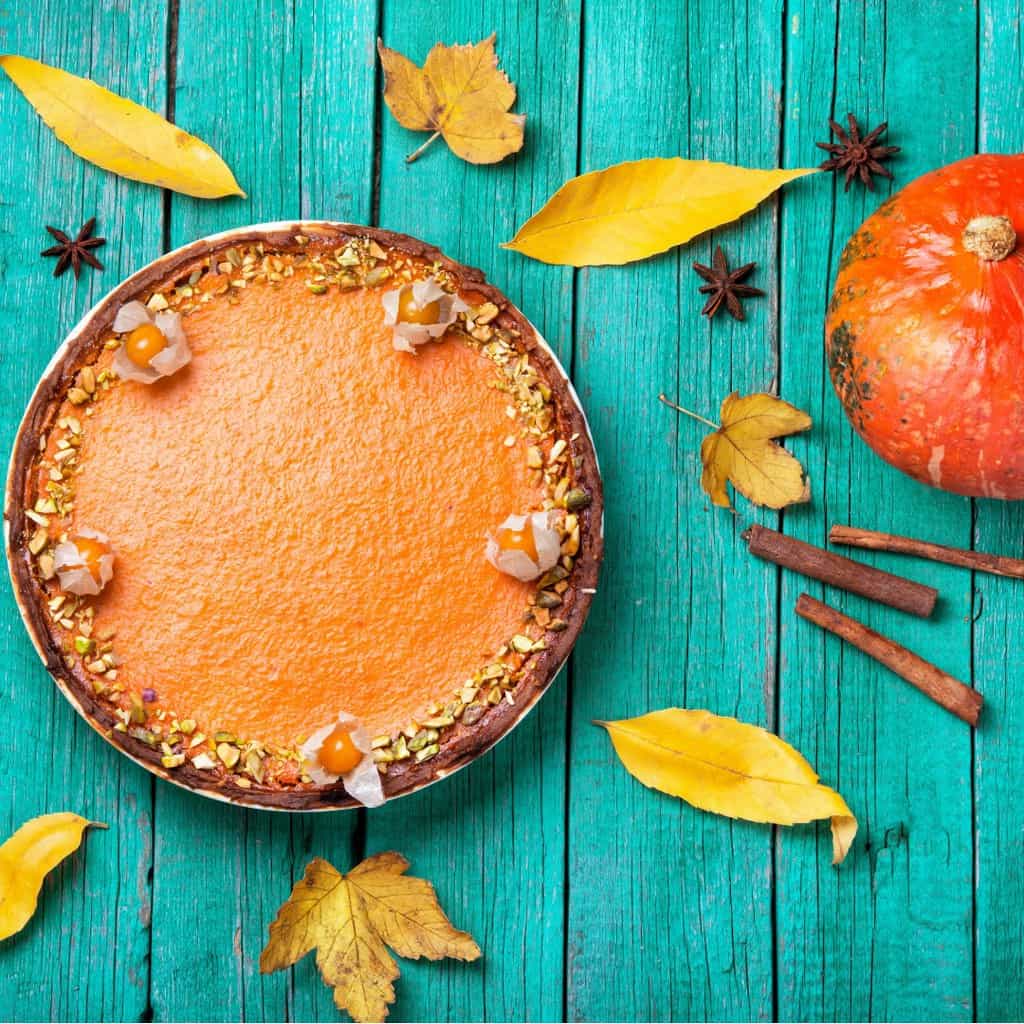 Have you noticed yet how much I'm in love with everything infused with cinnamon and nutmeg? It's kind of an obsession. I remember helping tidy the kitchen after Thanksgiving dinner as a kid and always leaving the pie out until I was done…so that I could surreptitiously finish it when nobody was looking. I never do that anymore, of course…It's not that I wouldn't, it's just that there's never any left these days!
But I digress. Another thing I'm really into right now is making homemade playdough for the little ones to play with while their older siblings to their schoolwork. 
It's the perfect way to keep them busy and entertained without creating a terribly big mess. I just discovered this recipe for pumpkin pie playdough and I think I'm in heaven. I want to make it first thing tomorrow morning, but I'm worried that one of us might end up eating it!
5. Candles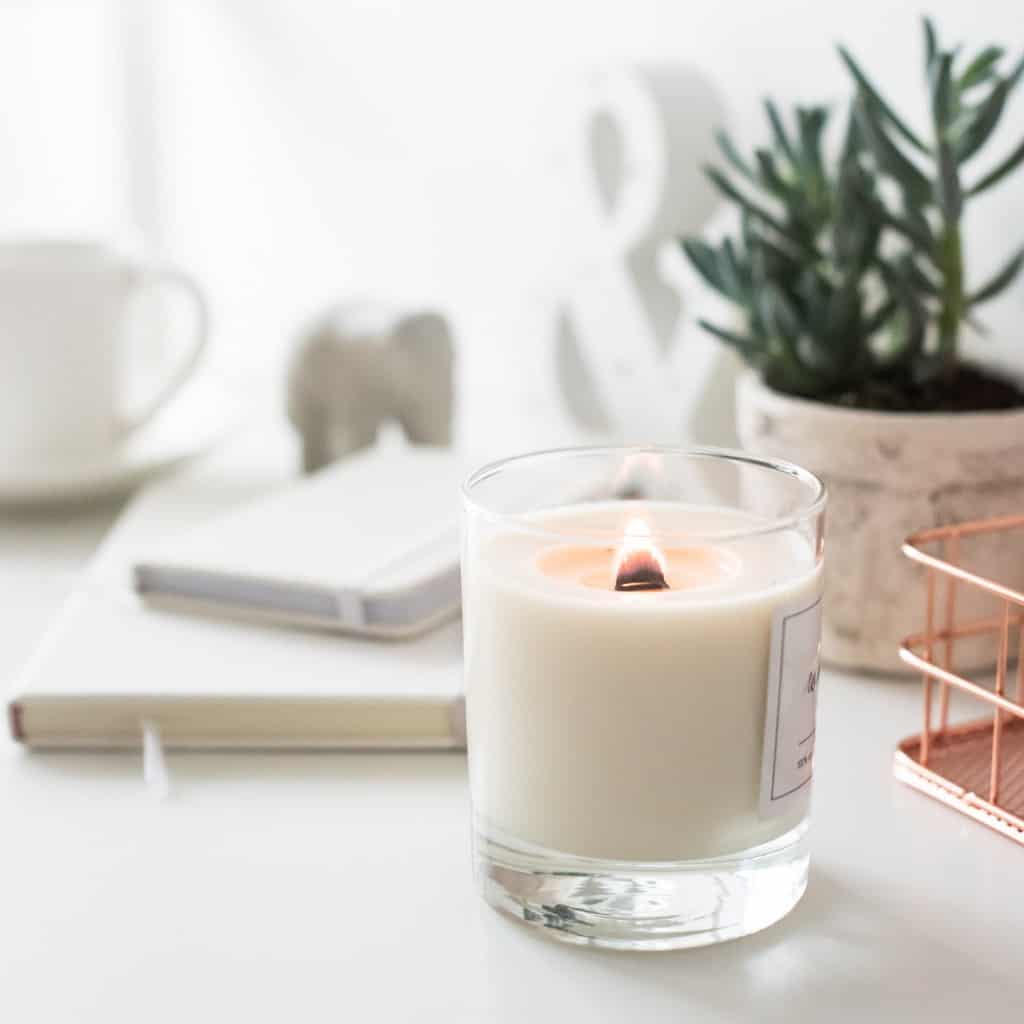 My kids normally participate in a homeschooling Christmas craft fair in late November or early December. It's been a tradition for the last several years for them to make both rolled and poured candles to sell at the fair, and, let's be honest, off the corner of their dad's desk at work. 
Making candles is super fun and simple and they make for wonderful gifts. We usually make about 20-40 sets of rolled beeswax candles (each sheet makes 1 set) and about 10 poured soy wax candles. Here is a nifty printable with instructions for rolling candles. 
We order all of our supplies from a local supplier because they've consistently had the best selection and price for our needs.  In the US, we love Brambleberry for candle and soap-making supplies as well as Candle Science, which is also a great source of information on candle-making. You can also order sets of beeswax sheets on Amazon.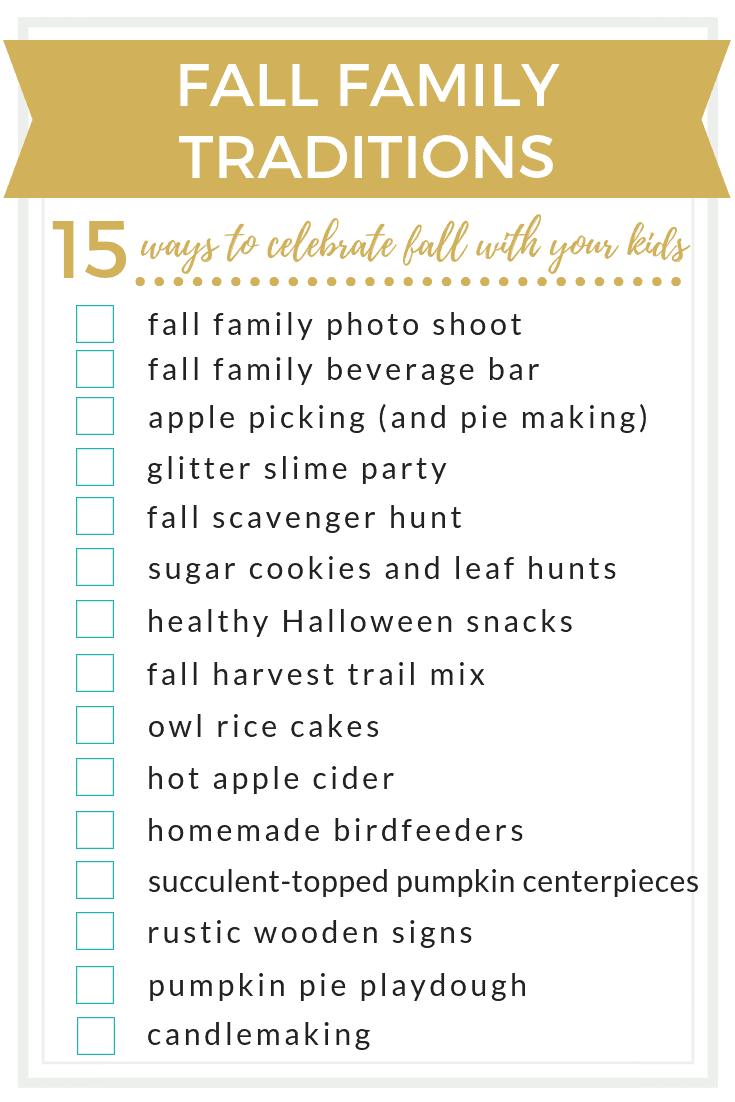 Sophie Agbonkhese is a writer, veteran homeschooling mother of four, and a recovering overachiever (who occasionally relapses). She is the founder of My Cup Runs Over, a site dedicated to helping busy women simplify and enrich their lives, homes, and homeschools. When she's not writing or debugging websites, Sophie spends her time reading with her kids, gardening, listening to audiobooks, and striving fruitlessly to have a clean house for at least five minutes. She lives in southwestern British Columbia with her husband, Ben, and their children.