Night Zookeeper is an award-winning creative writing platform that helps improve the writing skills of 5-12+ year olds. It covers the full language arts curriculum, but can also be used as a supplementary asset. Designed with both homeschoolers and remote learners in mind, this program requires zero additional prep or teaching time from the parent or teacher. Here is my complete Night Zookeeper review, along with a coupon to get 50% off your first annual subscription.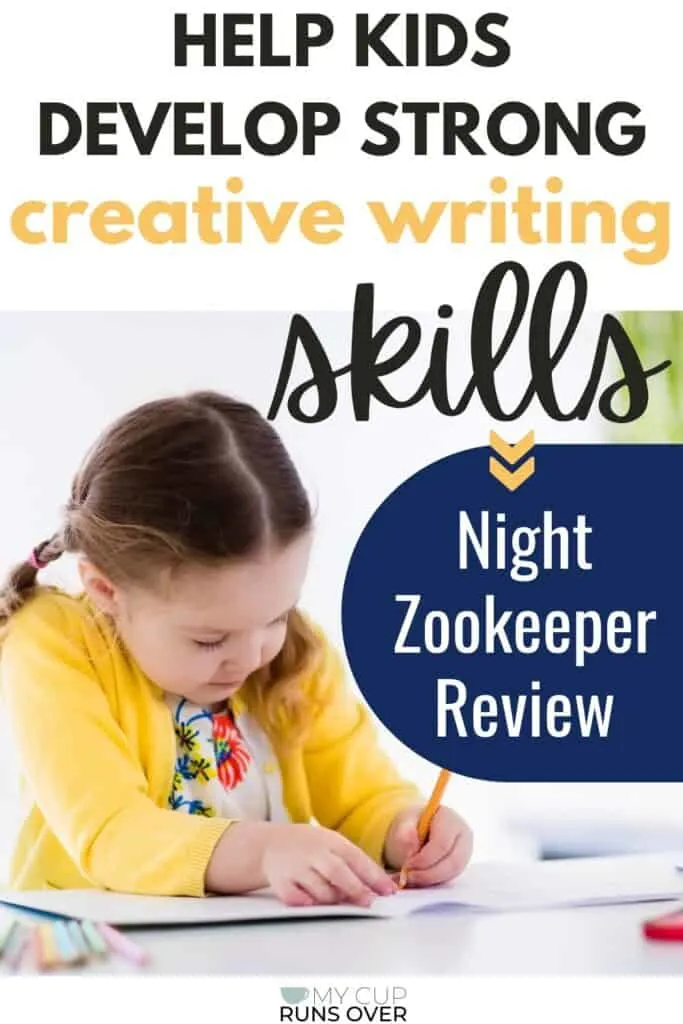 I received free access to Night Zookeeper for review purposes. I was compensated for my time. All opinions are my own and I was not required to post a positive review.
Let's face it: writing curricula isn't always, well, fun. Even for a family of writers like ours, it can be difficult to motivate my kids to hunker down and work through their homeschool writing programs. They put in the work, sure, because they know it will yield results, but I wouldn't say they're necessarily chomping at the bit to get at their writing exercises.
Night Zookeeper aims to change this with their fun, interactive, online writing program for homeschoolers and remote learners. With an impressive online platform featuring thousands of games and activities, as well as personalized feedback from tutors and other writers around the world, Night Zookeeper is a program kids actually feel excited about.
Let's take a closer look at the inner workings of the platform.
Getting Started and Navigating the Platform
When you first sign up for an account, each child you register will create a Night Zookeeper avatar. This will be used throughout the site to 'identify' them, as real names and photos are not allowed anywhere on the platform.
Next, they'll go to My Zoo, where they will also create a magical animal. The program prompts them with questions about their animal, and their responses are turned into an animal report.
They can grow their zoo by completing learning challenges and writing lessons. This allows them to create and collect magical animals. As they progress through their writing activities, they'll be able to power up their animals and collect orbs, which can be used to customize their own animals or purchase animals created by other children around the world.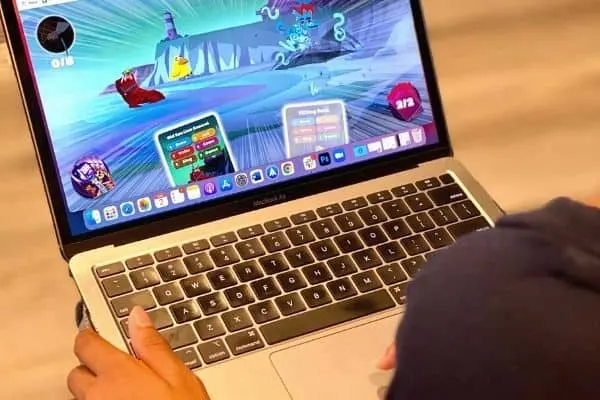 From the main dashboard, students can launch one of the many different activities offered by Night Zookeeper.
While they're not necessary for using the platform. Night Zookeeper also offers a series of books that tell the stories of the Night Zoo and some of the characters kids will encounter throughout the program. This is an excellent supplement that also includes a card game.
Interactive Online Writing Lessons
Within their dashboard, children have access to several interactive lesson series. Each series includes up to 12 lessons that teach writing skills such as learning how to write persuasively, or how to include more adverbs in their writing. When you view all of the series, you'll be able to see at a glance which skills are covered in the lesson.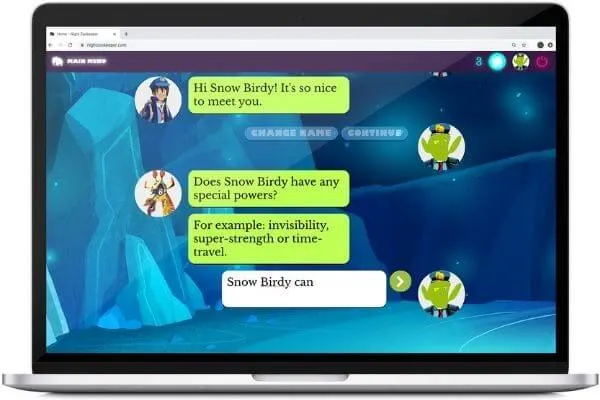 Each lesson uses a theme to introduce writing skills. For example, kids might answer questions about a list of instructions for tracking animals in the snow or practice spelling with a bear in his cave.
This is the foundation of the Night Zookeeper program and all of its activities. Watching these episodes will help kids succeed in the other areas of the platform.
Writing Games and Activities for Kids on Night Zookeeper
Night Zookeeper includes an impressive collection of online writing activities and games for kids. While kids will naturally be drawn toward a few favorite games, it's unlikely that they'll run out of new things to try over the course of a one-year subscription.
Here are just a few examples of some of the writing games kids can play on Night Zookeeper:
Free Write: Kids choose one of ten formats for their freewrite, including newspaper report, poem, playscript, and biography. Night Zookeeper prompts them to include 3 or more particular words, parts of speech, or literary devices in their writing.
Underwater Word Hunt: Kids are challenged to grab floating words that meet a certain criteria, such as 'Collect all the verbs.'
Waterfall Word Jungle: Kids have to grab falling words and put them in order to make a sentence.
Word Wrecker: This is basically like Hangman.
Volcano Word Hop: Kids have to hop across slowly sinking rocks in a pit of lava. On each turn they can choose from two versions of the same word: one correctly spelled and one incorrectly spelled.
Word Pairs: This is like the card game Memory. Kids can choose between matching similar words or opposite words.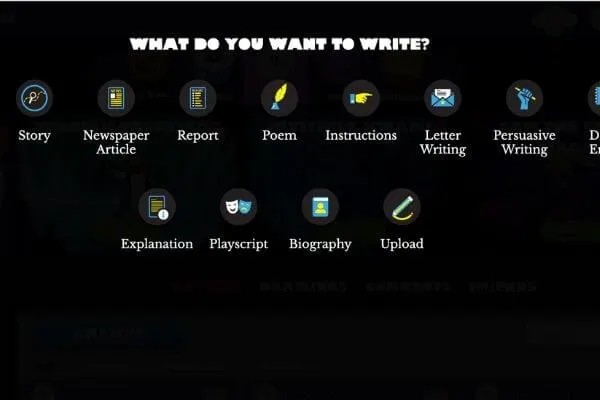 Writing Challenges and Goals
As they work through the various writing activities on the platform they'll be challenged to meet certain objectives in their writing, such as using 3 adjectives, 2 commas, 3 verbs, and a transition word. Some activities will also have a minimum word count, determined by your child's age.
These challenges help develop vocabulary, improve grammar skills, and produce better writing, all while playing games. I find this approach more helpful than traditional grammar and vocab exercises, which my kids often find boring and tedious. Having challenges sprinkled throughout the games makes the learning process seamless: they don't necessarily feel like their minds are being stretched by the activity, but it's happening nonetheless.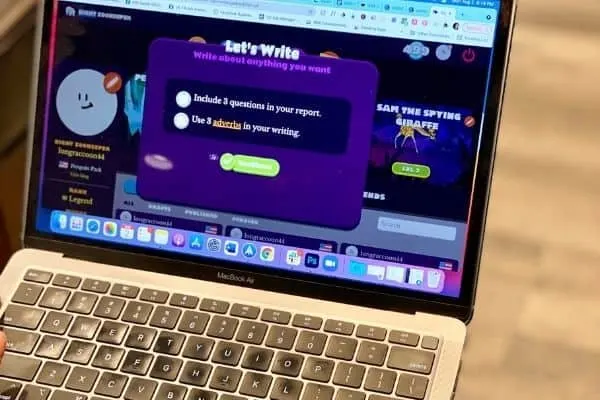 The challenges get progressively harder as they develop new skills and abilities.
When the student submits their writing, they receive instant feedback letting them know whether they've achieved the goals or not.
The nature of the challenges is also based on the age of the student. If it's too easy or hard, you can change the age of the child in the parent dashboard.
All of their writing drafts and finished pieces are saved to their account, which they can access by clicking on their avatar from any page. If they want to publish their piece for other users of the platform to read, it will go through a review process by the Night Zookeeper tutors before going live.
The tutors also provide personalized advice and feedback to help them improve their writing. This feedback also includes positive encouragement, which is essential for young writers who are working hard to build their skills.
To motivate kids to revise their writing, Night Zookeeper also gives them extra rewards for editing their pieces after they've received feedback.
Connecting With Other Young Writers around the World
One of the things my kids love the most about Night Zookeeper is the ability to follow and be followed by other kids who are using the platform. They can share their work publicly and receive comments and feedback from others, and they can comment on the work of those they're following. All comments are reviewed by the team before posting live.
Although I was worried at first about my young children getting into this notion of following and being followed by people, I was won over by two things. First, everything's completely anonymous. Every user has a funny username determined by the platform and their profile picture is an avatar they've drawn, so I don't have to worry about who is following them and who they are following.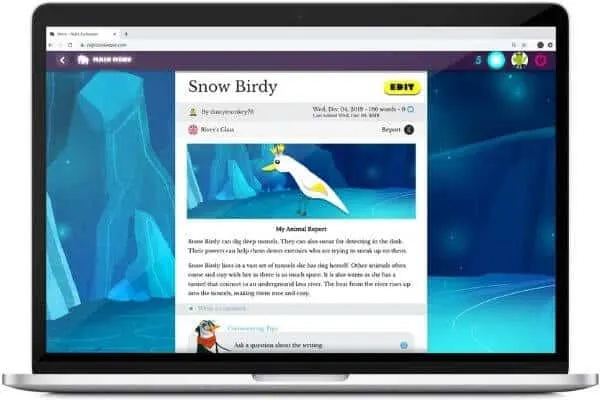 Second, the social interaction provides serious motivation for my kids. They're excited to write and publish work for their friends to read, and they feel a sense of duty to go in and read other people's work and give feedback too. I love that the Night Zookeeper program encourages them to be generous with their time and read other people's work, and also that they feel compelled to leave positive feedback and comments.
These are important skills that are not always easy to teach or incorporate, especially in a homeschooled environment. This interactivity is one advantage an online writing curriculum like Night Zookeeper has over traditional offline writing programs.
Of course, if you're not comfortable having your kids interact online, you can always turn these settings off.
Using Night Zookeeper as Your Primary Writing Program
If you're a linear-minded mama like me, Night Zookeeper could feel a little overwhelming to you at first. You are probably used to a clear-cut list of lessons that will take your child from where they're at right now to where they'll be at the end of the year. You want boxes to check, a roadmap to keep you on track.
I get it. I feel the same way.
While I was initially concerned that using Night Zookeeper as a primary writing program could lead to knowledge gaps if my kids gravitate toward the lessons and activities they enjoy most (which I know they will!), I reached out to the company to get further details on how the program might satisfy my linear brain's needs.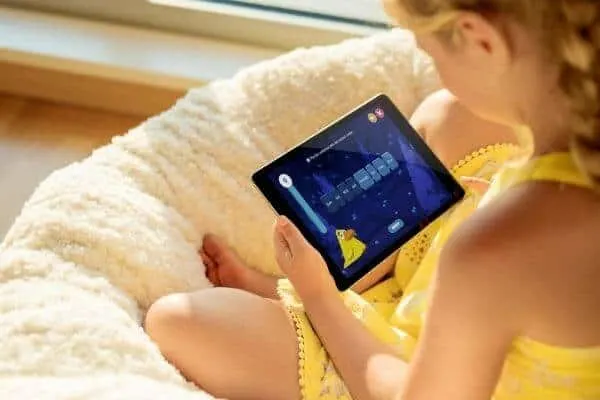 First, the parent's guide has an appendix that includes the specific learning objectives for each age range. As your child moves through the program, Night Zookeeper automatically selects personalized challenges to help them meet those goals. (Remember, you can change your child's 'age' at any time if the challenges seem too easy or difficult.)
Second, I learned that if your child follows the Night Zoo Map, the system will provide an even array of curriculum challenges, lessons, literacy games, and writing prompts. It will guide your child through seamlessly, ensuring they hit on everything they need to learn.
The activities and games on the dashboard provide ample additional practice opportunities.
If I were going to use Night Zookeeper as our primary writing curriculum then, I'd set up our lessons like this:
20 minutes per day working through the activities given by the Night Zoo Map
10 minutes per day working on activities the kids choose themselves, which would include interacting with other users on their collective works
If I could change one thing about the program, I'd wish there was a sidebar that showed the kids' progression through the lessons so I know where we're at, how much has been accomplished, and how much is left to do at any given time. I find that having a constant visual reminder of our progress is so useful.
Overall, though, I love that this program gets kids excited about playing writing games and that it teaches them important skills in a fun and creative way. Whether you use it as your primary writing curriculum or for supplemental practice, I think your kids will benefit from the experience.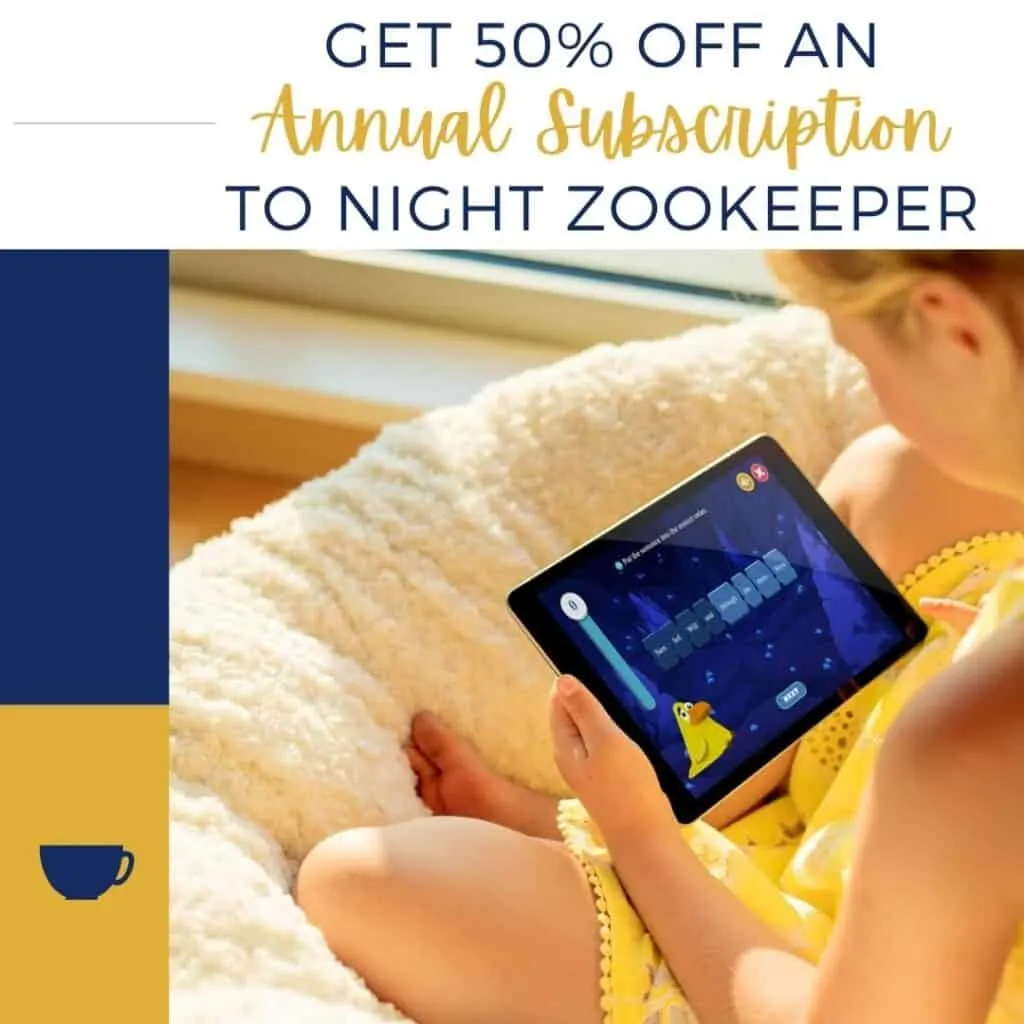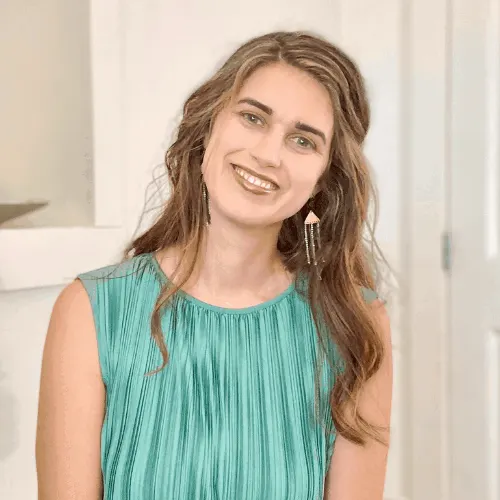 Sophie Agbonkhese is a writer, homeschooling mother of four, and a recovering overachiever (who occasionally relapses). She is the founder of My Cup Runs Over, a site dedicated to helping busy women simplify and enrich their lives. When she's not writing or debugging websites, Sophie spends her time reading, dancing, bullet journaling, reading, gardening, listening to audiobooks, and striving fruitlessly to have a clean house for at least five minutes.