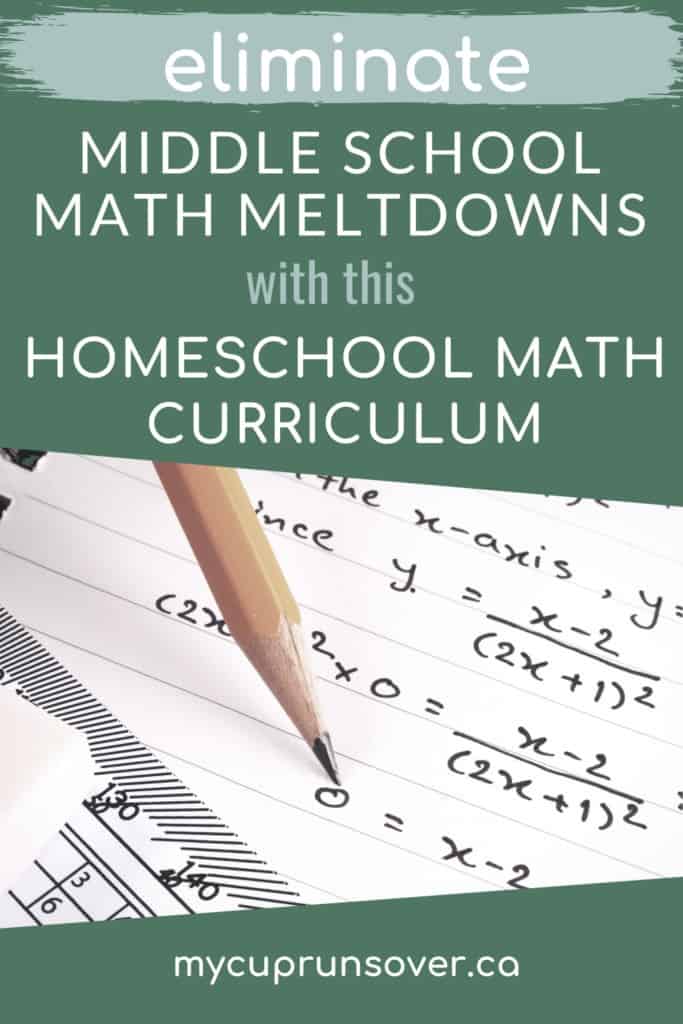 I received free access to a Mr. D. Math Algebra 1 course for review purposes and I was compensated for my time. All opinions are my own and I am not required to post a positive review.
Our Search for a Homeschool Math Curriculum
Math can be one of the most frustrating subjects for homeschool families. Whether you, as the parent, love it or hate it, your kids have their own opinions about it that may not mesh well with yours.
Add to that your different learning and teaching styles and finding the best math curriculum for your homeschool can feel like trying to decipher the Rosetta Stone.
After fighting this battle for several years, we found an online math curriculum for middle and high school that the whole family loves.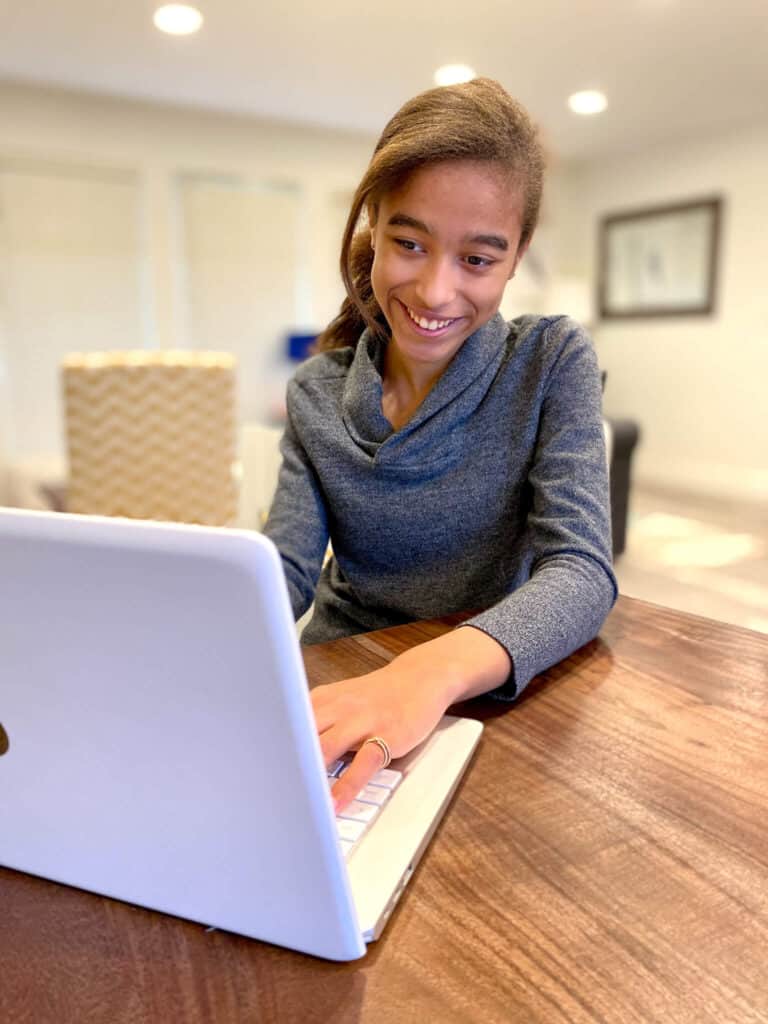 We began using Mr. D Math two years ago, after an increasingly stressful series of attempts to find the right math program for my kids.
While my husband and I both love math, our eldest daughter had long since decided she hated it, and our second daughter was well on her way to agreeing with her sister.
Even though I tried to make math fun for them and use programs I thought were robust and stimulating, we had meltdowns at our homeschool (aka dining) table literally every single day. And it wasn't always the kids melting down.
We were frustrated and angry, and my inability to pass on my love of math to my kids made me feel like a failure as a homeschool mom.
When an opportunity came to test out and review the Mr. D Math program, I was keen to try it. While my second daughter was honestly a little too young for the pre-algebra course (#overachievers) we signed her up for at the time, her older sister soared.
She immediately connected with Mr. D's teaching style and the structure of the program, with its instant feedback and endless support.
In today's Mr. D Math curriculum review, I'm going to focus specifically on the Algebra 1 Self-Paced course, as well as the overall structure of the Mr. D site and program. We are in our third year with Mr. D now, and we've completed the following courses: Pre-Algebra, Algebra 1, Geometry, and Advanced Writing.
I've tried to be as thorough as possible in my review, but if you have any questions about the program, send me a message on Instagram. I love chatting about Mr. D Math and helping other homeschool parents banish the math meltdowns too!
Mr. D Math Algebra 1 Self-Paced Course Content
Algebra 1 builds directly on the Pre-Algebra course, so if your child has not already completed Pre-Algebra, I highly recommend starting there. We found that Pre-Algebra was a steep learning curve for our kids because they were introduced to a ton of concepts that they weren't yet familiar with.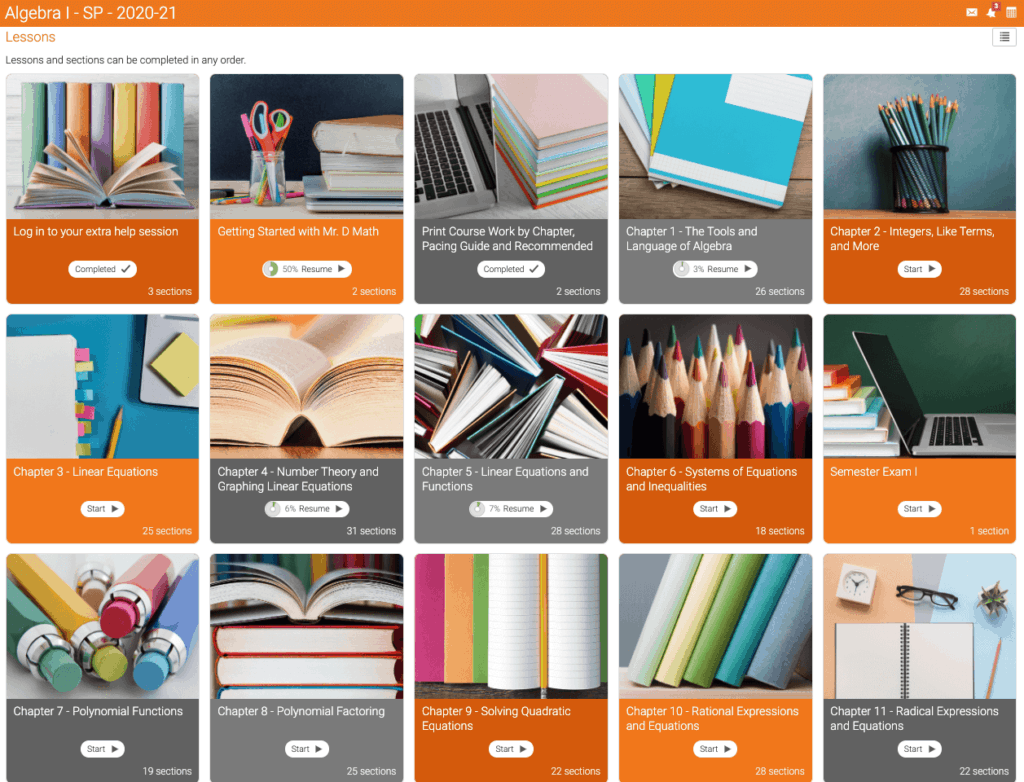 But all of the hard work the did in that course really paid of in Algebra 1 because there's so much carry-over. My older daughter, the one who had previously struggled with math and thought she wasn't good at it, kept remarking throughout the year, "I already know this. Why are they covering it again?"
She is an ambitious child who loves to move full speed ahead, checking off a topic once and calling it done, so her reaction was understandable.
As the homeschooling parent though, her words were music to my ears. They were the sign of content mastery. They were my first indication that my kids were finally grasping math subjects and retaining them.
If my kids find their math program too easy eighty percent of the time, and feel moderately stretched the other twenty percent of the time, I feel like we've struck the right balance, and we seem to be sitting in this sweet spot most of the time with Mr. D Math.
Course Structure
Like all Mr. D classes, Algebra 1 has twelve lessons (or chapters). Each lesson includes between five and nine assignments. There is a semester exam after the sixth lesson and another one after the twelfth lesson.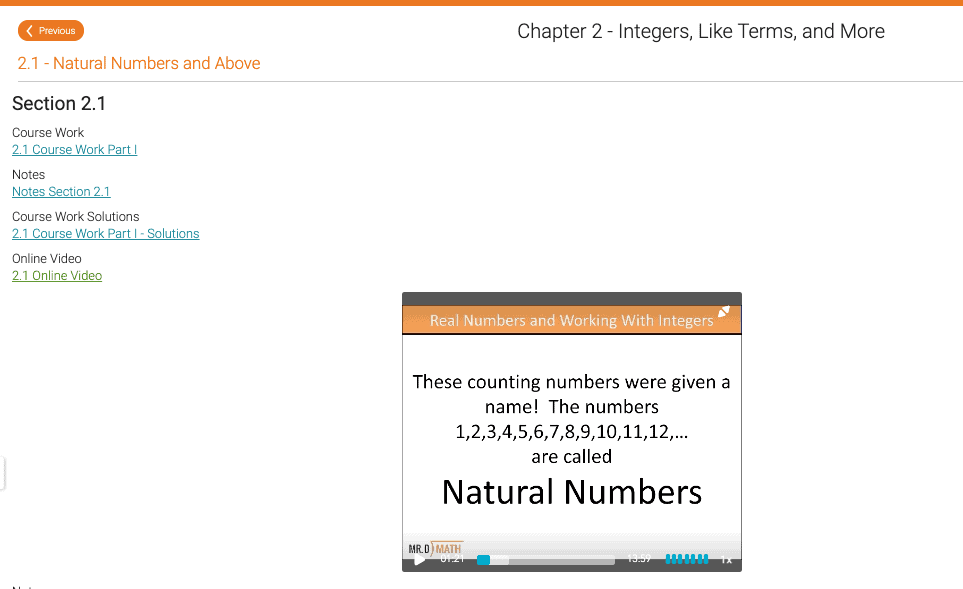 Each assignment includes:
an instructional video taught by Mr. D, who is one of the best math teachers I've encountered. (When I watch the videos along with my kids on the rare occasions when they ask for my help, I'm able to instantly grasp concepts I haven't seen in twenty years because he explains them so well.)
printable course work, which students complete on paper while watching or reviewing the video
a printable copy of the completely worked solutions
a five question quiz to reinforce the concepts in the assignment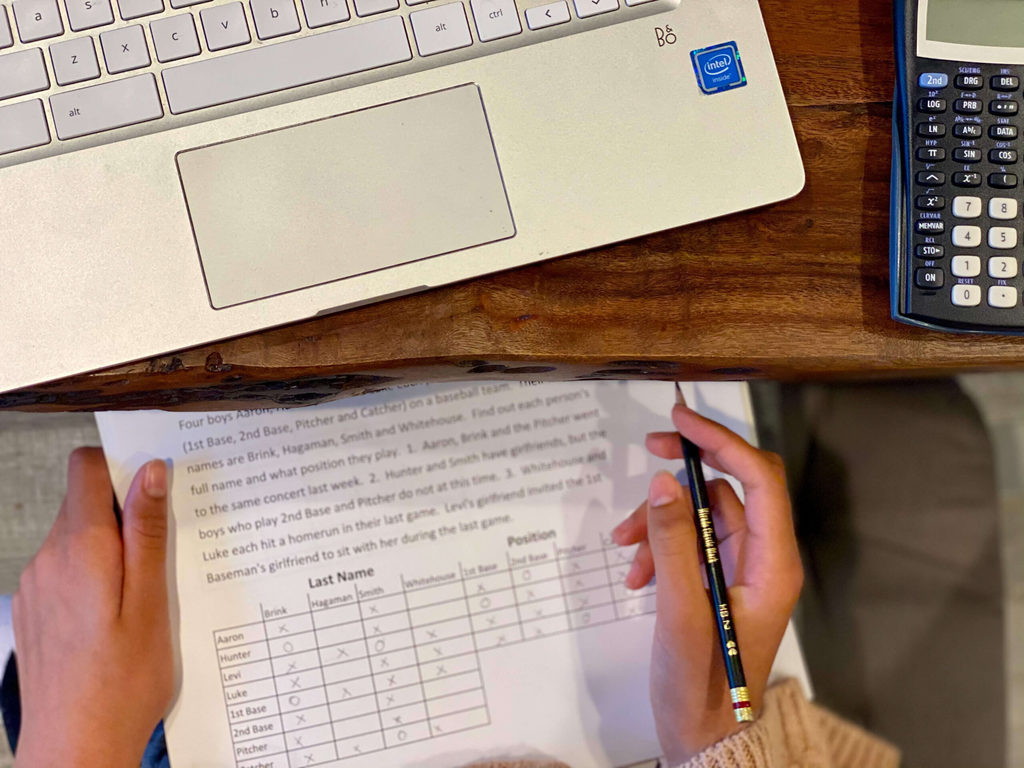 There is a chapter test at the end of each lesson. Additionally, Mr. D introduces spiral reviews every three or so lessons beginning in Lesson 2, so kids are constantly ensuring they still remember concepts taught earlier.
How Does a Self-Paced Course Work?
Mr. D offers both self-paced and live options for most of his courses.
With self-paced courses you have access to the course forever. Students work, as you might guess, at their own pace, though Mr. D does include a spreadsheet with suggested pacing to help students keep on track if you would like them to finish within the span of a traditional school year.
The suggested pacing is to complete three or four lessons most weeks, and we have found this to be about our average as well. We aim for four or five lessons, but sometimes they're a bit on the long side and it takes two days to complete one assignment.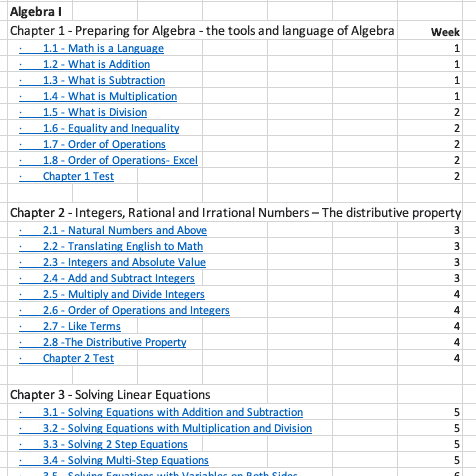 We typically are able to complete the full program well within a school year.
Content Covered in Mr. D's Online Algebra 1 Course
Mr. D Math's online curriculum is a thorough high school credit course suitable for grades 6 to 12. (Note: if you're looking for NCAA credit, you'll want to opt for the live version of the course).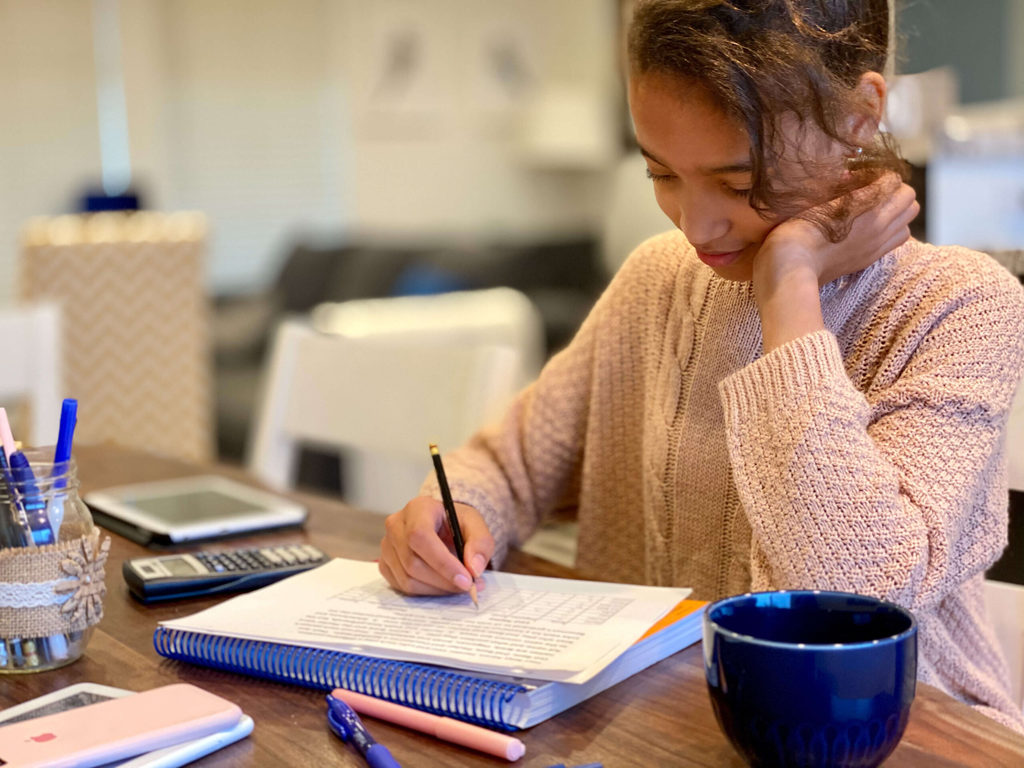 Students are required to complete a pre-algebra course before enrolling in this course.
Algebra 1 covers the following topics:
1 Preparing for Algebra – the Tools and Language of Algebra
2 Integers, Rational and Irrational Numbers – The Distributive Property
3 Solving Linear Equations
4 Graphing Linear Functions and Relations
5 Graphing Linear Inequalities
6 Systems of Linear Equations and Inequalities
Semester I exam
7 Polynomials
8 Factoring and Quadratic Expressions
9 Solving Quadratic and Exponential Functions
10 Radical Expressions and Equations
11 Rational Functions and Equations
12 Statistics and Probability
Semester II exam
Why We Choose Mr. D Math for Middle School and High School Math
We tried many online math programs and homeschool curriculum before finding Mr. D, and we continue to test out new programs, both for review purposes and for our younger children who are not yet old enough for Mr. D's courses.
Among them all, Mr. D's programs continue to shine.
There's something about his teaching style that is engaging, easy to follow, and enjoyable. The videos are not high-tech or super flashy, but then again, when was math ever about being flashy?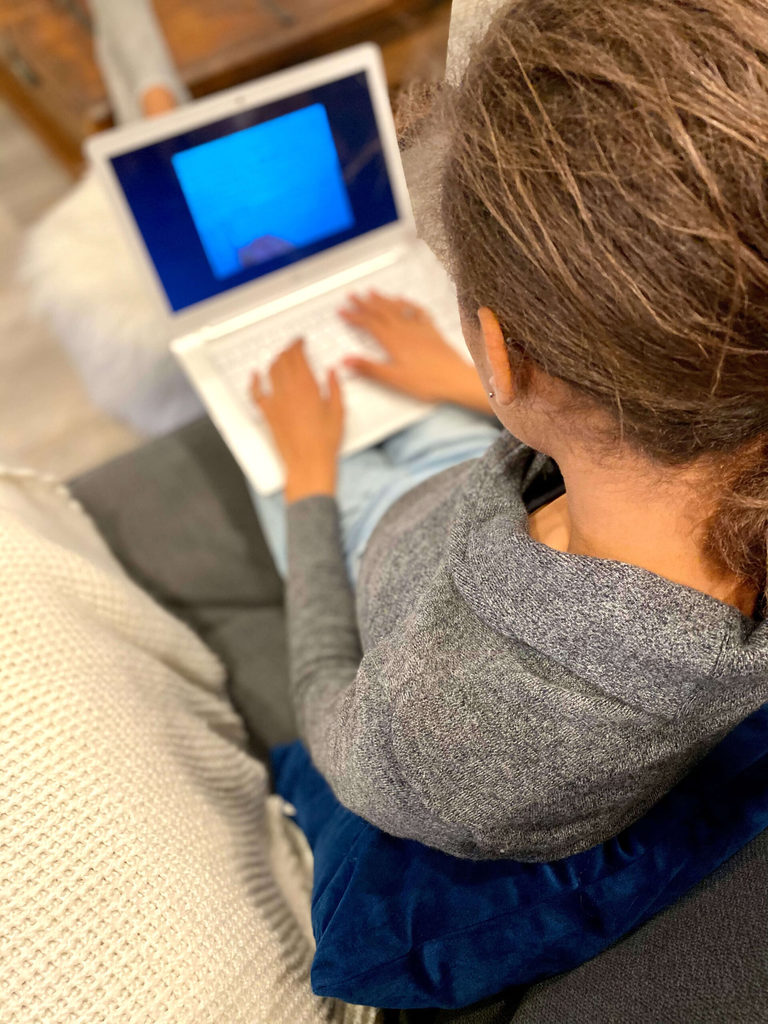 He is a kind, consistent, patient teacher, who explains complex concepts in ways that kids are able to grasp easily.
The courses are a lot of work, for sure, and it's not really like some other programs where you may be tempted to skip around or gloss over some lessons that your kids are already comfortable with. Because of the iterative nature of the program, you really want to make sure your kids are putting in the work each day and taking advantage of everything Mr. D offers.
We love that someone is always available to answer their questions by email when they run into problems and that extra help sessions with a live instructor are available to them every week.
Mr. D Math helps them foster independence with their learning, while quietly standing by in the background, ready to give them a helping hand any time they need it.
It's been a huge game changer for our family, and I highly recommend it to you if you're looking for a new online math program.
Check out Mr. D Math Now
Sophie Agbonkhese is a writer, homeschooling mother of four, and a recovering overachiever (who occasionally relapses). She is the founder of My Cup Runs Over, a site dedicated to helping busy women simplify and enrich their lives. When she's not writing or debugging websites, Sophie spends her time reading, dancing, bullet journaling, reading, gardening, listening to audiobooks, and striving fruitlessly to have a clean house for at least five minutes.