Last updated on August 5th, 2020
How online classes foster independence, compensate for your weaknesses, and make your life easier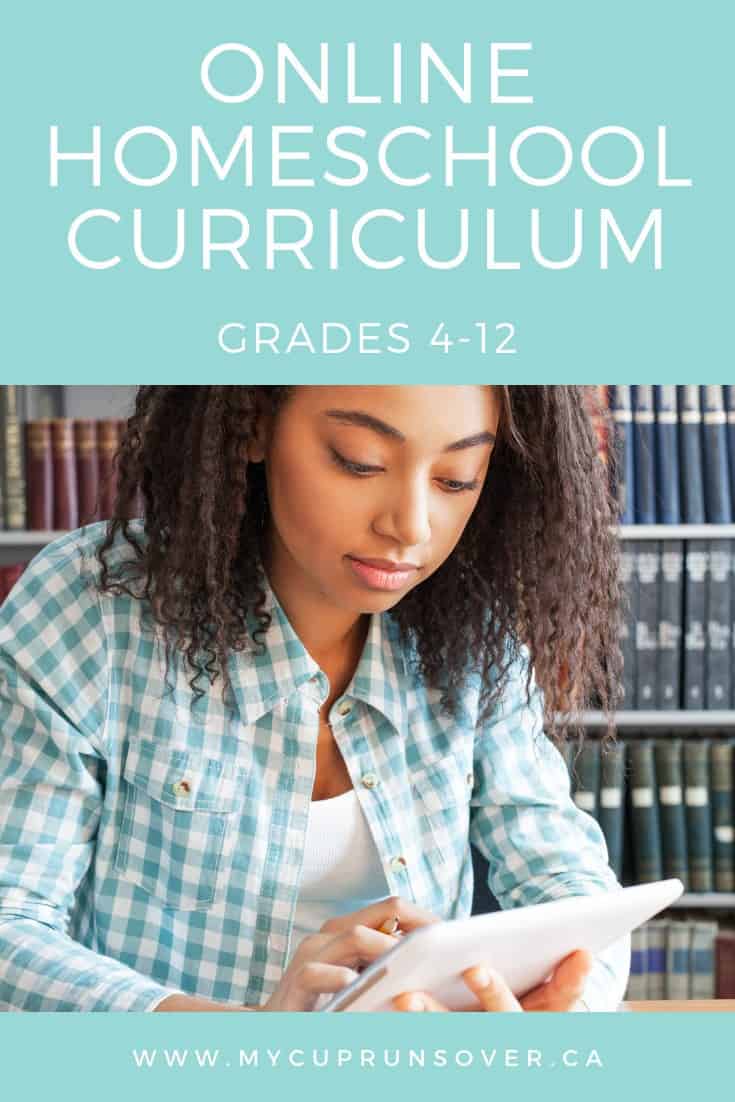 I received free demo access to a Big River Academy class in exchange for this review and I was compensated for my time. All opinions are my own and I am not required to post a positive review. 
The Benefits of Online Homeschool Classes
If you've read my last couple of curriculum reviews (Mr. D Math and CTCMath), you know I'm kind of a big fan of online homeschool classes right now. It's ironic, really, because when I started out homeschooling seven years ago, I was totally against online classes. Finding a school to register with that steered clear of kids with screens was my top priority.
Ah, the difference seven years and two extra kids makes. 
Somewhere in the past year or two, I realized that I could no longer do this homeschooling thing on my own: I needed help. I was trying to teach too many things to too many kids and we were all going crazy.
That help came in different forms, including homeschool coops and collaborations, a decrease in extracurriculars, and a shift to a more relaxed homeschooling method. But one of the biggest game-changers for me has been online classes. 
We started out by taking French online in grade five and we haven't looked back. This year we switched to online math classes using a different program for each of my older two kids. I'm now also considering live online classes for Bible and certain electives. The Bible classes are available through our school and I've found some great elective options on Big River Academy. 
Here are some of the benefits we've discovered from using live online homeschool classes. 
Online classes offer outside accountability and a consistent schedule
 I love that my daughter is accountable to someone other than me and that she has a set weekly time when she meets with her teacher and peers. Sometimes our kids get a little too comfortable with us and slack off more than they would with an outside teacher. This can be exhausting for us as parents, having to get on their case all the time to turn in their work. It's so nice to let someone else do that work for us. 
The consistency of the schedule is also important. When we try to study languages on our own, there are honestly some months where we go several weeks without opening our language books and DVDs. It just ends up taking a back seat to the more pressing courses like English, math, and science. I love how the schedule keeps them on track and moving forward at a good pace. 
Big River Academy offers live online classes in several subjects for kids in grades 4-12. Their courses include required classes like science, socials, and math, as well as several electives and test prep. The classes meet once per week for 90 minutes in a live classroom powered by Adobe Connect. The teachers also offer office hours each week for students who need additional support. Students receive weekly assignments and can access their grades and feedback through the online portal.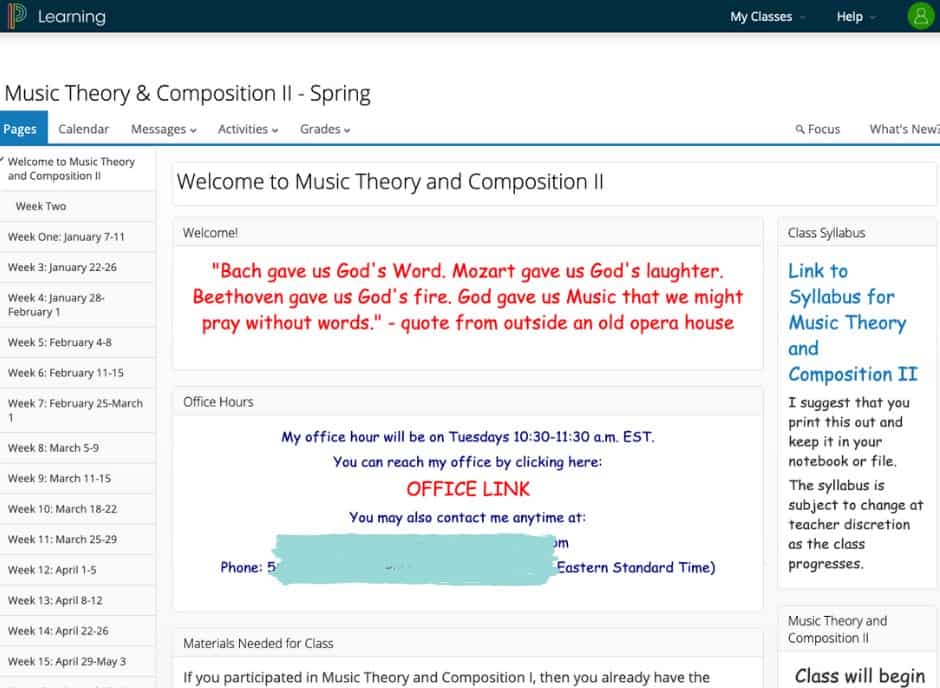 They compensate for your weaknesses as a homeschool parent
Let's face it: as homeschooling parents we all have our strengths and weaknesses. There are some subjects we cannot imagine outsourcing to other people (writing is a biggie for me!) and there are others that we wouldn't dream of teaching ourselves (hello, physics!) Funny enough, sometimes even our favourite subjects are difficult for us to teach. I adore math and never thought I'd have a problem teaching it, but it turns out that being good at something doesn't mean you'll be good at teaching it. Who knew? But, I digress.
What I love about online classes is that they open up to our children a whole world of knowledge beyond what we're able to give them. The world is their classroom. They can study architecture, astronomy, and agriculture even if we know nothing about those subjects. And thank God for that because can you imagine having to become an expert in every topic your kid(s) gets interested in? You'd never do anything else. 
One subject I've always wanted to study more is music theory, so when the opportunity to sit in on a live class from Big River Academy came up, I jumped on the chance to review their Music Theory and Composition II course. The course was thorough and challenging (probably a little bit too challenging for me without taking the first level) and is exactly what I would want to put my kids in when they are ready to study music theory at this level. The teacher for this particular course is knowledgable and friendly, and she homeschooled her own children as well, so she seems well acquainted with the needs of homeschoolers. She establishes a connection with her students through online chat and questions throughout the lessons and making herself available to them outside of class. 
Here are some of the other courses offered by Big River Academy:
Electives:
Music Theory and Composition I and II
Personal Finance I and II
Public Speaking
Technology Essentials (preparation for the AP Computer Science Principles course)
English:
Advanced Composition
American Literature
British Literature
Composition
Movies as Literature
Foreign Languages:
German
Italian
Latin
Spanish
Social Sciences:
American Government
Criminological Crime Scene Investigation
World History
World Geography
Check out the complete list of their live online homeschool classes here. 
Online classes foster independence
Although the goals of homeschooling parents are probably as varied as our homeschooling styles, I think most of us share a desire to see our children become independent learners. One of the greatest joys of homeschooling is watching our kids fall in love with learning itself and developing the motivation and ability to seek our and acquire wisdom and knowledge on their own. 
Online homeschool classes are a great way to encourage this move toward independent learning. Instead of them coming to you all the time for answers, they now have to seek them out themselves, either by reading the course material, conducting research, or talking to their teacher. Either way, they're learning valuable skills for lifelong learning. 
Big River Academy's live classes encourage independence. Students are responsible for communicating regularly with their teacher, completing and submitting assignments, attending and participating in live online classes, and, where applicable, completing tests. They have access to their own online calendar where they can track their courses and assignments. I love that students can also go back and watch the replay of the classes to increase their understanding.
In the music theory and composition class that I sat in on, students were composing different types of music each week and submitting them to the teacher and their peers for feedback. It is a safe and encouraging environment for them to develop their creativity and put it out into the world for others to enjoy.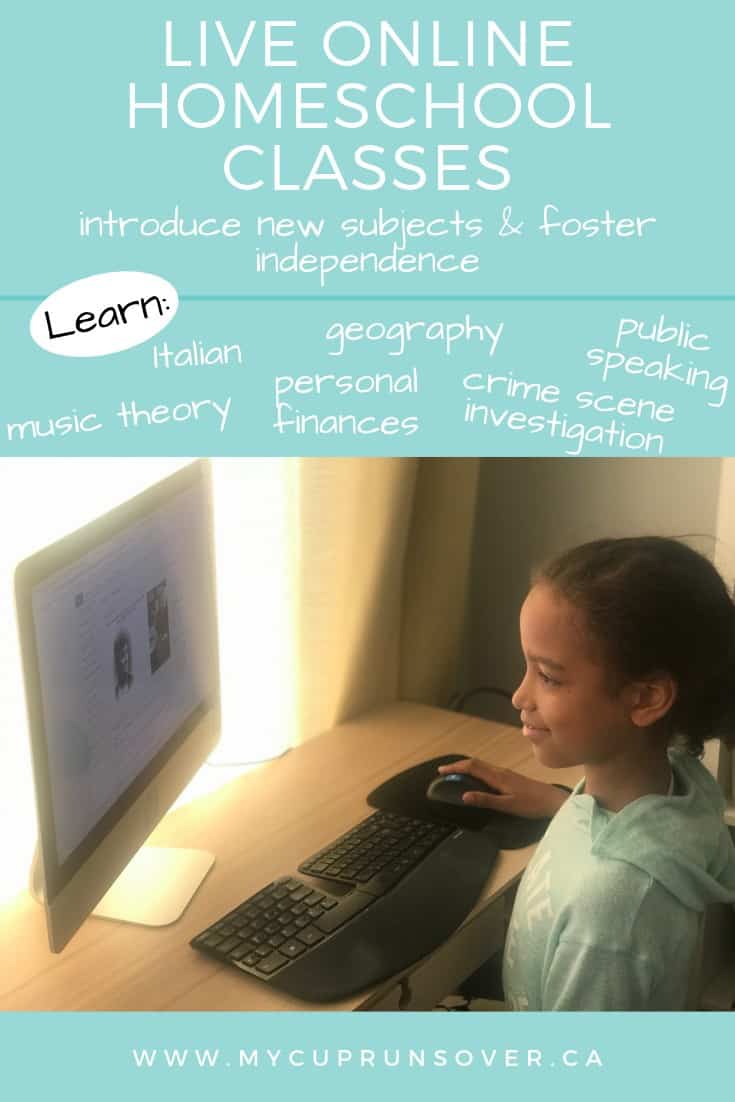 Check out Big River Academy's live online homeschool classes today
Here are a few ways you can learn more about these awesome online classes:
1. Learn more about how Big River Academy's live online homeschool classes work.
2. Check out their sample classes on YouTube. 
3. Visit the course catalog and use code BLOG100 to receive 10% off your entire purchase.
4. Enter the giveaway below for your chance to win a one-semester course valued at $200. Contest is hosted by Big River Academy and is open to anyone, anywhere. 
Sophie Agbonkhese is a writer, veteran homeschooling mother of four, and a recovering overachiever (who occasionally relapses). She is the founder of My Cup Runs Over, a site dedicated to helping busy women simplify and enrich their lives, homes, and homeschools. When she's not writing or debugging websites, Sophie spends her time reading with her kids, gardening, listening to audiobooks, and striving fruitlessly to have a clean house for at least five minutes. She lives in southwestern British Columbia with her husband, Ben, and their children.